Mutual fund star ratings portal Value Research now awards more stars to direct plans than regular fund! Three years is the minimum period for equity funds to become eligible for star ratings. Direct plans are now 3Years and close to 3 months old.
When they were introduced on 1st Jan. 2013, VR had assigned them a provisionl  rating identical to the corresponding regular fund. This was probably because they were not old enough for an independent rating.
Personally, I neither use nor recommend the use of star ratings. This post is for information purposes only.
Value Research offers a 'return grade' and 'risk grade' based on a combination of 3-year performance and 5-year performance (where available).
Let us consider the case of ICICI Prudential Arbitrage Plan as an example to understand why direct plans now have a higher star ratings.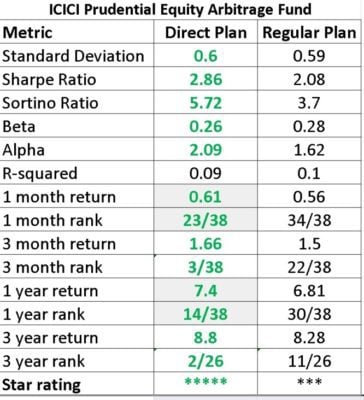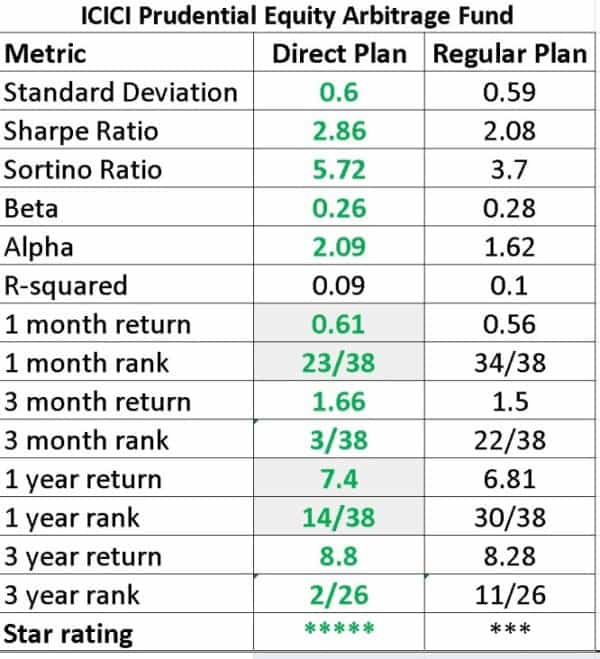 If you are not comfortable with risk-adjusted measures, you can consider a non-technical account here Visualizing Mutual Fund Volatility Measures and a list of technical definitions here:
Mutual Fund Risk and Return Analyzer.
Notice that the direct fund scores over regular funds not just in returns but also in risk adjusted returns! That is direct plans offer more reward than regular funds for the risk taken. This is a significant manifestation of outperformance and something that I did not realize before.
Now look at the return ranks. Over a 3 month period, the direct plan is ranked 3 and the regular plan 22!
This means that VR is treating the direct plans as independent mutual funds and grading them in a pool of funds belonging to the same category. This is good news for them as the sample set has doubled in each fund category.
Or in other words, the star rating of a direct plan is independent of the star ratings of the regular plan as found in this case. The direct plan has 5 stars and the regular plan 3 stars.
As of now many funds have only a 1-star difference but this gap is only going to widen in time! This was predicted my Dr. Ramesh Mangal one of personal finance influencers in late 2012 itself!
Forget the star ratings. Look at the difference in performance. Now that we have direct mutual fund investment portals, there is no reason not to switch to direct funds.
It is absolutely baffling why many reporters are still asking, 'Are direct mutual funds for you?'.
Direct mutual funds are for EVERYONE! Those who want professional financial advice can simply use these portals and pay a fee-only financial planner.
DIY with direct plans or Pay for Financial Advice, But Insist on Direct Mutual Fund Plans