So the big news is that Ajit Dayal has resigned, for unknown reasons, as the Director of Quantum AMC and from the Board Investment Committee last week (22nd Aug).  Before we get to the questions by readers, what now for Quantum? Should I worry about Quantum Long Term Equity (QLTE)?
Dayal's letter,short on substance gets a bit emotional "Had I been on that plane (which crashed in Feb 1990), Quantum would have been in existence for 14 short, uneventful days – and there would be no one to fight for you in the mutual fund industry!". So it is impossible not to speculate that he has been forced out.
Nobody is indispensable. Life will move on. Quantum is effectively a one fund AMC and so it cannot afford to slip up on the QLTE front. As of now, this is a non-event for investors.
That said, Quantum has made several mistakes like making a big deal about "direct to investor" and alienating the sales community and often other AMCs. They were clear that they always wanted commissions disclosed and did not adopt distribution until this came to be, but what matters is how intentions are perceived.
So they never grew fast enough. SEBI making the AMC net worth requirement as 50 Crore was a blow to them and they had to sell a stake to Fairfax Holdings Ltd. Prior to that, the advent of direct plans short-circuited their USP. Overnight many funds were available at a lower expense ratio than their fund.
I like the way that Quantum operates and use two of their funds: QLTE and their liquid fund. I will continue to use them. However, there is a big business lesson here. At the end of the day, profits matter, otherwise the stake holders are bound to complain. Ethics and process will be appreciated, but that alone is not enough. In an imaginary world where regular funds are abolished, Quantum will thrive. As of now, it is surviving. Time will tell if Dayal's exit "is a sign of strength" (his words).
For those who can understand Tamil, this is a brilliant play on the theme that "no one is indispensable and life will move on". Do watch. If you are in Chennai, sign up at Dummies Drama (this website has music playback. So mute speakers before clicking, if you are using at work) and attend their free plays. They are a fantastic theatre group. Yes, I was looking for an excuse to mention this play and now I got it.
---
Update on the freefincal Robo advisory template: I have been beta-testing this with many friends/readers over the last month. Adding the finishing touches to it. Hope to publish this on September 6th or 7th. Before that, there is something else brewing. Stay tuned. The robo template will be free to use. Now on to the questions.
Rajkumar: Is there any excel sheet for tracking stock portfolio like tracking mutual funds ? I am not able to find any in your blog.
Pattu: Yes, you can try this one: Features of the freefincal mutual fund and financial goal tracker
Dinesh Gaikwad: Hello Sir, My age is 29 years. I have taken LIC's jeevan anand policy 1 year before, for 27 years term, Insured amount is 6 Lacs & maturity amt is 17 Lacs I pay a premium of 24K for this. But now I am thinking of quiting from this policy as i think i will get more returns in Mutual Funds for same amount in 27 years. If i surrender this policy now LIC will not refund anything so a loss of 1st years premium of 24K Note- I have a term insurance of 50 Lacs. So is it a good decision to make a loss of 1st years premium and invest in MF for same period provided that i have a term plan.
Pattu: Yes. If you keep investing in equity for that long, 24K would soon be your one day notional loss (or gain). So you can safely get rid of this Jeevan Anand after  getting a term plan and invest as per an asset allocation required for your financial goals. Not just in equity.
Satish Babu Chintalapudi: Dear Sir What is RGEAS, Is it worth investing in Rajiv Gandhi Equity Saving Scheme (RGESS)? Is it worth exploring and why?
Pattu: Stay away. It will be discontinued from April 1st 2018.
DC: Hi Pattu, Is there a systematic way to compare Portfolio Management Schemes (PMS), like there is for Mutual Funds on your website? I have read good PMS data is hard to find, so I would like to know what I should look for to compare PMS, before I start researching PMS data. Thanks, Dhruv
Pattu: As far as I know PMS data is not out in the open like fund NAVs as they are personalized products.  I know many high net worth investors who prefer mutual funds to PMS. I think that is way more simpler.
A.C.Sardar: For requirement after six years whether I will go for Equity Mutual Fund or Debt Mutual Fund. Please suggest.
Pattu:  First step is asset allocation. For an important goal, I will suggest 100% fixed income. For a flexible goal or for one that you can take some risk, about 20-30% equity. If you are even more adventurous, you can use an equity oriented balanced fund.
John:  Today I have received an email from DSPBR mutual fund stating that henceforth they will use Total Return Index and not mere price index as they have been doing hitherto for benchmarking the performance of their schemes. At last somebody is bold enough to select TRI. Hope the remaining mutual funds also get courage and properly benchmark their performance. Or will it be a pipe dream of mine?
Pattu:  Using total returns index in which dividends are assumed to be reinvested do not mean much if the benchmark is not relevant to the fund's strategy or if the fund manager routinely picks stocks from outside the benchmark. A step in the right direction, but has to be to viewed in perspective
SenKan: This is not really a question, but an observation that I have made recently from my MF transactions. During the recent market highs, I have been rebalancing my asset allocation by switching out of some equity funds and switching in to some balanced and liquid funds. I have noticed some interesting patterns from my transactions that suggests some shady business is going on with this fund house. The switch-out happens on the same day as the request is made – with the NAV of the transaction date. However, the switch-in always seems to take an arbitrary number of days (Anywhere from same-day to up to a week), and the switch-in NAV always seems to be favorable to the fund house. For example, I try to switch out Rs 1 Lakh from Equity fund (E), switching 30000 in to Liquid Fund (L) and 70000 into a balanced fund (B) on day X. The switch-out from fund E always happens for the appropriate number of units with the NAV date of X 1. If the date of the switch-in for the Liquid fund is not the same as X, but is X+1, X+2 etc., by default I lose money, since as a first approximation, the NAV value of L is almost always going up on a daily basis and I am able to buy fewer units with my 30,000 now. 2. The switch-in date for the Balanced fund seems to be some random X+N, on which date the NAV always seems to be higher than the NAV on date X. This again will result in me getting fewer units than if the switch-in had been made on the same date X. Shouldn't the switch-in and switch-out dates always match (by regulation?). I have at least three transactions where this has seemed to happen, leading my paranoid mind to suspect that the fund house is up to some shady business. I am yet to raise this issue with the fund house, since I made this observation fairly recently, but is there some other supervisory body that I should bring this to the attention of? Could be an honest mistake for all I know, but still it is good to be paranoid when others are (mis)handling your hard earned money.
Pattu: These are the rules of Tata AMC, should be similar with most fund houses.
Special equity is a term specific to Tata AMC (refers to its index funds).
Your fund house will have published its own switch matrix. If the switches are not done as per that, make a complaint. If their response is not satisfactory, complain to SEBI via their SCORES site.
Raj: I am very risk averse 42 yr with a small surplus wishing to invest in immediate annuity expecting to be alive at least 30 yrs from now. Would the returns equal bank savings interest Really risk averse? Should I get it? and what type of payout should i choose? Thanks Pattu.
Pattu: You can check annuity rates from insurance providers. Buying an annuity at such an early age will fetch you a low interest rate (just about 6%). I cannot answer if you should get one as that has to be considered with detailed data. Please consult one of the SEBI registered fee-only financial planners listed here.
To under more about annuity plans and options, have a look at: How Annuity Plans Work.
Meena Shivram: Hi Pattu, I have a few queries on EPF and NPS. 1. EPF gives a return of around 8 to 8.5% p.a whereas NPS with 50% contribution in Equity manages to give around 11% p.a. Would it make sense to transfer the money from EPF to NPS? 2. What happens to an EPF corpus if there is no contribution to it for more than 36 months. Does EPFO allows the subscriber to withdraw the entire amount before he is 58 yrs old? The reason behind this query is many professionals are leaving the corporate jobs to start their own ventures or become independent consultants/self-employed.
Pattu: Asset allocation matters. I would suggest that you stock EPF for the fixed income part of your portfolio and invest in equity elsewhere. If you want to switch from EPF to NPS, it is important to have no equity in the NPS portfolio, else the whole portfolio could become lop-sided – in terms of equity and more importantly liquidity. So avoid.
The EPF account will be deemed inoperative if there are no contributions.withdrawals for 36 months. However, as per a recent amendment, they will continue to earn interest.
You can only withdraw your contributions+ interest after two months of unemployment. Employers contributions + interest can only be withdrawn at age 57.
Sampath: Dear Sir Is it recommended to invest lump sum amount (2-3 L) in 'Equity Income' category Mutual funds? Are they a good alternative to Arbitrage Funds?
Pattu: I guess you are referring to Equity Savings funds which are arbitrage + debt + small direct equity. They are more volatile than arbitrage and I would recommend using them for more than 3Y durations. You can read this detailed post: How & when to choose Equity Savings Funds & Arbitrage Funds and this one: Freefincal Q & A: Ways to Use Equity Savings Funds
Anish Mohan: Dear Sir, my query is in respect to PM Vaya Vandana Yojana. Here a Senior Citizen can buy a pension policy for which he can get a monthly/quarterly/annual pension of 8 – 8.3%. If taken annually, the pension is 8.3%. So if one senior citizen avails the annual option, and at the 11th Month, the pensioner leaves for heavenly abode, will LIC pay the capital invested ("only") to the nominee and ditch the pension part which has accrued till 11th month? This is a clarification I could not get anywhere yet.
Pattu: If the person dies on say, the 15th day of the 11th month, the annuity amount for 15 days + capital invested will be paid to the nominee. This is my understanding. This is the procedure followed for pensions.
================================
Use this form to ask Questions ONLY (For comments/opinions, use the form at the bottom)
And I will respond to them in the next few days. I welcome tough questions. Please do not ask for investment advice. Before asking, please search the site if the issue has already been discussed. Thank you.  PLEASE DO NOT POST COMMENTS WITH THIS FORM it is for questions only.
[contact-form][contact-field label="Name" type="name" required="1″][contact-field label="Email" type="email" required="1″][contact-field label="Ask your question (Got an opinion or comment, use comment box at the bottom of the page. DO NOT post them here)" type="textarea" required="1″][/contact-form]
GameChanger– Forget Startups, Join Corporate & Live The Rich Life You want
My second book, Gamechanger: Forget Start-ups, Join Corporate and Still Live the Rich Life you want, co-authored with Pranav Surya is now available at Amazon as paperback (₹ 199) and Kindle (free in unlimited or ₹ 99 – you could read with their free app on PC/tablet/mobile, no Kindle necessary).
It is a book that tells you how to travel anywhere on a budget (eg. to Europe at 50% lower costs) and specific investment advice for young earners.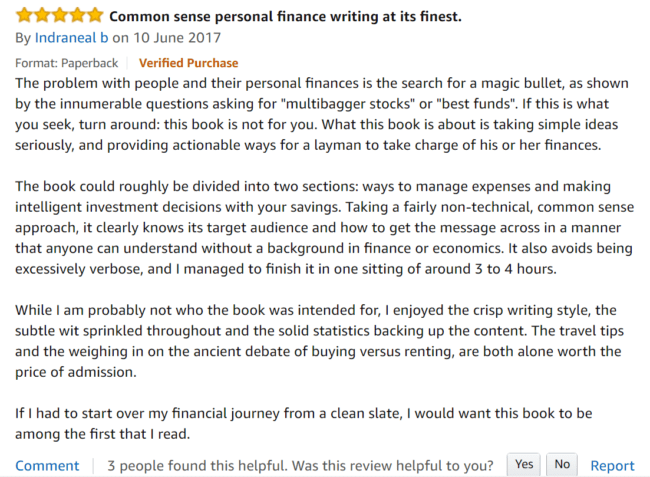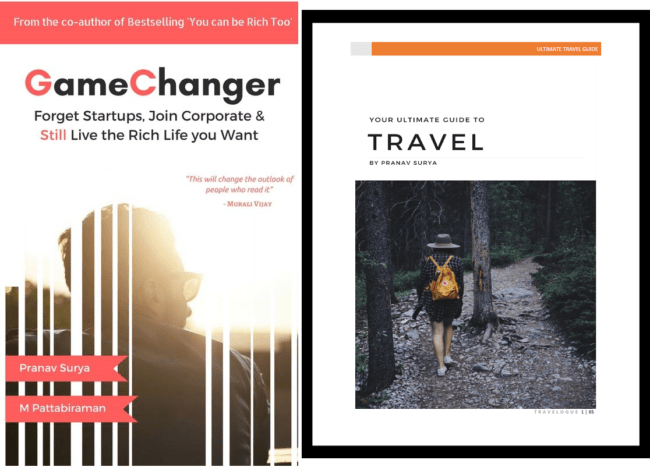 The ultimate guide to travel by Pranav Surya is a deep dive analysis into vacation planning, finding cheap flights, budget accommodation, what to do when travelling, how travelling slowly is better financially and psychologically with links to the web pages and hand-holding at every step.  Get the pdf for ₹199 (instant download)
You can Be Rich Too with Goal-Based Investing 
My first book with PV Subramanyam helps you ask the risk questions about money, seek simple solutions and find your own personalised answers with nine online calculator modules.
The book is available at:
Amazon Hardcover Rs. 271. 32% OFF
Infibeam Now just Rs. 270  32% OFF. If you use a mobikwik wallet, and purchase via infibeam, you can get up to 100% cashback!!
Flipkart Rs. 279. 30% off
Kindle at Amazon.in (Rs.271) Read with free app
Google PlayRs. 271 Read on your PC/Tablet/Mobile
Now in Hindi!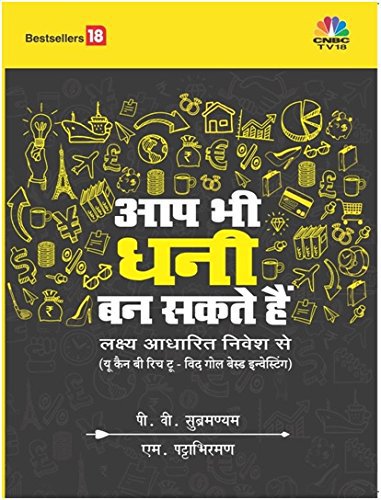 Order the Hindi version via this link
Subscribe and join the freefincal Youtube community!
 Don't like ads but want to support the site? Subscribe to the ad-free newsletter! 
Want to conduct a sales-free "basics of money management" session in your office?
I conduct free seminars to employees or societies. Only the very basics and getting-started steps are discussed (no scary math):For example: How to define financial goals, how to save tax with a clear goal in mind; How to use a credit card for maximum benefit; When to buy a house; How to start investing; where to invest; how to invest for and after retirement etc. depending on the audience. If you are interested, you can contact me: freefincal [at] Gmail [dot] com. I can do the talk via conferencing software, so there is no cost for your company. If you want me to travel, you need to cover my airfare (I live in Chennai)
---
Connect with us on social media
---
Do check out my books
---
You Can Be Rich Too with Goal-Based Investing
My first book is meant to help you ask the right questions, seek the right answers and since it comes with nine online calculators, you can also create customg solutions for your lifestye!
Get it now
.  It is also available in
Kindle format
.
---
Gamechanger: Forget Startups, Join Corporate &

Still

Live the Rich Life You Want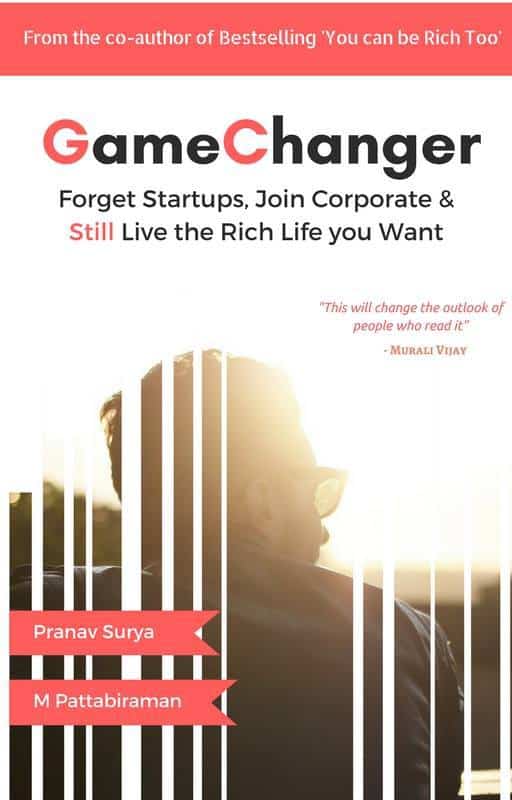 My second book is meant for young earners to get their basics right from day one! It will also help you travel to exotic places at low cost!
Get it or gift it to a youngearner
---
The ultimate guide to travel by Pranav Surya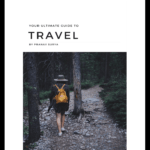 This is a deep dive analysis into vacation planning, finding cheap flights, budget accommodation, what to do when travelling, how travelling slowly is better financially and psychologically with links to the web pages and hand-holding at every step.  
Get the pdf for ₹199 (instant download)
---
---
Free Apps for your Android Phone
All calculators from our book, "You can be Rich Too" are now available on Google Play!
---
Install Financial Freedom App! (Google Play Store)
---
Install Freefincal Retirement Planner App! (Google Play Store)
---
Find out if you have enough to say "FU" to your employer (Google Play Store)
---
About Freefincal
Freefincal has open-source, comprehensive Excel spreadsheets, tools, analysis and unbiased, conflict of interest-free commentary on different aspects of personal finance and investing. If you find the content useful, please consider supporting us by (1) sharing our articles and (2) disabling ad-blockers for our site if you are using one. We do not accept sponsored posts, links or guest posts request from content writers and agencies.
Blog Comment Policy
Your thoughts are vital to the health of this blog and are the driving force behind the analysis and calculators that you see here. We welcome criticism and differing opinions. I will do my very best to respond to all comments asap. Please do not include hyperlinks or email ids in the comment body. Such comments will be moderated and I reserve the right to delete the entire comment or remove the links before approving them.