It is no secret that I am a fan of equity-oriented balanced mutual funds. They are a low risk, high reward option and it is a no brainer that one should consider using them*. In this post, I discuss why it makes sense to use them as the core holding in an equity portfolio. I also compare the performance of balanced funds with two benchmarks – the one used by Value Research (VR Balanced Index) and the other by me (BSE Balanced index)
#AmazonGreatIndianSale
Kindle version of You Can Be Rich Too NOW only Rs. 87 Grab it now! http://amzn.to/2gJuirE
* Balanced funds are often recommended as the first fund for newbies. While I don't disagree, it is important to recognise that they still contain about 70% equity. And 70% equity is only a touch less volatile than any old diversified equity fund. So it is important not give them or ourselves false hope. When the shit hits the fan a -25% return is going hurt just as much as a -40% return.
Next, let me thank my friend (let us call him geek) who helped me run parts of this analysis.
CRISIL Balanced Index
Most balanced funds use the CRISIL Balanced Index. This costs about 11 lakh a year (yes, that is right). Since this is not public information, one cannot use it for analysis. I think SEBI should mandate the use of publically accessible benchmarks. Anyways, more about this here: CRISIL Balanced Index: a benchmark for balanced mutual funds
VR Balanced Index
Value Research used VR Balanced Index for its hybrid: equity-oriented category. I can't find what this is made up of anywhere. I assume that this is some kind of weighted average of all the funds in the category.
The category includes balanced funds (stocks+ bonds ) and the new equity savings funds (arbitrage + bonds). If VR balanced contains both types of NAVs then it is an apples + oranges index and should not be taken seriously.
BSE Balanced Index
This is my own concoction because I wanted  an accessible benchmark for balanced mutual funds
70% of S&P BSE AllCap Index(total returns index) and
30% of S&P BSE  India Bond Index.
The BSE Allcap index has about 70% large cap allocation, 15% mid-cap and 15% small-cap. This I believe represents a typical portfolio alignment of most equity-oriented balanced funds. The 70% allocation to this equity index also reflects the typical asset allocation of such funds.
The BSE Indian Bond Index is a composite bond index that consists of both government and corporate bonds with a maturity duration that is neither too small or nor too long. I think this is a suitable candidate for the fixed income portfolio.
The 70:30 allocation is maintained daily. This is impractical but I wanted something that has this mix at all times. Balanced funds reset the portfolio each month. So free of exit loads and taxes, the investors gets the benefit of rebalancing. This is one of the key reasons for their success – more on this in the coming days.
VR Balanced vs BSE Balanced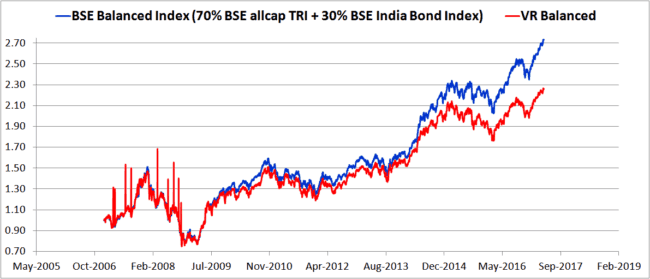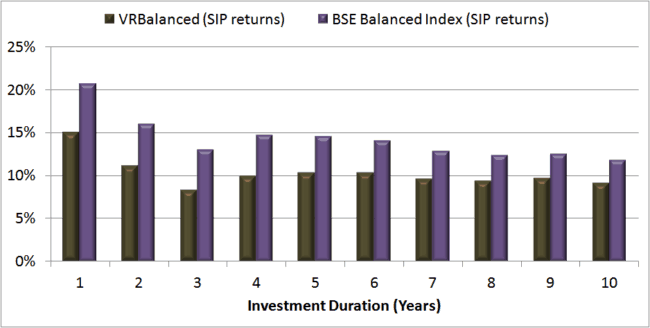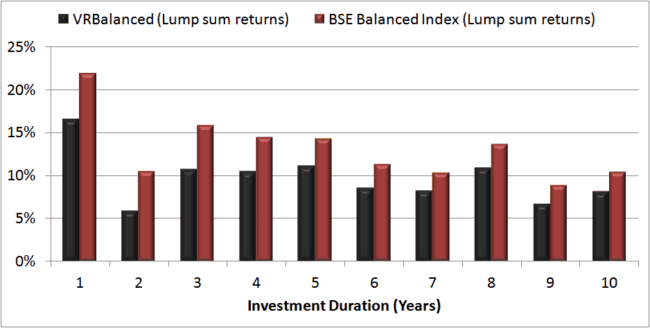 Obviously, the BSE Balanced index should be tougher to beat than VR Balanced. This is of course, fortuitous.
Balanced Funds Vs VR Balanced Index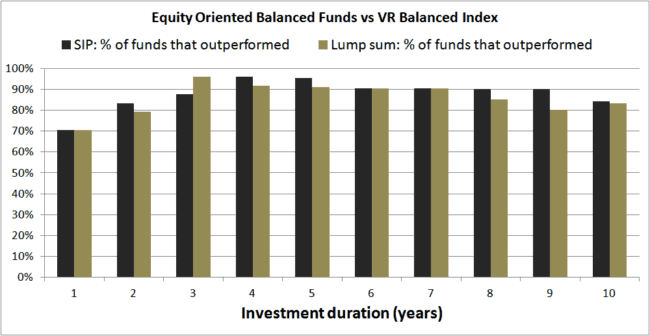 Balanced Funds Vs BSE Balanced Index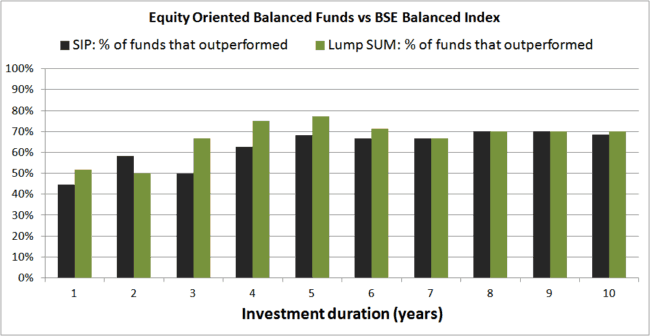 From the above four graphs, it is clear that BSE balanced is indeed tougher for Balanced funds to beat. You can consult the monthly fund screeners to check for performance consistency and returns for all equity fund categories and their benchmarks.
Now, let us get to what the title talks about.
Balanced funds vs Other Categories 9-year SIP Returns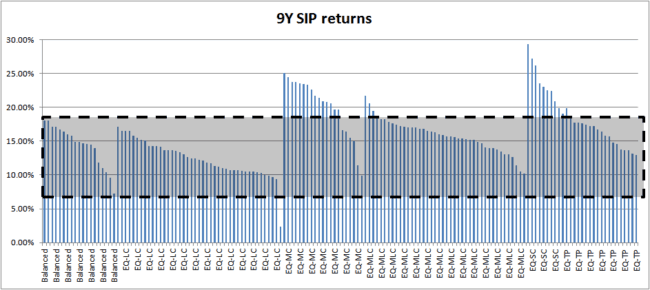 Balanced = equity oriented balanced funds
EQ-LC = large cap funds
EQ-MC = mid cap funds
EQ-MLC = multi-cap funds
ES-SC = small-cap funds
EQ-TP = Tax planning or ELSS funds
Balanced funds vs Other Categories 5 year SIP Returns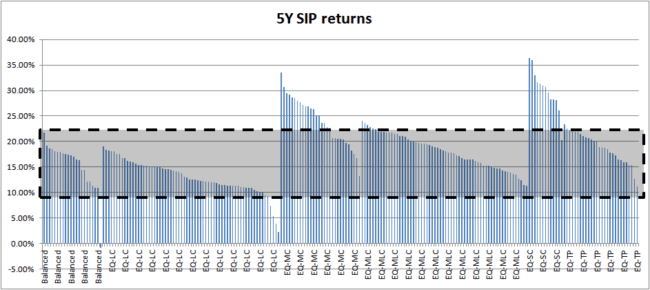 Observe the entries in the dotted rectangle. The width of the rectangle represents the range of 5Y and 9Y SIP returns of balanced funds.
The balanced funds are on the left. Now pan across the length of the rectangle from left to right.
Balanced funds have given a return comparable to most large-cap, multi-cap and ELSS funds.
For the observed period (not a law of nature), mid-cap and small-cap funds tower outside the rectangle.
Therefore, why not use a balanced fund instead large-caps, multi-cap or ELSS funds (you don't need them anyway for saving tax)?
Then we could consider equity portfolios of the following form.
Balanced Equity Portfolios
Conservative: 100% balanced fund
Moderately Aggresive (!): 70% Balanced + 30% mid-caps or
70% balanced + 15% mid-cap  + 15% small-cap funds
Aggressive: 50% Balanced + rest mid and small caps in different proportions.
In other words, the balanced fund is treated as 100% equity and the core equity portfolio holding.
Please note the total portfolio will have fixed income separately.
For example,
15Y+ investment duration: 60-70% balanced equity portfolio + 40-30% fixed income (initial allocation to be varied down the line)
10Y investment duration: 40-50% balanced equity portfolio + 60-40% fixed income (initial allocation to be varied down the line)
5Y investment duration: 0-20% balanced equity portfolio + 100-80% fixed income (initial allocation to be varied down the line, if necessary).
My retirement and son's education equity portfolios have a balanced fund as the core. This was not a data driven choice but a temperament driven one. Now the data (fund + benchmark) is available to temper our choices.
=-=-=-=-=-=
Kolkata DIY Investor Workshop May 28th, 2017
Register for the Kolkata DIY Investor Workshop May 28th, 2017
You Can Be Rich Too With Goal-Based Investing
You can be rich too with goal based investing is my new book with PV Subramanyam. If you have not yet got the book, check out the reviews below and use the links to buy.
Reader Quotes:
particularly useful for first time investors
Every earner should read this
Five stars. Gifted my friend. He found it very helpful
If you want a book that's unbiased and that will hold your hand and walk you through the personal finance jungle, then buy this.. the best thing 300 bucks could buy you.
Gift it to your Friends and Relatives whom you care more. Already follower of Pattu and Subra's forum. Ordered 4 more copies to give gift to my friends and eagerly waiting to read
The best book ever on Financial Freedom Planning. Go get it now!
Your first investment should be buying this book
The (nine online) calculators are really awesome and will give you all possible insights
Thank you, readers, for your generous support and patronage.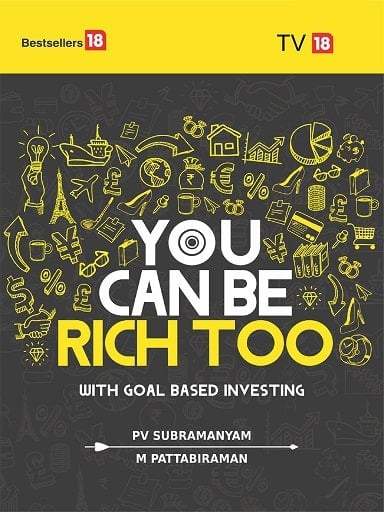 Amazon Hardcover Rs. 317.
21% OFF
Kindle at Amazon.in (Rs. 87 75% OFF)
Google Rs. 307
Infibeam Now just Rs. 315 24% OFF.
If you use a mobikwik wallet, and purchase via infibeam, you can get up to 100% cashback!!
Bookadda Rs. 344. Flipkart Rs. 359
Amazon.com ($ 3.70 or Rs. 267)
Ask the right questions about money
get simple solutions
Define your goals clearly with worksheets
Calculate the correct asset allocation for each goal.
Find out how much insurance cover you need, and how much you need to invest with nine online calculator modules
Learn to choose mutual funds qualitatively and quantitatively.
More information is available here: A Beginner's Guide To Make Your Money Dreams Come True!
What Readers Say