"What debt mutual should I choose as part of a long-term portfolio?", is a question that I am often asked.   EPF,  PPF and NPS (with no equity or only 15% equity as for government employees) are the first choices when it comes to debt or  fixed income products.  This is good enough for many salaried folks far from retirement.
For people who are not part of EPF/NPS and do not like the lock-in period of PPF, debt mutual funds are a good choice. Even the salaried folk are likely to require a debt fund as they edge closer to retirement if they wish to change the equity:debt allocation.
How about those who are retired? What kind of debt mutual fund should they choose?
Although, there are several categories of debt mutual funds, the choice is simple for those who have a  well defined goal and who understand the balance between risk and reward.
Fixed maturity plans can be used, but the lock-in (min 3 years these days) implies that it should be used with care.
People like me, who prefer open-ended mutual funds, can simply use ultra short-term funds or short-term income funds which buy and hold short-term corporate bonds until maturity (known as accrual-type funds).
The modified duration – a measure of how long the fund will take to recover  from interest rate movements – will be low for these funds.
So would the average maturity period of the portfolio. These are low-risk, relatively high/reasonably high reward options with full liquidity and min exit load.
There is also a misconception that dynamic bond funds can play the interest game well, resulting in higher returns. There is no evidence of that in this, and in previous studies (more on this later).
Much of what is mentioned above is based on the previously published posts:
Choosing Debt Mutual Funds For the Long Term
Debt Mutual Fund Returns: How to expect when you are expecting!
In this post, I would like to reiterate the above with an updated set of graphs  based on 12-year annual returns data from value research.
Average portfolio maturity vs. standard deviation
The average maturity period of the portfolio tells us what kind of fund it is. Liquid funds mature in about 90 days or less. Long-term gilt funds in about 15-20 years!!
In terms of increasing maturity period (apr:
liquid funds < ultra-short term < short-term;  income; short-term gilts < medium terrm and long-term gilts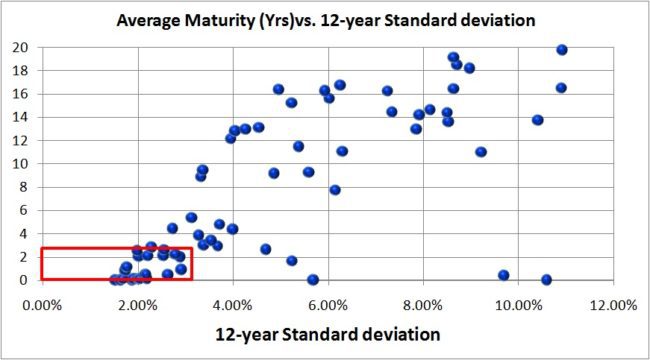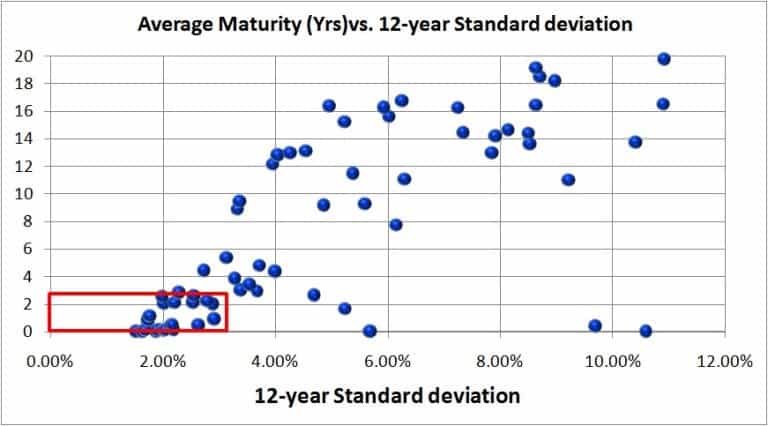 Notice that funds with low standard deviation (a measure of variation of the annual return from the average return) have low maturity periods.
Let us block funds with less than 3% standard deviation. This corresponds to a maturity period of 3Y or less.
The average maturity plotted above is the current number. We are assuming that it would not have deviated significantly in the past.
12-year CAGR vs. average portfolio maturity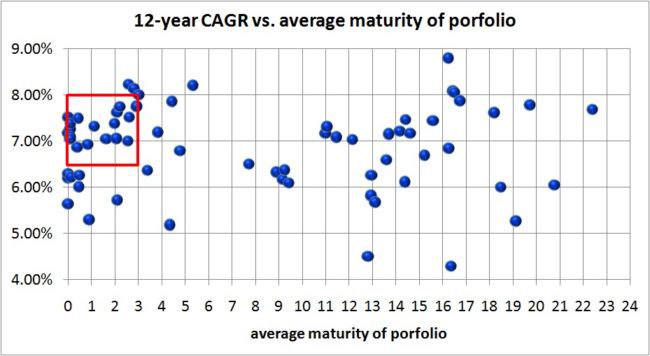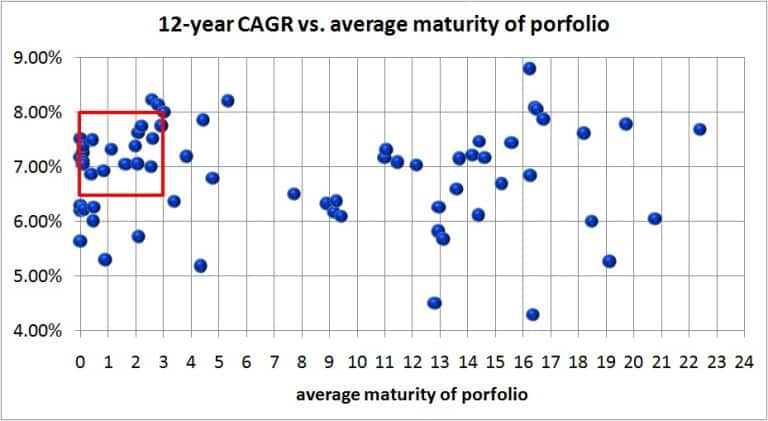 This graph never ceases to astonish me.  If I had chosen a fund with low average folio maturity, I would have witnessed low fluctuations in my annual returns (1st plot), but would have got a return comparable to other fund categories which are way more volatile. So why bother. Why invest in  'flavour of the season' long-term gilts funds? They are going to pare the gains made last year and perhaps this year when the interest rate cycle turns.
Why not keep it simple with ultra short-term or short-term funds?
The red box in this graph corresponds to 3Y or lower maturity – same as the first graph
Risk vs. reward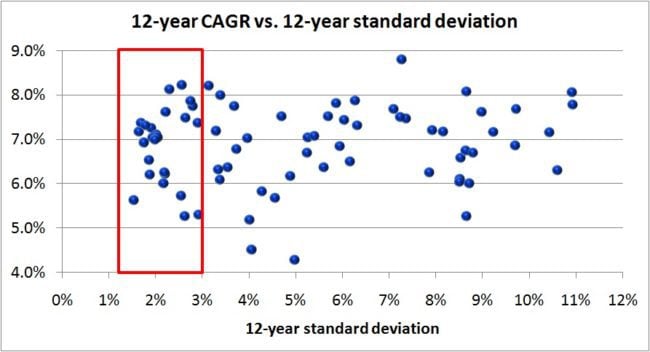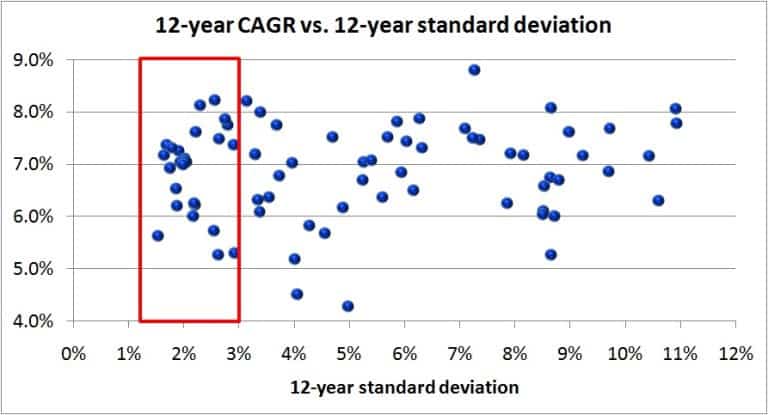 The low-risk option would have got you as much as return as the high-risk option. It can be argued that the high-risk option is not suitable for buying and holding and only for tactical calls.  Which makes them more riskier and stressful!
Those who recognise the importance of a minimalist portfolio – minimal in form, minimal in maintenance, will recognise the merits of investing in funds with low average portfolio maturity.
Ultra short-term funds or short-term income funds which buy and hold short-term corporate bonds untile maturity (known as accrual-type funds) will get the job done slowly and steadily, will full liquidity.
###
Register for Chennai Investor Workshop- June 14th 2015
Register for an evening with Subra(money.com) at Chennai – May 29th 205