If you start searching for the right diet to lose weight, you might be surprised at the number of opposing theories and options available: "eat no fruit"; "eat only fruit"; "eat no carbs", "eat the right carbs", "eat no fat", "eat the right fat", " count calories", " don't count calories". Makes you wonder if there is any method to such regimes.
Before we begin, if you have missed the weekend post about the robo advisory template check that out: Key features of the freefincal robo advisory software template
I have battled with weight issues for half my life. I lost weight, gained it all back and lost it again! and realised one way  to Lose Weight is to eat more fat! And then I have now recognized that we will not gain weight and may even be able to lose it if we stick to a simple mantra: Eat only when hungry.
Crude as it may be, this analogy helps drive the point: we attend natures call only when it calls. The same logic should be applied to food.
Unfortunately in an urban setup, with the kind of pressures that we face, this simple logic is forgotten. Every day I walk for about an hour in the evening. Instead of going around a park, I prefer walking through busy streets with their mini-economies. While there are a lot of business lessons to be learnt from watching these roadside shops, one striking feature is hard to miss.
Between about 6 pm to 8 pm, office goers on the way home throng to roadside eateries. There is a sheer delight on their faces as they sip on coffee with a bhajji in hand or gulp down the mini-dosa or chat item with relish.  You can visibly see the stress get released from their being.
That they are hungry after a hard day at work is no doubt, but that is not the only reason that they frequent these shops. They use it to relieve stress.  Nothing wrong with that occasionally, but stress eating is addictive and it can quickly snowball into weight gain.
Naturally eating out regularly after-office is just one form of stress eating. Whenever I feel depressed, I tend to drown my sorrow in sweets and namkeen. The problem here is that the consumption is triggered by stress and not hunger. Since the gastric system did not trigger the food intake, it is unlikely to trigger the stop sign too. This is one of the main reasons for weight gain.
The other reason is boredom. People tend to munch something down because they are bored, especially when at home. If we can control stress eating and boredom eating, and eat only when hungry and stop when we feel about 3/4ths full, in time we can regulate body weight. Of course, easier said than done, but it is simple as that.
I am chronic stress eater and I believe that the only reason I have lost weight is that my life has been relatively peaceful. Come the next storm, my weight is likely to increase. sigh!
Well the above has nothing to do with investing or personal finance and I do not wish to draw a contrived analogy just for the sake of it.
However, it is not hard to make a connection. I believe most individual needs three kind of diets:
Food diet: eat when hungry (what you eat is less important and more personal)
Information diet: Less Information Can Make us More Informed
Portfolio diet: invest only where necessary.
If you come across a new bond tranche, a mutual NFO, stock IPO or now ICO (initial coin offer: new crypto coin offer) and go: "hey, may I should buy some of that" and head over to Asan Ideas for Wealth for an opinion and get copious amounts of confusion as a free membership gift, you probably need a portfolio diet.
If you think "you need to listen to everyone" when it comes investing, "with an open mind", you probably need a portfolio diet.
If you need to scroll down an excel sheet to view your holdings, you need a portfolio diet.
I was (and probably am) in need a portfolio diet. So the first thing I did was not to buy anything new and managed this for the last three years. Then I added more money into a few select funds to build a core portfolio leaving some small funds with insignificant weight. Remember, the question "how many funds do you have?" Could be met with 8 or 10 or 15, but if among those, only a few funds hold most of the money then it is a pretty minimalist portfolio.
After having increased the weight for a couple of years, I ruthless sold all the fringe funds and reinvested into the core funds. It felt as good as losing body weight.  I am still not done with selling. Since I use independent portfolios for different goals, I would like to have about 2 funds for retirement and 2 funds for my son (merged his education and marriage goal some month ago).
Invest only where necessary combined with low return expectations will lead to minimal or zero portfolio churn, aside from normal maintenance like periodic rebalancing. A work in progress. Not all can be Ashal Jauhari 🙂
Ask your question here
Each week I answer generic questions from reader. If you have one, you can use this form to send your question.
[contact-form subject="freefincal Q & A"][contact-field label="Name" type="name" required="1″][contact-field label="Email" type="email" required="1″][contact-field label="Questions only please. For comments use the form at the end of the post." type="textarea" required="1″][/contact-form]
GameChanger– Forget Startups, Join Corporate & Live The Rich Life You want
My second book, Gamechanger: Forget Start-ups, Join Corporate and Still Live the Rich Life you want, co-authored with Pranav Surya is now available at Amazon as paperback (₹ 199) and Kindle (free in unlimited or ₹ 99 – you could read with their free app on PC/tablet/mobile, no Kindle necessary).
It is a book that tells you how to travel anywhere on a budget (eg. to Europe at 50% lower costs) and specific investment advice for young earners.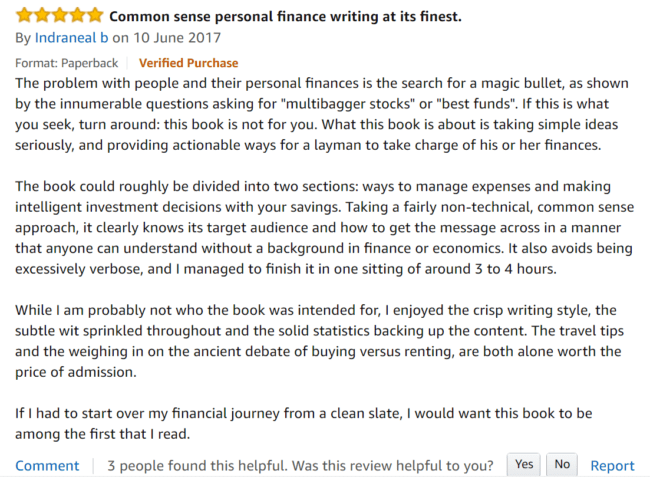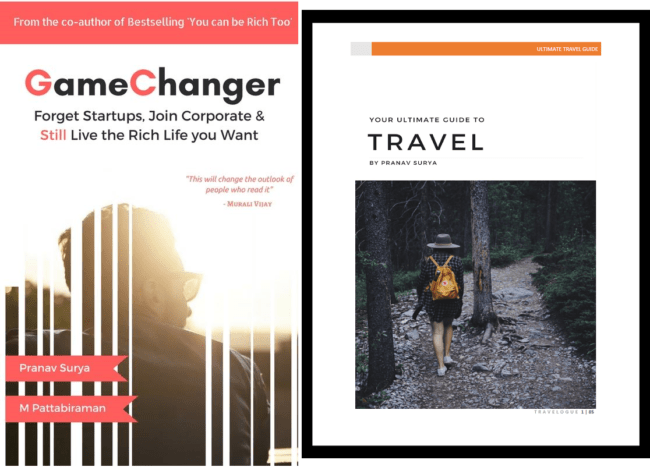 The ultimate guide to travel by Pranav Surya is a deep dive analysis into vacation planning, finding cheap flights, budget accommodation, what to do when travelling, how travelling slowly is better financially and psychologically with links to the web pages and hand-holding at every step.  Get the pdf for ₹199 (instant download)
You can Be Rich Too with Goal-Based Investing 
My first book with PV Subramanyam helps you ask the risk questions about money, seek simple solutions and find your own personalised answers with nine online calculator modules.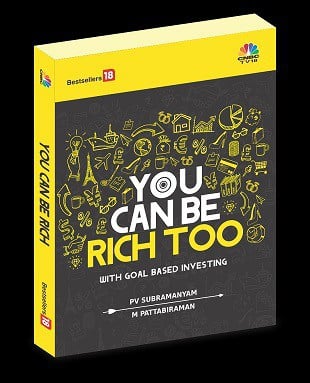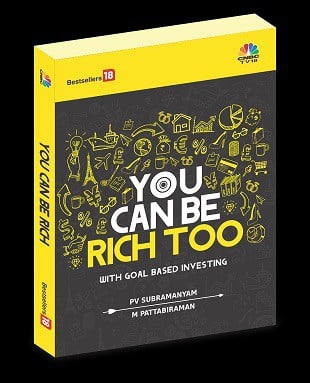 The book is available at:
Amazon Hardcover Rs. 271. 32% OFF
Infibeam Now just Rs. 270  32% OFF. If you use a mobikwik wallet, and purchase via infibeam, you can get up to 100% cashback!!
Flipkart Rs. 279. 30% off
Kindle at Amazon.in (Rs.271) Read with free app
Google PlayRs. 271 Read on your PC/Tablet/Mobile
Now in Hindi!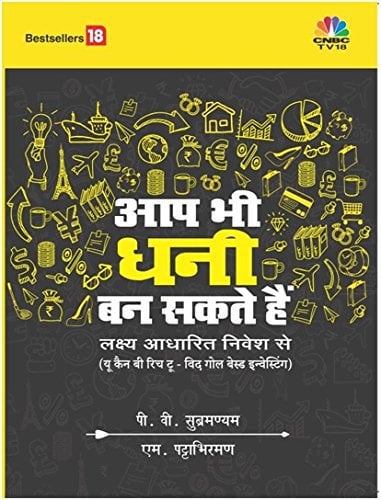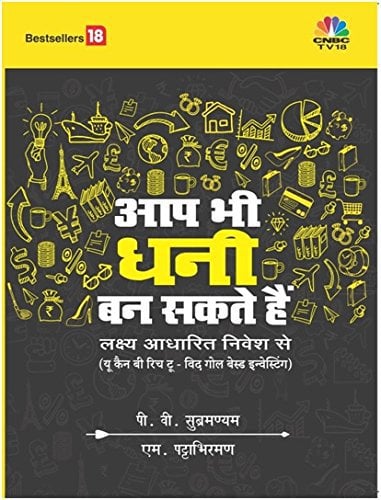 Order the Hindi version via this link