In this post, I discuss two quiet, consistent performers in the equity-oriented  (or "balanced") mutual fund space: Franklin India Balanced Fund and Canara Robeco Balance Fund.  Let us begin with some definitions: (1) consistent performer: A fund that has consistently outperformed a chosen benchmark over the period studied (in this case, every possible 3Y, 5Y and 7Y period from April 2006) both in terms of risk and downside protection.
(2) downside protection: Whenever the benchmark registers a loss (negative monthly return), the fund should have registered a lower loss (eg. benchmark monthly return = -5%, fund monthly return = -4%). Read more: An introduction to Downside and Upside Capture Ratios
(3) quiet: The fund has a low AUM and there is practically no social chatter about it. ( Don't worry, this post will not change anything. I have supreme confidence about my insignificance).
How to screen for quiet consistent performers
Step 1: Follow freefincal.com (ahem)
Step 2: Watch out for the month mutual fund screeners. The latest is here: Nov 2017 Freefincal Equity Mutual Fund Outperformance Screener
Step 3: Download the file and filter out a particular category (if that is what you want)
How to use the mutual fund performance consistency screener
Step 4: There are many ways to screen, and for this post, I have chosen balanced funds and listed only those funds that have beat the BSE Balanced Benchmark more than 90% of every possible 3Y, 5Y and 7Y periods from Apr. 2006.
BSE Balanced Index
This my own creation when I wanted an accessible benchmark for balanced mutual fund. Most balanced funds use CRISIL Balanced Index
This costs about 11 lakh a year (yeah, you read that right!) and has
Nifty 50 index – 65% +
CRISIL Composite Bond Fund Index – 35%
The CRISIL Composite Bond Fund Index itself consists of
CRISIL Gilt Index 50%
CRISIL AAA Long Term Bond Index 20%
CRISIL AAA Medium Term Bond Index 12%
CRISIL AAA Short Term Bond Index 6%
CRISIL AA Long Term Bond Index 5%
CRISIL AA Medium Term Bond Index 3%
CRISIL AA Short Term Bond Index 4%
So instead of this, I use (more due to necessity, than superiority) BSE Balanced =
70% of S&P BSE AllCap Index (total returns index) +
30% of S&P BSE  India Bond Index. (rebalanced daily – a bit of an overkill!)
As mentioned in the above post, this is a reasonably tough index for the Balanced fund to beat.
Value Research uses VR Balanced which is a weighted sum of all funds in the category. In this post, I show that BSE Balanced is a tougher index to beat than VR balanced: Using Balanced Mutual Funds As The Core Equity Portfolio Holding
Back to step 4: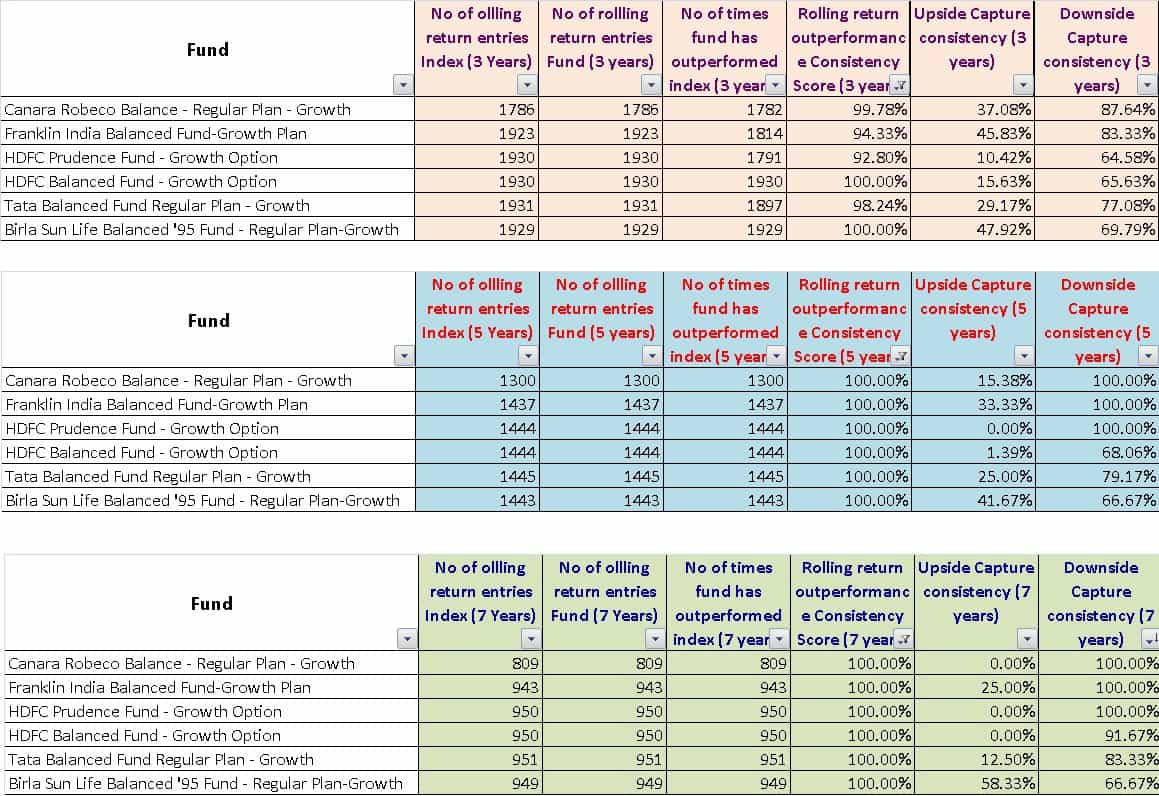 Let me explain one entry for clarity
Take Canara Robeco Balance and the first table (3 years)
1786 3 year rolling returns were compared with BSE balanced. Out of this, the fund had higher return for 1782 entries = 99.78% outperformance ratio.
If monthly returns were considered over those 3Y periods, the fund typically fell less than BSE Balanced 87.64% of the periods sampled.
The exact definition of downside capture consistency
= no of times downside capture < 100%/(total no of downside capture points)
The downside capture is a measure of loss protection. For example, a downside capture of 80% over 3 years implies that the fund has only captured 80% of the benchmark losses when the benchmark monthly returns were negative. Lower the downside capture, the better.
Step 5: head back to the table and look at the entries.
HDFC Prudence, Balanced, Tata Balanced and Birla Balanced are reasonably well known (wrt AUM). Tata has the lowest AUM among these. Has its popularity waned a bit?
Franklin Balanced and Canara Robeco Balance have an impressive record but are not so well known. The purpose of this post is to introduce them to readers who may not be aware and also discuss a method of evaluating funds (for selection).
Birla Sun Life Balanced '95 Fund has the lowest downside protection, but impressive return-outperformance. Nothing wrong with it, other the fact its 7Y downside protection is not so high.
Surprise, surprise! HDFC Prudence has better downside capture consistently than HDFC Balanced (for the duration considered). So think don't be in a hurry to exit HDFC Balanced if  HDFC merges it with HDFC Prudence to comply with SEBI's Mutual Fund Scheme Categorization: Pros and Cons.
Note: this is one of many ways to analyse funds. Each result could be different – blind men touching the mutual fund!
Step 6:  Explore more about Franklin Balanced and Canara Robeco Balance. Read their scheme information documents (SID) or the Key Information Memorandum (KIM) to know more about how they will invest and where they will invest. This post is merely the tip of the iceberg.
Remember, lazy people should either outsource management or stay away. DIY is a synonym for effort.
---
You Can Be Rich Too with Goal-Based Investing, my first book is now available at a 35% discount for Rs. 258. It comes with nine online calculators. Get it now. Order the Hindi version via this link
Gamechanger, my second book is now only Rs 149 (25% off).  Get it or gift it to a young earner 
The ultimate guide to travel by Pranav Surya is a deep dive analysis into vacation planning, finding cheap flights, budget accommodation, what to do when travelling, how travelling slowly is better financially and psychologically with links to the web pages and hand-holding at every step.  Get the pdf for ₹199 (instant download)
---
Use this form to ask Questions or reg. the robo template ONLY (For comments/opinions, use the form at the bottom)
And I will respond to them in the next few days. I welcome tough questions. Please do not ask for investment advice. Before asking, please search the site if the issue has already been discussed. Thank you.  PLEASE DO NOT POST COMMENTS WITH THIS FORM it is for questions only.
[contact-form][contact-field label="Name" type="name" required="1″][contact-field label="Email" type="email" required="1″][contact-field label="Ask your question (Got an opinion or comment, use comment box at the bottom of the page. DO NOT post them here)" type="textarea" required="1″][/contact-form]