I continue answering questions from readers. You can use the form below to post your question. I will take it up next week.
Recent Market Volatility
Zalak Shah: Hello sir, in past 2 years there has been volatility in market due to Chinese slow down, Brexit, US elections,etc I have sip of rs12000 in ipru discovery, Idfc premier, Franklin flexicap & UTI MNC (all growth option)….Still my portfolio is growing at 6.40℅ xirr…… Sip's are for long term,It's just the quarterly review in returns which is worrying me.
Pattu: Volatility is the only constant when it comes to stock markets. There will always be some issue or the other. For the first 5-6 years of my mf investing journey, my portfolio was red. Patience and discipline is the key. Do not review quarterly! Do not evn review for first few years!
Have a look: The rise and fall of my retirement corpus
My lessons from mutual fund investing
Nifty Strategic Indices
Subbarao: Many times you have mentioned that fund ratings are not useful for evaluating funds after investment, because of difference in investment period rating period. I completely agree with you. Do you see any merit in comparing mutual fund investments with indexes such as NV20, NIFTY TRI, SENSEX TRI for the same dates and amounts of investment to get a realistic picture of mutual fund performance? Could you prepare another excel tool to evaluate the same, if possible?
Pattu: Yes indeed! I have such a tool here: Mutual Fund Rolling Returns Analysis with Nifty Strategy Indices
For those who want more details can check: Nifty Strategy Indices as Mutual Fund Benchmarks
Retirement planning for unorganised sector employees
What is the best strategy to secure corpus for old age for the people working in unorganised sectors and with no pf, gratuity and are on contractual appointments?? with no job guarantee what so ever??
Pattu: The rules are the same for anybody. Build a diversified investment portfolio, as per requirements. Those will no job security should invest as much as possible, as soon as possible.
Only DSP MicroCap?
Dear sir, I am 26 and have started investing 7k per month in DSP BlackRock micro for my retirement which is 34 years away. My question is I m relying on only this fund and am putting all my money into it as it has had good performance in the past few years. Should I diversify more? I do not mind the volatility and I usually invest more when it goes down. Requesting your opinion.
Pattu: You may not mind volatility, but your future needs would! So please diversify.
Health Policy for Central Govt Employees
Hi, I am a central govt. employee, therefore most of the health related expenses are covered by govt. Is health insurance is required for govt employee or that money should be invested to create funds. What's your take on this issue?
Pattu:  Please check the exclusions of the policy and how it will change when you retire.  If it is comprehensive enough, you do not need separate health cover.
Should I use MF Utility?
Sir, 1. I have read your article about MF direct investment, in that you told me about MF utility is going to be sold. I recently got the CAN number, should I use it or not. If I keep that without using it, will it create any problem? 2. You said we can upload Consolidated statement to any online tracker. If I do so, the statement will contain my mobile number, PAN number, and mail id, then will it create any security problems? 3. I have purchased your book, "You can be rich too". I am already a big fan of Mr. Subra, I hope I will have great experience in reading the book. Waiting for your reply. Thank you sir.
Pattu: I did not say MF Utility is going to be sold. I discussed a statement made by the AMFI chairman that they are discussing "possibilities". Using CAN now is not a problem at all. Your data is going to be stored only with AMCs and you can get an account with them and invest at any time.
Uploading CAS should not be an issue. Use of online tools without sharing personal information is not possible.
Thank you for purchasing the book. Hope you like it.
Franklin Prima vs Franklin Smaller Companies
Dear Sir, i was comparing FI Prima Fund vs FI Smaller Cos Fund, from portfolio both looks almost same, minor difference in holding percentage and few companies different, the fund managers are also the same, there is however a huge diff between AUMs since Prima Fund is comparatively older, also the expense ratio of Prima Fund is lesser than Smaller Cos Fund, so my question is in this scenario if i want to choose anyone fund, what approach should i take Cheers, TIA.
Pattu: Check the scheme information document for investment strategies. Franklin Smaller companies Fund has a clear definition of what a small company stock is: bottom 100 of CNX 500. It shall try and hold more than 75% of stocks in this segment at all times. Prima is a bit more fluid and can hold more debt.
That said, it is unfortunate that an AMC has two funds with highly overlapping investment strategies, making it difficult for investors to choose.
Using the Rolling Returns Calculator: Fund A vs. Fund B, one can see that only in recent past that Smaller Companies Fund has done better than Prima due to the movement in small cap stocks.
The top graph is the normalised NAV movement and the bottom graph 5Y rolling returns. For the same levels of risk (standard deviations in the past 3Y are identical), Smaller Companies has done better in terms of reward. However, going forward, it could be more volatile than Prima, esp after a crash.
If you use the fund A vs. fund B mutual fund analyzer, you will see that Smaller Companies has a better cumulative risk-reward score (above the dotted line).
On the other hand, if you analyze year-on-year, you will see that Smaller Companies can have poor risk adjusted return, every other year. So holding it is not for the faint hearted.
Freefincal Mutual Fund Tracker
Shailesh: The mutual fund statement do not give XIRR/CAGR in the form. The tools developed can give the result and i tried it but it is time-consuming for me to enter different transactions (redeem/STP/SIP) in different folios. Is there any other way to "upload" transactions in your tool? Is there any other method to calculate XIRR ?
Pattu: I wish this could be done. There should be a way out. I will explore.
Features of the freefincal mutual fund and financial goal tracker
Change in Asset Allocation With Age
Arijit: Dear Pattu Sir, I am big fan of yours blog freefincal.com. I regularly follow your blogs. You might have studied various personal finance cases; this might be your new experience. I want you to write a blog on my case, so that all readers can gain from it. I am working in Private Company. I recently become father of baby girl (single child) at the age of 42 years after 8 years of marriage (at 35 years). I know goals for my baby like Education, Marriage and Retirement for self etc. As Fixed asset, I have a house in my hometown from which I can get rental income of Rs.11000/- per month from September 2017. I am staying in Rented House in Delhi for job. Presently, I am getting salary of Rs.63500/- cash in hand. I am able to save 40-45% of my salary and Rs.8000/- (Rs.11000/- – 3000/- for maintenance) from rent. After retirement I may go back to my hometown and start leaving in my home (partly for self use and partly for rent. It can fetch up to 20,000/- per month current date rental income beside self use). I am not thinking much about calculating monthly investment for different goal for baby. I am trying to invest as much as I can. If I starts calculation, I may get depressed if found short fall in investment. I know, I am late in starting investing through MF, although, I am following it since last 5 years. Presently I am Debt free. Till now I have major savings in : EPF : 4.5L (Indirect) PPF : 3L (From self) Gratuity : 2L (Indirect) Emergency Fund in Liquid, Ultra short Term, Arbitrage Fund & e-MOD (online FD) etc : 3L I have kept all protection like Term Insurance (80L), Health Insurance (5L Family Floater Plan), Critical Illness Plan (5L), Accident Policy (10L), Credit & Debit Card Protection Plan, PMSBY. Similarly I have Company's GLTIP : 35L (Group Life Term Insurance Plan), Company Health Insurance 1L (with buffer), Company Group Accident Policy etc. I have recently started (since 1st April 2016) Manual SIP (as definition given by you) in Direct Mutual fund using MF Utility Platform. My time frame is 15 years (as I will get retired by then) and I can increase my investment by 10% annually. Any excess money or wind fall, I put in liquid fund for lump sum investment during market dip by 10%. I will rebalance my portfolio every year. : My invest in Mutual Funds are as follows : Birla SL Frontline Equity Direct-G : 24000/- yearly ICICI Pru Focused Bluechip Equity Direct -G : 24000/- yearly ICICI Pru Value Discovery Direct-G : 24000/- yearly HDFC Mid-Cap Opportunities Direct- G : 24000/- yearly Tata Balanced Direct-G : 24000/- yearly ELSS (Axis Long Term Equity Direct-G) : 36000/- yearly (Doing Manual SIP in between April – December, as I have to show proof for investment by first week of January. I will balance with 80C, some investment are fixed like Term Insurance, some will be varying like PPF, Tuition Fee & ELSS. In no ways crossing the 80C limit.) Sectoral Fund : SBI Pharma Direct-G (I know its volatility. I will invest 25000/- fixed every year with Manual SIP) I am fully utilizing my 1.5Lakhs quota in 80C. I have a query about asset allocation and aggressive investment. In general, Asset allocation in equity is (100-Age)%. i.e suppose my age is 43, so my asset allocation in equity should be (100-43)=57% So according to general conception, I should keep asset allocation as Equity = 57%; Debt = 35%; Gold = 8% (through Sovereign Gold Bond every year with a target of 150g in 15 years i.e 10g every year for marriage purpose only) My current deduction in EPF is Rs.43,056/- annually and I am investing in PPF Rs.50,000/- annually. *** I want to ask, Shall I consider EPF, PPF, Gratuity, Emergency Fund as Debt investment in Asset Allocation Calculation? Is it wise to keep this asset allocation fixed till 12 years then start working in lowering the equity ratio to 30% for last 3 years before retirement? ***I know, instead of timing the market, staying invested in the market for long period is much important. If the situation permits me, then I can think of purchasing a 2-BHK flat in Delhi/NCR (current budget 40-45L). My daughter age will be 16 years by the time I get retire. So I don't want to calculate now whether I will able to accumulate so much fund to full fill all my goals including 2-BHK at Delhi/NCR. I want to invest as per my promise to myself at least for 5 years. Then I will review for my goal. So what is your view on it? I will eagerly waiting for your comment. Please tell me where I am wrong. Thanks & Regards, Arijit Sinha
Pattu: I can only comment on your asset allocation question.
"Shall I consider EPF, PPF, Gratuity, Emergency Fund as Debt investment in Asset Allocation Calculation?" ==> Leave emergency fund out of asset allocation and gratuity until you actually receive it.
"Is it wise to keep this asset allocation fixed till 12 years then start working in lowering the equity ratio to 30% for last 3 years before retirement?"
==> While it is important to reduce equity allocation before retirement, you cannot be formulaic about it. Review the folio each year and evaluate how strong it is. For example,  you can check how many years you can live off the debt portion (excluding pension) alone and if this is about 15 years, it is healthy.  I have tools for evaluating these down the line:
Review Your Financial Freedom Portfolio in Seven Easy Steps
The even lower stress retirement calculator!
Retirement Planner For The Middle-Aged Employee
You can always invest for a few years and evaluate the possibility of a house purchase later.
Ask Questions with this form
And I will respond to them next week. I welcome tough questions. Please do not ask for investment advice. Before asking, please search the site if the issue has already been discussed. Thank you.
[contact-form][contact-field label='Name' type='name' required='1'/][contact-field label='Email' type='email' required='1'/][contact-field label='Comment' type='textarea' required='1'/][/contact-form]
Pune Investor Workshop Feb 26th, 2017
The second Pune workshop will be held on Feb 26th, 2017. You can register for this via this link
You Can Be Rich Too With Goal-Based Investing
A very concise and practical read. No nonsense advice to personal finance.
The best book ever on Financial Freedom Planning. Go get it now!
Your first investment should be buying this book
The (nine online) calculators are really awesome and will give you all possible insights
Thank you, readers, for your generous support and patronage.
Amazon Hardcover Rs. 338 15% OFF
Kindle at Amazon.in (Rs. 244.30)
Google Play Store (Rs. 244.30)
Infibeam Now just Rs. 307 use love10 to get additional 10% OFF.  
If you use a mobikwik wallet, and purchase via infibeam, you can get up to 100% cashback!!
Ask the right questions about money
get simple solutions
Define your goals clearly with worksheets
Calculate the correct asset allocation for each goal.
Find out how much insurance cover you need, and how much you need to invest with nine online calculator modules
Learn to choose mutual funds qualitatively and quantitatively.
More information is available here: A Beginner's Guide To Make Your Money Dreams Come True!
What Readers Say
Also Available At
Bookadda Rs. 371. Flipkart Rs. 359
Amazon.com ($ 3.70 or Rs. 267)
Google Play Store (Rs. 244.30)
Subscribe and join the freefincal Youtube community!
 Don't like ads but want to support the site? Subscribe to the ad-free newsletter! 
Want to conduct a sales-free "basics of money management" session in your office?
I conduct free seminars to employees or societies. Only the very basics and getting-started steps are discussed (no scary math):For example: How to define financial goals, how to save tax with a clear goal in mind; How to use a credit card for maximum benefit; When to buy a house; How to start investing; where to invest; how to invest for and after retirement etc. depending on the audience. If you are interested, you can contact me: freefincal [at] Gmail [dot] com. I can do the talk via conferencing software, so there is no cost for your company. If you want me to travel, you need to cover my airfare (I live in Chennai)
---
Connect with us on social media
---
Do check out my books
---
You Can Be Rich Too with Goal-Based Investing
My first book is meant to help you ask the right questions, seek the right answers and since it comes with nine online calculators, you can also create customg solutions for your lifestye!
Get it now
.  It is also available in
Kindle format
.
---
Gamechanger: Forget Startups, Join Corporate &

Still

Live the Rich Life You Want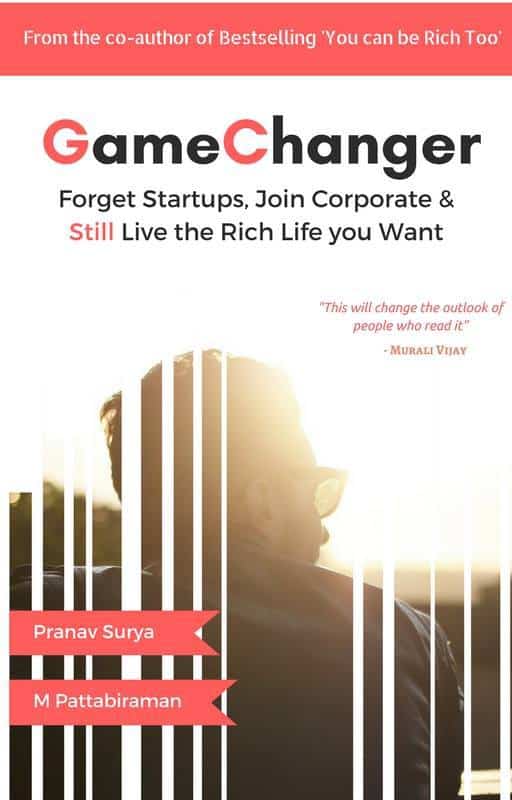 My second book is meant for young earners to get their basics right from day one! It will also help you travel to exotic places at low cost!
Get it or gift it to a youngearner
---
The ultimate guide to travel by Pranav Surya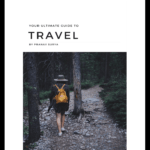 This is a deep dive analysis into vacation planning, finding cheap flights, budget accommodation, what to do when travelling, how travelling slowly is better financially and psychologically with links to the web pages and hand-holding at every step.  
Get the pdf for ₹199 (instant download)
---
---
Free Apps for your Android Phone
All calculators from our book, "You can be Rich Too" are now available on Google Play!
---
Install Financial Freedom App! (Google Play Store)
---
Install Freefincal Retirement Planner App! (Google Play Store)
---
Find out if you have enough to say "FU" to your employer (Google Play Store)
---
About Freefincal
Freefincal has open-source, comprehensive Excel spreadsheets, tools, analysis and unbiased, conflict of interest-free commentary on different aspects of personal finance and investing. If you find the content useful, please consider supporting us by (1) sharing our articles and (2) disabling ad-blockers for our site if you are using one. We do not accept sponsored posts, links or guest posts request from content writers and agencies.
Blog Comment Policy
Your thoughts are vital to the health of this blog and are the driving force behind the analysis and calculators that you see here. We welcome criticism and differing opinions. I will do my very best to respond to all comments asap. Please do not include hyperlinks or email ids in the comment body. Such comments will be moderated and I reserve the right to delete the entire comment or remove the links before approving them.