Here is part 2 of this week's Q & A. Each week I try to answer generic questions about money management from readers. You can use the form below to ask your question. Please do not enter comments or observations in the form. They are for questions only.
Announcement: First I have some news. I am working on a free, open-source robo-advisory template. It is currently being beta-tested by a few members of Facebook group Asan Ideas for Wealth. Hopefully will be ready to release this month end. A robo template is a calculator where the technical inputs are pre-filled for the use according to requirement and a financial plan is automatically output.
Narendra Singh: I have received from retirement benefits being a defence person. I have received amount from my GPF/Commutation of Pension/Gratuity/encashment of Earned Leave and Fund from Naval Group Insurance Scheme. Sir please clarify the amount received is Tax free or taxable and how to show the amount in ITR. The amount is received between February 2017 to August 2017. Thanks
Pattu: Perhaps my response is too late for you, but what it is worth: GPF/Commutation of Pension/Gratuity/encashment of Earned Leave are tax exempt for you. I am not familiar with the rules for Naval Group Insurance. The exempt income can be shown in Schedule S and Schedule EI (exempt income others) in ITR2.
Dilip: Rebalance in equity space: 'this is risk reduction and not return enhancement strategy'. Can you pl elaborate. I feel if you reduce risk by periodic rebalancing process , return should increase ? Layman feeling. Thanks and regards.
Pattu: This is the post: Reactions to DSP BlackRock Micro Cap Fund Performance are Irrational!
Layman feeling, intuition etc. should be backed by hard evidence! If you rebalance periodically, the risk will reduce for sure. The return may or may not increase because market movements cannot be predicted. If portfolio management is so predictable, there will be no such thing as a market!
See: Diversification will lower investment returns! and Is it possible to time the market? (this involves a tactical rebalancing example).
Kalpesh: Hello Pattu sir, Does this mean that without having a minor account too, husband and wife can invest in each other's accounts too? i.e. total investments can be 6L? What's the importance of having a minor account here if we want to maximise the investment amount? Kalpesh
Pattu: The post in question is: How much can we invest in multiple PPF accounts?
If the couple has no children then the maximum no of accounts possible is two and therefore the maximum investment possible is 3L (1.5L in each). A single earner can invest 1.5L in his PPF and 1.5L in his spouses PPF (but can only claim 1.5 L for 80C).
Hari: What is the purpose of star ratings? How and what factors are considered under this ratings? Can we at-least trust long-term ratings of the fund?
Pattu: Star ratings represent a way to compare funds mathematically using their NAV history.  The purpose is to confuse investors!  It is fundamentally flawed in many ways: the mathematics is wrong, grouping funds in a category is arbitrary and most importantly comparing one fund to another is a useless exercise.
Even if you compare funds before you start investing, such a comparison after you start investing makes sense only when it is performed from the date of your investment.  Unfortunately, this is possible in the star portals and causes a lot of confusion as using different dates to analyse a fund is like blind men touching an elephant.
I would recommend that you do not compare one fund to another. If you must, use this: A Tool To Compare Mutual Fund Performance The Right Way!
I have written about the limitations of star ratings at length:
Mutual Fund Star Ratings are Flawed, but Investors are to blame for taking them at face value
The Trouble With Mutual Fund Star Ratings
Here is why you should ignore mutual fund star ratings
Part II: Here is why you should ignore mutual fund star ratings
KAMESWAR: I am surprised to see the way Sundaram Mutual fund is declaring dividend as 0.2/unit every alternate month or so. where as they can do it half yearly or so. Don't they feel the work load? or what is the underlying gains in it fro them? I have observed one thing is small unit holder by way of dividend get less than Rs.500.00, so this amount they can reinvest and avoid paying them. What is your opinion on this?
Pattu: What work load? They are not a company earning profits and giving it to unit holders! They are merely selling some security and giving our money back to us!! They do so to attract investors. My take: avoid all dividend mutual fund before retirement. Read more:  When Mutual Fund Dividends Make Sense
When do mutual funds declare dividends
Kalyan Baudh: 1. I have a retirement corpus of 1 Cr. and no pension. 2. I have invested 25 L in direct equity [ NIFTY compounders] which I understand. 3. I have placed 45 L combined for self and spouse in Senior citizen saving scheme and LIC Senior citizen pension schemes. I do not need the interest incomes for next three years on account of a rental income and a monthly salary. I wish to invest THIS MONTHLY INTEREST into balanced funds in SIP mode.. Would this translate into compounding / a higher rate of return. 4. In what kind of funds should I invest the remaining corpus. Would it be advisable to place another 25/50 L into an annuity and do the same with the interest received from here. I am acutely aware of not having a pension and feel the need to build some kind of assured basic income that will not be wiped out. Thanks.
Pattu: The only responsible answer I can offer is: please consult a SEBI registered fee-only financial planner from this list.
AC Sardar: Please post your opinion on Equity arbitrage fund
Pattu: They can be used as a low-risk alternative to ultra-short debt funds (in terms of risk) but can only offer returns comparable to liquid funds. So  it can be used for parking money without tax (as of now) and not and "investment" option.
Read more: How Arbitrage Mutual Funds Work: A simple introduction
How & when to choose Equity Savings Funds & Arbitrage Funds
Dandy: Hi Pattu, I see you have the financial freedom app on the Google Play Store. Do you plan to have an iOS version of the app? Would really like that. Thank you.
Pattu:  There are freefincal apps on Google play store but getting to the IOS store is expensive and the frugal side of me does not agree to that!
For those interested here are three apps:
freefincal FU money calculator (yeah, FU as in …)
freefincal financial freedom calculator
DC: Hi Pattu, I'm currently reading your book "Gamechanger" and I'm at the credit cards section. I already have a credit card and would like to reassess it. I want to know if you already have posts that can help me analyze and pick the best credit cards for my needs. If yes, can you point me to them? For e.g. comparing a card with lower annual fees and higher APR and a card with higher annual fees and a lower APR? If no, can you share some guiding points that can help me build my own Excel and any online resources that might help as well? Thank you very much!
Pattu: Personally I do not own a credit card and I detest the idea of collecting reward points etc. My wife has had the same card for 17 years and its only "perk" is no fees and I think that would suffice for anyone who wants to build credit history and wants some actual credit. Anyways, Pranav has mentioned some links to compare cards in that section. In addition, you can also check out http://www.cardexpert.in/ as suggested by a learned friend.
Ramamurthy: Pattu,in one reply you have cautioned retirees against investing in Balanced Funds as one crash can wipe out your money.I am a retiree. Age 88.I never thought I would see 88.Unfortunately this has happened and reqiures a change in my investment thinking.In my present portfolio there is NIL investment in balanced funds.This has to be revised as interest on Bank FD is falling.So around 30Lacs in FD is maturing shortly and I am interested in putting it in HDFC Balanced fund Dovidend Pay out option. I have seen it,s NAV being minus twice in 2008 and 2011 out of the past 11 Years.In the very next two years it shot up completely to a remarkable recovery.The dividends are tax free in the hands on both the Fund House and me. Do you still think retirees like me should not touch Balanced Funds? If so why please?
Pattu:  Sir, I would recommend  a fixed income heavy portfolio for you, say 80% and rest for your direct stocks + a balanced fund if you wish.  Or that 20% can be in a monthly dividend option of a balanced fund.
Shashi: Good morning In your last response to Yogesh, you mentioned that asset allocation (to equity) of about 50-60% after retirement is extremely dangerous. I am a 'retired' individual (55+ years), with a source of income from 'safe' debt assets which covers all my monthly expenses for the next 5 years, after which these assets mature. Given this scenario, would a higher allocation of 60% to equity (balanced MFs and similar medium risk assets) for the next 3-4 years be considered extremely risky? Post that period, the allocation to equity can be reduced to 30-40% Thanks in advance for your response.
Pattu:  Yes, I would say it is risky. My robo advisory template is designed to answer such questions automatically. Please wait a couple of weeks and then you can punch in your own numbers.
Hory Sankar Mukerjee: Hi Sir, i have been reading your blog for sometime and trying to get some structure to my investment plans. Thank you for presenting us with hard facts. However because of my past ignorance, i have invested huge amounts in LIC (20 L, one time payments, no more installments are due post 2017). I have stopped it now completely. Today for my debt i invest only in PPF and EPF and for equity into MF (30K SIP). Since the investments have already been made into LIC i do not want to redeem them. The asset allocation currently is 78 (Debt) and 22 (Equity). I now invest only in SIP's and contribute to my EPF and PPF. I want to change the asset allocation to 60 (Eq)-40(Dt), though it may take me at least a decade or even more, even if i continue at the same rate. All bonuses and extra money that i get is now invested in MF's. My questions are: 1. Is it a right strategy? 2. Shall i cut down on my PPF contribution and invest more in MF? Information: 37 year old, wife: not working, 32 years, planning to retire by 58, no loans or liabilities, married, one son (3 years). Term insurance has been taken, health insurance (co provided, as well as my individual). Goals: Retirement, Son's education (Graduation and Post Grad) and marriage.
Pattu:  Yes, you can gradually shift to a higher equity exposure. Please keep in mind that as you age and approach 58, the equity exposure will have to reduce. For now, you can increase the equity exposure gradually over a few years. No hurry. Please use one of my retirement calculators to draw up a strategy.
______________________
Ask Questions with this form
And I will respond to them coming Monday. I welcome tough questions. Please do not ask for investment advice. Before asking, please search the site if the issue has already been discussed. Thank you.  PLEASE DO NOT POST COMMENTS WITH THIS FORM it is for questions only.
[contact-form][contact-field label='Name' type='name' required='1'/][contact-field label='Email' type='email' required='1'/][contact-field label='Comment' type='textarea' required='1'/][/contact-form]
GameChanger– Forget Startups, Join Corporate & Live The Rich Life You want
My second book, Gamechanger: Forget Start-ups, Join Corporate and Still Live the Rich Life you want, co-authored with Pranav Surya is now available at Amazon as paperback (₹ 199) and Kindle (free in unlimited or ₹ 99 – you could read with their free app on PC/tablet/mobile, no kindle necessary).
It is a book that tells you how to travel anywhere on a budget (eg. to Europe at 50% lower costs) and specific investment advice for young earners.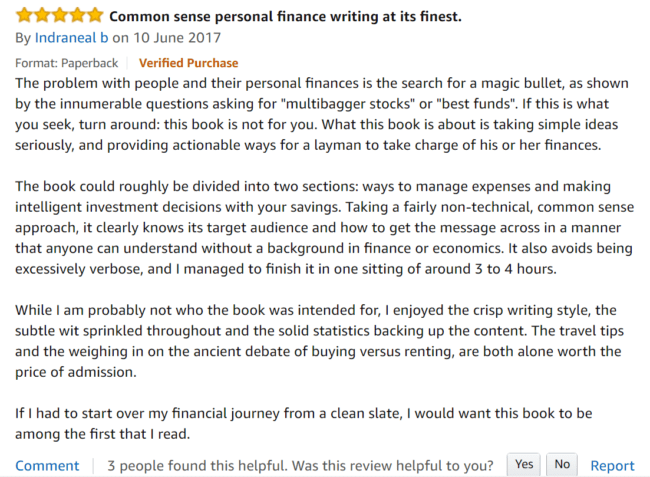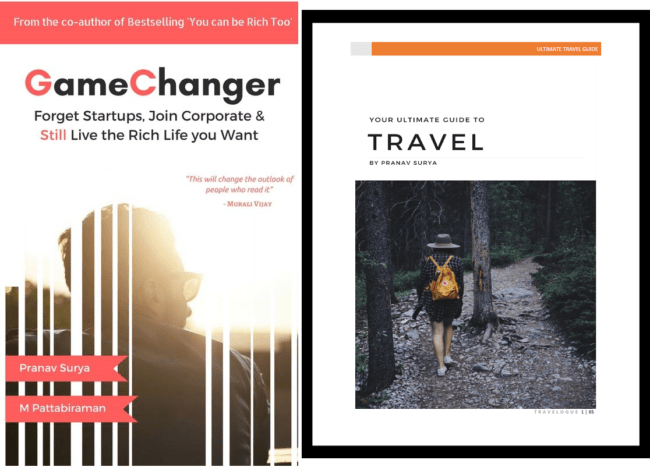 The ultimate guide to travel by Pranav Surya is a deep dive analysis into vacation planning, finding cheap flights, budget accommodation, what to do when travelling, how travelling slowly is better financially and psychologically with links to the web pages and hand-holding at every step.  Get the pdf for ₹199 (instant download)
You can Be Rich Too with Goal-Based Investing 
My first book with PV Subramanyam helps you ask the risk questions about money, seek simple solutions and find your own personalised answers with nine online calculator modules.
The book is available at:
Amazon Hardcover Rs. 271. 32% OFF
Infibeam Now just Rs. 270  32% OFF. If you use a mobikwik wallet, and purchase via infibeam, you can get up to 100% cashback!!
Flipkart Rs. 279. 30% off
Kindle at Amazon.in (Rs.271) Read with free app
Google PlayRs. 271 Read on your PC/Tablet/Mobile
Now in Hindi!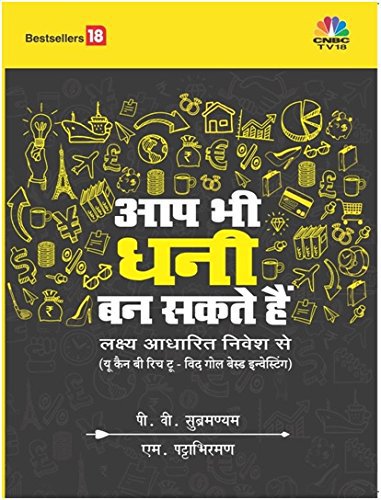 Order the Hindi version via this link