Each week I try and answer generic questions from readers. Here is this weeks edition. I could not do this last week due to GameChanger release. Apologies. You can use the form below to ask your question and I will respond next week.
Before we begin, You Can Be Rich Too With Goal Based Investing  is now 30% OFF at Amazon (hardcover ₹ 278) and at Flipkart . The Kindle edition(you can use the free app to read it). is available for only ₹90.74.  The Google Play Store edition (read on PC/Tab/mobile) is also available for the same price. Grab them before the offer ends!
Rahul: Hello Pattu Sir, your blog and its learnings on personal finance front have enlightened me for the past 3 years. Really appreciate your selfless wisdom. Now coming to my question. Paytm has recently introduced DigitalGold option, though I'm not a big fan of Gold, still the pitch of this product looks fairly competitive when compared to Gold related funds/savings products( ETF etc..) in the market. You can almost buy any amount of Gold with even Re.1 and all Gold is stored in safe vaults and it can be encashed in the form of cash or Gold bars as & when we required. Can you pls. let know your thoughts/review on this Paytm Digital Gold product.
Pattu: I would suggest that you have a look at: When to invest in gold and when to buy it. If I wanted to invest in gold (I don't), I will first have a solid entry and exit strategy as gold too volatile. Then, I will use ETFs if I have a demat account or a gold fund if I don't. If I wanted to buy gold, I will buy jewels or gold bars and store it myself and avoid such products.
Asha: Dear pattu sir Am an NRI and planning to return to India by next year mid. I have a lumpsum and would like to invest somewhere from which I could get some monthly income. I don't have any pension schemes. Pls suggest.Thanks
Pattu:  This requires a holistic plan. Please engage a planner from this list: List of Fee-only Financial Planners in India and invest in commission free products.
Suhas: I was going through "How to review a mutual fund portfolio.", assuming I have a fund which has not surpassed its benchmark for a considerable amount of time and i need to chuck it wont the new fund that i choose outperform my overall expectation of returns? if my overall return expectation was 10 now the new fund has to deliver may be 11+, and wont that affect the overall health of a portfolio?
Pattu:  If you expect 10 and get 11+, will you be disappointed?!! And do not assume the new perform will outperform (or underperform). We will know that much later.
R R Aroonkumar: Dear Mr Pattu I am a great fan of your mail. Thank you for this candid sharing. It stirs my memory of similar experience in my life. Only it was nearly a decade earlier and slightly different. I made some real quick money(speculative) in 92 to 94 without understanding the investing principles. And you have been prudent to invest throughout your 10 year period and lucky that the market responded. But I had a 12 year period with the market going nowhere (1992-2004)!! So much so that driven by despair at the first sign of rise of market beyond 4400!!(HM high) I sold off everything I had been holding for 12 years, and regretted to see it rise beyond all imaginations in just a few years… Well I am still learning from the market and from people like you. I am sure your sharing will bring some sense to the millennium age and also others to realise the facts of life. Regards
Pattu: Thank you for sharing. I am sharing this with other readers as I am sure they will benefit from your experience and perspective. Yes, luck does play a huge role and the 92- 2004 period was a terrible period for equity investors. Nothing worked, including the great SIP!
Here is an extract from an earlier post:
In Oct 2001, after 6+ years and 74 SIP installments, Franklin India Blue Chip Fund had an XIRR of ….. 0%
SIPS will not help you during a sideways market! All well to say, 'if you have held on for so many years, you will be rewarded'. Can you really blame an investor if he/she runs away from equity after 6 years of patience!
It is only during the start of the last bull run that FIBCF started to deliver. Since Nov. 2003 to April 2014, the average XIRR was 22.27%.
Krishnapratap: Hi Pattu Sir, Today, ordered "GameChanger" book with Travel Kit and am thinking what kind of tips, tricks and secrets can i get from this book and how it can change my financial life? So, can you give us some glimpse of the book contents? Best Regards, Krishnapratap Vedula
Pattu: Thank you. You may have read the travel kit by now and I hope it is some use to you. A sneak peek into the book is available here: How eating 25 pani puri's in one-go changed my life (& will change yours too)
To those who may not be aware, GameChanger is my new book with Pranav Surya. Pranav has discussed how one can travel anywhere on a budget (for all age groups), make the optimal use of credit cards, while I have discussed simple steps for a young earner to get started on money management.  The book also has an extended travel training kit.
The book alone can be pre-ordered now for ₹ 279 (₹249+ ₹30 for shipping) It should be ready for shipping sometime next week. Will update here
The book + travel kit (e-book; instant download) can be got together for ₹349. Click to Get both books featured below for Rs. 349.
The travel kit alone can be obtained for ₹199.  Get it now (immediate download) for ₹199
Ranjan: How do I go about reviewing my mutual fund portfolio ….. All the funds that I have, managed to beat their benchmark by 2-3 percentage points but lag behind their category peers in 1 and 2 year returns? Funds are: all direct growth 1.Axis long term Equity fund 2.Icici long term Equity fund 3.Franklin India bluechip fund
Pattu: Peer comparison is a one way ticket to confusion. Never compare peers, even if you can do so from the same date of investment: A Tool To Compare Mutual Fund Performance The Right Way!
I have outlined what I do here: The 2016 Personal Finance Audit: Returns do not matter!
As long as the funds are doing what they are expected to do (beat their benchmarks post expenses on a risk-adjusted basis*), as long as the returns are healthy, and as long as you can estimate the worth of your corpus (see above audit), dont worry. Focus on asset allocation, yearly reviews and rebalancing. Have a plan to change asset allocation as your need approached.
Simple outperformance over say 3Y+ is good enough for a start.
Dilip: Q1. Planning is very important is like taking of the flight n cruising speed until decide to retire. How ever I felt extremely important is that safe landing of flight meaning ( maintain wealth, capital ) is the execution part i.e. safe withdrawal out of that plan. There are many factors on this like individual age, existing pattern of financial instruments invested (100% equity to 20 % equity-80% debt etc.),future goal(child, education, marriage, retirement etc), the performance of the existing investments and many more. I know this is very deep dive in to ocean of finance which is complex n difficult to take up. I love to see you might throw light to touch upon each n every factors stated above n write a series of safe landing( meaning withdrawal) would be great. Q2. If invested in 15 MF equity schemes for a long term investor (say +15 years) , while systematic withdrawing the money, should I withdraw equal amount from each equity MF or single equity? Even for withdrawal lump-some amount what should be the strategy – withdrawal from single MF or limited MF or all MF equally weight-age?
A1: Yes I agree safe landing is crucial.  I have a simulator for handling the corpus after retirement: The Retirement Bucket Strategy Simulator. I will extend this to the pre-retirement stage so that the landing can be practiced on random portfolio returns. This I hope will help to play it by the ear in real time. Thank you for the good analogy and suggestion.
A2:  1 equity mf or 15, they are one asset class and what matters is to have a plan for changing the asset allocation close to retirement. Once this is in place, withdrawals can be done in any which way comfortable. It would be better to gradually consolidate the folio and reduce the no of funds held over time.
vandhi: I am using the Low-stress retirement calculator to find my SIP for the goal. Last week , i have received lump-sum amount and i have plan to invest all into retirement goal, After key in all the current investments(Equity MF,Debt MF,PPF,EPF) with return expectations as 12% for Equity and 6% for debt and 8% for EPF/PPF. I am surprise to check that there is no need to invest further for the Goal. What should i do now, Am i done with Retirement Goal Investments. Should divert the funds for my other goals.
Pattu: Ha ha! That is a good situation to be in. I would first recheck the calculation. This is possible if the lump sum is substantial like from the sale of a property. If correct, you can divert part of the lump sum to other goals in the desired asset allocation, and invest at least a little in retirement "just in case". Please do not assume that retirement planning is over. Review the situation each year and course correct as needed.
=-=-=-=-=-=-=-=-=
A reminder that You Can Be Rich Too With Goal Based Investing  is now 30% OFF at Amazon (hardcover ₹ 278) and at Flipkart . The Kindle edition(you can use the free app to read it). is available for only ₹90.74.  The Google Play Store edition (read on PC/Tab/mobile) is also available for the same price. Grab them before the offer ends!
Few Seats Available for the DIY Investor Meet at Kolkata 28th May 2017
Click here to Register for the meet 
OFFER: GameChanger + Travel Training Kit
Click to Get both books featured below for Rs. 349.
Ask Questions with this form
And I will respond to them next weekend. I welcome tough questions. Please do not ask for investment advice. Before asking, please search the site if the issue has already been discussed. Thank you.
[contact-form][contact-field label='Name' type='name' required='1'/][contact-field label='Email' type='email' required='1'/][contact-field label='Comment' type='textarea' required='1'/][/contact-form]
GameChanger: Forget Startups, Join Corporate & Still Live the Rich Life You Want
is the new book hat discusses efficient money management solutions for everyone.
1) How to have a plan to quit as soon you start working and invest for it with minimal effort on auto-pilot.
2) How to manage expenses and time with minimal effort
3) Learn how to make that 4-day weekend in Thailand for 12k, plus travel to exotic locations at 50% lower budgets than what you did previously
4) Learn how credit cards can lower home loan payments and how to negotiate the fees associated.
5) Invest for financial freedom on auto-pilot! Pre-order now for ₹ 279 (₹249+ ₹30 for shipping)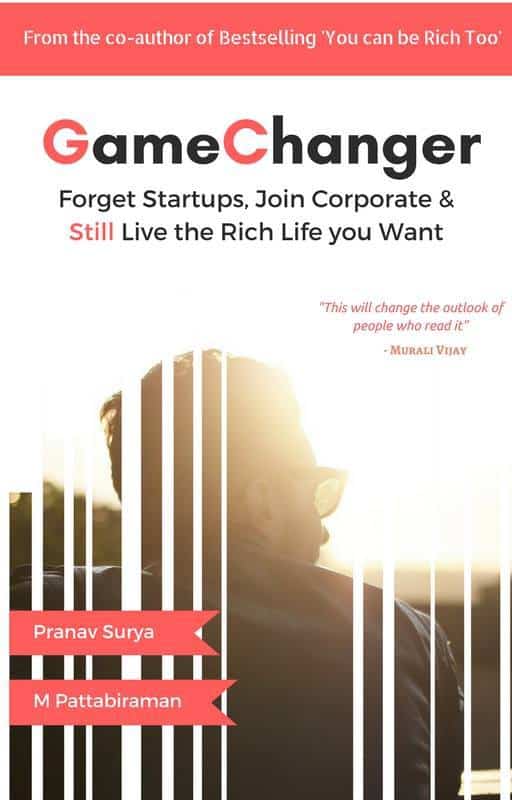 Ultimate Travel Training Kit by Pranav Surya
A deep dive analysis into vacation planning, finding cheap flights, budgeted accommodation, what to do when travelling, how travelling slowly is better financially and psychologically with links to the web pages and hand-holding at every step. Your one-time decision to read it will impact the way you travel for decades. Get it now (immediate download) for ₹199
You Can Be Rich Too With Goal-Based Investing
is my book with PV Subramanyam.
Ask the right questions about money
get simple solutions
Define your goals clearly with worksheets
Calculate the correct asset allocation for each goal.
Find out how much insurance cover you need, and how much you need to invest with nine online calculator modules
Learn to choose mutual funds qualitatively and quantitatively.
If you have not yet got the book, check out the reviews below and use the links to buy.
Reader Quotes:
Gift it to your Friends and Relatives whom you care more. Already follower of Pattu and Subra's forum. Ordered 4 more copies to give gift to my friends and eagerly waiting to read
The best book ever on Financial Freedom Planning. Go get it now!
Your first investment should be buying this book
The (nine online) calculators are really awesome and will give you all possible insights
Thank you, readers, for your generous support and patronage.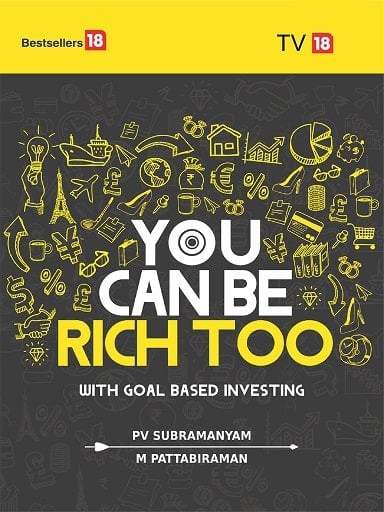 Amazon Hardcover Rs. 278. 30% OFF
Flipkart Rs. 279 30% off
Kindle at Amazon.in (Rs.90.74)
Google Play Store (Rs. 90.74)
Infibeam Now just Rs. 319 21% OFF.
If you use a mobikwik wallet, and purchase via infibeam, you can get up to 100% cashback!!
Bookadda Rs. 344. Flipkart Rs. 359
Amazon.com ($ 3.70 or Rs. 267)
More information is available here: A Beginner's Guide To Make Your Money Dreams Come True!
What Readers Say
Subscribe and join the freefincal Youtube community!
 Don't like ads but want to support the site? Subscribe to the ad-free newsletter! 
Want to conduct a sales-free "basics of money management" session in your office?
I conduct free seminars to employees or societies. Only the very basics and getting-started steps are discussed (no scary math):For example: How to define financial goals, how to save tax with a clear goal in mind; How to use a credit card for maximum benefit; When to buy a house; How to start investing; where to invest; how to invest for and after retirement etc. depending on the audience. If you are interested, you can contact me: freefincal [at] Gmail [dot] com. I can do the talk via conferencing software, so there is no cost for your company. If you want me to travel, you need to cover my airfare (I live in Chennai)
---
Connect with us on social media
---
Do check out my books
---
You Can Be Rich Too with Goal-Based Investing
My first book is meant to help you ask the right questions, seek the right answers and since it comes with nine online calculators, you can also create customg solutions for your lifestye!
Get it now
.  It is also available in
Kindle format
.
---
Gamechanger: Forget Startups, Join Corporate &

Still

Live the Rich Life You Want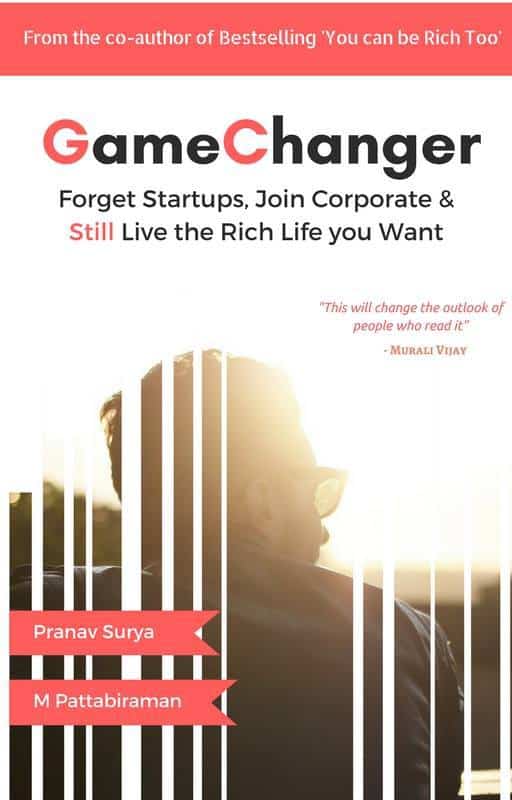 My second book is meant for young earners to get their basics right from day one! It will also help you travel to exotic places at low cost!
Get it or gift it to a youngearner
---
The ultimate guide to travel by Pranav Surya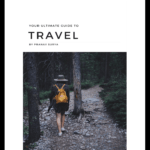 This is a deep dive analysis into vacation planning, finding cheap flights, budget accommodation, what to do when travelling, how travelling slowly is better financially and psychologically with links to the web pages and hand-holding at every step.  
Get the pdf for ₹199 (instant download)
---
---
Free Apps for your Android Phone
All calculators from our book, "You can be Rich Too" are now available on Google Play!
---
Install Financial Freedom App! (Google Play Store)
---
Install Freefincal Retirement Planner App! (Google Play Store)
---
Find out if you have enough to say "FU" to your employer (Google Play Store)
---
About Freefincal
Freefincal has open-source, comprehensive Excel spreadsheets, tools, analysis and unbiased, conflict of interest-free commentary on different aspects of personal finance and investing. If you find the content useful, please consider supporting us by (1) sharing our articles and (2) disabling ad-blockers for our site if you are using one. We do not accept sponsored posts, links or guest posts request from content writers and agencies.
Blog Comment Policy
Your thoughts are vital to the health of this blog and are the driving force behind the analysis and calculators that you see here. We welcome criticism and differing opinions. I will do my very best to respond to all comments asap. Please do not include hyperlinks or email ids in the comment body. Such comments will be moderated and I reserve the right to delete the entire comment or remove the links before approving them.