I post a fund reviews from time to time in order to showcase the capabilities of my Excel sheets to new readers. The focus in these posts is on 'how to review/analyze a fund' rather than the results of the review. The fund chosen is just an excuse.
In this case, it is  Edelweiss Absolute Return Fund. This is an equity-oriented 'balanced' fund or 'hybrid' fund. Its main aim is to reduce the volatility in NAV movement, but at the same time aim for capital appreciation by using a wide variety of instruments:
Equity and equity-related instruments like derivatives, arbitrage opportunities, stock lending, option premium, interest swaps, foreign securities, bonds, money market instruments and securitised debt (whew!)
In spite of all this, it is considered as a high risk fund (brown color code) but is curiously benchmarked to CRISIL MIP blended index which is a debt oriented folio (15% Nifty+85% CRISIL composite bond index)
Naturally the expense ratio of such a fund will be high.
In what follows I compare the performance of the fund with Nifty (because I suspected that it would have done well wrt this) using the
and with HDFC Balanced with the
Fund A vs. Fund B risk-return analyzer and
Fund A vs. Fund B. rolling returns calculator
We will be using metrics like Ulcer index and Capture ratio. Please refer to these posts for more details:
Mutual Fund Analysis With the Ulcer Index
Simplify Mutual Fund Analysis with Upside/Downside Capture Ratio
First a look at the risk-adjusted return with multiple metrics.  The fund has done quite well.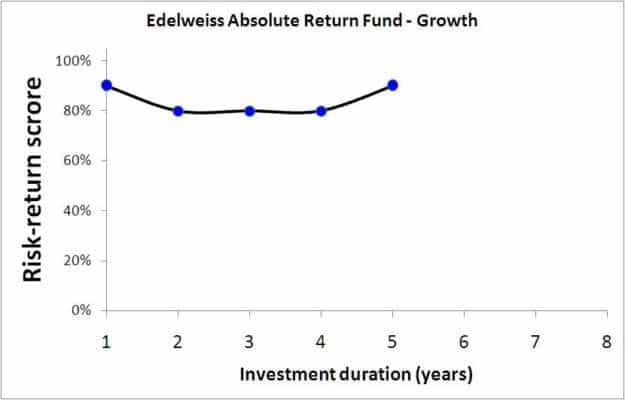 Now the SIP and lump sum returns (click to enlarge)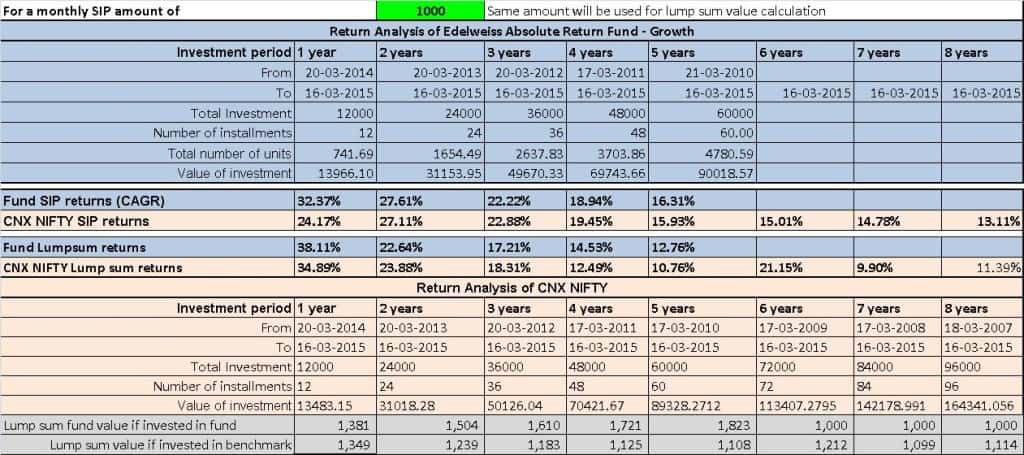 This a pretty good showing. The fund has managed to match or even beat the Nifty by taking lesser risk. The best way to visualize that is by looking at the normalized NAV movement along with the Ulcer index (a measure of downside risk)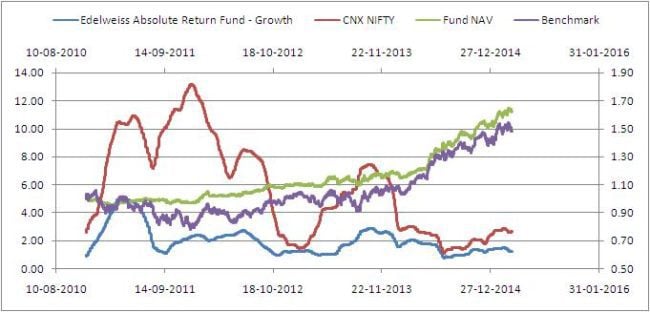 The Ulcer  index of the fund (blue line) is well below that of the index (burgundy line) and is a lot less volatile. Notice how smooth the NAV has increased (green) compare to the index (purple).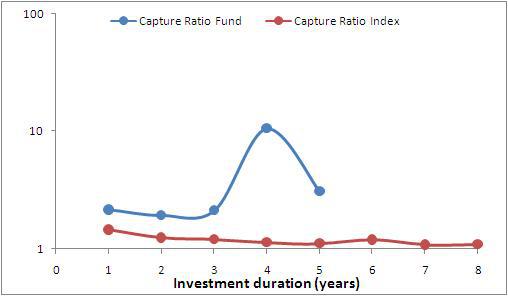 The capture ratio of the fund (upside capture divided by downside capture) is also  well above the index.  This is an impressive record.
 Edelweiss Absolute Return Fund vs. HDFC Balanced
Now let us compare this fund with a solid 'traditional balanced fund like HDFC balanced.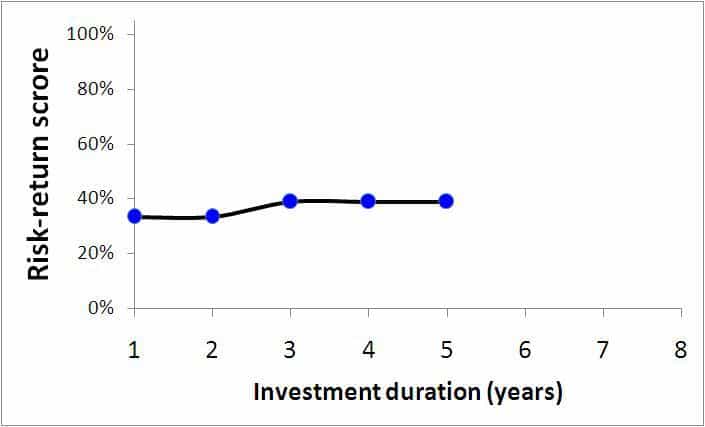 A consistent score of less than 50% implies that  Edelweiss Absolute Return Fund has not done well compared to HDFC balanced on risk-adusted basis. The returns also reflect this (click to enlarge).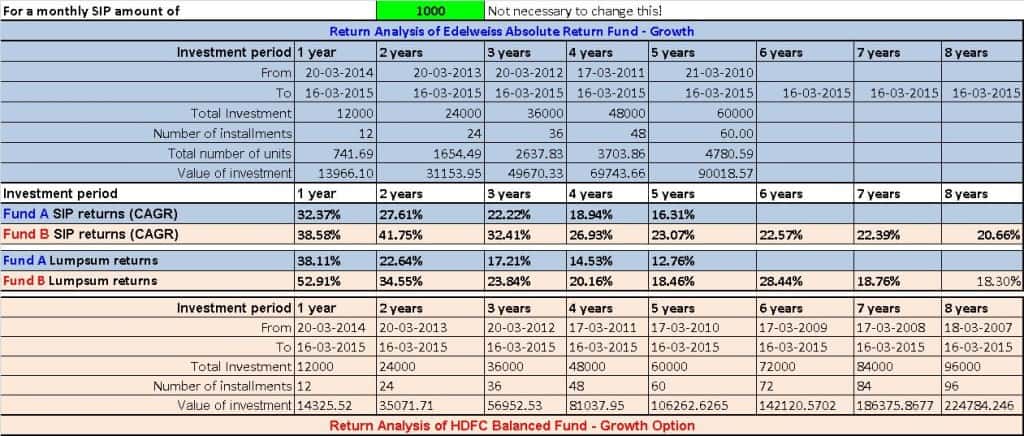 HDFC balanced has returned significantly more.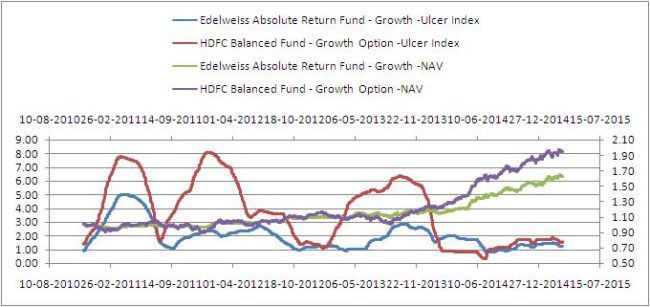 However, the higher returns of HDFC balanced has come with significant volatility as seen by higher ulcer index (burgundy).
Have a look at the 5 year rolling returns of both funds. HDFC balanced is superior.

That said, if I had to choose a fund for a goal between 5-10 years, I will use Edelweiss Absolute Return fund and not HDFC balanced.
HDFC balanced is simply too volatile for less than 10Y durations.
Do not make the mistake of using Edelweiss Absolute Return fund for short-term goals (1-3Y). Both funds are too volatile for such time periods.
Have a look at 1Y rolling returns.

and 2Y rolling returns

The returns will be too volatile for short durations.
At the same time, this fund is too conservative to be suitable for long-term goals (10Y+).
Verdict: Suitable for intermediate-term financial goals with adequate (separate) debt exposure.