From time to time I would like to review mutual funds using Excel tools published. The main objective behind this exercise is to illustrate the mutual fund review process, showcase the utility of the Excel tools and provide alternative investment alternatives if relevant.  If you like the funds reviewed, please consider their place in your portfolio before choosing them.
Fund Name: Franklin India Prima Plus (FIPP)
Type: "Primarily a large cap fund with some allocation to small / mid cap stocks"
Inception Date: 29 Sept 1994 (another Franklin fund approaching 20th anniversary!)
Fund Size: 2660.57 Crores
Benchmark:  CNX 500
Source: Fund Website
Extract from Scheme Information Document:
FIPP is investing for growth of capital primarily through a diversified portfolio of wealth creating companies across market capitalisation ranges.
Wealth creating companies are defined as those, which have the potential to produce returns consistently in excess of their cost of capital. The ability to achieve this is derived from sustainable competitive advantages emanating from intellectual property rights, proprietary technologies, well known brands, sound business strategies, management quality and so on. The intrinsic value of these companies rises with time. The stock market sooner or later acknowledges their unique contribution and rewards investors in such companies.
Investment objective and policies
The investment objective of Prima Plus is to provide growth of capital plus regular dividend through a diversified portfolio of equities, fixed income securities and money market instruments.
Asset allocation pattern
Under normal market circumstances, the investment range would be as follows:

The fund managers will follow an active investment strategy taking defensive/aggressive postures depending on opportunities available at various points in time.
The scheme may enter into derivatives in line with the guidelines prescribed by SEBI from time to time. The scheme may take exposure in derivatives up to a maximum of 50% of its AUM. The exposure limit per scrip/instrument shall be to the extent permitted by the SEBI Regulation for the time being in force. These limits will be reviewed by the AMC from time to time. Trading in derivatives by the scheme shall be restricted to hedging and portfolio balancing purposes.
It must be clearly understood that the percentages stated above are only indicative and not absolute and that they can vary substantially depending upon the perception of the Investment Manager, the intention being at all times to seek to protect the interests of the Unit holders. The asset allocation pattern described above may alter from time to time on a short-term basis on defensive considerations, keeping in view market conditions, market opportunities, applicable regulations and political and economic factors. However, if the asset allocation pattern is to be altered for other reasons, as this is a fundamental attribute, the procedure outlined in the paragraph on fundamental attributes below, shall be followed.
Impression: FIPP appears to be an older cousin of Quantum long term equity both in terms of portfolio and investment style.  Let us check its track record.
SIP and Lump sum Returns
Using the Mutual Fund Risk and Return Analyzer, we have (click to enlarge)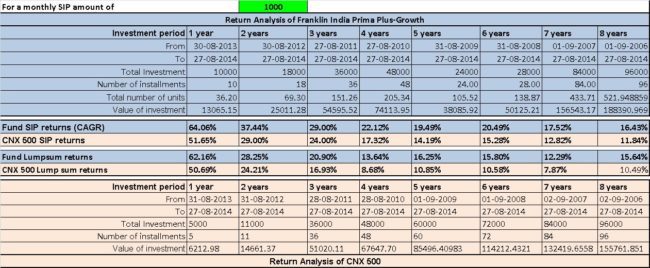 A terrific record! However did it come by taking on more risk?
Risk-return Score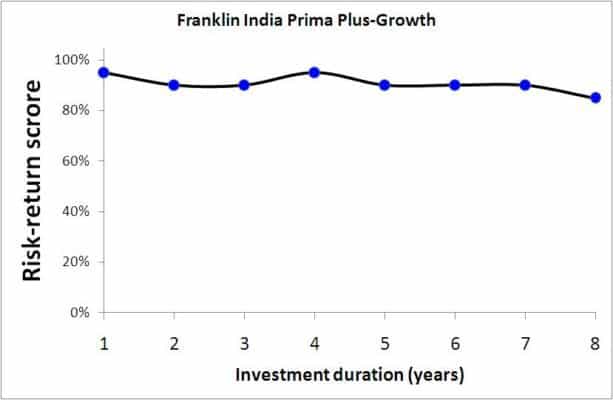 Extraordinary! This is better than HDFC Top 200, HDFC Equity and most other popular funds.
Capture Ratio: Measure of outperformance
A Capture ratio is a simple measure of the following scenarios:
When the benchmark has given a positive return (> 0), has the fund outperformed it?
When the benchmark recorded a loss, that is a negative return (< 0), did the fund record a lower or higher loss?
A Capture ratio higher than the benchmark represents consistent outperformance. See this post for more details.
FIPP has done a pretty good job in this regard. It has good downside protection.
Ulcer Index: Measuring Investor Stress
How stressful was it for investors to stay invested in FIPP? The Ulcer index measures this. Details here.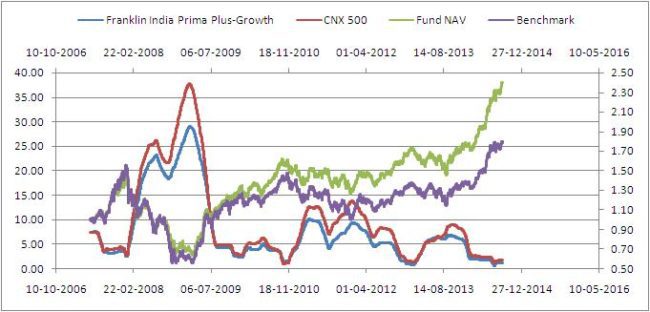 Notice how the Ulcer index of the fund has been lower than that of CNX 500, its benchmark. This is a terrific performance!
Rolling Returns: Measuring Consistency in performance

This is the rolling 5 year CAGR. Except for a brief period around the end of 2013, the fund has comfortably beat CNX 500.
Computed  with the multi-index rolling returns calculator
Peer Comparison: QLTE vs. FIPP
Perhaps this is not a fair comparison as their strategies are not identical. VR online lists them in the same category so I am curious!
Using the Mutual Fund Analyzer: Fund A vs. Fund B, we have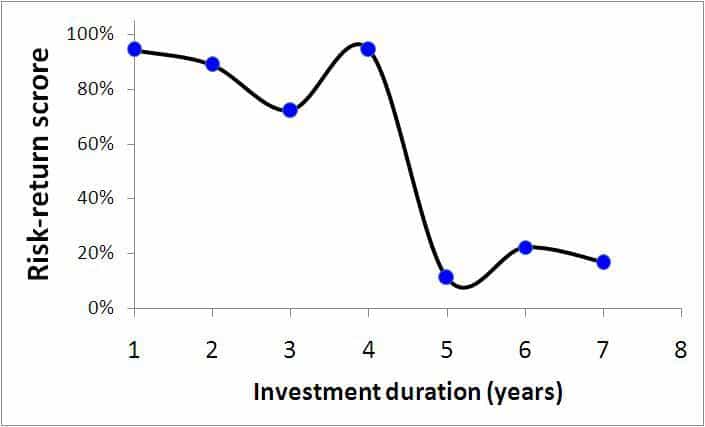 A score above 50% implies FIPP has done better than QLTE. Thus FIPP has outperformed QLTE in the last4 years. Before that QLTE has triumphed.

The returns comparison also paints a similar picture.
Capture Ratio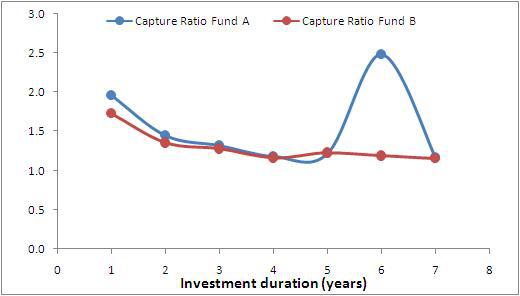 Fund A (FIPP) has better downside protection than Fund B (QLTE). This is the reason FIPP has a superior capture ratio.
If we go by the NAV movement, QLTE seems to be better than FIPP. However, the Ulcer index of FIPP is lower than QLTE. Especially during the 2008. crash. This implies that FIPP has better downside protection.
Conclusion
Franklin India Prima Plus is a terrific Large and Mid-cap fund. Instead of having separate larg-cap and mid/small-cap funds, one can consider holding just this fund. Due to its dynamic asset allocation strategy, it has the potential to offer better risk-adjusted returns.