In this post, I  would like to pose two questions. The first is the one that you see in the title.
Using the Fund A vs. Fund B mutual fund analyser, the normalised NAV growth for the past three years is plotted by choosing fund A as a
fund A as a mystery fund  (revealing the name will render the exercise pointless) and fund
fund B as a mystery index fund (the index is not the official benchmark of the fund, but is certainly a good candidate).
The Ulcer index of both funds is also plotted together. The Ulcer index is a measure of downside risk. It penalised falls from highs and therefore measures investor stress (which was originally and incorrectly attributed to the formation of stomach ulcers!). Lower the Ulcer Index, Lower the stress and lower the portfolio volatility.
1 Would you invest in such a mutual fund?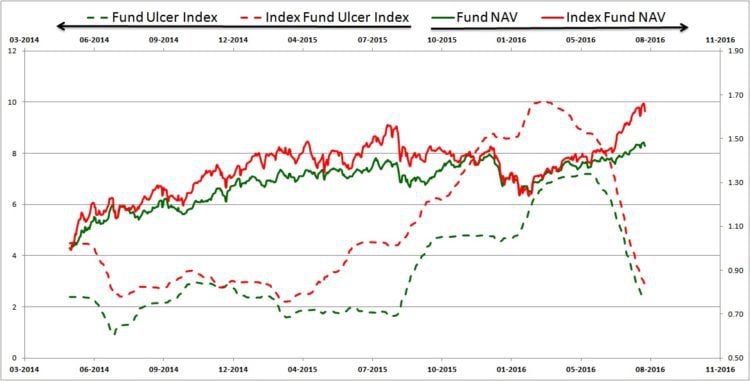 The NAV is shown in solid lines (right axis) and the Ulcer Index is shown in dotted lines (left axis). The duration considered is the last 3 years.
No over to you? Would you invest this kind of fund? Or if you had held the fund for the last 3 years, be disappointed or happy or be neutral?
Note, I have also deliberately not discussed why I am asking this question. It is not hard to spot after looking at the above graph.
2 What is missing in this data table?
The second question is totally unrelated to the first.  The below table is for Axis Focused 25 (randomly chosen and not the fund mentioned above). It is found in the performance tab of the fund's page at Value Research.


Now, what information is missing in this table? If you know the answer, do let me know if can find that information elsewhere at their site.
I look forward to your responses.