This week Hemant Beniwal, CFP, blogger (The Financial Literates) and founder of the Financial Planners Guild of India, announced the release of his new book: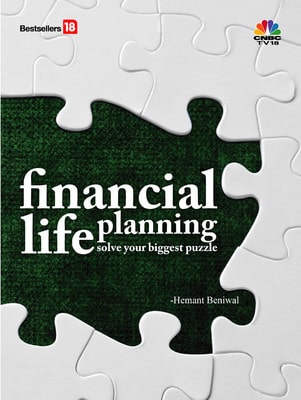 When I learnt about this, I was happy, sad, puzzled and annoyed.
 Happy: To say I felt happy is an understatement. I am delighted. Hemant Beniwal is a person with genuine, repeat GENUINE, interest in promoting financial literacy and helping individuals with their finances.
 Hemant came to my attention when he co-authored an extraordinary guest post in Jagoinvestor: Is Gold worth Buying ? A shocking Study This was at the time when tflindia (his blog) was just growing. It is such a brilliant study that I think of it every time I think of Hemant!
 I have not read the book (yet). I am however convinced that it will be immensely useful to everyone, investors and advisors.
 Yes I am absolutely delighted about this book.  Remarkably Hemant has stated that
"100% of the author's royalty from this book will be used to promote financial literacy or making donations to charities."

Sad: Don't wish to go into this too much. Let me just say that the book has been released at a personally difficult time for Hemant. I think he would have been way happier had it come out much earlier.
Annoyed at the publisher, CNBC and puzzled about its tactics
Consider this:
Jan. 2012 Manish's first book, Jagoinvestor – Change your relationship with money released
Jan. 2013 Manish's second book, How to be your own Financial Planner in 10 Steps, released
Jan. 2013 Manish's first book renamed as, 16 personal finance principles every investor should know
April 2013 Nandish's book, 11 principles to achieve Financial Freedom, released
August 2013 Hemant's book, Financial Life Planning, released
What do you think about this sequence of dates (especially this year)? To me it appears like too much, too often.
Trouble with this approach is Manish's books are fresh in the mind of readers and obvious questions such as why should I buy Hemant's book when I have purchased Manish's book(s) are bound to be asked a little too frequently.
I think similar questions are also relevant to Nandish's book. Just three months gap between Manish's book(s) and his, is a little bizarre from a publishing perspective. I think such a tactic will affect sales of the newer book.
 Please don't get me wrong. I am not trying to say all these books speak about the same thing and that you need buy only one of them. My point is the publisher should have given adequate space (~ 6 months or more) between the book releases (even if the authors disagreed!).
 I think this will give the authors brighter spotlight – fully deserved in all cases. Hence a little annoyed at CNBC.
 I also think adequate time gap will increase sales of the newer books. Hence a little puzzled at CNBC's tactics.
 When it comes to books on financial literacy, the more the merrier. No doubt about that. However more, at well spaced intervals will enhance the merriment.