The performance of SBI Blue Chip mutual fund is analysed with the open source excel tools available at freefincal. Mutual fund performance analysis published at freefincal should not be construed as investment advice. It is purely meant as an advertisement for the Excel sheets here 😉
SBI Blue Chip fund is a large cap fund that can dabble with mid-caps stocks and cash to some extent (10-20%).
Having an AUM of 6000+ Crores it is the 5th largest actively managed large-cap with a chequered history. Its since-inception NAV history does not make for pleasant viewing.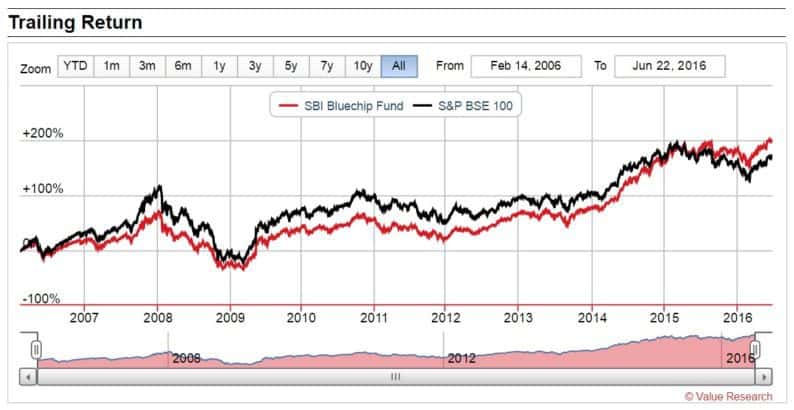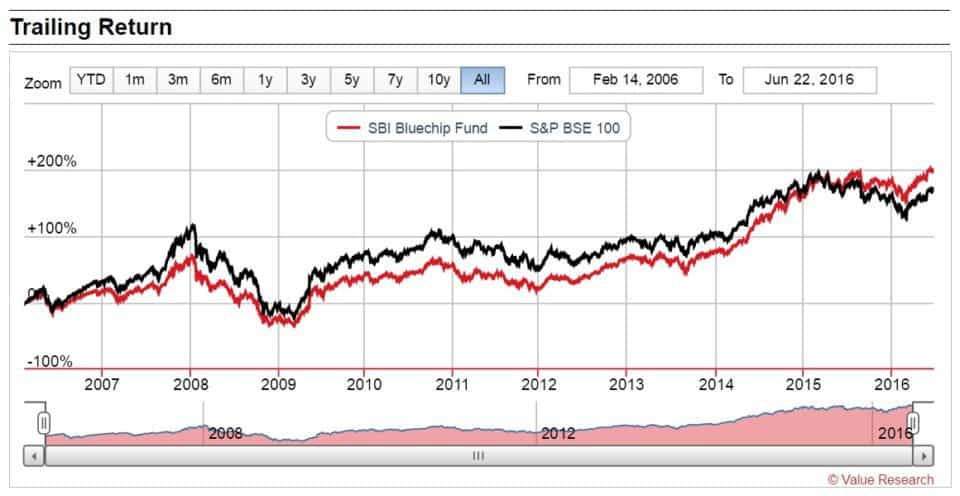 This can be broken down into two segments (not always possible).
Before Sohini Andani became the fund manager in Sep 2010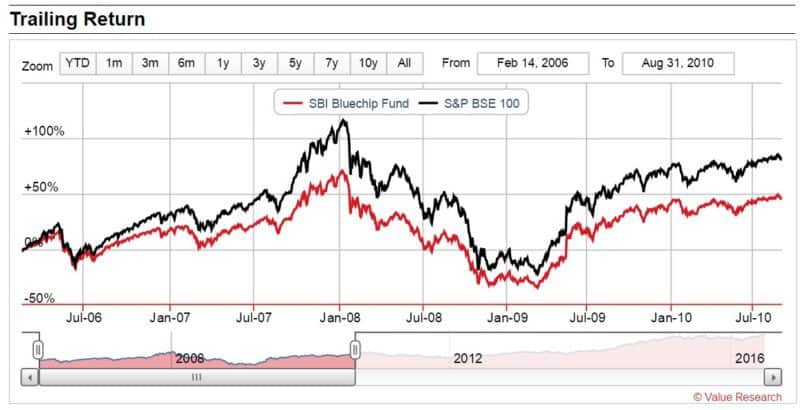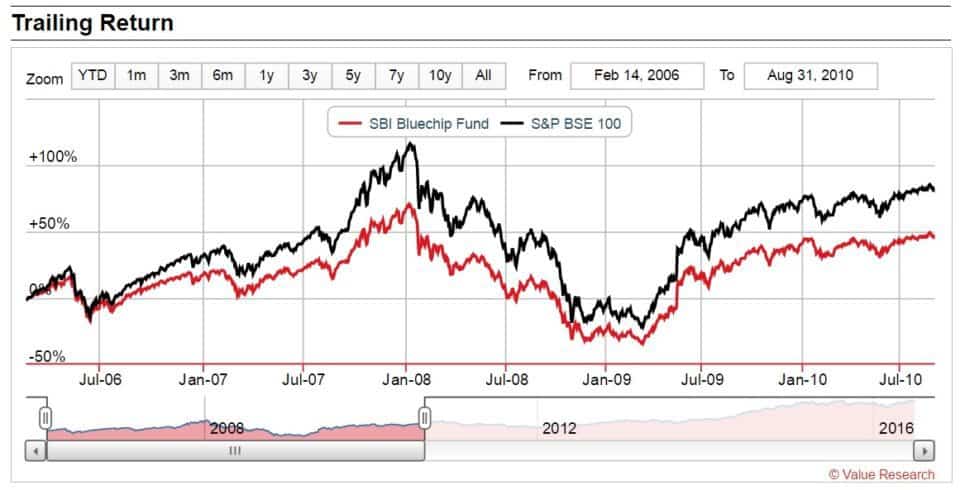 After Sohini Andani took over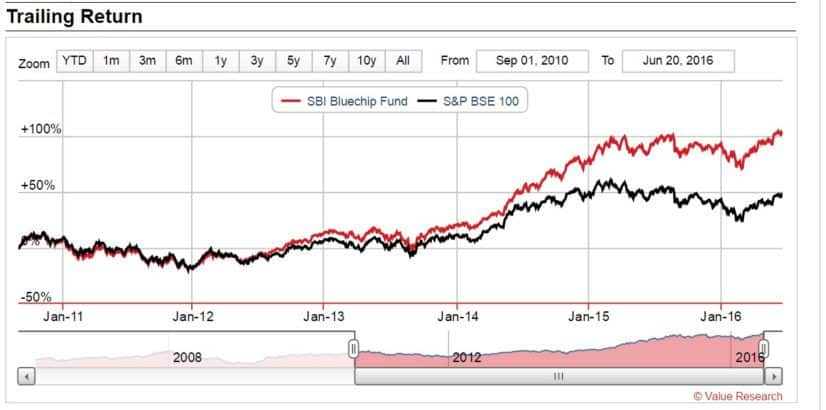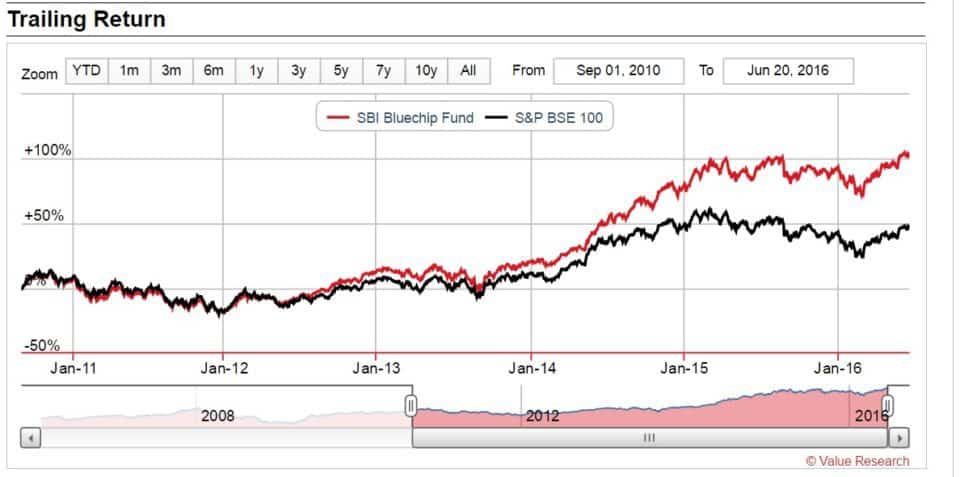 The performance has picked up only after the market moving up in anticipation of a single party gaining an absolute majority in the Lok Sabha elections. Yet another reason to be wary of (5) star ratings.
The fund which was pushed to the back pages of the AMC factsheet has suddenly become one of its flagship funds. It has the highest AUM among SBI active equity funds.
SBI Blue Chip can pick stocks from the BSE 100 universe. While 70% of the portfolio at any would in equity, this can be in arbitrage too with a provision to include up to 10% of international securities. Up to 30% can be in cash bonds.
Before we head over to the result, these are links theta cover the basics of rolling returns and and upside/downside captures
Lump Sum rolling returns SBI Blue Chip vs BSE 100 Total Returns Index
Using the Mutual Fund SIP and Lump Sum Rolling Returns Calculators we find

The 3-year rolling returns are quite impressive. The date represents the start of the investment duration.
SIP rolling returns SBI Blue Chip vs BSE 100 Total Returns Index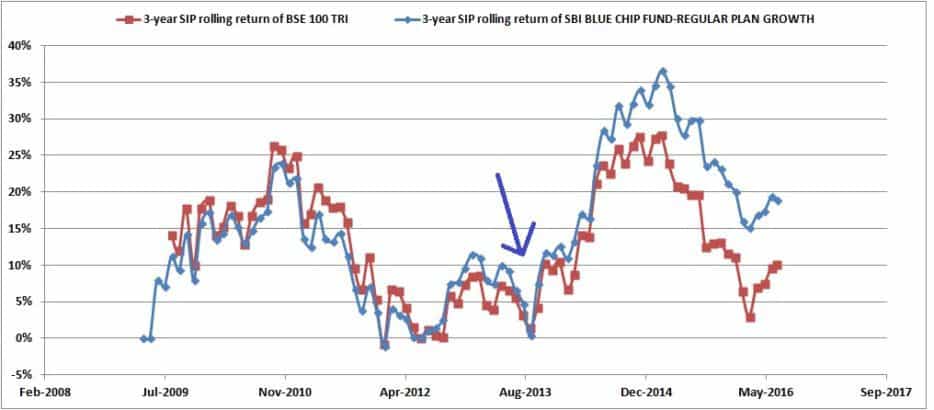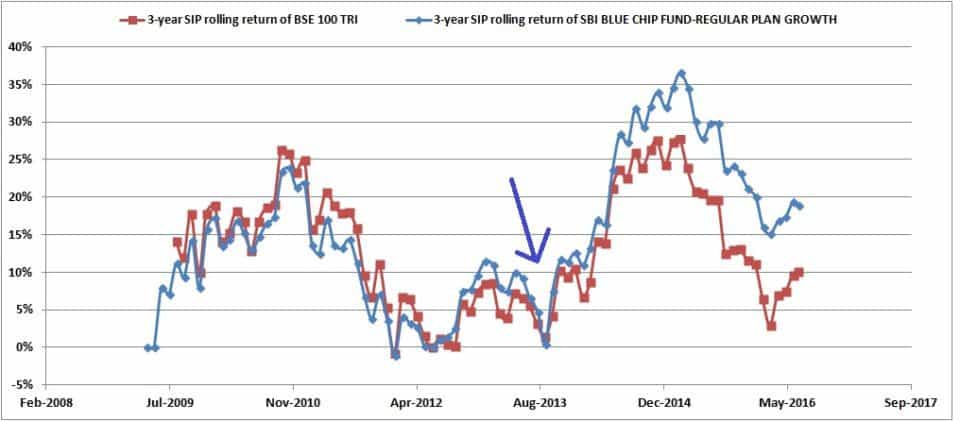 After Sep 2010, the 3-Y rolling SIP performance has picked up.
Risk-return analysis of SBI Blue Chip vs BSE 100 Total Returns Index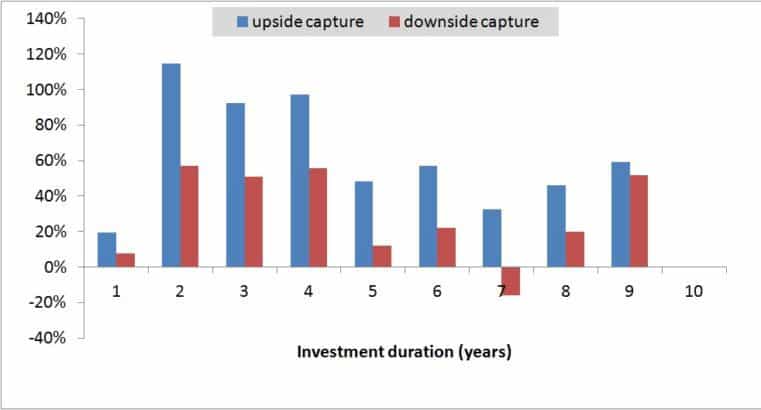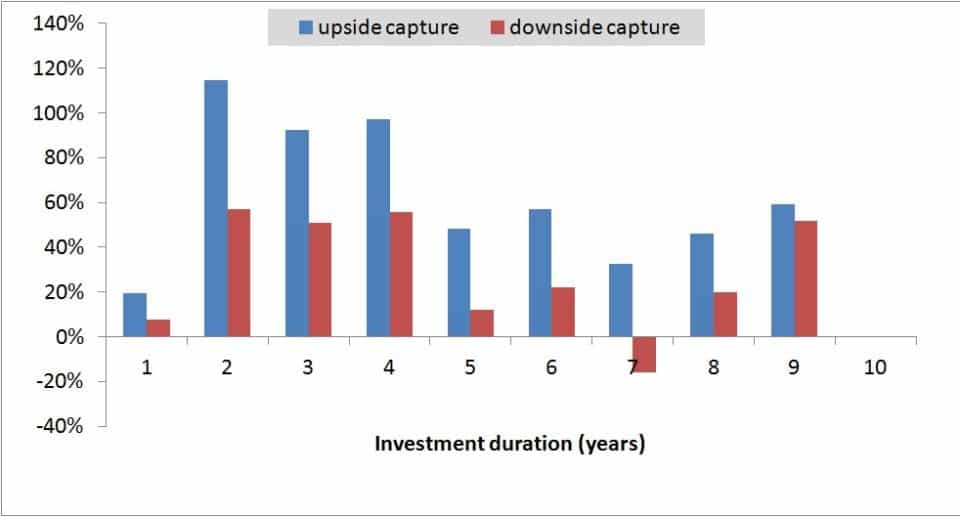 Notice although the fund has decent downside protection, it is only recently that the upside capture (outperformance when the index does well) has increased. This is the main reason for the recent good performance.  I think this probably points to better stock selection.
AUM Growth
Personally, I do not like funds which have suddenly become popular (regardless of reason: performance/commissions etc.).
AUM as on
Aug 30th 2012 Rs. 686.36 Crores
July 31st 2014 Rs.930.58 Crores
June 30th 2015 Rs 1,938.83 Crores
May 30th 2016 Rs 5,971.80 Crores
That is a huge increase! Bet Jun-15 to May-16 the BSE 100 fell by ~ 2% and the Sensex ~ 3%. So it not because of a 'buy-high' mentality.
Conclusion: While  there is nothing wrong with  the fund, but personally it is not a compelling buy for me. If I am looking for a blue chip fund, I would prefer (and hold) an old horse like Franklin Blue Chip. That there is no sensation surrounding it is added incentive.
Note: The before/after fund manager is possible sometimes. I see it more about the AMC waking up  (in this case) rather the 'importance' of the fund manager.  If Sohini Andani quits, there is no reason to exit the fund in panic.
What do you think?