I have a mandatory National Pension Scheme account.  By way of information, I would like to post the performance of my three NPS mutual funds from time to time. I repeat, this is only for information only and not a recommendation.  Many government employees read freefincal.
If NPS is not mandatory for you, DO NOT SUBSCRIBE. It is a downright terrible product with severe restrictions on how much you can withdraw and poor taxation rules. Stick to good old EPF + PPF for debt.
Some people argue that the NPS corpus is tax-free for government employees. I would prefer to see official confirmation on this.
The details of the NPS mutual funds I hold are given here:
Performance of New Pension Scheme: Central Government Employee Subscription
All government employee schemes have 15% equity exposure. They can neither change the asset allocation nor change the fund manager!!
I have never logged into my NPS account due to a password issue (don't ask why I did not try and get a new password – I did!). Can someone tell me if they calculate XIRR (individual and net) for the scheme holdings?
You can also read other posts in this category to see why I do not recommend it: National Pension Scheme
In particular, Do Not Invest Rs. 50,000 in NPS For Saving Tax!
Click to enlarge.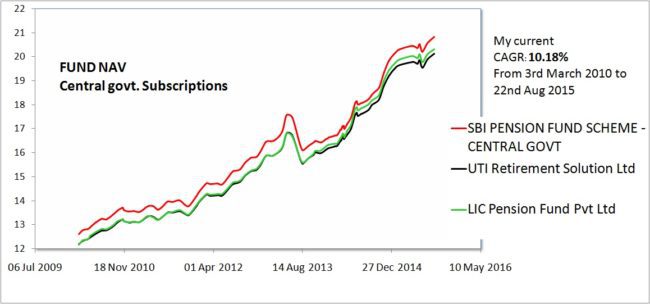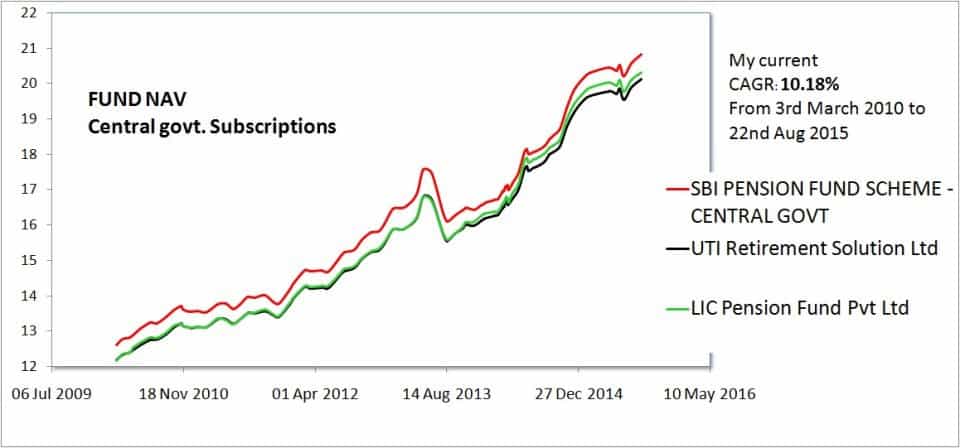 Typo: The CAGR should be read as XIRR. When bonds crashed in July 2013, the XIRR dropped below 7% overnight!