The national pension system (NPS) is likely to be remodelled significantly over the next few years. This is a gradual transition from what is known as a directed investment regime to a prudent investor regime (PIR).
The first phase of the prudent investor regime as recommended by the Bajpai committee is about to be implemented. The Bajpai committee submitted its report on the "Investment Pattern for Insurance and Pension Sector" in May 2012.
What is a prudent investor regime?
The prime objective of a prudent investor regime is consumer protection by offering enough freedom to pension and insurance fund managers to obtain a real return – one that would beat inflation.
The investor/subscriber has
the choice of investment of their pension assets to the subscriber. Based on his/ her perception of risk and financial situation in life, the Subscriber is expected to exercise the choice, as a prudent investor would.  –PFRDA Report
The Bajpai committee report details the historical evolution of how the old prudence was to invest in safe government bonds and the new prudence to invest in a diversified portfolio that balances risk and reward.
It recommends a gradual (over six years) movement from the determined regime to a prudent regime in phases.
It also recommends that insurance and pension fund managers be given the  freedom To invest in a wide variety of domestic and international asset classes
Government Securities
Corporate Securities (Equities, Bonds)
Units issued by Investment Funds (CISs, MFs, VCFs, PEs, etc.)
Paper/Demat Commodities, including Metals,
Derivatives of Securities/Commodities, including interest rate futures
Real Estate Projects
Infrastructure Projects.
However, it also suggests various other duties such as building expertise in risk management, fund management, policy formulation, fiduciary duties, accountability.
It notes that all this is possible only when we have a robust, regulated, developed and protected market.
The changes proposed are to implemented in three tiers and the first tier has already begun with some major imminent changes. The full list of changes can be found in the PFRDA report link above (pages 14 and 15).
Phase 1 (highlights)
 Active management in equity (already in place)
 Up to 50% exposure to equity for government employees (current limit for them is only 15%) – to be implemented.
Choice of pension fund managers for government employees (implemented)
Two life cycle funds with max 75% equity for all subscribers (to be implemented)
Allow buying of IPOs
Small amount of exposure to REITs and other "altetrnative investment options"
Phase II – the ceiling on equity will be raised to 75%
Phase III  – the ceiling removed.
In the Guide to investing in the National Pension System (NPS), I have described how NPS asset allocation can be determined by individual, corporate and government subscribers regardless of the proposed modifications.
Active Life cycle choices
The NPS allows an automatic change in asset allocation as per the age of the subscriber.
This is the current choice for non-government employees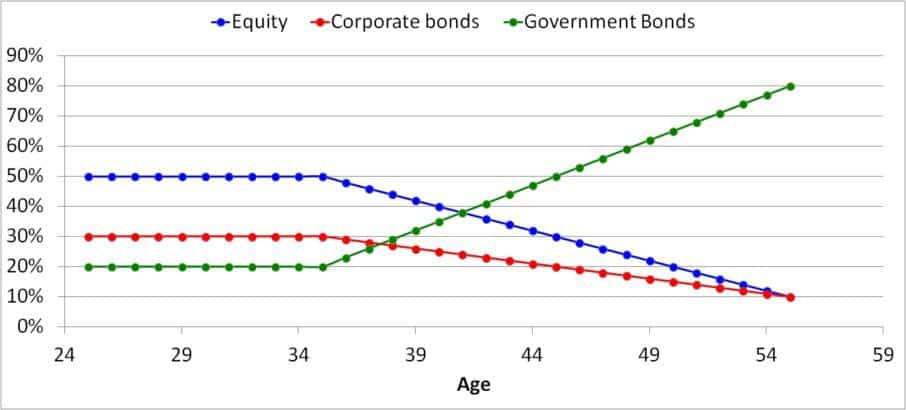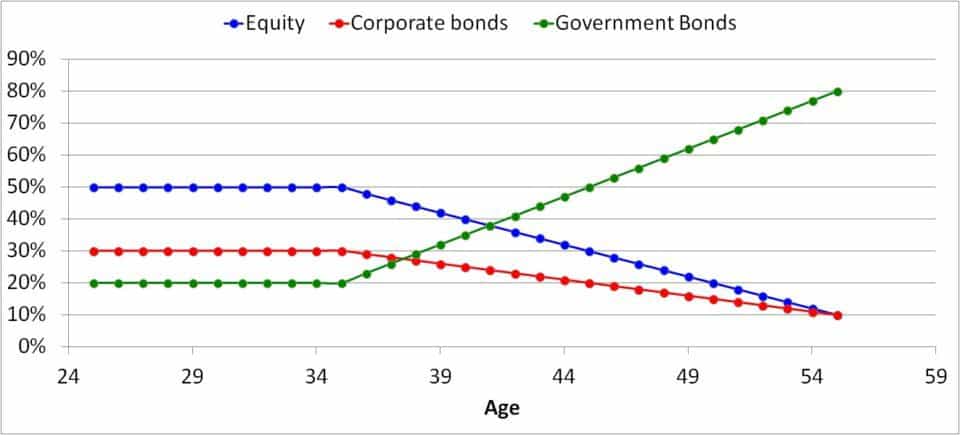 Notice that the equity allocation starts from its current ceiling of 50% and gradually drops down.
Two alternative active choices are about to be implemented
Conservative life cycle Fund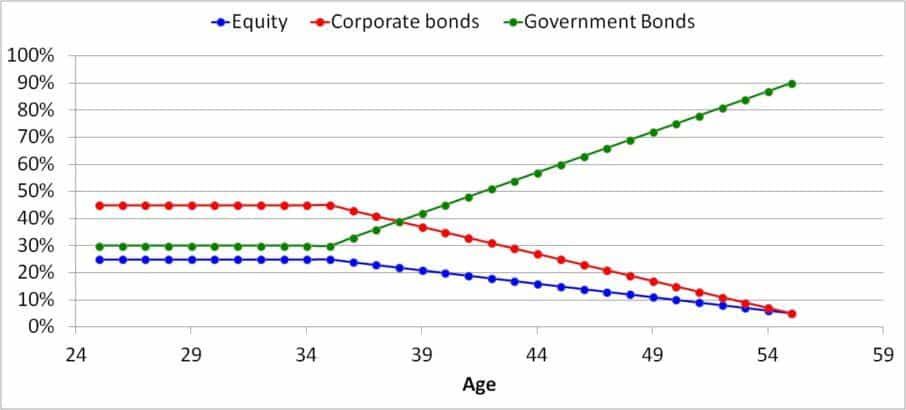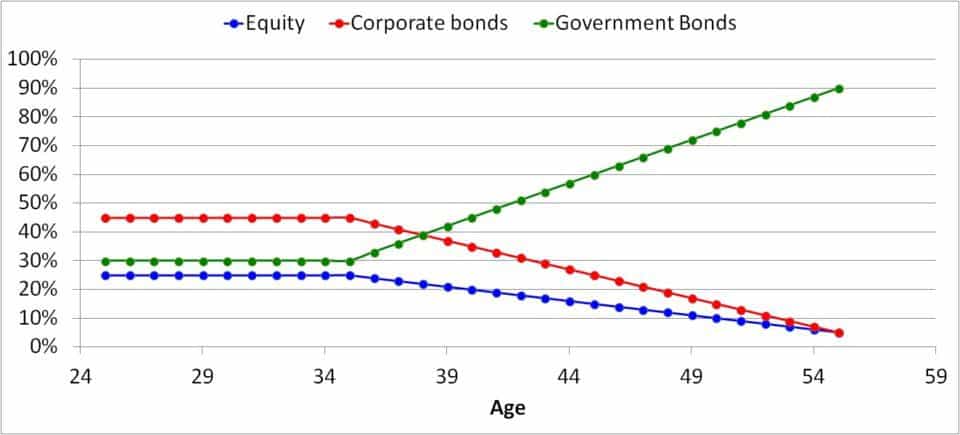 Equity starts at 25% and heads down(!)
Aggressive Life Cycle Fund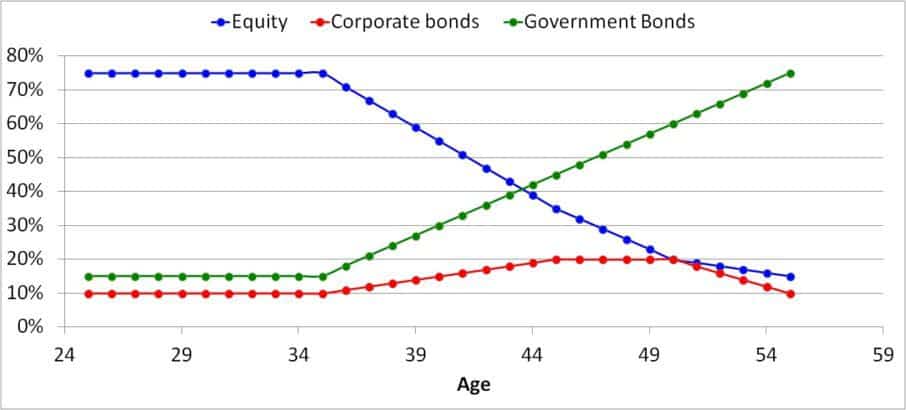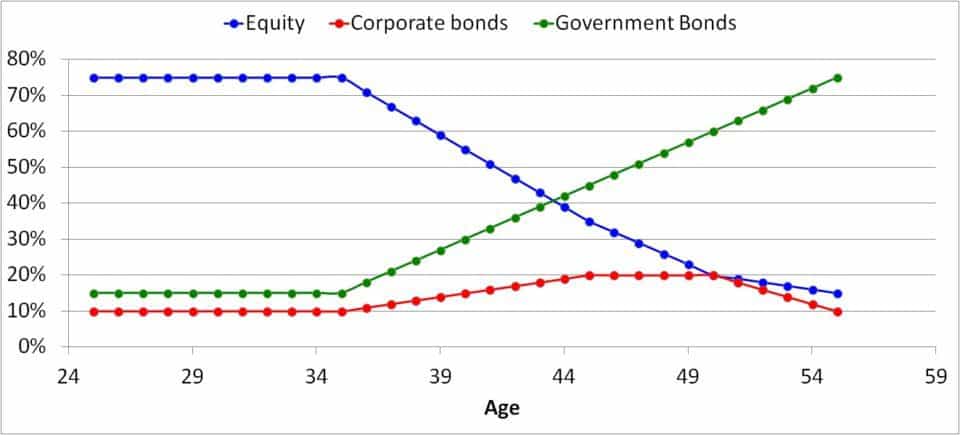 Equity allocation starts at 75% and decreases after age 35.
Is it a good idea to gradually change equity allocation with age?
It will lower portfolio volatility for sure.
It may lower returns also – meaning inflation risk may be higher.
It is necessary to lower equity allocation before retirement, but not as early as age 35!!
If the asset allocation changes each year, then the return also changes. This means the amount invested should also increase. This may or may not happen.
Those interested in this option may explore the implications of active change with this tool: Financial Goal Planner with Flexible Asset Allocation.
What I intend to do:
My NPS portfolio is about 45-50% of the total retirement portfolio. The rest is in equity mutual funds.  If I am allowed to change the asset allocation of my NPS (currently 15% equity and majority GOI bonds), I will lower the exposure to gilts and do nothing else. I am more than happy with my NPS performance.
Warning: Do not change equity allocation just because you can! Higher equity exposure does not mean higher returns!!!