A look at the performance of the three mutual funds that constitute the tier I NPS (National Pension Scheme) portfolio of central government employees.
The National Pension Scheme is a defined contribution retirement plan in which returns depend on the equity and debt markets. It was made mandatory for all government employees who joined after 1st Jan. 2004.
The NPS replaces the Government Provident Fund, a defined benefit pension scheme in which the pension increases each year in accordance with the dearness allowance declared twice a year. Since the DA is supposed to take inflation into account, GPF pension resembles an inflation protected annuity.  Unfortunately, since the basic pension is much lower than the 'basic pay' last earned, biannual increase in DA will not do much to combat inflation.
The NPS on the other hand, reduces the liability of the government. Once an employee retires, a minimum of 40% of the NPS corpus must be annuitized, That is an organisation like LIC would take the money and offer a fixed interest for the rest of retirees life (other options exist. For example, annuity benefits can be extended to the spouse).
Unlike the GPF, the NPS annuity has no connection to the service and last pay earned. You put in a fixed contribution into an account known as Tier I. The government matches your contribution. When you retire, the corpus entirely depends on the history of the debt and equity markets when you were in service.
The Tier I account consists of three mutual funds:
SBI Pension Funds (Central Government Employee Scheme)

34% if total monthly contribution is invested here

UTI Retirement Solutions (Central Government Employee Scheme)

33% if total monthly contribution is invested here

LIC Pension Fund (Central Government Employee Scheme)

33% if total monthly contribution is invested here
Here is the current portfolio of the SBI central government employee scheme: (updated 29th Feb 2016)
Equity 9.58%
Central Govt. securities 47.60%
State Development loans 3.31%
PSU/PFI bonds 9.78%
Infrastructure bonds 5.87%
Private corporate bond 26.68%
Money market instruments 3.06%
The total equity portion of the tier I account cannot be more than 15%.  Government employees also do not have the option to change the contributions made to each fund.
NPS and me: I am a member of the central government employee scheme since Aug. 2006. Each month, 10% of my basic pay plus DA is invested in these schemes. The government provides a matching contribution.  My contributions are eligible for tax deduction under section 80 C.  The employer's contribution is eligible for tax deduction under section 80 CCD.
NPS contributions from Aug. 2006 to Sep. 2010 were managed by my employer, for which I earned an interest of 8%.  Investment in the tier I scheme started only in August 2010.
Performance of New Pension Scheme Central Government Funds
This is how the three Tier I schemes fared from 3rd Aug. 2010 to 31st Mar 2016.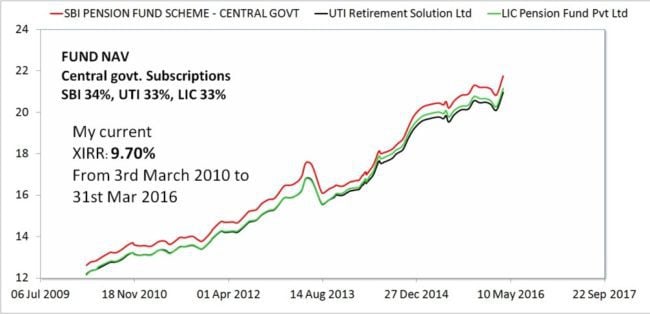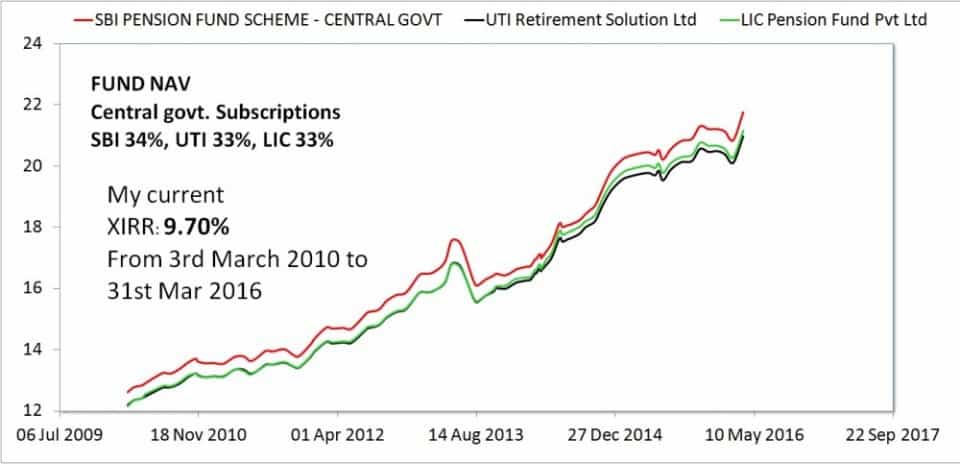 The sharp fall in July corresponds to the bond market crash when the RBI tried to curb rupee depreciation.
Although the schemes have begun a recovery, it is clear that they have a lot of catching up to do.
Consider this- Tier I CAGR from 3rd Aug. 2010
to 17th May 2013: 11.56%.  Pretty impressive.
to 14th Aug 2013: 6.81%. The corpus had diminished by 3.2%. An amount equal to two total monthly contributions was lost due to the July 2013 bonds crash.
to 25th Oct 2013: 7.44%.  I suppose it is a slow and steady climb out of the woods.
to 22nd Aug 2015: 10.18%
to 31st Mar 2016: 9.70%
What of it?  I have no problem with the volatility now.  My retirement is a couple of decades away, at least on paper.  So the volatility is necessary to earn returns higher than the EPF.  I need to bear the rain the enjoy the rainbow.
Trouble is, government NPS subscribers have no control on their portfolio. So if my retirement is just a year or two away, I cannot move to safer liquid debt so that my portfolio will not suffer such a hit. Update: word is that more freedom is on the cards.
If the NAV of a fund suddenly fall by 3% on the eve of retirement, it can reduce the life of the corpus by a good year or two!
That said, there are three main reasons why I am not too worried about NPS performance
 NPS is only one part of my retirement portfolio. My NPS monthly contribution is only about 35% of what I invest for retirement. The rest is largely in equity.
LIC is the most likely annuity/pension provider. Considering that it offers about 6-7% annuity now,  I intend to annuitize only the mandatory 40% of my NPS corpus.
We can only worry about things we can control.
While I hope government subscribers will enjoy greater control over their portfolios in the future, I have nothing much to complain about for now.  I save quite a bit of tax because of section 80 CCD and my tax planning is in auto-pilot mode.