Here is a set of easy to use online retirement calculators created by Arunram, a certified financial risk management professional. Arun had pointed out a bug in my FU Money Calculator and shared this set of tools over email. We also met at the Delhi DIY meet last month. I requested him to share this on freefincal and he readily agreed. The DIY community thrives on such meaningful contributions from intelligent investors and professionals.
Here is a write up by Arun with some screenshots from the tool. It renders will on desktop and mobile. It is a simple way to discuss the retirement problem with your friends and colleagues.
=-=-=-=-=-=-=-=
Link to the online retirement calculator suite
https://arunatma.shinyapps.io/finutils/
Please join me in thanking Arunram for this fantastic tool.
=-=-=-=-=-=
Kolkata DIY Investor Workshop May 28th, 2017
Register for the Kolkata DIY Investor Workshop May 28th, 2017
You Can Be Rich Too With Goal-Based Investing
You can be rich too with goal based investing is my new book with PV Subramanyam. If you have not yet got the book, check out the reviews below and use the links to buy.
Reader Quotes:
particularly useful for first time investors
Every earner should read this
Five stars. Gifted my friend. He found it very helpful
If you want a book that's unbiased and that will hold your hand and walk you through the personal finance jungle, then buy this.. the best thing 300 bucks could buy you.
Gift it to your Friends and Relatives whom you care more. Already follower of Pattu and Subra's forum. Ordered 4 more copies to give gift to my friends and eagerly waiting to read
The best book ever on Financial Freedom Planning. Go get it now!
Your first investment should be buying this book
The (nine online) calculators are really awesome and will give you all possible insights
Thank you, readers, for your generous support and patronage.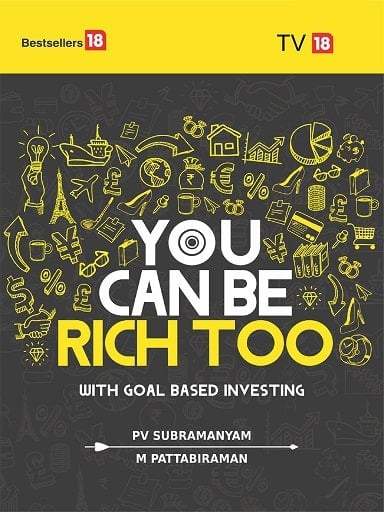 Amazon Hardcover Rs. 317. 21% OFF
Kindle at Amazon.in (Rs. 307)
Google
Infibeam Now just Rs. 307 24% OFF.
If you use a mobikwik wallet, and purchase via infibeam, you can get up to 100% cashback!!
Bookadda Rs. 344. Flipkart Rs. 359
Amazon.com ($ 3.70 or Rs. 267)
Google Play Store (Rs. 244.30)
Ask the right questions about money
get simple solutions
Define your goals clearly with worksheets
Calculate the correct asset allocation for each goal.
Find out how much insurance cover you need, and how much you need to invest with nine online calculator modules
Learn to choose mutual funds qualitatively and quantitatively.
More information is available here: A Beginner's Guide To Make Your Money Dreams Come True!
What Readers Say