This week on fee-only advisor journey, features Piyush Khatri, one of the first entrants into my list of fee-only planners, well before the advent of SEBI advisor regulations. Fee-only India, an association of fee-only financial advisors is also his idea. Why is he the Sachin Tendulkar of Fee-only India? Because as you will discover below, the tag of "young veteran" fits him well.
Who is a fee-only advisor, you ask? A person who gets your finances in order, helps you manage your money and achieve your goals. A person who works only for you. A person who directly or indirectly does not receive any commissions from any product seller. Remember that "fee-based advisor" or simply "financial advisor" almost always means sales guy who gets commissions and charges you a fee on top. So stay away from them or get rid of them and consult a fee-only planner from fee-only India today!
Almost everyone who started out as a fee-only advisor has struggled to establish themselves for some period of time. This is the natural course of things. With fee-only India, freefincal and FB group Asan Ideas for Wealth, we hope to shorten this time period. While fee-only advisors like Melvin Joseph and  Sukhvinder Sidhu became fee-only planners and then SEBI registered investment advisors after a reasonably long career in the corporate financial services, Piyush had to go through that curve in his twenties. It takes guts and courage to follow one's passion and not succumb to the lure of quick money from selling products.
Piyush has spent a lot of his time and effort in working with lower income groups for no fee and he still offers them free services. If you wish to work with Piyush, his website is: shashtha.com. Now over to Piyush.
=-=-=-=-=-=-=-=
So, the story begins in 2006-07, while I was doing preparation for CA and completed the first phase (CPT) in my hometown Alwar, Rajasthan. My maternal uncle was having coaching institute for CA in Udaipur and he asked me to come there and study under him. I packed my bags and arrived one fine evening to the Lake city of India. From very next day he enrolled me under a CA for article ship. We used to take care of the income tax returns and some audit functions like visiting toll booth on Delhi-Mumbai highway and check the cash and accounts summary.  As you can see the job was too exciting and thrilling for me, I lost my interest in it slowly.
While I was escaping from the morning classes, I used to sit on PC and do mock trading. I was interested in financial markets from the school days and used to top my economic class almost every time.  One time I registered for some national level online competition for the trading (don't ask me the name) and won some 10k as the price for being first in the competition. While I was doing all this, both my maternal uncle was involved heavily in stock market investing and commodity investing. I used to see one of them every morning 9 am and how they lose some and win some. One fine day he was late, and I was checking his computer, I advised him to bet on a stock and just for a joke, he invested a small amount to make me happy. He regretted this decision later thinking he should have invested more.
I was in my late teens, full of overconfidence and was handling small portfolios for friends and family. CA preparation was on hold and to make parents satisfied that I am not wasting my time elsewhere. I came back from Udaipur, appeared for the exam and failed it (thankfully). I continued my adventure in the stock market and trading, not earned a great fortune but somehow, I was quite sure what I want to do in my life. Meanwhile, I came back to hometown and just for time pass started studying about financial markets deeply and after a short while I was teaching basics of financial markets on an online learning platform (WizIQ). That was 2011, and I zeroed on an MBA course clubbed with CFP preparation in Delhi, I applied for it and got selected after an interview.
I was discussing the fees with my father and very next day my Mother got admitted to a hospital due to a brain haemorrhage. 45 days, 3 surgeries, enormous pain and lakhs of rupees, somehow, she survived for good. This incident shook our entire family and we were stronger and more loving than before. It also impacted me, and I couldn't sit in at home now and started looking for a job. Someone recommended a person in the insurance industry and he explained to me what they do. I just wanted a job and happily accepted their offer. They posted me 100km far from my hometown as Agency manager for life insurance company. My job was to make agents and generate business through them. They sent us to train for 3-4 days and I was hoping to learn something about insurance, instead, I came out with commission charts. Anyway, it was a new city for me and Insurance business is all about relatives and your contacts. I was determined to do good and used to take a bus every day to an industrial town nearby. Being an industrial town, you don't have public transport. I used to walk almost 10-15 km every day knocking on a variety of manufacturing plants in that area asking to meet manager or MD and explain them, how they can benefit from it. I visited plans like HNG, Ray BAN, Liberty whiteware, Hero Honda, Honda and many more. This was August 2011, I somehow successfully sold two medical insurance to strangers and never had the conviction or will to sell ULIPS or endowments plans. I left the job in 3 months.
I failed in my first job miserably, but all failures also teach you good things sometimes. Now, I could talk to a peon who used to receive me at the gate and MD who used to ask me to sit in his room. This 3-month experience gave me ground knowledge of talking to people and respecting people. I was looking to survive and educate myself. In later 2011, I got to know about CPFA certificate from SEBI NISM which introduced me to a financial calculator and financial planning. I studied and appeared for the same cleared the same in one shot. One client I was trying to sell insurance became my first client and paid me my first fees in 2012 January. This client was so surprised and excited to have someone like me, who just works for him and not some bank or insurance company. He even used to call me to take advice on if he should buy a tablet (apple) or not. Very next month in Feb, he introduced me to two people in his residential complex and they wanted me to talk about investment in front of their employees.
This was my first time delivering a workshop and audience was mixed but all were from lowest pay level. You can't talk technical in front of them and ppt also will not work. So, I asked for a whiteboard and marker, took one volunteer from the audience (mostly youngest) and chalked out a financial plan for him in about 1 hour in front of everyone. It clicked, and people were talking at the end of the session. In the same session, HR manager was also sitting and I wondered what he was doing in this group. So, I came back to my hometown and within one week I got a phone from Vice precedent – HR of the same firm and requested me to do this kind of workshop for their locations throughout India. He asked me how much you will charge, and I said to Him, "I will do it for free".  I opted for the same concept of making a live financial plan and it worked like wonders. After numerous workshops and session, I got to know some more than 300+ people opened PPF for the first time and the same number of people took the term insurance. By doing this I was also approached by managers, regional managers and Vice precedents of the same company and they opted for my personalised service. Same time I was offering my services on online sites like Fiverr, where I made plans for foreign citizens as well, but they were seeking certification. This prompted me to apply for CFP and I registered for CFP in December 2012. First 2-3 months was kind of slow due to my health issues, I was having an inguinal hernia and went through surgery. I recovered and started appearing for my examinations. I did self-study and due to my ignorance and lack of influence allowed me to clear all the exams in one shot. Where my friends were spending lakhs of rupees and multiple failed attempts. November 2013, I cleared the last exam and by then SEBI Came with RIA regulation and Now I can't work in open or acquire new clients. I was working with my old clients and few workshops, but it was not enough. I started looking for a job and ended up in Cochin in Feb 2014 as a manager – financial planning for a financial planning start-up.
It was a new environment for me and you don't feel like home in Kerala if you are not travelling for vacation. Especially the food is very different but due to my nature and love for travelling, I got settled fast. I did a lot of work for that firm, spoke my heart with the management but our expectations didn't match, and I left them in 6 months and came back to my hometown. Where there's a will there's a way, within one month I got a call from the same company I did workshops for in 2012. They wanted me to do the one to one session this time with all the employees and this time they insisted that I should charge ????. I got ready and mailed the datasheet to HR teams and asked them to make it available in print at all the locations. I sat with almost every employee of the company during this exercise which helped me immensely to grow as a financial planner. I sat with single mothers, windows, about to retire people, freshers and people in their forties. I advise how they can save few bucks by not opting for luxury soaps, so it can contribute 500 bucks to save for children education. This exercise lasted 3 months and one of kind in India where more than 450 people got their one-page financial plan. It was 2015 and I was hoping to make this corporate advisory structure my core earning source. Therefore, I went to lots of corporates, called lots of them. I was quite sure that I am contributing something useful to their employees and both should benefit from it. Sadly, corporates didn't think like me. I approached many companies and though everybody agreed this is something useful, nobody was interested to spend a penny on that. They will rather have yoga classes.
So, I struggled for an entire year and decided to do a job again in December 2015. I applied for a Robo Advisory firm in Hyderabad and they hired me in one round of interview. I came to Hyderabad on 16th January (now you know how I arrived in HYD ????) and started working for the firm. My job was to explain the plan made by the algo to a client and sometimes we did some alteration too as per a client's need. It was a big firm, but the mood of the firm was like a Mutual fund agency where the hot topic was how much business they got today. I was feeling uncomfortable from day 1 and put my resignation papers on the 2nd day. HR head called me and convinced me that if you will suggest changes we will listen and work on that. I agreed and started working. Within 2 months, I made some 50+ plan and after 60 days full of regret and feeling sorry for myself, I resigned again and this time I didn't stay. I didn't think what I will do now but I was sure that I must stay in the same field. I also wanted to stay in Hyderabad and didn't tell my parents that I left the job. After few days I went to hometown to attend a friend's marriage and from there I went to meet one of my old client and discussed this situation and told him about my plans. He supported me then and motivated me to pursue my passion and it filled lots of confidence in me.
I came back to Hyderabad and my 5 years' experience on paper was completed, Now I could apply to become RIA. After doing all the due diligence, I applied for RIA in July 2016 and I waited (also told my parents I left the job and starting my firm here), waited and waited. That was the test of my patience and thankfully in Jan-17 Sebi approved my application and I started taking clients.
Meanwhile, I would like to mention few people whom you might know. They have supported me a lot and a big part of my journey till here.
Sukhvinder Ji: He is our beloved senior financial planner. You know him from the pattu's list. I met him during Delhi workshop in 2015. Pattu invited us to speak and I was speaking with stalwarts like sukhvinder Sidhuji and shilpi. I talked with him on numerous occasion and he always encouraged me to stay focused. He knew about my situation and family pressure and I used to look some shoulder to rest in those days and it was just a call away. Thank you. Sidhuji
Pattu: I saw a blog one day on networkfp and that was the first time I heard about pattu. He made some calculator and wanted some feedback on it. Although not very sure on the date but I think it was 2013. After some time, we started having occasional chats and he invited me to speak for a short duration in Delhi workshop 2015.  It's almost impossible to draw an image of pattu from his writings. If you met him in person, you will know what I am saying. I was very pleased to meet him that day and I knew I want to keep this person in my good list for eternity.  Thanks, pattu
Ashal: I was a late entry to AIFW and I was not aware of jagoinvestor or any other personal finance blogs. I don't even remember who introduced me to AIFW, but I am sure I read about it in Pattu's blog only. I was amazed by the zeal of this person to reply to each query and ask to help in private chat. One fine day we got introduced and from next day he was just a call away. You just type help in FB messenger and Aashal will call you in 5 seconds. I had the privilege to meet him in oct 2016 during freefincal DIY workshop In Hyderabad. He may be the finest soul I met till date in my life. He is also part of the good list ????. Thanks Ashal
Nagarjuna: You might not know him, but he is the backbone of Sahathsa. I took him from the same Robo advisor firm, where he used to sell the premium version of the plan. One fine example of how talent will be wasted in an organised corporate structure. He developed most of the animated stuff you see on the website, helped me in automation of the planning process, working on the website right now to make us future ready. He also helps me in research. Thanks Naga
FOI members: Let me take Melvin name first. FOI is incomplete without him. He is successful yet very humble. Busy yet easy to reach and always ready to share the vast knowledge from his reserves.
All other core members Vikram, Shilpa, Swapnil and Chandan. I am deeply honoured to know you and always cherish your presence in my life and thanks to you for the knowledge you share with me.
At the end all of the clients who were there with me at good or bad times. If you take my entire career to date, I have made more than 600 plans and the only thing I battled with was my age. I started advising while I was 21, I did one workshop in front of 100 employees including the MD and CEO of the company while I was 21 and I could see lots of people smiling in the back thinking a child is going to sing lullaby today. At the end of the workshop, the same people were asking for my number.
Age is just a number, the experience can come only if you have an open mind and if you're willing to learn from your mistakes. Since Feb 2017 almost 100 people echoed this statement and hired me as a financial companion.
Thanks for reading!
=-=-=-=-=-=-=-=
If you wish to work with Piyush, head over to his website: shashtha.com.
Subscribe and join the freefincal Youtube community!
 Don't like ads but want to support the site? Subscribe to the ad-free newsletter! 
Want to conduct a sales-free "basics of money management" session in your office?
I conduct free seminars to employees or societies. Only the very basics and getting-started steps are discussed (no scary math):For example: How to define financial goals, how to save tax with a clear goal in mind; How to use a credit card for maximum benefit; When to buy a house; How to start investing; where to invest; how to invest for and after retirement etc. depending on the audience. If you are interested, you can contact me: freefincal [at] Gmail [dot] com. I can do the talk via conferencing software, so there is no cost for your company. If you want me to travel, you need to cover my airfare (I live in Chennai)
---
Connect with us on social media
---
Do check out my books
---
You Can Be Rich Too with Goal-Based Investing
My first book is meant to help you ask the right questions, seek the right answers and since it comes with nine online calculators, you can also create customg solutions for your lifestye!
Get it now
.  It is also available in
Kindle format
.
---
Gamechanger: Forget Startups, Join Corporate &

Still

Live the Rich Life You Want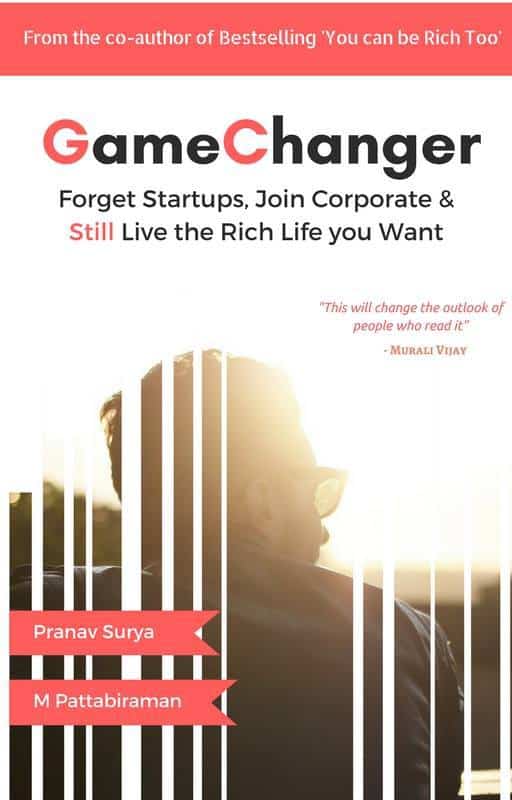 My second book is meant for young earners to get their basics right from day one! It will also help you travel to exotic places at low cost!
Get it or gift it to a youngearner
---
The ultimate guide to travel by Pranav Surya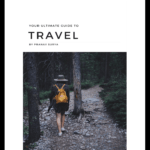 This is a deep dive analysis into vacation planning, finding cheap flights, budget accommodation, what to do when travelling, how travelling slowly is better financially and psychologically with links to the web pages and hand-holding at every step.  
Get the pdf for ₹199 (instant download)
---
---
Free Apps for your Android Phone
All calculators from our book, "You can be Rich Too" are now available on Google Play!
---
Install Financial Freedom App! (Google Play Store)
---
Install Freefincal Retirement Planner App! (Google Play Store)
---
Find out if you have enough to say "FU" to your employer (Google Play Store)
---
About Freefincal
Freefincal has open-source, comprehensive Excel spreadsheets, tools, analysis and unbiased, conflict of interest-free commentary on different aspects of personal finance and investing. If you find the content useful, please consider supporting us by (1) sharing our articles and (2) disabling ad-blockers for our site if you are using one. We do not accept sponsored posts, links or guest posts request from content writers and agencies.
Blog Comment Policy
Your thoughts are vital to the health of this blog and are the driving force behind the analysis and calculators that you see here. We welcome criticism and differing opinions. I will do my very best to respond to all comments asap. Please do not include hyperlinks or email ids in the comment body. Such comments will be moderated and I reserve the right to delete the entire comment or remove the links before approving them.