Each week, I try and answer generic questions from readers. Here is this weeks edition. You can use the form below to ask your question.
Announcement: As part of Diwali sales, my first book: You can be Rich Too with Goal-Based Investing is available for a 21% discount (rs. 316) at Amazon and at a discount of 37% (Rs. 251) at Flipkart. You can also get my second book Gamechanger for Rs. 199 (Kindle Rs. 100) at Amazon
Niranjan: was comparing this article: Insight: Screening for mutual funds with consistent outperformance with the "PlumbLine": a handpicked list of mutual funds. some of the funds that were mentioned in plumbline are not reflecting here. any reason for this?
Pattu: PlumbLine is mix of quantitative + qualitative (meaning my assessment largely) whereas the monthly screeners are only quantitative. So differences are bound to be there. PlumbLine is for beginners to quickly get started and screeners are for DIYers.
GK Swamy: Dear Pattu, I wanted to know your opinion on commutation vs non commutation. I have seen both sides of the argument but still confused to take a decision.
Pattu: For the benefit of others, commuting a pension means withdrawing a lump sum from the pension corpus. Thus the pension will reduce proportionately. You can now use the Freefincal Robo Advisory Software Template and evaluate both options. Enter the full pension as post-retirement income along with your other assets and compare it with the commuted pension with the lump sum added to the assest and see the difference in results.
Raja: Dear Sir, Last month I took term insurance with medical test. My mother has thyroid problem which i never mentioned in the family medical history column. I did check the application , there were no questions related to thyroid apart from other pre-known disease like diabetes,cancer etc. Now what should I do to rectify the issue ? Sorry if its not right forum to ask this question other than investment.
Pattu: Not the wrong forum. You can write to insurer stating that you inadvertently left out this information. Let them respond. My guess is that they should be okay with it.
Ranjan: Dear Pattu Sir, 1. On Moneycontrol and Value Research we can see the fund returns for various time periods. For example 15% CAGR over 5 years. Is this 15% after accounting for the expense ratio or do we need to subtract the fund's expense ratio from this return percentage? 2. How do mutual funds handle dividends paid by the companies who's stock they hold? Thanks Ranjan
Pattu: Yes Nav and therefore all returns are after accounting for expenses. Dividend paid by the stocks are reinvested into the portfolio.
Praveen: Do i need to show profit earned in a financial year or after redeeming in our income tax return, if we have invested for more than one year.
Pattu: The question is not clear to me. If you asking about reporting gains from mutual funds each year, then you should report only in the financial year that you redeem
Kalai: I have query regarding method of Re-balancing portfolio, My current accumulated portfolio value is 75:25 (Equity:Debt). But My desired asset allocation is 70:30. Can i stop investing equity part in the coming months and fully invest into Debt part to get rebalanced to the desired asset allocation(70:30). Likewise, every month before making an investment, Can i check asset allocation level and change the investments towards either Equity or Debt based on the current level of asset allocation. Reason for monthly re-balance is to avoid redemptions and tax loads on both side of portfolio and maintain the desired level of allocation. Please let me know, what will be cons on this periodic rebalancing methods.
Pattu: You can rebalance portfolio by changing investment amounts for only a short period of time. As you wealth growths, you will have to buy and sell.
Ramamurthy: What is mining Bitcoin please?
Pattu: Sir, as you know, Bitcoin is a digital currency. When it is being exchanged by two parties a third party has to validate the transaction. In the case of normal currency, the bank will do this. In the case Bitcoin, a person randomly chosen from a group of accountants will do this. When verified the person will receive a fee in Bitcoins. This creation of new currency when a transaction is verified is known as mining.
jb gupta: how to choose energy mutual fund
Pattu: I can see three such funds
DSP Black Rock Natural Resources and New Energy Fund
Reliance Diversified Power Sector Fund
Escorts Power & Energy Fund – Growth
These kind of sectoral funds when chosen individually can be quite risky and should be used only if you understand the sector. If you understand the sector, you will probably be picking individual energy stocks!! So I would suggest not to invest.
Sector fund make sense in only one way to me: Building a Diversified Equity Portfolio with Sector Mutual Funds
krishna: Dear Pattu Sir, I am a huge fan of your blog and i must say that, my finances are much better now with a planned approach. i have a question. i always see some people, who are happy spending everything they get and not worried of future requirements, even though they do not have enough assets to sustain till 20-25years post retirement. having a calculated approach makes me cautious, and living a bindas life makes them happy. so, if purpose of life is to live happily, who is right here ? and if they/me need an advise, what can be it ?
Pattu: Thank you. What is the purpose of life? asked a man to a sage. Nothing, said the sage.
Nothing?!! Exclaimed the man.
Nothing, therefore everything, said the sage.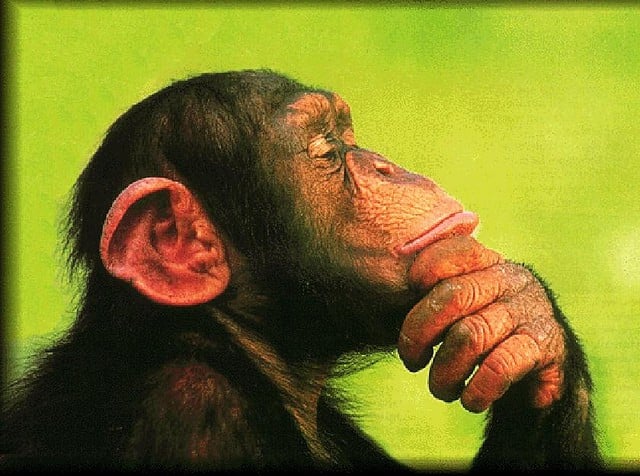 His point was that there are many paths to joy. It is unfortunate that we compartmentalise something as enjoyment and something else as boring/painful.
It is possible to enjoy life today and invest for tomorrows enjoyment. We can eat (half) our cake and have it too (the other half). Striking a balance is possible only if we open our mind to the possibilities in front of us today and those that wait for us tomorrow.
Incidentally, this the theme of my second book: Gamechanger: Forget Start-ups, Join Corporate and Still Live the Rich Life you want
Tyson Bruno Chisambo: Should Africa take part in Cryptocurrencies and what should the governments and their central banks do to regulate the seemingly blockchain good principles?
Pattu: I am afraid I cannot comment on the first part. Block chaining is a solid piece of technology. However, the transaction validation should be made possible at a lower cost with no mining. Then it can be implemented in other spheres. However, I think it will lead to a lot of electronic junk.
Mayur Shah: Hi Pattu I have recently had to stop SIP for some my portfolios. To do this, only one AMC had this option to cancel the SIP through online account. For rest of the AMCs, it was quite a hassle as I had to download the forms, fill it, scan it and Email them. This is really annoying as rest of other transactions and reports can be done through online. Unless SEBI dictates, investors will continue to face this hardship. What's your opinion please? Thanks Mayur Shah
Pattu: Yes and in many cases, the AMC will say "talk to your adviser" and then we will cancel. High time we tell them that unless they do as asked, we will (and must) complain to SEBI via their scores site.
Ravi Agarwal: I want to save Rs one lakh every month for my daughter's marriage which is likely to happen in 2020 Please suggest which mutual funds would be suitable to invest this money. Safety of the principal amount is vital and I should be able to withdraw the money easily Thank you
Pattu: I will not suggest investment products. For a goal that is 3Y away, you can consider using liquid funds, ultra short term funds or arbitrage funds.
asheesh: Dear Sir, What is your view on current market situation, all time high, does it make sense to wait and watch 52 high and low, or it really doesn't make difference for long term investment horizon. Not sure if you have discussed in any of your previous article.
Pattu: Do you have an asset allocation in mind suitable for your needs? Is your current allocation skewed too much from what you have in mind? If yes, rebalance. If no, continue investing.
Read more: How to Rebalance Your Investment Portfolio
Karthik Gunasekaran: Hello Sir, Any recommendation for debt fund for long term. (5-7+ years) Karthik
Pattu: Choose a fund with a consistent average portfolio maturity of not more than 2-3Y if you can handle some risk. Else stick to an ultra short term fund.You can also consider equity savings funds or arbitrage funds
Hari: Sir, thank you for the wonderful service that you are rendering to aspiring investors. I am a 45 year old NRI and have been thinking of early retirement (say in about 6 years time when my son will complete his Bachelor's degree, he is in Grade XI now). While I am confident of reaching the corpus needed for retirement, I am concerned about medical insurance. I believe none of the insurers in India offer medical insurance for NRIs. If I buy the insurance at the time of retirement, it could be too expensive. Are there any providers in India who could provide medical insurance for NRIs? Or any alternative suggestions based on your experience with NRI friends or acquaintances? Thank you.
Pattu: I only know that there are no legal restrictions about NRIs buying health insurance in India. Just that out of India coverage will not be provided, which you dont need, I guess. So if you wish to buy a cover to establish a history, approach an online broker unless you want to apply to insurers and find out if they cover or not.
Vandhi: I am getting almost similar Monthly required amount for my long term goals in both Unified and Independent approaches in Robo advisory template. Is this because,all my goals are greater than 14 years from Now.
Pattu: Could be. Too many inputs, so cannot say off hand.
Dr.A.Subramaniam: Hi Mr. Pattu, Greetings ! May I seek your guidance to choose a bouquet of MF across the large cap, Diversified & sector funds for a long term goal of 12-13 years for my 2-year-old grandson, please? I do understand the need for a periodical rebalancing of funds at reasonable intervals. I would be happy if you add or delete some categories that may enhance the goal. kind regards,
Pattu: Please consult a SEBI registered investment advisor from here: List of Fee-only Financial Planners in India
---
Use this form to ask Questions or reg. the robo template ONLY (For comments/opinions, use the form at the bottom)
And I will respond to them in the next few days. I welcome tough questions. Please do not ask for investment advice. Before asking, please search the site if the issue has already been discussed. Thank you. PLEASE DO NOT POST COMMENTS WITH THIS FORM it is for questions only.
[contact-form][contact-field label="Name" type="name" required="1″][contact-field label="Email" type="email" required="1″][contact-field label="Ask your question (Got an opinion or comment, use comment box at the bottom of the page. DO NOT post them here)" type="textarea" required="1″][/contact-form]
GameChanger– Forget Startups, Join Corporate & Live The Rich Life You want
My second book, Gamechanger: Forget Start-ups, Join Corporate and Still Live the Rich Life you want, co-authored with Pranav Surya is now available at Amazon as paperback (₹ 199) and Kindle (free in unlimited or ₹ 99 – you could read with their free app on PC/tablet/mobile, no Kindle necessary).
It is a book that tells you how to travel anywhere on a budget (eg. to Europe at 50% lower costs) and specific investment advice for young earners.
The ultimate guide to travel by Pranav Surya is a deep dive analysis into vacation planning, finding cheap flights, budget accommodation, what to do when travelling, how travelling slowly is better financially and psychologically with links to the web pages and hand-holding at every step. Get the pdf for ₹199 (you will be emailed the pdf after payment)
You Can Be Rich Too with Goal-Based Investing
My first book with PV Subramanyam helps you ask the risk questions about money, seek simple solutions and find your own personalised answers with nine online calculator modules.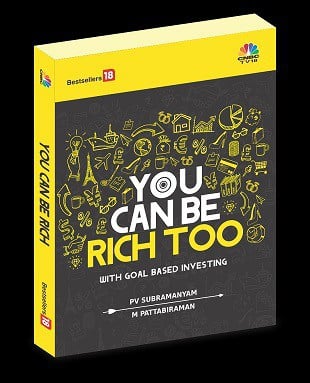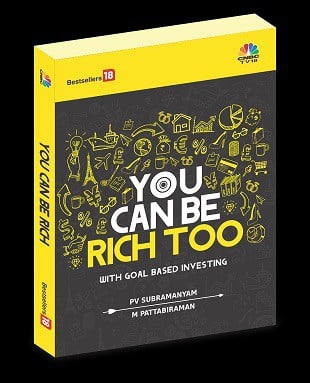 The book is available at:
Amazon Hardcover Rs. 271. 32% OFF
Infibeam Now just Rs. 270 32% OFF. If you use a mobikwik wallet, and purchase via infibeam, you can get up to 100% cashback!!
Flipkart Rs. 279. 30% off
Kindle at Amazon.in (Rs.271) Read with free app
Google PlayRs. 271 Read on your PC/Tablet/Mobile
Now in Hindi!
Order the Hindi version via this link
Want to conduct a sales-free "basics of money management" session in your office?
I conduct free seminars to employees or societies. Only the very basics and getting-started steps are discussed (no scary math):For example: How to define financial goals, how to save tax with a clear goal in mind; How to use a credit card for maximum benefit; When to buy a house; How to start investing; where to invest; how to invest for and after retirement etc. depending on the audience. If you are interested, you can contact me: freefincal [at] Gmail [dot] com. I can do the talk via conferencing software, so there is no cost for your company. If you want me to travel, you need to cover my airfare (I live in Chennai)
---
Connect with us on social media
---
Do check out my books
---
You Can Be Rich Too with Goal-Based Investing
My first book is meant to help you ask the right questions, seek the right answers and since it comes with nine online calculators, you can also create customg solutions for your lifestye!
Get it now
. It is also available in
Kindle format
.
---
Gamechanger: Forget Startups, Join Corporate &

Still

Live the Rich Life You Want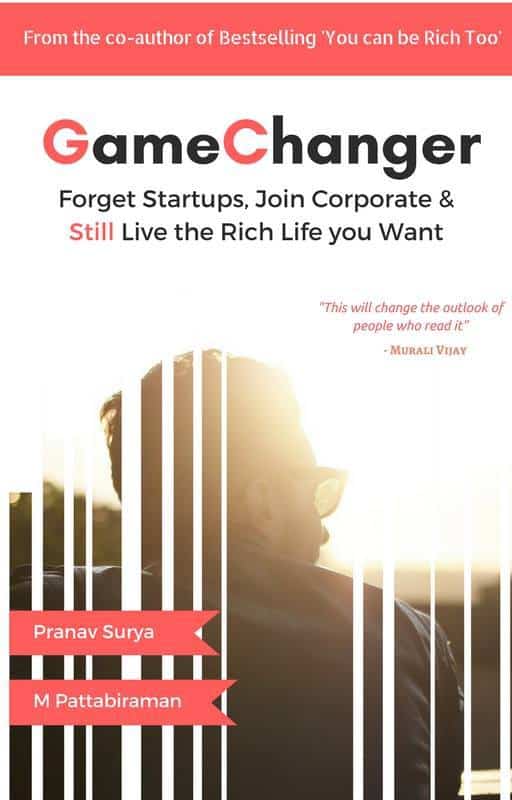 My second book is meant for young earners to get their basics right from day one! It will also help you travel to exotic places at low cost!
Get it or gift it to a youngearner
---
The ultimate guide to travel by Pranav Surya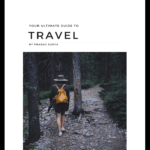 This is a deep dive analysis into vacation planning, finding cheap flights, budget accommodation, what to do when travelling, how travelling slowly is better financially and psychologically with links to the web pages and hand-holding at every step.
Get the pdf for ₹199 (instant download)
---
---
Free Apps for your Android Phone
All calculators from our book, "You can be Rich Too" are now available on Google Play!
---
Install Financial Freedom App! (Google Play Store)
---
Install Freefincal Retirement Planner App! (Google Play Store)
---
Find out if you have enough to say "FU" to your employer (Google Play Store)
---
About Freefincal
Freefincal has open-source, comprehensive Excel spreadsheets, tools, analysis and unbiased, conflict of interest-free commentary on different aspects of personal finance and investing. If you find the content useful, please consider supporting us by (1) sharing our articles and (2) disabling ad-blockers for our site if you are using one. We do not accept sponsored posts, links or guest posts request from content writers and agencies.
Blog Comment Policy
Your thoughts are vital to the health of this blog and are the driving force behind the analysis and calculators that you see here. We welcome criticism and differing opinions. I will do my very best to respond to all comments asap. Please do not include hyperlinks or email ids in the comment body. Such comments will be moderated and I reserve the right to delete the entire comment or remove the links before approving them.