Each week I try to answer generic questions on money management from readers. Here is this week's edition. You can use the form below to ask your question. Please do not enter comments or observations in the form. They are for questions only. I have split the Q/A into two part because of the number of questions received. This is part 1.
Announcement: First I have some news. I am working on a free, open-source robo-advisory template. It is currently being beta-tested by a few members of Facebook group Asan Ideas for Wealth. Hopefully will be ready to release this month end. A robo template is a calculator where the technical inputs are pre-filled for the use according to requirement and a financial plan is automatically output.
Shyam Singh: Why have we not seen a retirement crisis in India? Last line "I tend to think the latter group is more in number and many of them invest in equity with hope, and hope is not a strategy." I know luck plays an important part but If equity is not gonna save us then what ??
Pattu: Equity is "just" an asset class. It has no magical powers to "save" anyone. Efficient diversified portfolio construction and risk management has a good chance of playing saviour.
Ramesh: Why have we not seen a retirement crisis in India? Sir, You told that people are flexible and adaptable. In such case, would it make sense to migrate to less expensive areas such as tier-3/4 towns? Is it a myth or does it really cost less to live further south in terms of urbanization? I am not intending to account for rent, but wherever you live during retirement, one should have made provisions to live under the roof fully paid. Additionally, I would like you to speak about what minor income options would people have once they retire? Would it make sense to run a kirana store? The aging countries keep pushing the retirement age towards 70s. Unlike civil servants, what provisions are there to prevent one to work as long as he does albeit at a lower cost?
Pattu: I have considered such an idea, but it is too early to make a call. Very few people can successfully move from a busy metro to a small city. It depends on health at that time, needs etc.
As of minor income options: It depends on the need, skill sets and a personal definition of "dignity of labour". Again a hard call, but cometh the need, human beings will find a way.
Prasanth: Why have we not seen a retirement crisis in India? An excellent, excellent post Pattu sir. You hit the nail on the head. As you rightly pointed out, the crisis has been playing out for a long time and people "managed" because their needs were few and they also had "family" security. Nowadays with the proliferation of nuclear families, the "family" security is going to go away and the crisis will be more visible. Also, I only wonder what will happen when all the people with mandatory NPS realize that the gains they got until now are market linked (I'm sure many do not understand) and if there is a prolonged market crash in the future and they see all the gains disappear.
Pattu: Thank you. Not a question, but a comment I thought everyone should read. The future is uncertain to say the least!
Sushil Kumar: Dear Sir/Madam, Please tell me the safest annuity plan for my retirement. I need around 50000/- PM after 2-3 years. I am already a regular subscriber of NPS. Which is not guaranteed right now. Please suggest me the right path. I shall be highly thankful to you. Regards, Sushil Kumar
Pattu: Such a question cannot and should be answered in a forum like these. lease consult a SEBI registered fee-only financial planner from my list.
Karthik: Dear Sir, My question is with regards to balanced funds.  The debt portion of most if not all balanced funds seem to be highly interest rate sensitive. Does past data indicate that they shift to short duration bonds once interest rates start moving up? Is the duration managed dynamically?
Pattu: Just like dynamic bond funds are not dynamic, I would expect the same of the debt part of balances funds. At any point, the rate sensitivity (and credit sensitivity) is likley to be high. But this is completely masked by the volatility of the equity component. So I will not worry too much about it. In fact I prefer assuming balanced funds = pure equity funds.
Ajay: I was going through term insurances with return of premium plans What is better? return of premium vs monthly income on return?
Pattu: It sure is better for the insurer!! Stay away from return of permium and monthly payout term plans. They are designed to provide profits for the insurer. Get a simple lump sum payout on death term plan. It is actually cheap(er) and better!
Sunny: Hi, Can you please do a review of Quantum Dynamic Bond Fund. The fund does not take credit risk and the only dynamic part is the interest rate. It has been a top performer. This is not your typical dynamic bond fund which to me are 'not very dynamic". Have invested Rs 20 lakh in this fund as i don't the need the money for next 3-4 years. Thanks
Pattu:  How can a dynamic bond fund be dynamic if it does not take credit risk? Well, yes it is possible (more on that later). This fund currently holds about 6% of AAA rated rural electrification bonds. So there is your credit risk for you. Anything not rated as "Sovereign" has credit risk (even "Sov" has credit risk – read Indian's economic crisis in the 90s – but that is a different mater).
Well, Quantum has been selling it that way: not your typical dynamic bond fund. It has an average maturity of 5Y and a currentt yield to maturity of about 6.6%. So, please expect considerable volatility. If the fund managers call on rate movements goes wrong, the volatility will be even higher (Gov bonds are pretty risky when marked to market!!).
I like Quantum and I think they will manage the fund well, but it is too early to either review it or assume that "it is different". I would keep any eye on that money if I were you. Things have a tendency to go south just when we want the opposite.
Anant Kumar: Hi Pattu Sir, I am a freelancer and have a question which has huge confusion, rumours and contradictions. If I am getting all my income through foreign clients using upwork,fiverr,paypal – do I need to register and pay GST ? If I am a blogger who gets income through adsense or affiliates or through e-services – do I need to register and pay GST ? Thanks for answering.
Pattu: My understanding is that if your income is less than 20 Lakh, you are exempted from GST.
Jignesh Shah: can minor have a PPF account legally? I heard that PPF investment done for minor can not get exemption. pl guide….
Pattu: When in doubt, read the rules! Yes a minor can have a ppf account legally and the guardian can get 80C tax break for it.
Sitaram: Please inform if the interest credited in ppf account is eligible For tax rebate under 80c
Pattu: Such interest is tax free and cannot be used for a rebate. The rebate is  the tax-free part!
 Sandeep: I think if fixed deposit interest rates come down for the right reason- i.e. reduced inflation it wont be all that bad for retirees. I know you think India will have 8-10% inflation in perpetuity- If that is indeed the case then FD rates will stay high. But if inflation drops to a more reasonable long term rate of 5% or so dropping FD rates should not be an issue. By the way, perpetual pessimism (a favourite Indian pastime) has an uncanny way of becoming a self-fulfilling prophecy.
Pattu:  Ha ha, a comment, not a question, but I loved the last line and will expand upon it in a separate post. I wish more Indians were pessimistic, their financial lives would be in much better shape. There is absolutely no correlation between the reported inflation numbers (which is used to fix rates) and the actual inflation in out expenses. Please go check your own expenses using this Personal Inflation Calculator and then we can discuss.  Lifestyle creep (positive or negatively) cannot be practically separate from inflation of essential needs and planning for an inflation less than 6% (for retirement, others it is much higher) is like telling God your plans – She is listening with a chuckle.
I loved "perpetual pessimism has an uncanny way of becoming a self-fulfilling prophecy". That is a great title for an article. I confess that it is true in my case. Unfortunately, bad things happen to optimists too and they do not announce their arrival in advance. So I am quite optimistic about my pessimism.
Monte hok: EPF holder can open a ppf account or not
Pattu: Yes, they can.
Lalit Kumar Sachdeva: 1. यदि सरकारी नौकरी वाले पति पत्नी जोड़ सकते है तो दूसरे लोग क्यों नहीं? 2. बेटी के लिए सूकन्या सुविधा उपलब्ध है, तो बेटे के लिए क्या?
Pattu: My 8th standard Hindi could get me through that question, but I can only respond in English:
The post in question is: How much can we invest in multiple PPF accounts?
1: I dont understand what you mean by  जोड़ सकते! The rule of account opening, income clubbing and all other relevant rules of PPF or any other investment are the same for all Indians – whether they work in government or not.
2: The Sukanyan Yojana is for the lower income group! Naturally, thanks to the internet, some bloggers after traffic and income, I would bet that a good chunk of the amounts opened is by people who do need such "yojanas". Anyway, those who appreciated the importance of liquidity will stay away from them.
Read more: Sukanya Samriddhi Yojana vs PPF: An Illustration
Neetu: I want to get good maturity amount after 20 years for my daughter, will you advise me mutant funds are good or not for this?
Pattu: Yes, mutual funds can be used for this. Good or not? For any market linked product, there is no guarantee. I do not provide specific investment advice. Please consult a SEBI registered fee-only financial planner from my list.
To be continued …..
______________________
Ask Questions with this form
And I will respond to them coming Monday. I welcome tough questions. Please do not ask for investment advice. Before asking, please search the site if the issue has already been discussed. Thank you.  PLEASE DO NOT POST COMMENTS WITH THIS FORM it is for questions only.
[contact-form][contact-field label='Name' type='name' required='1'/][contact-field label='Email' type='email' required='1'/][contact-field label='Comment' type='textarea' required='1'/][/contact-form]
GameChanger– Forget Startups, Join Corporate & Live The Rich Life You want
My second book, Gamechanger: Forget Start-ups, Join Corporate and Still Live the Rich Life you want, co-authored with Pranav Surya is now available at Amazon as paperback (₹ 199) and Kindle (free in unlimited or ₹ 99 – you could read with their free app on PC/tablet/mobile, no kindle necessary).
It is a book that tells you how to travel anywhere on a budget (eg. to Europe at 50% lower costs) and specific investment advice for young earners.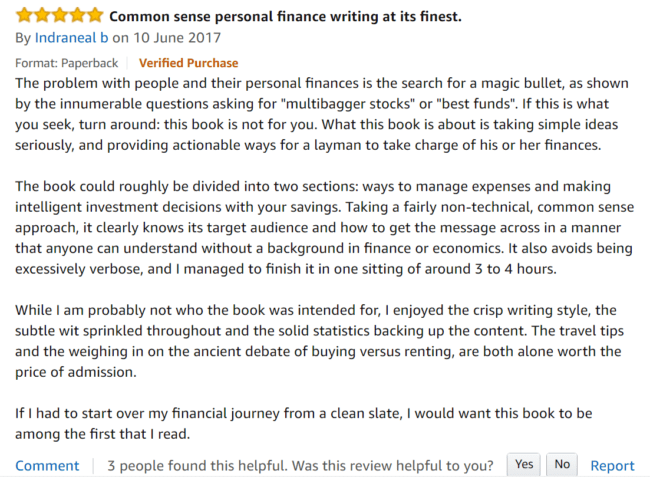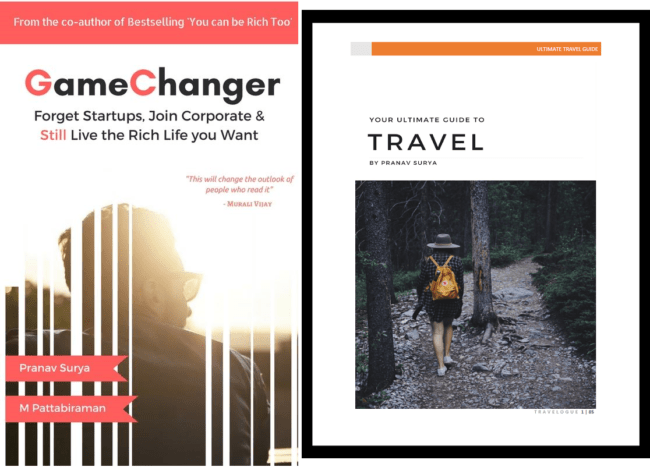 The ultimate guide to travel by Pranav Surya is a deep dive analysis into vacation planning, finding cheap flights, budget accommodation, what to do when travelling, how travelling slowly is better financially and psychologically with links to the web pages and hand-holding at every step.  Get the pdf for ₹199 (instant download)
You can Be Rich Too with Goal-Based Investing 
My first book with PV Subramanyam helps you ask the risk questions about money, seek simple solutions and find your own personalised answers with nine online calculator modules.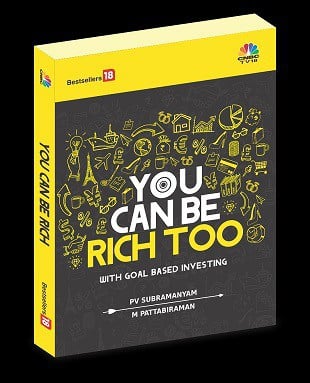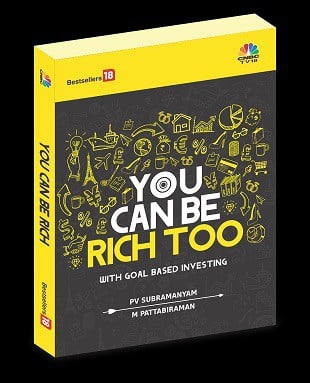 The book is available at:
Amazon Hardcover Rs. 271. 32% OFF
Infibeam Now just Rs. 270  32% OFF. If you use a mobikwik wallet, and purchase via infibeam, you can get up to 100% cashback!!
Flipkart Rs. 279. 30% off
Kindle at Amazon.in (Rs.271) Read with free app
Google PlayRs. 271 Read on your PC/Tablet/Mobile
Now in Hindi!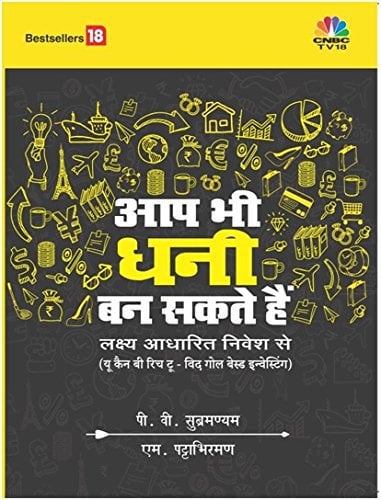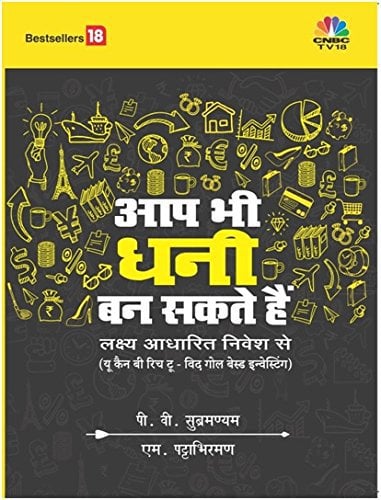 Order the Hindi version via this link
Want to conduct a sales-free "basics of money management" session in your office?
I conduct free seminars to employees or societies. Only the very basics and getting-started steps are discussed (no scary math):For example: How to define financial goals, how to save tax with a clear goal in mind; How to use a credit card for maximum benefit; When to buy a house; How to start investing; where to invest; how to invest for and after retirement etc. depending on the audience. If you are interested, you can contact me: freefincal [at] Gmail [dot] com. I can do the talk via conferencing software, so there is no cost for your company. If you want me to travel, you need to cover my airfare (I live in Chennai)
---
Connect with us on social media
---
Do check out my books
---
You Can Be Rich Too with Goal-Based Investing
My first book is meant to help you ask the right questions, seek the right answers and since it comes with nine online calculators, you can also create customg solutions for your lifestye!
Get it now
.  It is also available in
Kindle format
.
---
Gamechanger: Forget Startups, Join Corporate &

Still

Live the Rich Life You Want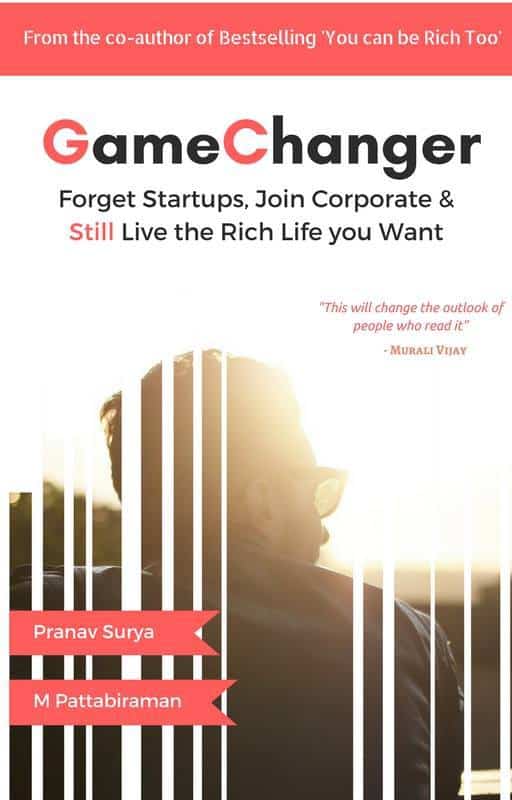 My second book is meant for young earners to get their basics right from day one! It will also help you travel to exotic places at low cost!
Get it or gift it to a youngearner
---
The ultimate guide to travel by Pranav Surya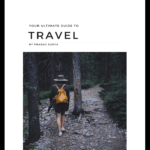 This is a deep dive analysis into vacation planning, finding cheap flights, budget accommodation, what to do when travelling, how travelling slowly is better financially and psychologically with links to the web pages and hand-holding at every step.  
Get the pdf for ₹199 (instant download)
---
---
Free Apps for your Android Phone
All calculators from our book, "You can be Rich Too" are now available on Google Play!
---
Install Financial Freedom App! (Google Play Store)
---
Install Freefincal Retirement Planner App! (Google Play Store)
---
Find out if you have enough to say "FU" to your employer (Google Play Store)
---
About Freefincal
Freefincal has open-source, comprehensive Excel spreadsheets, tools, analysis and unbiased, conflict of interest-free commentary on different aspects of personal finance and investing. If you find the content useful, please consider supporting us by (1) sharing our articles and (2) disabling ad-blockers for our site if you are using one. We do not accept sponsored posts, links or guest posts request from content writers and agencies.
Blog Comment Policy
Your thoughts are vital to the health of this blog and are the driving force behind the analysis and calculators that you see here. We welcome criticism and differing opinions. I will do my very best to respond to all comments asap. Please do not include hyperlinks or email ids in the comment body. Such comments will be moderated and I reserve the right to delete the entire comment or remove the links before approving them.