Here is a comparison of direct plan and regular plan mutual fund investments made since Jan. 2013, when direct plans came into force.
Direct plan mutual funds are those sold by the AMC direct to the investor without a distributor. Therefore, these plans do not account for the trail commission paid to the distributor from the investors holdings (so your account in a mf web portals is not really free!). Thus the NAV of a direct plan mutual fund is higher than that of a regular plan. The difference keeps increasing with time.
Mutual fund distributors and fee-based financial planners oppose direct plans because they would miss out on trail commissions. So they write article after article about how direct plans are suitable only for those who can manage their finances blah-blah…
Well, it is our money. Instead of worrying about the intentions of the distributor and more importantly their competence, it is better to learn on our own.
This is the main reason I promote 'direct' investing. We make ourselves accountable. The extra returns are like cherries on top of an already tasty cake!
People who are used to the convenience of online portals do not want to go direst because of the paperwork involved.
Well, what do you know! Here is some good news:
MF Utility is an online portal funded by all AMCs. Soon investors can buy direct plans of all AMCs from a single platform! Read more here.
In Aug. 2013, seven months after direct plans came into force, I compared the NAV movements of HDFC Top 200 and estimated that direct plans will have a 0.5% higher annual return for each year in investment.
In this post, I present actual difference in returns and holding values for ongoing SIPs in regular and direct plan started on Jan 1st/2nd 2013. Lump sum investments made on these dates are also compared.
Yet again, this post stems from discussions in facebook Asan Ideas for wealth.
This comparison was made with ease using the automated mutual fund and financial goal tracker
First, let us look at the NAV movement of regular and direct plans of ICICI Prudential discovery fund and the difference.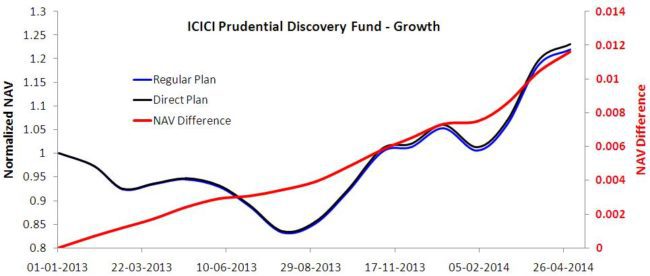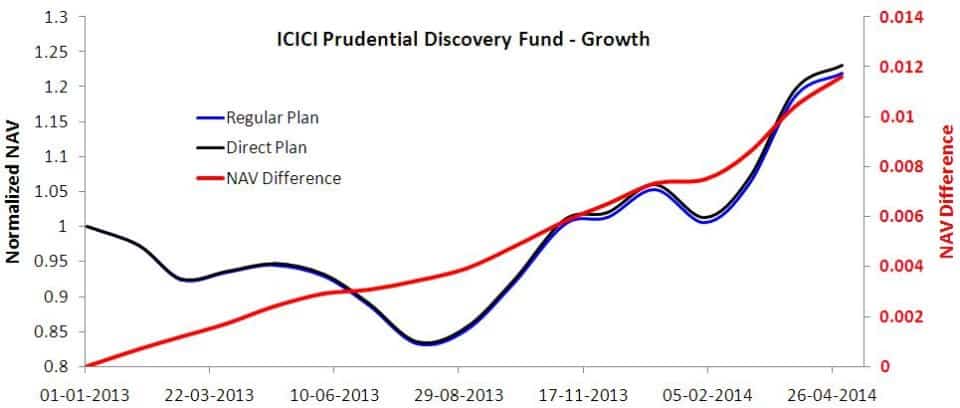 It is clear that the difference in NAV increases rather steadily. The small deviations from a linear increase probably are from changes in the base expense ratio (ie. all expenses except trail commission).
Here is the comparison of SIP and lump sum investments.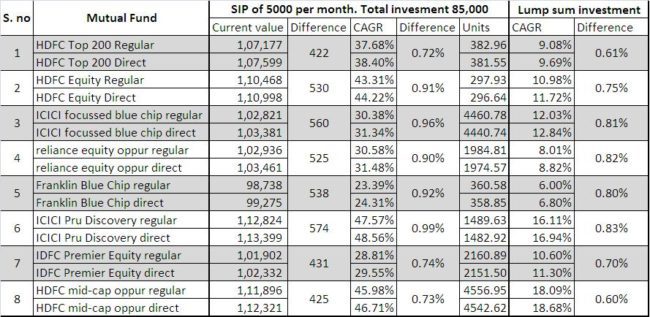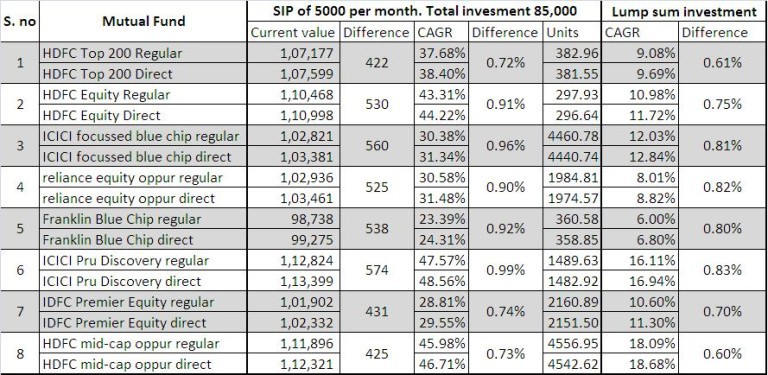 Kindly stare at it and make your own conclusions. Let me know if you would like to use the tracker file I used to get this results.
Updates:
Direct Mutual Fund Option – The Second Anniversary Report
Returns Comparison 2016: Direct Mutual Fund vs. Regular Mutual Fund
These results should hardly surprising to most direct investors. The key point is, that the difference in annual returns will be about 0.5% for each year. This difference will compound year on year.
Therefore, after a few years, the difference between corpus and difference in CAGR will be significant.
You can play around with this expense ratio calculator to get a sense of this difference.
Direct plans are slowly but surely gaining ground. According to this article,
 The investments under direct plans have gone up substantially under debt funds. Equity funds have also seen some increase in direct investments, though the pie remains small.

According to CRISIL, debt-oriented mutual funds constituted 98% of the total AUM under direct plans. A large part of the direct plan AUM constitutes of liquid and ultra-short term debt funds. Investments in direct plans of liquid funds touched Rs. 1 lakh crore in June 2013 from Rs 24,400 crore in March 2013. A large part of the shift in AUM in direct plans of debt funds is from institutional investors.

The AUM in direct plans of equity funds went up by 63% from Rs. 2,700 crore in March 2013 to Rs. 4,400 crore in June 2013.
Direct AUM
Equity Category
Jan – Mar 2013

Apr-Jun 2013

Direct Plans Average AUM (Rs cr.)
2700
4400
Total Average AUM (Rs cr.)
208600
198600
Direct Plans as a % of total equity average AUM
1.27%
2.22%
Source : CRISIL (taken from cafemutual

article

)

If MF Utility offers 'direct' investing option, one can expect direct fund AUMs to increase sharply.
Mutual fund investing is not rocket science. In fact it is as simple as D .. I .. P.
D for discipline. I for interest and P for patience.
So go ahead and ignore all the experts who scare you about direct plans. They do so because they are scared themselves!
If you don't feel confident about choosing and managing mutual funds on your own, choose a fee-only financial planner from this list. For a reasonable fee, they will offer you a comprehensive financial plan and you can invest in direct plans without any fear.