The second investor workshop on financial planning and goal-based investing was held on April 12th, 2015. While 70 people registered for the first workshop which was held in Dec. 2014, a good 140 registered for this meet. A few did not turn up due to work commitments. One person had a bad cycling accident. Hope she recovers soon.
My only worry as such events draw near is my health. This time I had other things to contend with. A week before the event, my hard disk developed bad sectors. I had to spend a pretty penny to get the data recovered.  Although I had back-ups of important files, losing your computer when you need it the most, is a pain. Anyway, that was set right in time.
I hate SMSs before I fly. The night before the meet, Air India messaged that my flight was delayed by 4 hours. So  I had to get another ticket in a hurry. Thankfully reached well before the start the of the meet by Jet Airways.
The Bangalore meets are organized by a passionate team:
Muthu Krishnan V, Krishna Kishore, Mohit Pandey, Mohammed Aaqil, Vignesh Bhaskar, Prashant Kulkarni, Prem Nath and Guruprasad Bhupathirajan.
Here they are: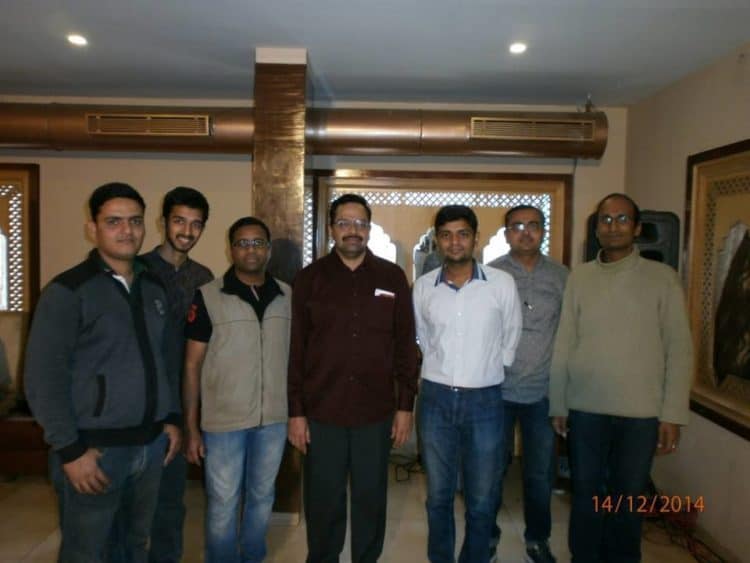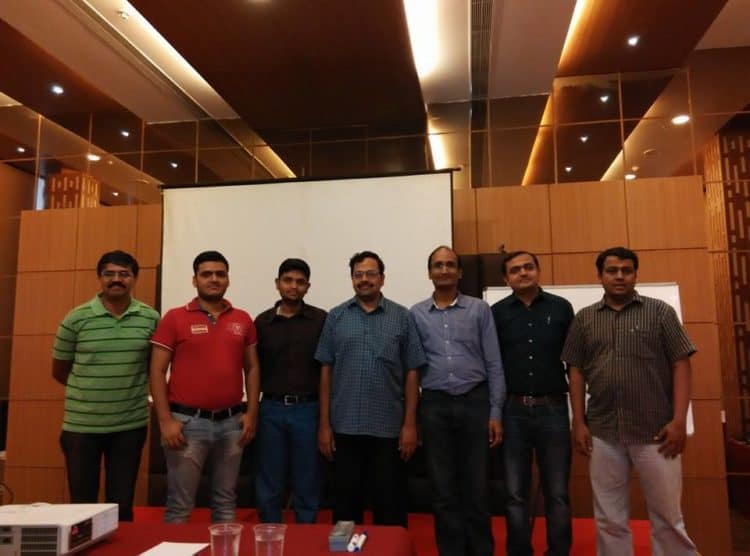 Mohammed Aaqil and Vignesh could not make it to the second meet but were involved  in the planning process.
Many participants admired and appreciated their efforts.  Which well deserved because, but for them, I cannot afford to waltz in  to the venue, even without a laptop and leave before the hall is handed back to the hotel.
Weak eye muscles meant I could not look up at the screen. Thanks to the efforts of Muthu, there was a nice stage set up so that I could speak by looking at Mohit's laptop instead of the projection.
Weak eye muscles also meant, I could only hear other speaker and not look at their presentations.  I completely missed Muthu's talk as I was outside discussing with a participant about his goals. Sorry Muthu!
I also sat in for only the second half of Krishna's talk. His honesty is his forte, be it on stage on in his blog 
He explained the factors he uses to find a good business, the difference between market noise and market signals and showed a nice clip from the movie, the boiler room: A broking firm convinces a doctor that a pharma stock is going to be the next multi-bagger/
Managed to listen to the second half of Deepak Shenoys talk on retirement planning. Took a short nap during the first half! (Too tired, got up at 3 am).
Deepak talked about retirement expenses after retirement, did some FY money calculations, problems with real estate and tax laws concerning the NPS.
He also bailed me out during my talk when I showed the Sensex movement in logarithmic scale. He explained, way better than  I ever could, how plotting in logarithmic shows Sensex jumps in perspective. This warrants a separate post for further explanation.
Was worried about my voice for the second part of my talk (in Delhi I was at the end of my tether), but surprisingly was able to manage.
We could allocate a reasonable time for Q/A. Quite a few stimulating questions on investing and mutual funds were asked.
All in all, It was a satisfying day, thanks to the eagerness shown by the participants, the generosity of Deepak Shenoy, the efforts of Muthu and Krisha for their tallks and the organizing team for their passion.
Bangaloreans have been quite kind to me. Tickets get sold the fastest here. That is a big relief when you are trying to organize a not-for-profit event.
Future events
Chennai, Pune and Hyderabad are on the cards. God willing will be able to announce these soon.