Each week I try and answer generic questions from readers. Here is this weeks edition. You can use the form below to ask your question. Have a great week ahead.
First some news: Venkatesh Jambuligam has been translating some of my posts in Tamil. This week he has tackled upside/downside capture ratios. Please support his work.
Understanding Upside/Downside Capture Ratios: Tamil version and this is the English version.
Abhay Deol: As anyone who has played with a retirement calculator knows, the corpus required for the retirement portfolio is huge. And from all accounts, most Indians are not prepared for it or even realize the huge amount required. What I'm curious about though is why hasn't this crisis played out yet? Where are today's retired professionals getting their monthly income from?
Pattu:  This is a fine question! I think it deserves a full post. Will get to this this week. Hope you don't mind.
Ajya: Hi Pattu Sir, I have question regarding Term insurance. Recently I was looking for term insurance for 1cr, I am 31yr. I have come across Lump sum and Monthly income options. Lump sum term insurance amount is more compared to monthly income. Could you please suggest which one will be better?
Pattu: Stay away from all monthly income plans. The insurer just want to make a fortune with the money due to your nominee. Always opt for immediate lump sum payout.
Vandhi: When balanced funds are doing re-balancing automatically, Then why should i worry about asset allocation like choosing Equity : Debt funds for goals and re-balancing periodically. Can i invest only balanced funds for all long term goals to achieve Asset allocation.
Pattu: Balanced funds are rebalancing according to their agenda, not yours. Assuming a balanced fund has 70% equity and 30% debt, it will rebalance this every month today, 5Y from now and 10Y from now. Whereas you will need money at some point in time and you cannot be holding 70% equity when you wish to withdraw 2 months from now. It is extremely dangerous.
If the asset allocation of a balanced fund is suitable for your goal, you can use it, but you will need a variable asset allocation plan in place. This is one of the reasons why I prefer to treat balanced funds as pure equity funds.
Paresh Chauhan: Dear Sir, While choosing fund (I have mostly ELSS in my portfolio), when I start investing in number 1 (ranked number 1 by money control, value research etc and by past performance) , it always becomes laggard in next few years. (the examples are ICICI long term plan, then HDFC tax saver and AXIS long term). This is really confusing – how to select fund. Is there any scam or game !? I have just started investing in MOST long term plan based on its performance and due to my with to link my investment with Mr. Ramdeo Agrawal.
Pattu: No game or scam! Do not value research, money control (CRISIL) or Morningstar ratings seriously. Never compare one fund to another. Always evaluate the performance of a fund with its benchmark from the date in which you started investing. Do not expect to invest in "top funds", they can only fall down.
Mutual Fund Star Ratings are Flawed, but Investors are to blame for taking them at face value
Muthuram Arumugam: Hello sir, in one of your replies, you have mentioned, not to opt for SB accounts with high-interest rates, as they demand high QAB & hence the effective yield is less than 6 %, could you explain this, please?
Pattu: Why are they giving you 6% when others are giving 4%? What do they gain out of it? The answer is in the minimum balance required. Only you a high int rate SB account, you lock your money with the bank and the bank can invest it as they please (read give loans at 3 x 6%).
Is your return 6%? NO. You have lost liquidity by using such an account and that loss is priceless!!
Ram: I am looking to start SIP of 5k in next month for long term ( >5 yrs). What things should i keep in mind before choosing any Fund? I don't have any SIP till now
Pattu: I have written about this 150 times. Please use the search box and check if a question has been covered before asking.
How to select an equity mutual fund in 30 minutes!
Sangeetha: Dear Sir, I am a Senior Citizen and am planning to invest Rs. 4 Lakhs in HDFC Balanced Fund Growth scheme. I would like to have SWP option on quarterly basis. As the withdrawals during the very first year may attract Income Tax, I would like to start my quarterly withdrawals after 1 year so that they do not attract any income tax. 1. Is it possible to buy a MF Growth scheme with SWP to start after 1 year? If yes, what is the process? Trust similar approach can be followed with any other fund's equity oriented growth schemes for SWP? 2. Is my original assumption (that the withdrawals during the first year will be taxed) correct? My doubt because they will be withdrawals from my Principal. But I want to play safe (if it is subject to interpretation by the IT dept.) to avoid any confusion at any later date. Thanks for your kind help. Regards. Sangeetha
Pattu: There is no need to make it so complicated with SWPs! SWP is just industry propaganda BS. Buy a growth fund and withdraw when you want and how much you!! As simple as that.
Please permit me to add a general note: Tread with caution while choosing "balanced" mutual funds during retirement. A single crash will wipe out most of your money.  Do not fall prey to garbage written in financial magazines by "experts". The media is not literate enough to know who is a non-aligned expert and who is not.
Kalai: I have confusion to choose between Single portfolio vs Multiple portfolios for all long term goals. I have 4 long term goals, duration more than 15+ years. My understanding is One large cap + One Mid cap funds per goal, So the total count of funds will be 8 funds. (for 4 goals). But If i use portfolio overlap tool, then i think its better to go with Single Portfolio with 4 Funds (across market cap) to avoid overlap. But Tracking and rebalancing will not be easier compare to Multi portfolio for each goal. Now my query if Multiple portfolios, Can i make use of same funds for all the goals . Because i have short listed only 4 equity funds. Please share your views on Single Vs Multi portfolio. Note : I am not referring Unified portfolio Because i am able to invest fully for all my goals.
Pattu: In a multiple portfolio approach, we assume each goal is independent of the other and invest for them separately. So in this case, there is no point in using the portfolio overlap tool as they are independent of each other.
In a single portfolio approach, all the goals are combined in one portfolio. Outwardly this appears "simpler" and the total investment amount here will be lower. Before we start rejoicing, it is important to recognise why the amount is lower. Suppose our retirement is 20Y away and our children will enter college in 10Y, then from the 11th year, we will have more money to invest for retirement.
In the unified portfolio approach, this extra cash is taken into account now itself (and this is a huge risk).
Also, contrary to popular belief, tracking is hard only in the single portfolio approach as the fortunes of all goals are mixed together. If equity does not perform for 5-10 years at a stretch then in a unified portfolio approach, it will be hard to find out how much we have overdrawn for one goal. This could be mean the amount we need to invest would suddenly shoot up for the rest of the goals.
A unified portfolio approach is based on the simplistic assumption, things will go according to plan and returns will be in line with expectations. Wish that was true!!
I believe in investing as much as possible today and not count on tomorrows events and therefore strongly oppose the unified portfolio idea. Anyway those interested can always use this tool: Financial Goal Planning with a Unified Portfolio
Ramamurthy: The corporate earnings do not justify the steep increase in the Nifty from 9000 to 10000.I wonder why? Is it because of excess liquidity in the hands of people who do not know where else to park money. Business activity is dull. Unemployment is growing. People seeking jobs are increasing as more and more people are completing their education each year and entering the job market. Yet NIFTY is growing. Can you please throw some light.
Pattu:  It is a puzzle! Corporate earnings are not commensurate with market movements! I am afraid I can only speculate, but at the very least I would expect the market to "wait" until for earnings to catch up sooner or later.
Gunda: Sir, John Templeton had said, bull markets start with Pessimism but end on euphoria. Do you believe what we are experiencing is euphoria already?
Pattu: It is indeed scary to see new mutual fund investors assume that they have made the right choice of investing in equity by looking at their returns. But that is part of a necessary learning curve. Whatever it is that we are experiencing, it too shall pass.
Vikas Vyas: Hi , I am a full-time freelancer (income from IT related data analysis job from an Overseas client). With a view to rebalancing my Mutual Fund portfolio, I have switched/redeemed funds to better performing funds. All these are Growth Equity funds and I have done this exercise well past one year. ie LTCG Exempt from tax. Starting from next year I plan to file my returns through Section 44ADA (presumptive for professionals). However, it is mentioned over there that No Capital Gains allowed. I assume since I switched and have done redemption of Mutal Funds, it will still be considered Capital Gains? If yes, how do I go about filing through 44ADA? It would really make my life easier as I do not want to go through the hassle of maintaining expenses and retain vouchers etc. Moreover, I do stand to gain the benefit of paying less tax as well. Thanks in advance. Regards Vikas Vyas
Pattu:  According to this, if you are going to file under presumptive income, interest income and capital gains should be added under total income and then you deduct 80C savings from such income.
However, 4S filing is not mandatory. Get an audited report of your income and file ITR 3 or ITR5. If you look at the 4S instructions, then I think this is what you should do.
kishor: Dear sir, 1.If I contribute from my income to a wife\'s PPF account regularly & claim the 80C rebate in my return. Now when this PPF account in the name of wife matures/closed the sum received will be my Capital OR her capital? Can she further invest this money & earn from it without attracting clubbing provision to me. 2. If wife saves a little out of the money given to her for household expenses, that money is her own. And she can invest it without attracting clubbing provision to me. What is thumb rule for a reasonable amount for a year for such amount
Pattu:  Whatever money was given to a spouse for whatever spouse is always ours. The direct interest or capital gains from the amount is always taxable in our name. In the case of PPF or equity (long term), such gains are exempt from tax. Therefore the thumb rule is to invest in instruments where taxation is zero in the case of income clubbing. However, you will have to report such gains as exempt income in ITR.
M SRINIVAS: In India, Bitcoins are not regulated then how people are investing in this. How Bitcoin agents are promoting to buy the Bitcoins. Why Govt not taking Any action on them. What is the clear msg from freefincal on Bitcoin? Can we invest or avoid? I read the article and just asking you the conclusion. Kindly let me know. Best regards. Srinivas M
Pattu: I just wrote an article on Bitcoin with a first paragraph that clearly states my opinion. To restate it in one word: AVOID.
Yogesh: My age is 37.5 and working as software engineer in Malaysia. I am basically from Rajasthan, India.I am married with one 6yrs old daughter. Thinking to get retired by age 40. We have 1.5 to 2 crore rupees. Currently investing in PMS(75lac), Mutual funds (25mnthly via SIP)and ULIP ( 1lac yearly). We have our house in Rajasthan.There is no need to pay rent. After retirement wants to allocate 1 crore in PMS and one crore in MIS.IF MIS(Mutual Fund) can give 10% return then can get 10lacs monthly (which is 83,000 monthly) Whats your view?Is this plan reasonable?
Pattu:   I cannot offer an opinion without first punching some numbers and I have no interest in doing that with anyone else's data. Please enter your data in this tool and check if you can generate an inflation protected income for at least the next 40-45 years: Inflation-protected Income Simulator, handle your daughter's expenses and more importantly handle sudden changes in lifestyle for that long a duration – this is something beyond the realm of Excel.
Will say this much: An asset allocation of about 50-60% after retirement is extremely dangerous. I would recommend that you find out the amount necessary to generate inflation-proof income for the first 15 years in retirement. This has to be in safe assets. Only the rest of the corpus which will serve you for the remaining 25-30 years can be put in market linked assets. Even here, not too much equity.  A sideways market of a few years can shake up your peace of mind! Tread with ample caution with no blind faith in equity.
_______________________________
Check out freefincal posts in Tamil: தனிநபர் நிதிநிலை ஆய்வு
Ask Questions with this form
And I will respond to them coming Monday. I welcome tough questions. Please do not ask for investment advice. Before asking, please search the site if the issue has already been discussed. Thank you.  PLEASE DO NOT POST COMMENTS WITH THIS FORM it is for questions only.
[contact-form][contact-field label='Name' type='name' required='1'/][contact-field label='Email' type='email' required='1'/][contact-field label='Comment' type='textarea' required='1'/][/contact-form]
GameChanger– Forget Startups, Join Corporate & Live The Rich Life You want
My second book, Gamechanger: Forget Start-ups, Join Corporate and Still Live the Rich Life you want, co-authored with Pranav Surya is now available at Amazon as paperback (₹ 199) and Kindle (free in unlimited or ₹ 99 – you could read with their free app on PC/tablet/mobile, no kindle necessary).
It is a book that tells you how to travel anywhere on a budget (eg. to Europe at 50% lower costs) and specific investment advice for young earners.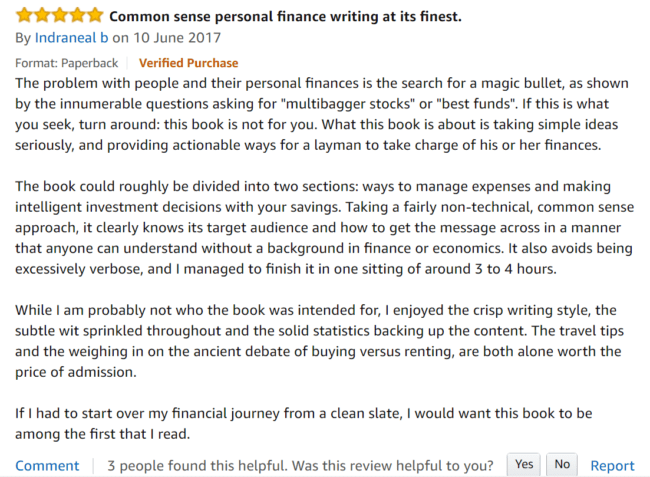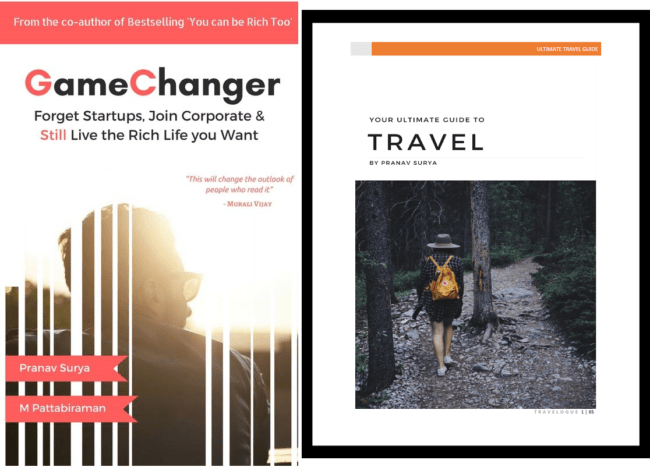 The ultimate guide to travel by Pranav Surya is a deep dive analysis into vacation planning, finding cheap flights, budget accommodation, what to do when travelling, how travelling slowly is better financially and psychologically with links to the web pages and hand-holding at every step.  Get the pdf for ₹199 (instant download)
You can Be Rich Too with Goal-Based Investing 
My first book with PV Subramanyam helps you ask the risk questions about money, seek simple solutions and find your own personalised answers with nine online calculator modules.
The book is available at:
Amazon Hardcover Rs. 271. 32% OFF
Infibeam Now just Rs. 270  32% OFF. If you use a mobikwik wallet, and purchase via infibeam, you can get up to 100% cashback!!
Flipkart Rs. 279. 30% off
Kindle at Amazon.in (Rs.271) Read with free app
Google PlayRs. 271 Read on your PC/Tablet/Mobile
Now in Hindi!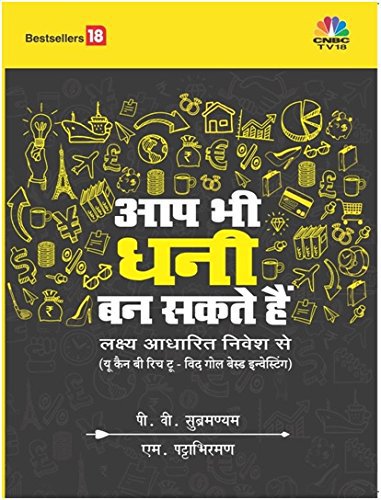 Order the Hindi version via this link
Subscribe and join the freefincal Youtube community!
 Don't like ads but want to support the site? Subscribe to the ad-free newsletter! 
Want to conduct a sales-free "basics of money management" session in your office?
I conduct free seminars to employees or societies. Only the very basics and getting-started steps are discussed (no scary math):For example: How to define financial goals, how to save tax with a clear goal in mind; How to use a credit card for maximum benefit; When to buy a house; How to start investing; where to invest; how to invest for and after retirement etc. depending on the audience. If you are interested, you can contact me: freefincal [at] Gmail [dot] com. I can do the talk via conferencing software, so there is no cost for your company. If you want me to travel, you need to cover my airfare (I live in Chennai)
---
Connect with us on social media
---
Do check out my books
---
You Can Be Rich Too with Goal-Based Investing
My first book is meant to help you ask the right questions, seek the right answers and since it comes with nine online calculators, you can also create customg solutions for your lifestye!
Get it now
.  It is also available in
Kindle format
.
---
Gamechanger: Forget Startups, Join Corporate &

Still

Live the Rich Life You Want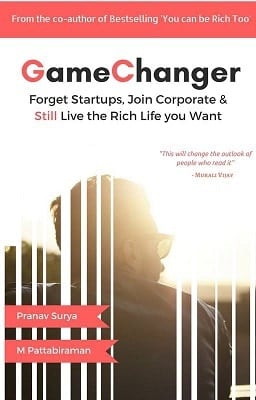 My second book is meant for young earners to get their basics right from day one! It will also help you travel to exotic places at low cost!
Get it or gift it to a youngearner
---
The ultimate guide to travel by Pranav Surya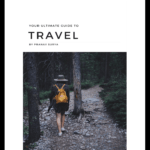 This is a deep dive analysis into vacation planning, finding cheap flights, budget accommodation, what to do when travelling, how travelling slowly is better financially and psychologically with links to the web pages and hand-holding at every step.  
Get the pdf for ₹199 (instant download)
---
---
Free Apps for your Android Phone
All calculators from our book, "You can be Rich Too" are now available on Google Play!
---
Install Financial Freedom App! (Google Play Store)
---
Install Freefincal Retirement Planner App! (Google Play Store)
---
Find out if you have enough to say "FU" to your employer (Google Play Store)
---
About Freefincal
Freefincal has open-source, comprehensive Excel spreadsheets, tools, analysis and unbiased, conflict of interest-free commentary on different aspects of personal finance and investing. If you find the content useful, please consider supporting us by (1) sharing our articles and (2) disabling ad-blockers for our site if you are using one. We do not accept sponsored posts, links or guest posts request from content writers and agencies.
Blog Comment Policy
Your thoughts are vital to the health of this blog and are the driving force behind the analysis and calculators that you see here. We welcome criticism and differing opinions. I will do my very best to respond to all comments asap. Please do not include hyperlinks or email ids in the comment body. Such comments will be moderated and I reserve the right to delete the entire comment or remove the links before approving them.