Last Updated on
This year (AY 2019-2020) if you have capital gains or losses to report for FY 2018-2019, then please wait for revised ITR forms (ITR2 and ITR3). A few weeks back I had pointed out that filing Equity LTCG in ITR2 (AY 2019-2020) is messy (and sometimes incorrect) along with a suggested workaround based on an official response received from the department.
Update 15th June 2019: Revised forms are now available  with this note: In case of long term capital gains (LTCG) arising on sale of equity shares or unit of equity oriented fund or unit of business trust on which STT is paid, separate computation of capital gains should be made for each scrip or units of mutual fund sold during the year and aggregated amount should be provided in item No. B4 (ITR 2)/B5( ITR 3) (in case of residents) or item No. B7 (ITR 2)/B8(ITR3)(in case of non-residents). The Utility has been updated and relevant validation rules are relaxed. Please download the latest utility available under Downloads. The updated utility of ITR-5 for the same change will be available shortly.
In fact, I had mentioned this in an ET Wealth story too. The main problem is the inability to report individual transactions with a different grandfathered value (if applicable) and hence a workaround to show the correct net LTCG or LTCL from equity was necessary.
Renowned tax expert Karan Batra who runs charteredclub wrote to me that the IT department understands this problem and is working on a revised ITR form. He has advised that it would be better for assessees to wait for the revised utility and not adopt the workaround of showing net capital gains.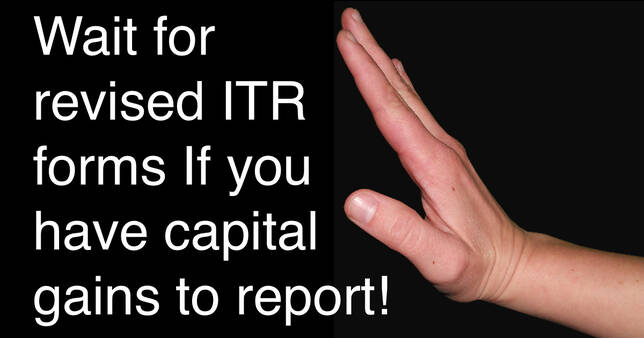 If you have already filed ITR this way, I don't think you need to revise it unless the department issues such a circular, but if it makes you sleep better, you can.
Karan also pointed out that since there is a delay in issuing form 16s the deadline for filing ITR is likely to be extended. So we have time.
Karan was kind enough to send a screenshot from a return filing software he uses. Thank you, Karan, for the heads up.
Watch the latest from freefincal youtube channel