In this week's Q/A, check out an upcoming robo template feature slide show.  Plumbline: a list of hand picked mutual funds was received with mixed response. It was welcomed by most and criticised as biased and anti-diy by a few (see comments in the post).
Regular readers would attest to the fact that I am highly pig-headed and opinionated about all aspects of financial services. So yes, Plumbline will carry my bias. However, that bias is not motivated by a profit of any kind. Many of the funds in the list are in my portfolio too. So it reflects (as it should) my fund selection process. Once the robo template is published in a couple of days, it should become clear as to why I had to come up with a list.
Krish: Personally I found PlumbLine name awkward. I would choose Roboshare or Autonovi. None of my MFs overlapped with your list. In Ultrashort, I would choose Franklin Ultra Short Bond Super Inst. However my thoughts about avoiding ELSS & Small Cap are same as yours. Also in my avoid list , Arbitrage and Index funds.
Pattu: It is meant to be awkward! Pedestrian, nondescript and insipid were other names that I considered. Not all of us think alike and choose alike. The world would be a dull place then! Whether readers disagree with my choices or agree with them, I do my best to not let it influence my thinking.
Srinivas: Zerodha provides facility to purchase MF direct plans with nominal costs. However they are in demat format. Since there is no additional cost like brokerage, do you see any issue in leveraging the same? Issue with MF utility is no good user interface. Going to AMC directly means maintenance of multiple accounts. Please advise.
Pattu: I have used multiple amc accounts for the past 7Y (even before direct) and have no issues with it. Zerodha direct MF makes sense only for active stock investors who currently hold a Zerodha account.
Uday Rao: Can you comment on advantages of using SEBI registered RIA and using their plans for financial investments over self managed financial investments. Is there any study which can provide data which can help one decide. Are there any performance parameters for RIA/minimum fund investments etc.?
Pattu: It is impossible to produce data in this case. The choice is between DIY and professional help. A SEBI registered fee-only RIA is a professional without conflict of interest. I can only direct you to Reader Story: Are you sure you can be a DIY investor?
sundararajan: Off late I am reading several bad things (NPA) about govt banks ,most or all are in red except state bank. My question is , do we have to worry about our FDs in those banks especially big FDs. I know most if not all seniors have substantially big FDs in nationalized bank. Please let me know your opinion. Thanks BTW, nothing can be done by worrying except may be slowly moving into debt funds. Once again thanks for all your articles in your blog.
Pattu: You can avoid banks not under RBI control and banks that is on their watch list for high NPAs. I dont think one should move to debt funds for this reason alone. Debt market in India is at a toddler stage and as of now regulations can only be reactive there and not pro-active.
Jaimin: Hi Pattu, Quite interested in the comment about ELSS category. Have you done a specific post on this that I might have missed? Would appreciate a link if so.
Pattu: The comment is about not using ELSS funds. You can refer to this post: Making the best use of section 80C for tax saving: an example
Surya: Hi Sir, Thank you for the excellent article: When to choose what mutual fund?, which was very helpful. The category list with average returns and Std deviation returns did not have Balanced funds in it. Can you pl. let us know details of average returns & SD returns for 1. conservative balanced funds 2. aggressive balanced funds Thank you again. Regards Surya
Pattu: You can go to any balanced fund page at VR and check for it in the performance tab.
Ashwin S Raje: For last 6 years I have been investing Rs 3000 per month as SIP in SBI Gold Fund. The returns are more or less negligible. Only from past month or so it has picked up. Shall I continue to invest or redeem n invest the withdrawal amount lump-sum in any other fund ? If yes please suggest the option also. My time duration will be 2 years. Thanks with Regards Ashwin S Raje
Pattu: If you need it in the next 2 years, get out now and avoid such funds!
Dharam Joshi: I would like to know which ELSS gives best monthly or quarterly dividends
Pattu: No Idea. Check in moneycontrol for dividend history.
Vasuki Rao: Hi, Greetings. I'm a 69-year-old man, retired with no pension, and living on dividend and interest income reasonably comfortably, with no financial burden as my two children are married. I have just sold a flat for Rs 80 lakhs, and I do not intend to buy another property. I already have investments in two equity funds (about 15% total) and the rest in FDs and debt funds. Where do I invest the Rs 80 lakhs, keeping in mind my age and ailments (I have diabetes and hypertension)? Thanks. Vasuki Rao
Pattu: Greetings. I can suggest two choices. Either way, the right asset allocation is the key. You can use my robo template to be released in a couple of days or you can consult a SEBI registered fee-only planners from my list.
K. R. Suryanarayanan: What is the mean ans standard deviation of 3-year returns for Balanced Funds and specifically for HDFC Balanced Fund?
Pattu: I have mentioned how to get it for each fund in this post: When to choose what mutual fund?
Sayan Sircar: What about inter category correlations? A lot of people go with rule of thumb portfolios of say 1/3 eachof large, medium and small caps. Is there a way of combining that produces say mid cap returns at large cap risks?
Pattu:  This is again with respect to "when to choose what" post. Inter category correlations will have to be computed manually. Some software like one from CRISIL or MorningStar can do this for a fund portfolio.
Soham Sinha: I want to understand if and how a passive investment strategy (i.e. Through index funds or ETFs ) is better than actively managed equity funds. Or is the comparison wrong? Am I comparing apple to oranges? Also, should a conservative investor looking to venture into equity look for a balanced fund approach or an indexed fund/ETF?
Pattu: For conservative investors, well for all most investors, I would recommend Using Balanced Mutual Funds As The Core Equity Portfolio Holding
An index fund will not manage risk. Returns are always in hindsight, while risk is in real time. So index funds are only for those who can manage risk on their own. Active fund investors should also manage risk on their own, but the quanta of management would be a bit lower.
Vivek: Dear Pattu, I have a question about investment for child education. I have been investing for my 6 year old son for last 5 years. I do asset allocation of 60:40 equity: debt for this goal which now is about 10+ years away. For the debt portion, I use PPF exclusively. Now, I have come to the point that even if I invest 1.5 lakhs in PPF, my equity contribution will be higher than the planned. That means I have to find another option for debt portion for a goal that is 10 years away. Do you have any suggestions for the same? Many thanks!!!
Pattu: Checkout: Announcing the "PlumbLine": a handpicked list of mutual funds
Please note, the onus on choosing a suitable fund is on you.
Rajkumar: Hello Sir, I am a beginner in investments. I am starting to use your automated MF goal tracker excel sheet. When i entered my data in Goal analysis page, my age 33, life expectancy 85, annual expense 5.3 lakhs. I took MF returns as 10%, inflation 10% and all other green columns as per my data . The calculator shows i have to invest around 88000 per month with 10% increase annually !!! Do you think i am making any mistake or is this figure normal ? If it is normal, do you this it is practicable to save this much ? Will this value increase/decrease with time or remain same after some years if i invest as per the calculator ? Thank you.
Pattu: I have asked myself the same questions when I made my first calculator. Yes it will look difficult, even impossible at first. Invest what you can and keep doing it regularly. Things will ease up a bit. I would suggest using 8% inflation, keeping equity return at 10%. You can redo the calculation with the robo template for better insights. Good luck.
Sai krishna: Sir, I have started SIP in equity mutual funds at the age of 22. After lot of reading and learning from respected blogs like yours, presently at the age of 27, I zeroed in two large cap (70%) and one mid cap(30%) funds after due analysis and using EPF as debt part. Thank you for enlightening me. Sir, my doubt is most of the people advise novice investors to start SIP in balanced funds. But in such funds there will not be much clarity regarding the risk profile (market cap orientation & credit quality). So they may not be aware that the extra returns are coming from extra risk taken by fund manager when compared to other balanced funds. Kindly advise and enlighten further on this.
Pattu: recently showed for large cap funds Balanced fund portfolios are available online for your to study. If you think large cap and mid cap funds provide you with such clarity, then the same can be obtained for balanced funds too. I that extra returns are indeed coming from extra risk!
bharat shah: Dear Shri Pattu, After going through the NAV question on Switch and date of applicability of   , I like to narrate my experience for applicability of NAV for equity mf units buying online through online account. I transferred the fund through online bank account at @11.45 hr for the buy for amount rs.4 lacs, and I got their confirmation mail within one-two minutes. My bank also shows the amount transferred on the same day in my statement. But they allotted the units at rate of next working day NAV. On complaining, they replied that they got Funds next day. In these days of RTGS ,which takes a couple of minutes to transfer funds, is it believable? Even the funds get transferred via some channel, whose agent should the channel channel be considered? Is the amount received by the channel considered received by the fund house in that case? what is your opinion?
Pattu: Same day NAV before 3 PM is applicable only for investment amount of Rs. 2L and lower. For higher value, you will be allotted NAV only when funds are realised in their account.
Abbas: Sir, What is gilt funds and can we use it for long-term(debt part) goals?
Pattu: Gilt funds invest in Government issues bonds and can be highly sensitive to interest rate movements. Read more: Should I buy Long Term Gilt Mutual Funds?
Kiran: Hello Sir! I have a question regarding taxation and how to avoid paying huge tax on the following scenario. If a person (in 30% tax lab) sells a land which was purchased 6+ years back and decides to invest the entire corpus (~ 1 cr) in a FD (cumulative, without taking interest) for 3 years , would LTCG applicable before opening a FD?. My understanding is you need to pay tax only after breaking the FD in case you are not opting for interest pay-out. Should he/she be investing that corpus in real estate (like buying plots / flats) to save taxes? What are the options for the person who wants to maintain liquidity (with that corpus) without having a burden of huge tax?
Pattu: If you sell a property and wish to avoid capital gains from it, you will have to buy Section 54EC bonds, but will still have to pay tax on the interest. So for three years, there will be no liquidity if you wish to save taxes.
Preview: Freefincal Robo Advisory Template
---
Use this form to ask Questions ONLY (For comments/opinions, use the form at the bottom)
And I will respond to them in the next few days. I welcome tough questions. Please do not ask for investment advice. Before asking, please search the site if the issue has already been discussed. Thank you.  PLEASE DO NOT POST COMMENTS WITH THIS FORM it is for questions only.
[contact-form][contact-field label="Name" type="name" required="1″][contact-field label="Email" type="email" required="1″][contact-field label="Ask your question (Got an opinion or comment, use comment box at the bottom of the page. DO NOT post them here)" type="textarea" required="1″][/contact-form]
GameChanger– Forget Startups, Join Corporate & Live The Rich Life You want
My second book, Gamechanger: Forget Start-ups, Join Corporate and Still Live the Rich Life you want, co-authored with Pranav Surya is now available at Amazon as paperback (₹ 199) and Kindle (free in unlimited or ₹ 99 – you could read with their free app on PC/tablet/mobile, no Kindle necessary).
It is a book that tells you how to travel anywhere on a budget (eg. to Europe at 50% lower costs) and specific investment advice for young earners.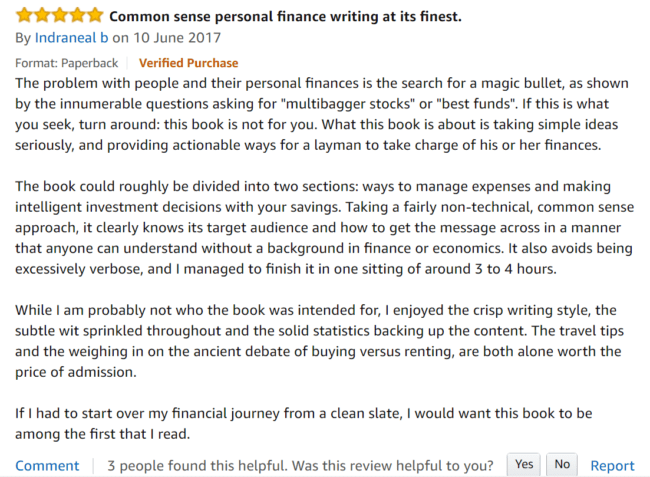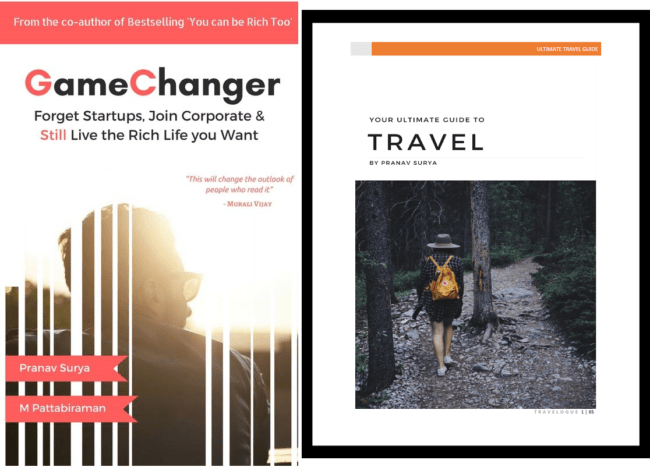 The ultimate guide to travel by Pranav Surya is a deep dive analysis into vacation planning, finding cheap flights, budget accommodation, what to do when travelling, how travelling slowly is better financially and psychologically with links to the web pages and hand-holding at every step.  Get the pdf for ₹199 (instant download)
You can Be Rich Too with Goal-Based Investing 
My first book with PV Subramanyam helps you ask the risk questions about money, seek simple solutions and find your own personalised answers with nine online calculator modules.
The book is available at:
Amazon Hardcover Rs. 271. 32% OFF
Infibeam Now just Rs. 270  32% OFF. If you use a mobikwik wallet, and purchase via infibeam, you can get up to 100% cashback!!
Flipkart Rs. 279. 30% off
Kindle at Amazon.in (Rs.271) Read with free app
Google PlayRs. 271 Read on your PC/Tablet/Mobile
Now in Hindi!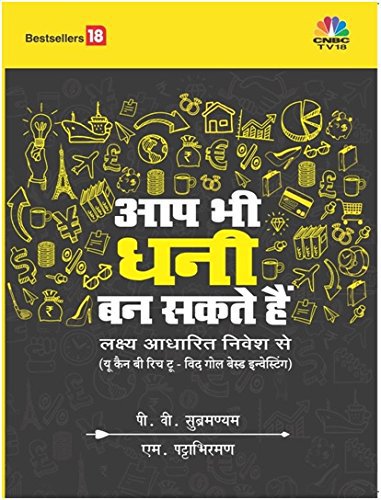 Order the Hindi version via this link
Subscribe and join the freefincal Youtube community!
 Don't like ads but want to support the site? Subscribe to the ad-free newsletter! 
Want to conduct a sales-free "basics of money management" session in your office?
I conduct free seminars to employees or societies. Only the very basics and getting-started steps are discussed (no scary math):For example: How to define financial goals, how to save tax with a clear goal in mind; How to use a credit card for maximum benefit; When to buy a house; How to start investing; where to invest; how to invest for and after retirement etc. depending on the audience. If you are interested, you can contact me: freefincal [at] Gmail [dot] com. I can do the talk via conferencing software, so there is no cost for your company. If you want me to travel, you need to cover my airfare (I live in Chennai)
---
Connect with us on social media
---
Do check out my books
---
You Can Be Rich Too with Goal-Based Investing
My first book is meant to help you ask the right questions, seek the right answers and since it comes with nine online calculators, you can also create customg solutions for your lifestye!
Get it now
.  It is also available in
Kindle format
.
---
Gamechanger: Forget Startups, Join Corporate &

Still

Live the Rich Life You Want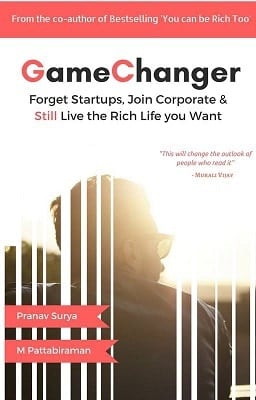 My second book is meant for young earners to get their basics right from day one! It will also help you travel to exotic places at low cost!
Get it or gift it to a youngearner
---
The ultimate guide to travel by Pranav Surya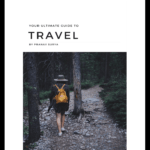 This is a deep dive analysis into vacation planning, finding cheap flights, budget accommodation, what to do when travelling, how travelling slowly is better financially and psychologically with links to the web pages and hand-holding at every step.  
Get the pdf for ₹199 (instant download)
---
---
Free Apps for your Android Phone
All calculators from our book, "You can be Rich Too" are now available on Google Play!
---
Install Financial Freedom App! (Google Play Store)
---
Install Freefincal Retirement Planner App! (Google Play Store)
---
Find out if you have enough to say "FU" to your employer (Google Play Store)
---
About Freefincal
Freefincal has open-source, comprehensive Excel spreadsheets, tools, analysis and unbiased, conflict of interest-free commentary on different aspects of personal finance and investing. If you find the content useful, please consider supporting us by (1) sharing our articles and (2) disabling ad-blockers for our site if you are using one. We do not accept sponsored posts, links or guest posts request from content writers and agencies.
Blog Comment Policy
Your thoughts are vital to the health of this blog and are the driving force behind the analysis and calculators that you see here. We welcome criticism and differing opinions. I will do my very best to respond to all comments asap. Please do not include hyperlinks or email ids in the comment body. Such comments will be moderated and I reserve the right to delete the entire comment or remove the links before approving them.