A rolling SIP return analysis of Franklin India Blue Chip fund from inception (Dec. 1993) to 8th Feb. 2016.
I did not have any particular agenda behind making this analysis when I first thought of it. Since then there has been lot of debate on twitter (my handle is @freefincal) about the efficacy of the SIP. So perhaps that could the objective of the post.
To make this analysis, I have take NAV data from Franklin Templeton's website, Sensex data from BSE and inserted them manually in the Mutual Fund SIP Rolling Returns Calculator
There has been two previous analysis on these lines.
SIP Rolling Returns Analysis with Sensex Data – by an anonymous author(!)
Dollar Cost Averaging aka SIP analysis of S&P 500 and BSE Sensex
Let me dive right into the central result. The 5,7,10 and 15 year SIP rolling returns are plotted for the same starting date. Each data point represents a 5,7,10 or 15-year SIP return. The starting date has been rolled over to the next business day to generate this graph. The return here is the XIRR return. There are 87 such points in the graph.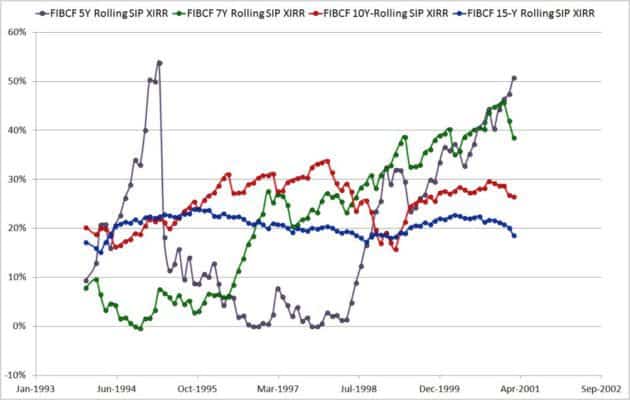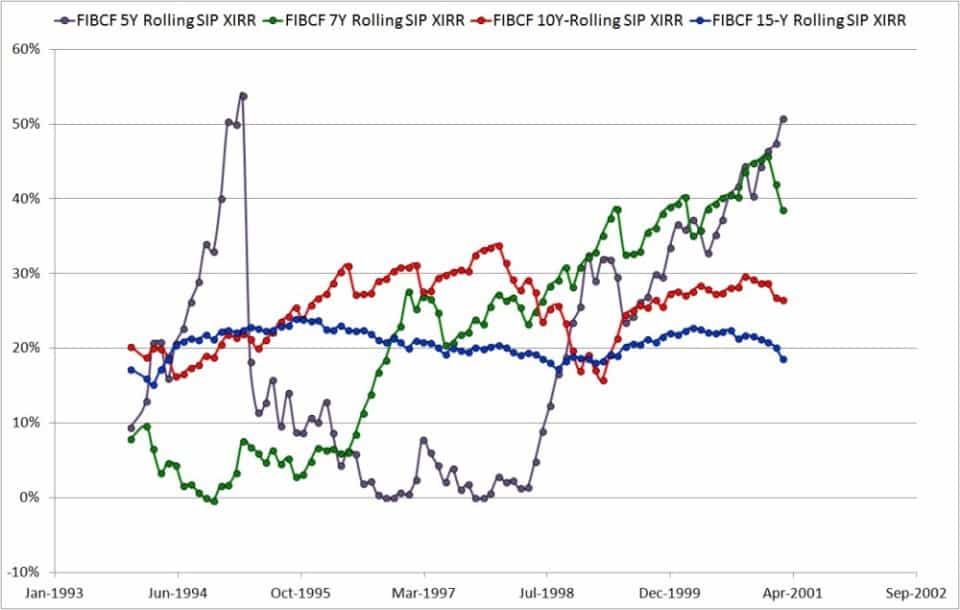 Notice that the volatility of SIP returns takes at least 10 years to reduce and at 15 years, the volatility is quite small. The min 15Y SIP return is ~ 15% and the max return is 24%.
Does this mean, if I continue my SIP for about 15 years over a couple of market cycles, my returns will be 'good'? The above graph does give that impression, but the future is, as always unknown.
Here is a graph that can be used to sell both SIPS and volatility well!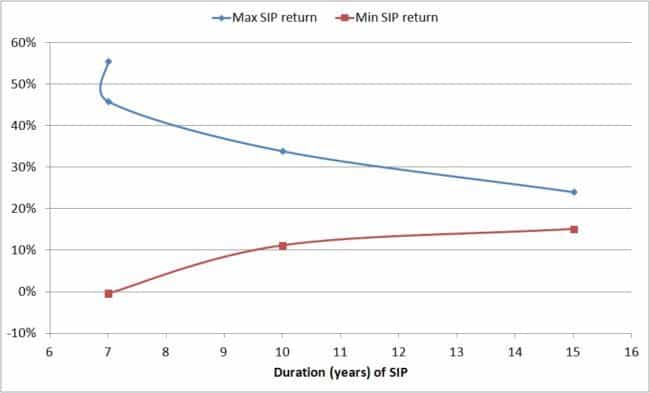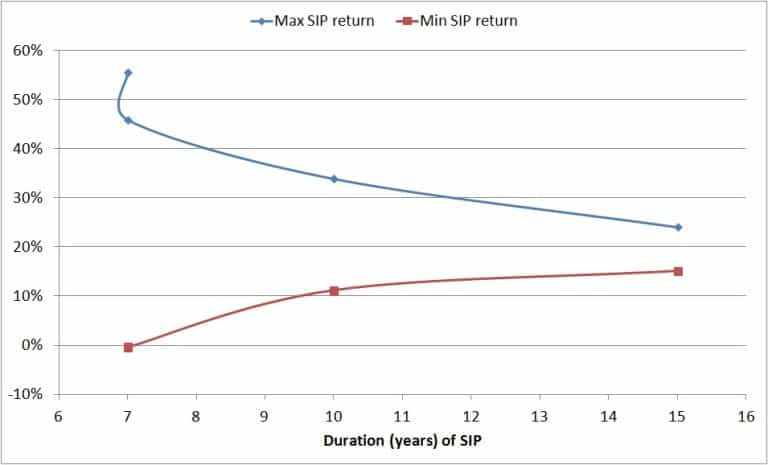 What do you make of that! Does this mean, you need to SIP for close to 15Y for a more than reasonable chance of double digit returns? The spread in returns ought to come down. That much can be said.
Now for the comparison with the funds benchmark.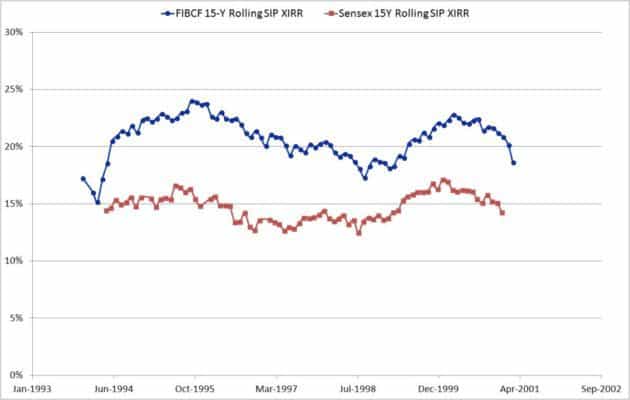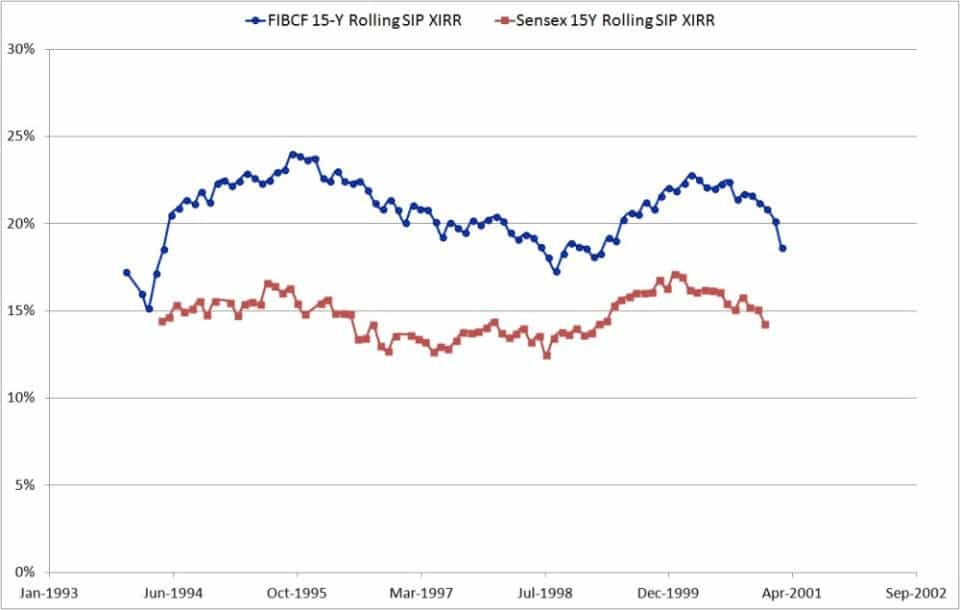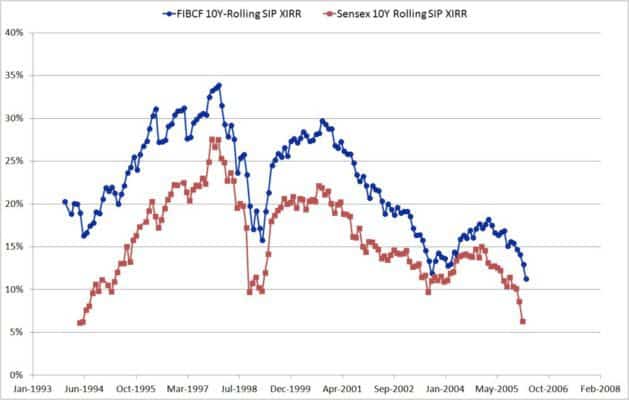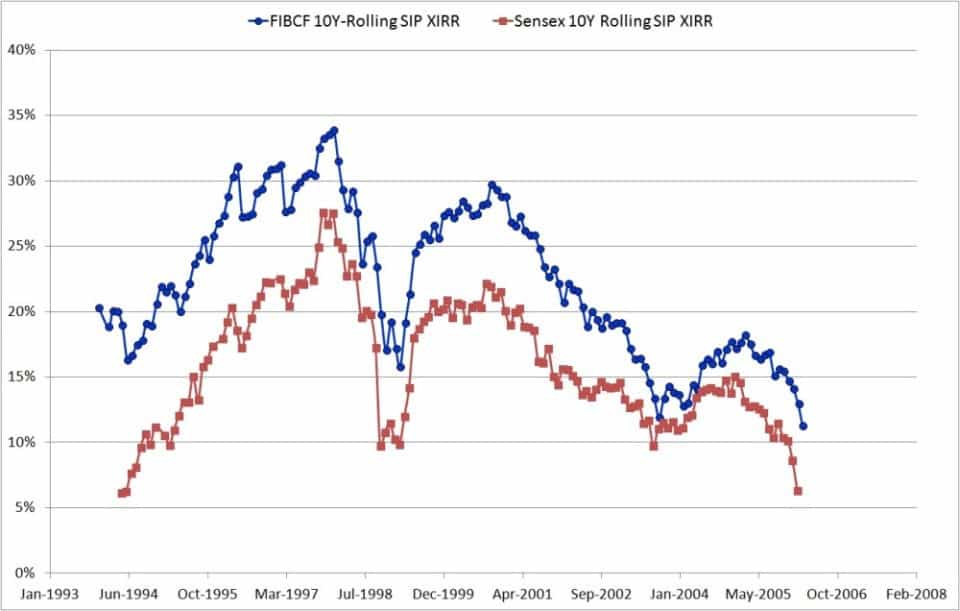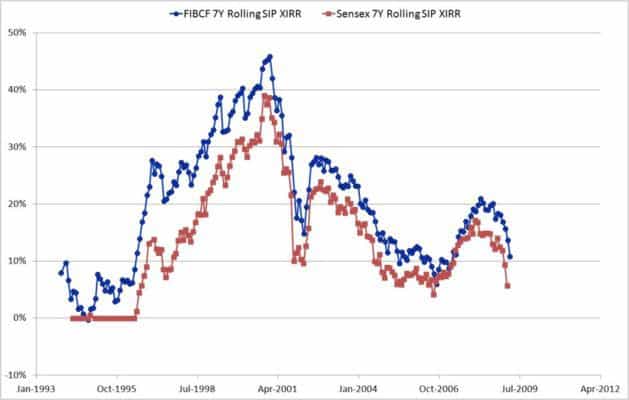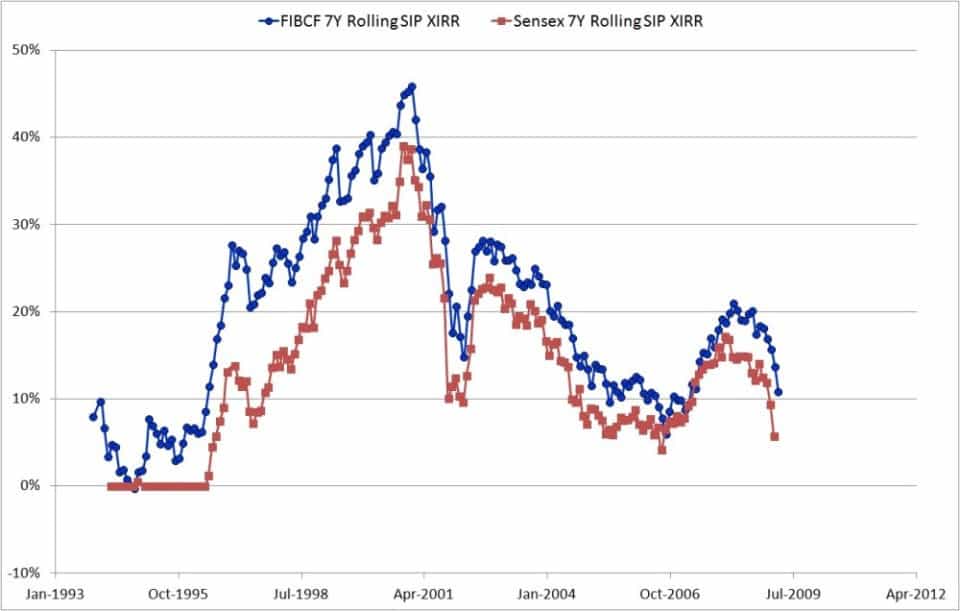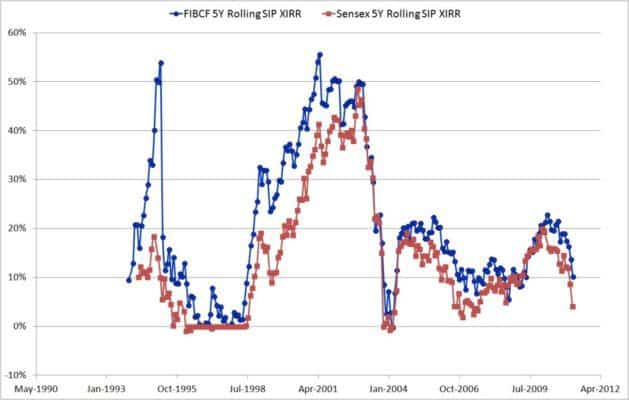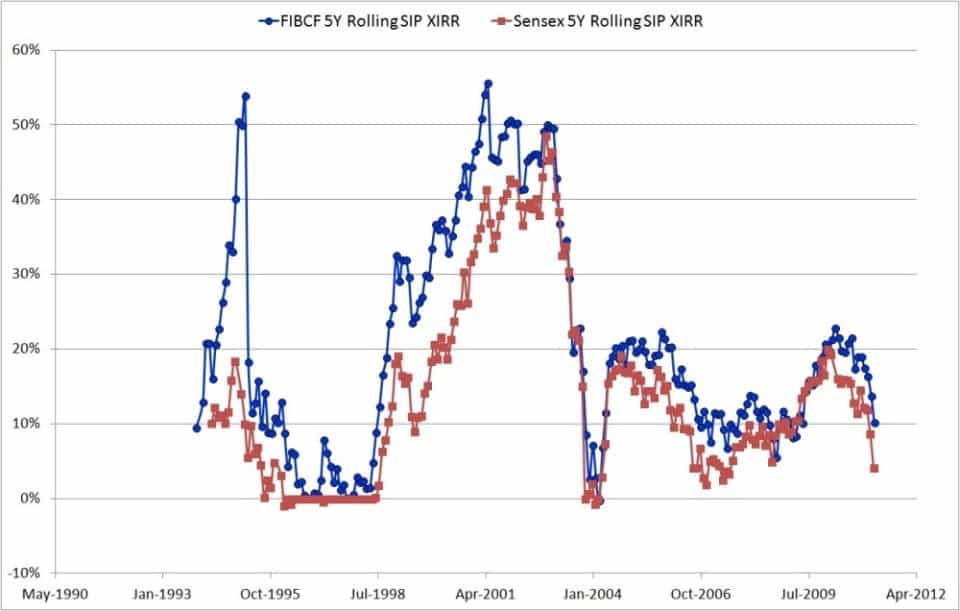 Notice that the consistency of beating the benchmark (though this is only price index and not the total returns index) decrease when the duration is decreased.
A couple of charts from the automated rolling SIP returns tool with total returns index.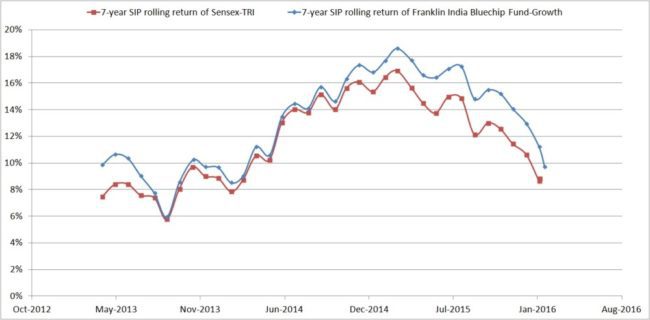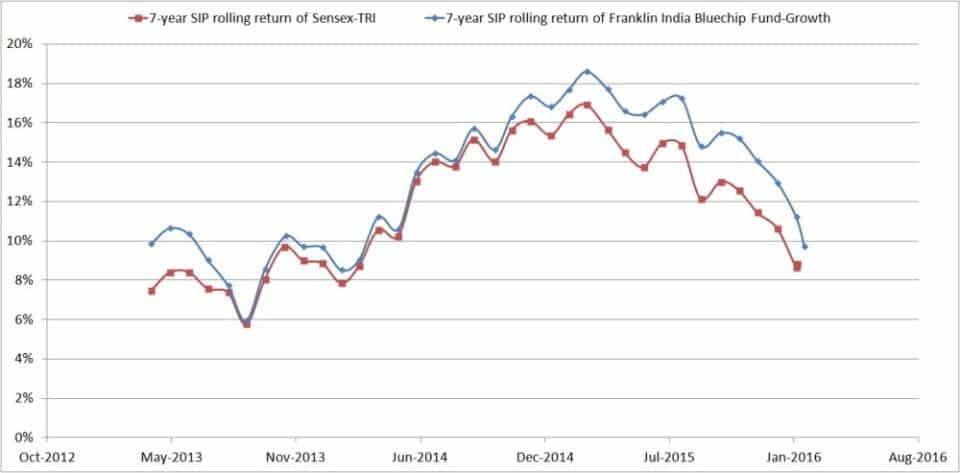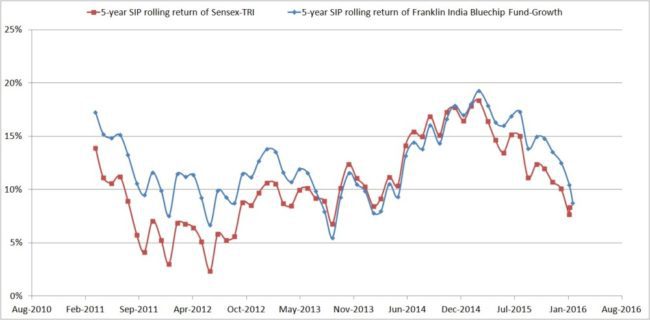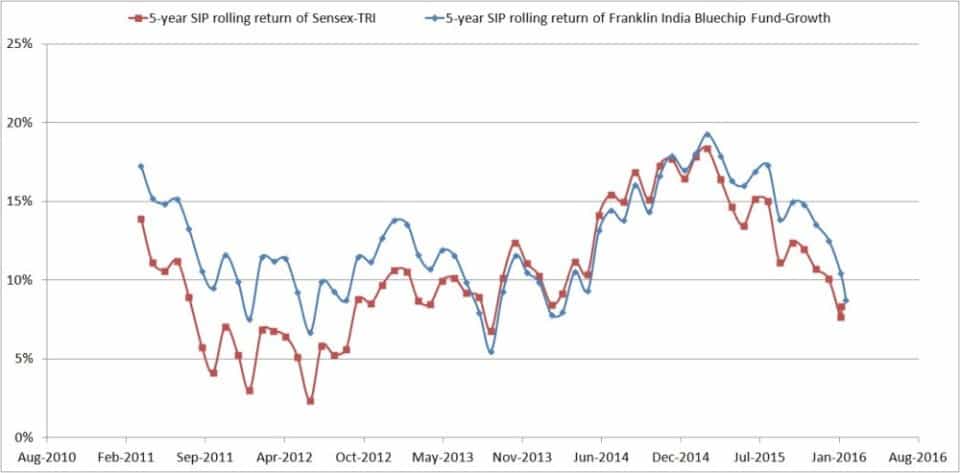 Value Research tracks SIP returns on daily basis
Notice the spread in 10 year returns: 18% – 3% (among large cap, mid cap, multi-cap and balanced funds). Sixty out of 120 fund have 10Y SIP returns less than 10%!!
15-Y SIP: (24%-6%) Three out of 50 funds have 15Y SIP returns less than 10%.
20:(10% -23%) All 12 funds have 20Y SIP returns more than 10%
Equity is a volatile instrument, periodic reviews and course corrections are essential – whether you like to SIP or not in between reviews or not!
Without periodic reviews, SIP will not work. This is one way to review a mutual fund portfolio