Use this screener file to hunt for equity funds that have consistently outperformed category benchmarks with good downside protection and/or upside performance.
Regular readers may be aware that I have been publishing such screener files for about a year now once a month (except Aug 2017, when my hard drive crashed). Up to June 2017, two screener sheets were published – one for outperformance and one for upside/downside performance. From July 2017, they have now been merged into one single file and hopefully is simpler to digest.
This screener is meant for DIY investors who hopefully would appreciate these unique metrics.  The recently introduced "PlumbLine" is a set of handpicked mutual funds meant for the new investor to quickly get started when they use the  Freefincal Robo Advisory Software Template.
When to use this mutual fund screener
I recommend using this file only when you are on the lookout for a new fund after completing the following steps:
Define need and duration —-> Decide asset allocation (use this tool) —-> Decide product category (use this guideline for mutual funds) —-> Then use this screener for equity funds.
Since the debt mutual fund space is constantly shifting and a qualitative search is necessary, I believe it is dangerous to build a debt mutual fund screener and therefore will not.
If you open the screener file, you see column headings such as this.

The entries seen with "3 years" will again be repeated for "5 years" and "7 years"  and these are explained below.
Category Benchmarks Used
| | | |
| --- | --- | --- |
| Category | Category Code | Benchmark |
| Banking | EQ-BANK | BSEBankex-TRI |
| FMCG | EQ-CG | BSEfmcg-TRI |
| Infrastructure | EQ-INFRA | BSEInfra-TRI |
| International | EQ-INTL | Nifty Next 50 TRI |
| IT | EQ-IT | BSEIT-TRI |
| Large cap | EQ-LC | BSELargeCap-TRI |
| Mid-cap | EQ-MC | Nifty Next 50 TRI  |
| Multi-cap | EQ-MLC | Nifty Next 50 TRI  |
| Others | EQ-OTH | Nifty Next 50 TRI |
| Pharma | EQ-PH | BSEhealthcare-TRI |
| Small Cap | EQ-SC | Nifty Next 50 TRI |
| ELSS | EQ-TP | Nifty Next 50 TRI  |
| Balanced | Balanced | BSE Balanced Index |
The categories are the same as that used by Value Research.
BSE Balanced index use to benchmark equity oriented balanced fund is one of my own making: A new & accessible benchmark for balanced mutual funds
As for Nifty Next 50, the reason why it is used extensively is due to its fantastic track record in beating actively managed funds (in terms of returns, not  risk management): Nifty Next 50: The Benchmark Index That No Mutual Fund Would Touch?!
Other benchmark choices are fairly straightforward.
Reward measure: Rolling returns outperformance consistency
Rolling returns are a simple way to estimate how consistency a fund has outperformed a benchmark. Take the case of Quantum Long Term Equity (fund in the graph below) and BSE Large Cap (index in the graph below). Bet 31st Aug 2008 and 9th Sep 2017, there are 991, 7 year durations. If the return for each of these durations is plotted for the fund and index together, we will get a graph like this.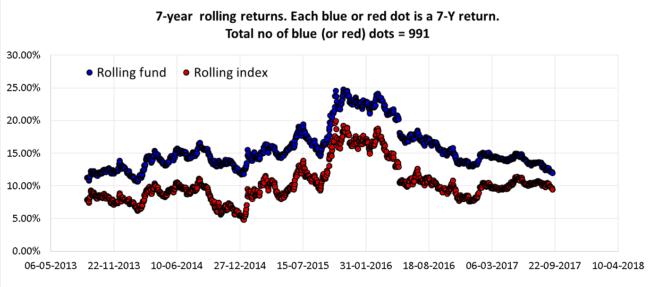 The corresponding entries in the screener sheet would be as below:

Notice that out the 991 fund returns, all of them are higher than the chosen index.
Thus the rolling return outperformance consistency over 7 years =
(no of times the fund has outperformed the index)/(total no of returns)
= 991/991 = 100%.
Naturally, higher the rolling return outperformance consistency, the better.
Reward and Risk measure: Capture Ratio Consistency Score
The upside capture is a measure of excess gains when compared with the benchmark. For example, an upside capture of 110% over 3 years implies, that the fund has captured 10% more than the benchmark, when the benchmark monthly returns were positive. Higher the upside capture, the better.
The downside capture is a measure of loss protection. For example, a downside capture of 80% over 3 years implies that the fund has only captured 80% of the benchmark losses when  the benchmark monthly returns were negative. Lower the downside capture, the better.
Please read this for more details: An introduction to Downside and Upside Capture Ratios.
The screener calculates upside capture and downside capture on a rolling basis over 3Y, 5Y and 7Y periods and calculates a consistency score.
upside capture consistency = no of times upside capture was > 100%/(total no of upside capture points)
So higher the consistency, more aggressive is the fund in outperforming the benchmark during up-market months.
downside capture consistency = no of times downside capture < 100%/(total no of downside capture points)
So higher the downside capture consistency, better is the fund in protecting investor money during down market months.
Many readers have got confused about this and I wish to clarify again:
All consistency measures (whether rolling return; upside or downside), higher the value the better. This is the only metric that you will see in the sheet.
Now have a look at the capture ratios for Quantum Long Term Equity

The upside consistency is 0%. This means that whenever BSE large cap gave postive monthly returns, the funds have never (over the 7Y period considered) been able been able to beat the index. This on its own, appears bad. However, when the index fell over a month, the fund fell less about 92.6% of the monthly returns in the 7-year window. That is a terrific record. This is why the fund has been able to beat the index consistently.
For some funds, a high downside capture consistency will lead to better returns and for some funds, a high upside capture consistency will lead to better returns. The screener can help distinguish the two types of performers.
Finally, the capture ratio is defined as upside capture/downside capture and the
capture ratio consistency is the fraction of times the capture ratio was above 1 (or 100%).
Using the screener
You can use Excel data filter features to choose a particular fund category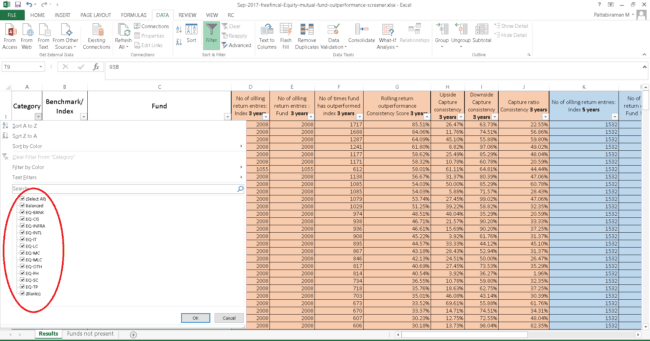 Or, you can set the rolling consistency over 3Y (and/or) 5Y (and /or) 7Y to be above 80% or 75%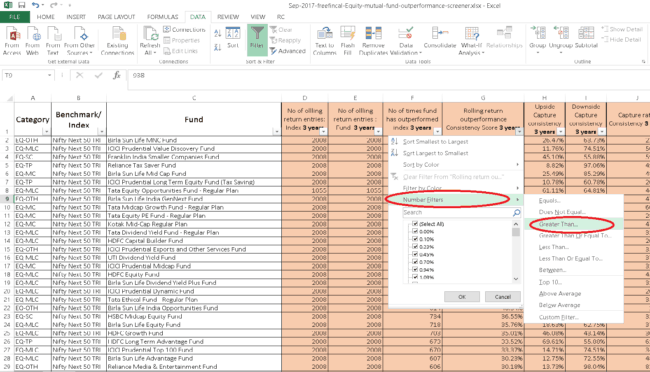 This should result in a nice small set to work with. You can also do the same kind of filtering to the capture consistencies and choose a fund.
This video does not include the rolling upside, downside data, but the spirit is the same.
I would recommend choosing a fund with a good rolling return outperformance consistency combined with a good downside protection outperformance consistency.
In other words, choose funds that beat the index by reducing the amount by which it falls during market lows rather the funds that beat the index when the index is moving up. This way, we can sleep a lot more peacefully.
Download the Freefincal Monthly Mutual Fund Screener (September 2017): Risk vs Reward Consistency
---
Use this form to ask Questions or reg. the robo template ONLY (For comments/opinions, use the form at the bottom)
And I will respond to them in the next few days. I welcome tough questions. Please do not ask for investment advice. Before asking, please search the site if the issue has already been discussed. Thank you.  PLEASE DO NOT POST COMMENTS WITH THIS FORM it is for questions only.
[contact-form][contact-field label="Name" type="name" required="1″][contact-field label="Email" type="email" required="1″][contact-field label="Ask your question (Got an opinion or comment, use comment box at the bottom of the page. DO NOT post them here)" type="textarea" required="1″][/contact-form]
GameChanger– Forget Startups, Join Corporate & Live The Rich Life You want
My second book, Gamechanger: Forget Start-ups, Join Corporate and Still Live the Rich Life you want, co-authored with Pranav Surya is now available at Amazon as paperback (₹ 199) and Kindle (free in unlimited or ₹ 99 – you could read with their free app on PC/tablet/mobile, no Kindle necessary).
It is a book that tells you how to travel anywhere on a budget (eg. to Europe at 50% lower costs) and specific investment advice for young earners.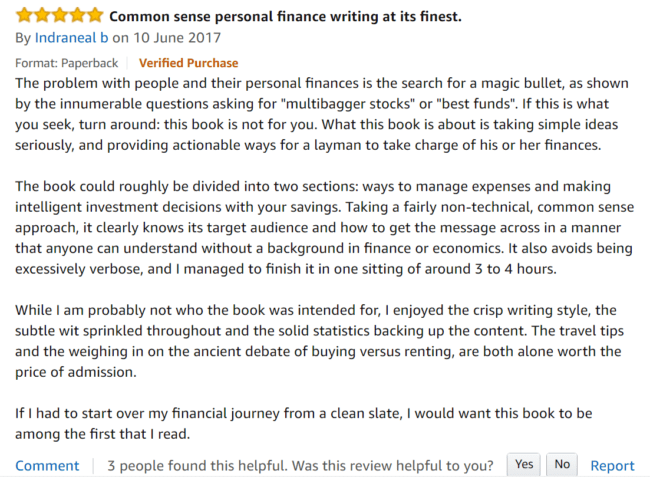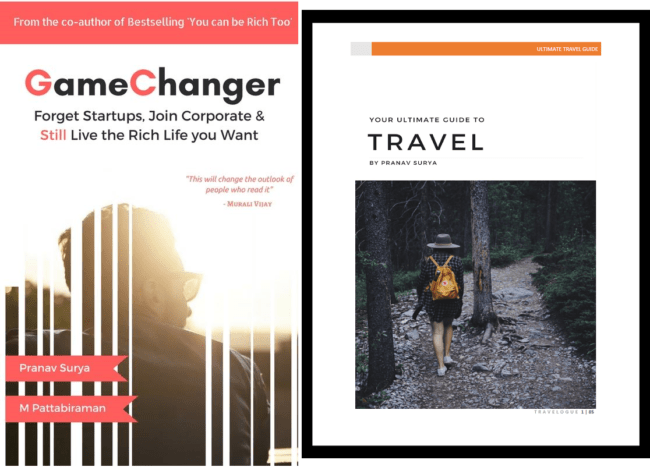 The ultimate guide to travel by Pranav Surya is a deep dive analysis into vacation planning, finding cheap flights, budget accommodation, what to do when travelling, how travelling slowly is better financially and psychologically with links to the web pages and hand-holding at every step.  Get the pdf for ₹199 (instant download)
You can Be Rich Too with Goal-Based Investing 
My first book with PV Subramanyam helps you ask the risk questions about money, seek simple solutions and find your own personalised answers with nine online calculator modules.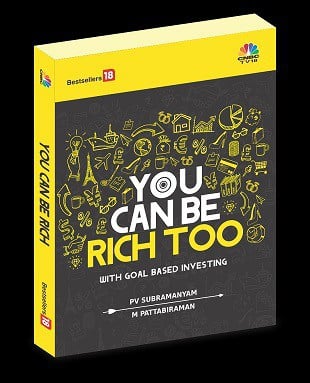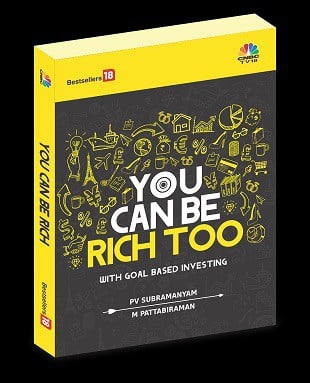 The book is available at:
Amazon Hardcover Rs. 271. 32% OFF
Infibeam Now just Rs. 270  32% OFF. If you use a mobikwik wallet, and purchase via infibeam, you can get up to 100% cashback!!
Flipkart Rs. 279. 30% off
Kindle at Amazon.in (Rs.271) Read with free app
Google PlayRs. 271 Read on your PC/Tablet/Mobile
Now in Hindi!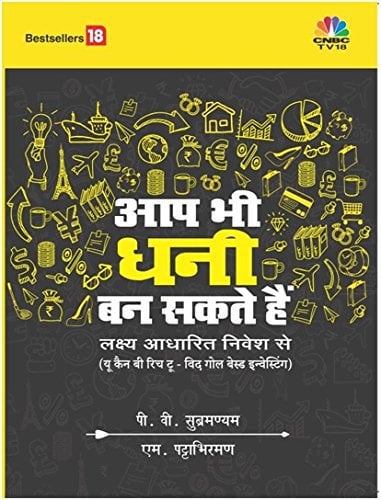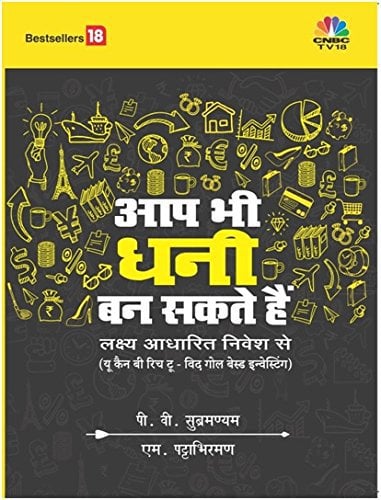 Order the Hindi version via this link