In Oct. 2013 I had posted the  Mutual Fund SIP Returns Analyzer. You can use this tool to analyze the returns from monthly SIP and lump sum investments in mutual funds for investment periods ranging from one to seven years.
Last month I posted an update by adding a few more indices for comparison. Mr. Satya S Mishra pointed out that returns for a few indices were not calculated properly.
I now post the updated version of this analyzer. You can compare SIP and lump sum investment returns of mutual funds with BSE Sensex, CNX Nifty, CNX Midcap, CNX 500, BSE 100, BSE  200 and BSE 500, partly from Yahoo finance and partly from NSE and BSE.
Features
 Choose the mutual fund you need to analyze, click the analyze fund macro button and observe the results! As simple as that.
Mutual Fund NAV history from 3rd April 2006 to the last business day are retrieved from the AMFI website.
Why April 3rd 2006? That is the last date in the AMFI database! If you want NAV history from fund inception you can use this downloader to retrieve it from Yahoo! Finance. However, this is not possible for some funds like HDFC Top 200.
SIP returns, investment value, total units etc. are calculated for investment durations ranging from 1 to  years with the last business day as the end-date
Choose a relevant equity index, click the analyze index macro button and observe results!
Lump sum returns for (approximately) the same period as the SIP durations is also calculated for the fund and index.
You can also calculate returns for any two dates within the NAV history (instructions in the file)
Here is a screenshot of the Mutual Fund SIP Returns Analyzer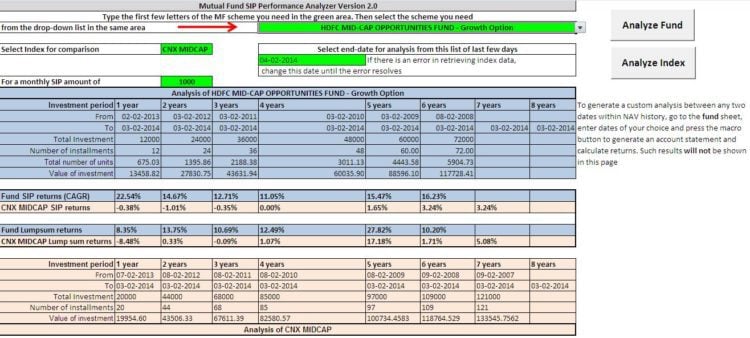 Download the Mutual Fund SIP Returns Analyzer  (Mar. 2014)
Thanks to Satya S Mishra for pointing out errors. BSE Bankex has been removed as it was troublesome.
All errors weeded out (hopefully!)
I would appreciate it if you could try out the calculator and let me know your feedback.