This is an update to the mutual fund risk and return analyzer which helps you gauge performance of equity mutual funds on risk-adjusted basis for investment durations ranging from the past 1 year to the past 9 years.
Nithin and Nilesh Patel pointed out that the sheet gave an error. Thanks to them, I found that the error was because of the BSE server urls. They had changed the format for some indices. This is a major disappointment as we could easily retrieve the data in the old format. Members of FB group, Asan Ideas for Wealth also helped in testing it and confirming the error.
Therefore, I had to remove the BSE server dependence and work with Yahoo finance plus index history stored in the sheet.  If you can help retrieve data from the present format of the BSE server, please let me know.
How to use this analyzer
Choose the fund category.
List all funds in that category at Value Research Online.
Spot the funds which have been in the top 10 in terms of returns over the past 3, 5 and 10 years (3,5 alone should also do).
Create a shortlist based on the above criterion. About 5 funds, not more.
Analyze the funds with this sheet and look for consistent risk-return score and consistent downside protection and invest in one of them.
This will take you about 30 minutes or so.
Features of the risk and return analyzer
For equity mutual funds, you can
Determine SIP and lump sum returns for investment duration up to 9 years (updated from 8)
Evaluate performance taking into account the risk taken for the return achieved (13 metrics are computed. See list here). A percentage score is assigned to the fund for each investment duration based on values of the 13 different risk/return metrics.
Compare

Fund versus benchmark (Nifty, CNX 100, CNX Mid Cap, CNX 500, Sensex, BSE Small Cap, Mid Cap, BSE 100,200, 50)
Fund and benchmark performance wrt a risk–free rate that you choose for each investment duration
Fund and benchmark performance wrt a minimum acceptable rate that you choose for each investment duration
This analyzer can be used by ALL retail investors. NO knowledge of risk and return analysis is required to use the sheet and understand the results!
Here is how Quantum Long Term equity fared.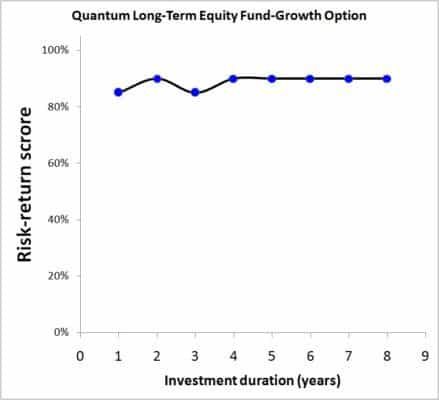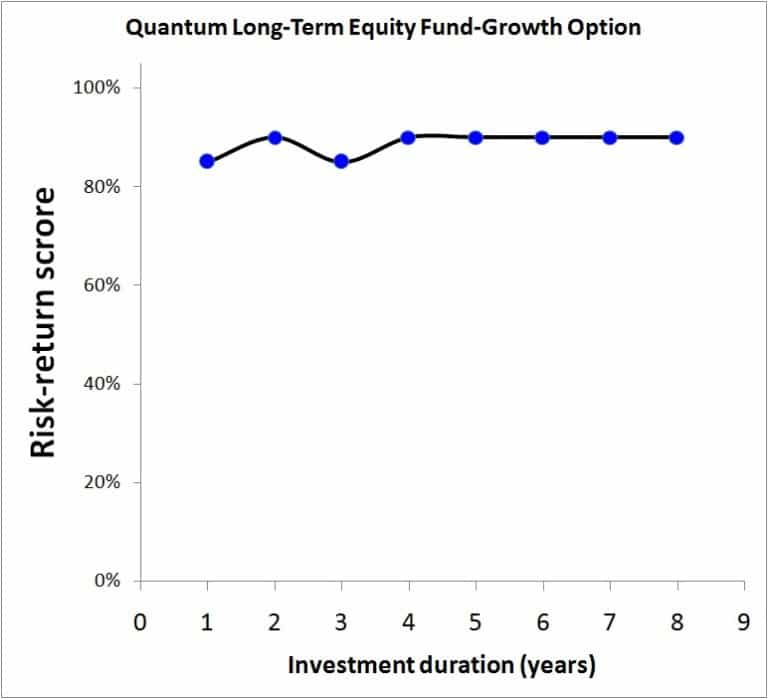 No alarming drop in performance. Cash in the portfolio or no cash in the portfolio, I see no reason to exit my QLTE holdings. As Ashal Jauhari put it, 'I am in my comfort zone when it comes to QLTE'.
I will post more such risk-return graphs in a second post.