Last Updated on February 28, 2021
I had earlier written about Bemoneyaware: A Unique Personal Finance Blog authored by Kirti S Desai. The blog is part of the main Bemoneyaware site. The site was originally started with the intention of promoting money awareness among children.  Everyone will agree that educating a child about money early in life is an important parental responsibility. Yet the only thing most school children know about money is in terms of products: expensive, affordable and cheap .. for their parents that is! The biggest challenge in teaching children about money is that they don't want to learn it (among other things of course!). They think it is boring adult stuff which can wait until they become adults (little do they know that after you become an adult all you want is to be a child!). So you can't tell them, 'you need to know this'. The learning has to be fun and exciting. As an educator I know just how tough this can be!
Kirti's Bemoneyaware has plenty of interesting resources and fun stuff to get your child started on money awareness. Her efforts are driven by passion and not profit.She also conducts money awareness programs for women. You could contact her  (bemoneyaware [AT] gmail.com) if you would like to conduct financial literacy workshops for women and/or children.
I strongly believe that financial literacy is best promoted by non-professionals. Do visit her site and help your child Bemoneyaware.
Here are some excerpts from the site:
Money! Money! Money! We can love it, we can hate it but we just can't ignore it. Every day almost everyone on this planet uses money. But Money doesn't come with instructions or a training manual. Our education system focuses on scholastic and professional education. Talking about money is considered to be impolite, rude, embarrassing or scary, as if we should Beware Money.
Our website's aim is to empower you by creating awareness about Money especially for children and young adults. Explore the website to increase awareness about Money. Play Games (Sort Notes and Coin , Count money,, Match Coins and Notes, Jigsaw of notes(Rs 10, 50..), Guess Price of items, ATM machine demo, Identify the Bank logo, Jigsaw of people, Power of Compounding, Calculate interest :simple and compound)
Download and read book or chapters  of our book Be Money Aware for Children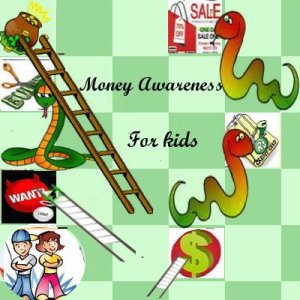 What is money?
How do people make money?
How is Money spent?
What are Banks and how do they work?
What is ATM, What are cheques, how to write one?
What are debit and credit cards?

What happens when one swipes the card?
To see some excerpts Click here