The first time someone uses a retirement calculator, they are in for a couple of rude shocks!
The corpus required for financial independence post-retirement, taking inflation into account typically would be a few crores (if not several!)
Therefore the monthly investment required is typically equal to monthly expenses or even more!
Becuase of this I get more bricks than bouquets for my retirement calculators 

With an aim to lower user stress here is an alternative version which explicitly accounts for three types of current  and future investments:
equity investments
taxable debt investments (fds, debt funds, gold, etc.)
tax-free debt investment (PPF, EPF)
It also takes into account future EPF contributions.
The corpus necessary for financial independence is reduced by the expected future value of current investments and future EPF contributions. This (hopefully!) would look a lot less daunting.
The sheet then asks you the intended asset allocation for future investments an annual increase in monthly investment.
The monthly investment required in each asset class and the expected future value at the time of retirement are calculated.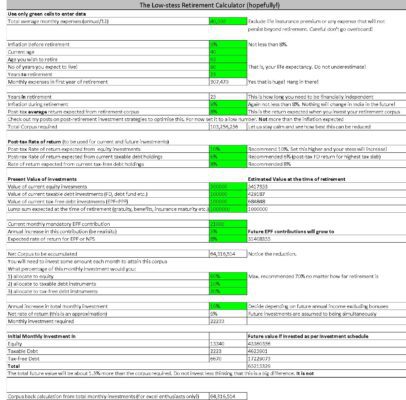 My aim is to make a visual retirement tracker (like the visual SIP tracker) with this sheet as the basis.
I have annotated the inputs following a suggestion by Raghavendra Paripati. This tool was made after discussions with Aparna. Check out her presentation: An Introduction To Personal Finance For Young Earners
Do let me know if any additional features are necessary.