Last Updated on March 3, 2021
My new book for kids: "Chinchu gets a superpower!" is now available! Here are the details on what the book is about; how to use it and how to buy it.
What is this book about? As parents, if we had to groom one ability in our children that is key not only to money management and investing but for any aspect of life, what would it be? My answer: Sound Decision Making. So in this book, we meet Chinchu who is about to turn 10. What he wants for his birthday and how his parent's plan for it and teach him several key ideas of decision making and money management is the narrative.
Why was this book written? Most investor problems can be traced to a lack of informed decision making. We have all made bad decisions and money mistakes when we started earning and spent years undoing these mistakes. Why should our children go through the same pain?
Well begun is half-done. If we can teach our kids how to make the right money decisions, they can avoid mistakes, spend prudently and start building wealth as soon as they start earning. (Use this form to get notified of the book release).
Who is the book for? Children above the age of 10. Some 8+ kids may also be able to appreciate it.  The text is simple and straightforward so that a child can readily understand the importance of self-analysis (realise what we want and not get affected by peer pressure) and independent decision making. Many of my friends who reviewed the book felt that adults would also benefit!
What is covered in the book? Aspects connected to decision-making such as (1)  Affordability: living within our means; (2) Needs vs wants; (3) Delay gratification; (4) Planning a purchase; (5) Appreciating our requirements; (6) Ignoring peer pressure; (7) Benefits of product research; (8) Basic of borrowing (debt); (9) Budgeting.
There are seven chapters and each has one illustration by Harshini Gopu. (click on the video to play).
View this post on Instagram
What are the formats and their prices?
ebook (pdf) is priced Rs. 200. This a 50% launch discount (full price is Rs. 400). There will two variants: one for boys and one for girls (each with appropriate illustrations). The two front covers are shown below. The two editions will have identical content. Just that Chinchu will be a boy in one edition and a girl in another. Since the book is narrated from the point of view of the child, I hope this will help both genders better identify with the central character.
Paperback is priced at Rs. 500. You can buy this from the NotionPress Store or from Amazon.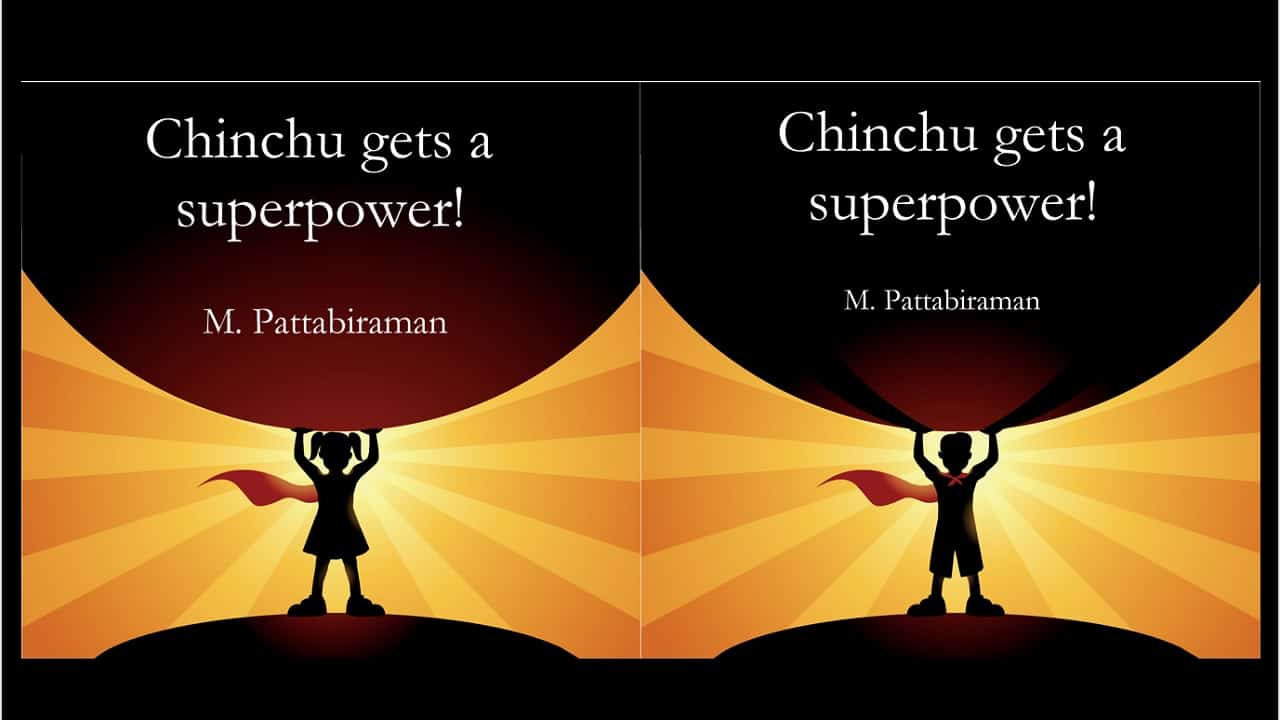 Chinchu gets a superpower front cover for girls and boys
Get the book!
Buy the eBook Boy's edition via this link (Rs. 200)
Buy the eBook Girl's edition via this link (Rs. 200)
Get the paperback from the NotionPress Store (Rs. 500 + Rs. 50 for shipping)
Get the paperback from Amazon (Rs. 500 + Rs. 50 for shipping)
Do share if you found this useful