Last Updated on April 19, 2021
My new book for kids: "Chinchu gets a superpower!" is now available! Here are the details on what the book is about; how to use it and how to buy it.
What is this book about? As parents, if we had to groom one ability in our children that is key not only to money management and investing but for any aspect of life, what would it be? My answer: Sound Decision Making. So in this book, we meet Chinchu who is about to turn 10. What he wants for his birthday and how his parent's plan for it and teach him several key ideas of decision making and money management is the narrative.
Why was this book written? Most investor problems can be traced to a lack of informed decision making. We have all made bad decisions and money mistakes when we started earning and spent years undoing these mistakes. Why should our children go through the same pain?
Well begun is half-done. If we can teach our kids how to make the right money decisions, they can avoid mistakes, spend prudently and start building wealth as soon as they start earning. (Use this form to get notified of the book release).
Who is the book for? Children above the age of 10. Some 8+ kids may also be able to appreciate it.  The text is simple and straightforward so that a child can readily understand the importance of self-analysis (realise what we want and not get affected by peer pressure) and independent decision making. Many of my friends who reviewed the book felt that adults would also benefit!
What is covered in the book? Aspects connected to decision-making such as (1)  Affordability: living within our means; (2) Needs vs wants; (3) Delay gratification; (4) Planning a purchase; (5) Appreciating our requirements; (6) Ignoring peer pressure; (7) Benefits of product research; (8) Basic of borrowing (debt); (9) Budgeting.
There are seven chapters and each has one illustration by Harshini Gopu. (click on the video to play).
View this post on Instagram
What are the formats and their prices?
ebook (pdf) is priced Rs. 200. This a 50% launch discount (full price is Rs. 400). There will two variants: one for boys and one for girls (each with appropriate illustrations). The two front covers are shown below. The two editions will have identical content. Just that Chinchu will be a boy in one edition and a girl in another. Since the book is narrated from the point of view of the child, I hope this will help both genders better identify with the central character.
Paperback is priced at Rs. 500. You can buy this from the NotionPress Store.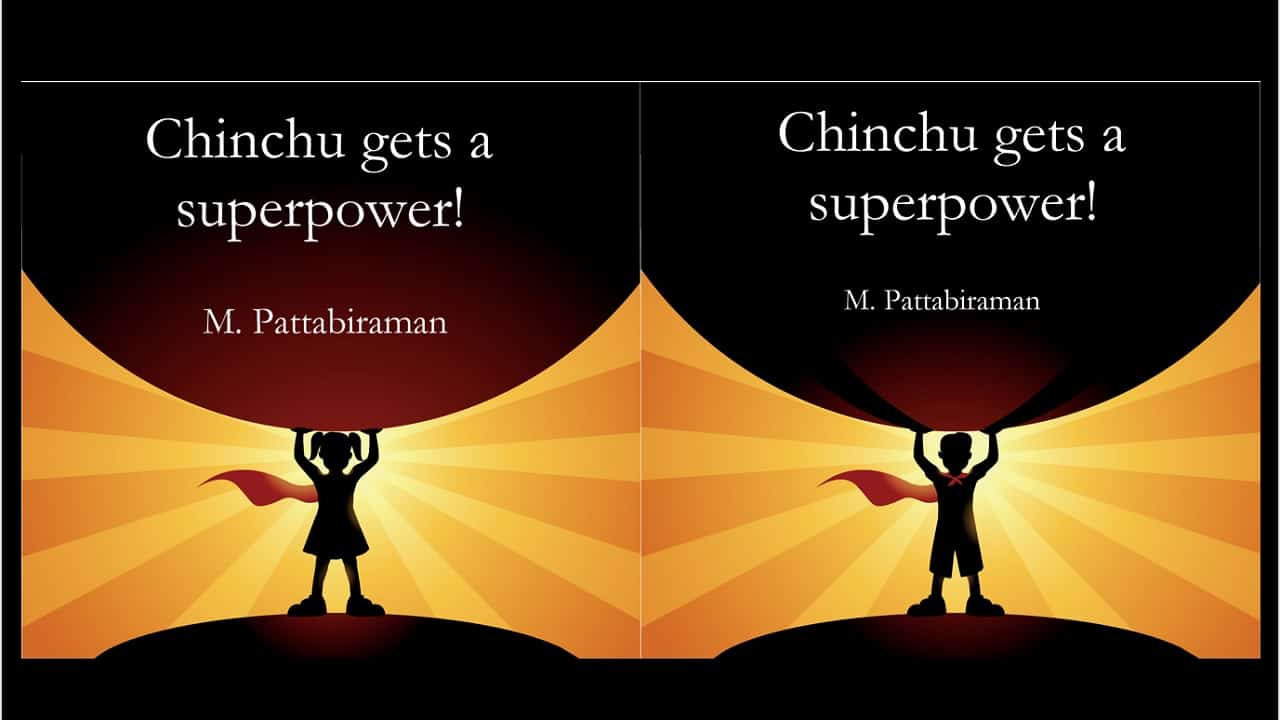 Chinchu gets a superpower front cover for girls and boys
What do readers say?

I loved the way you carried the discussion forward. I just have two words – Structured and Free Flowing. Great sir. Thank you for this treasure of an idea (my kids are 5yrs only) – stuartarvi
Must-read book even for adults! This is something that every parent should teach their kids right from their young age. The importance of money management and decision making based on their wants and needs. Very nicely written in simple terms. – Arun.

Excellent book! I got this book for my nine-year-old. It is written in a simple easy to understand language and covers the essentials of personal finance. Each chapter has a nice illustration. Even adults will find it useful! – Grateful Reader
A good way to start a money conversation with your kid.  Loved the book, an easy read. I sat with my 11-year-old daughter and explained to her the difference between Wants and Needs. As the book suggests, if we can give a framework on "how to think" to our kids, that will be the best contribution to this world. Thanks, Professor, for everything your blog/videos/books offer. – Pulkit Singhai
Become a smart buyer. I purchased the ebook and gifted it to my niece and sister hoping that my niece would learn a thing or two about money. I certainly read it before gifting it. It addresses some very important points, some of which even I as an adult don't follow or may forget to follow. After reading this I am pretty sure a lot of readers will become smart purchasers rather than impulsive buyers. – Kinjal
My 8-year-old son and husband read the book chapter-wise, together over a period of 3 days. Like most children, my child has a difficulty in understanding the concept of delayed gratification. After reading the book, I find a subtle change in his attitude. Before demanding any new toy or even books, he evaluates whether he needs it or is it merely a want. He has even gallantly declared that he does not "need" anything for his birthday this year. Not sure if this spirit will last till November (his birth month), but the year looks promising!
I appreciated this new thought process of his, but not for long. Let me explain.
I wanted to buy a dress from a shopping site and my husband was encouraging me to go ahead and buy. But my child overheard this conversation (as usual) and asked me, "Mamma, do you really need this dress? You have soooo many of them! I think this is a want. In my opinion, you shouldn't spend your money like this."
Grrrr…
Jokes apart, I think this is a good introduction about managing money for children. The concepts are simple to understand and written in a lucid, and child-friendly manner, with relatable every-day situations. Children will learn how to prioritize their requirements, how to manage a basic personal budget, and most importantly (and hopefully) how not to make impossible demands to their parents.
I recommend this book and look forward to more detailed books on money management for children- a subject that is lacking sorely in our school curriculum. Thank you, Pattu sir for this book. – raindrop
Get the book!
Buy the eBook Boy's edition via this link (Rs. 200)
Buy the eBook Girl's edition via this link (Rs. 200)
Get the paperback from the NotionPress Store (Rs. 500 + Rs. 50 for shipping)
Do share if you found this useful