Last Updated on October 2, 2023 at 11:51 am
Dear reader, it is never too late to plan and organise your finances and plan for the future. Make use of these massive discounts to get started.
Robo Advisory tool: 20% off!
Goal-based portfolio management course: 25% off!
How to get people to pay for your skills: A guide to winning their trust and building an income: 40% off!
Freefincal Investor Circle: 50% off!
Use the links below to enjoy massive discounts on our courses and robo-advisory tool!
(1) Build a complete financial plan with our Robo Advisory Tool! (20% discount; use discount code below)
Get the freefincal robo advisory tool to plan from start to finish for retirement (early, normal, before and after), non-recurring financial goals (child education) and recurring financial goals (holidays, appliances etc.).
The tool would help anyone from ages 18 to 80 to plan for their retirement, six other non-recurring financial goals and four other recurring financial goals with a detailed cash flow summary. More than 1600 investors and financial advisors are using the tool.
Presentation: The tool is available
Excel file with macros: will work on Mac Excel and Windows Excel.
On Google Sheets with scripts.
Each version has to be purchased independently.
Video Guide for the robo advisory tool
One-time purchase; lifetime access. Price includes future updates to the sheet.
(2) Goal-based Portfolio Managment (25% discount; use discount code below)
Goal-based portfolio management is an online course to reduce fear, uncertainty and doubt while investing for a financial goal. 3000+ members of our community have already signed up for the course! Join to get clarity on planning for your goals and achieving the necessary corpus no matter the market condition is!! Watch the first lecture for free below!
Course presentation: All the videos are available at freefincal.com  in a private area. After purchase, you will need to register with your email; activate the account and then access the videos  (one-time fee; lifetime access).
We also have a course Facebook group. You can also watch the videos inside the group and use it for discussions among members. A Facebook account (optional) is only needed for discussion and not for watching videos.
Buy the course. The full price is Rs. 4000, but for a limited time, you can get Rs. 1000 off with the discount code

gpms25.
This is a 25% discount!
Feedback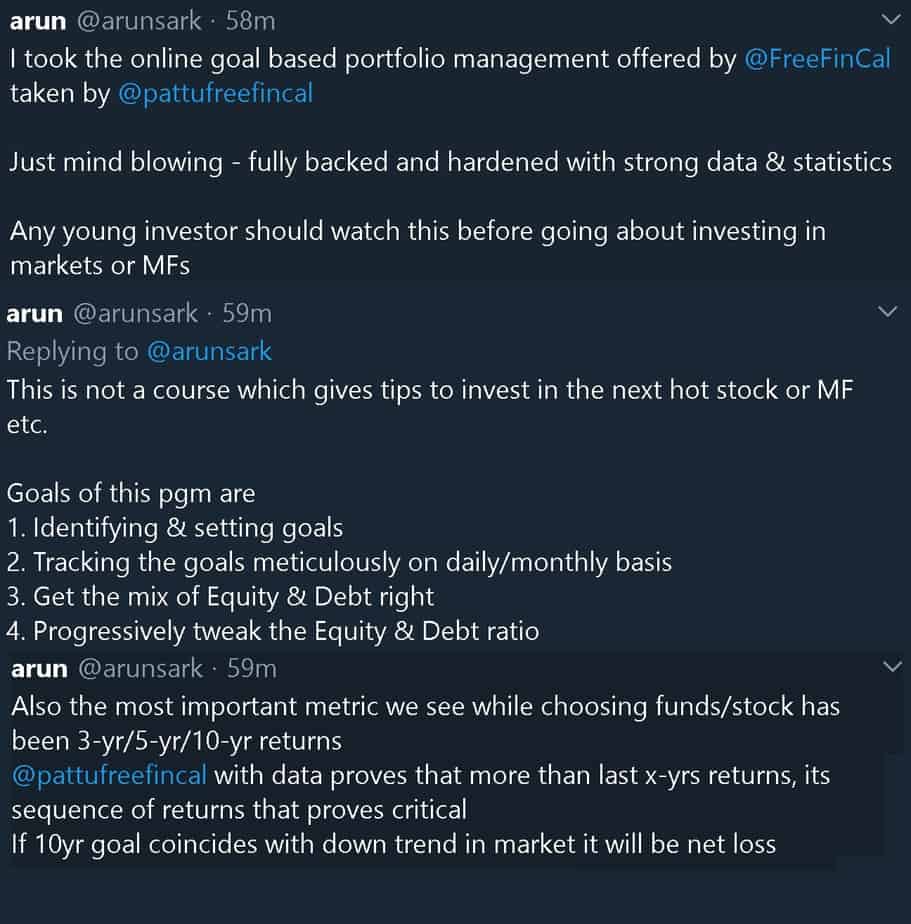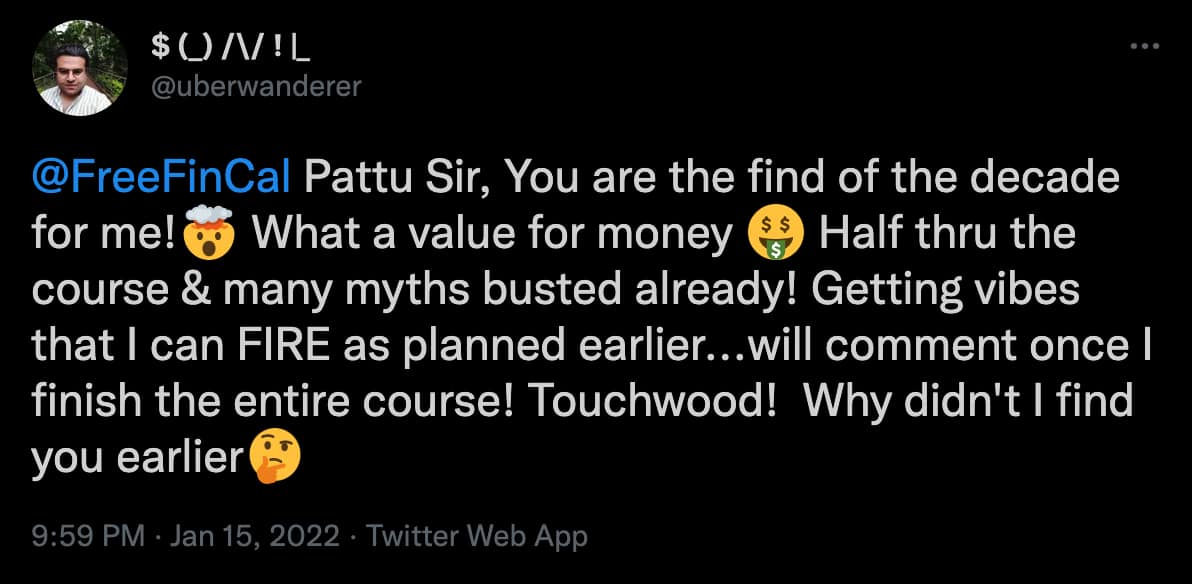 1st lecture is free!
Contents
Lecture 1: What is Goal-Based Portfolio Management? An introduction
Lecture 2: What is a sequence of return and why is it important.
Lecture 3: Managing Risk for a 20Y Goal. Here different methods to manage risk and attain a target corpus is discussed.
Lecture 4: Why we need to look beyond India Stock Market History. The limitations of our market history and why we need to learn risk management with S &P 500 history is explained.
Lecture 5 How different equity allocations work for a 20Y goal. Strategies that work for 20Y, 10Y and 5Y goals are explained.
Lecture 6: What if I started investing late and have a huge fixed income allocation?
Lecture 7: How practical is the strategy we discussed so far?
Lecture 8: Basics of Retirement Planning
Lecture 9 Testing Retirement Strategies with the worst sequence of returns
Lecture 10: Testing success and risk for retirement strategies
Discussion: What are your takeaways?
Lecture 11: How to use Excel Goalseek to convert annual return to monthly return
Lecture 12: How to create your own monthly portfolio tracker!
Buy the course. The full price is Rs. 4000, but for a limited time, you can get Rs. 1000 off with the discount code

gpms25.
This is a 25% discount!
(3) Earn from skills (40% discount use discount code given below)
Learn how to get people to pay for your skills! Whether you are a salaried person wanting a side income or passive income, a professional or a small business owner wanting more clients via online visibility, we will show how to achieve this by showcasing your skills and building a community that trusts you and pays you!
Course presentation: All the videos are available at freefincal.com  in a private area. After purchase, you will need to register with your email, activate the account, and access the videos  (one-time fee; lifetime access).
We also have a course Facebook group. You can also watch the videos inside the group and use it for discussions among members. A Facebook account (optional) is only needed for discussion and not for watching videos.
Course Objective: A complete framework to build online visibility with your skills; Create a community of readers and viewers based on expertise and trust and generate an income that will gradually grow to become significant and last a lifetime.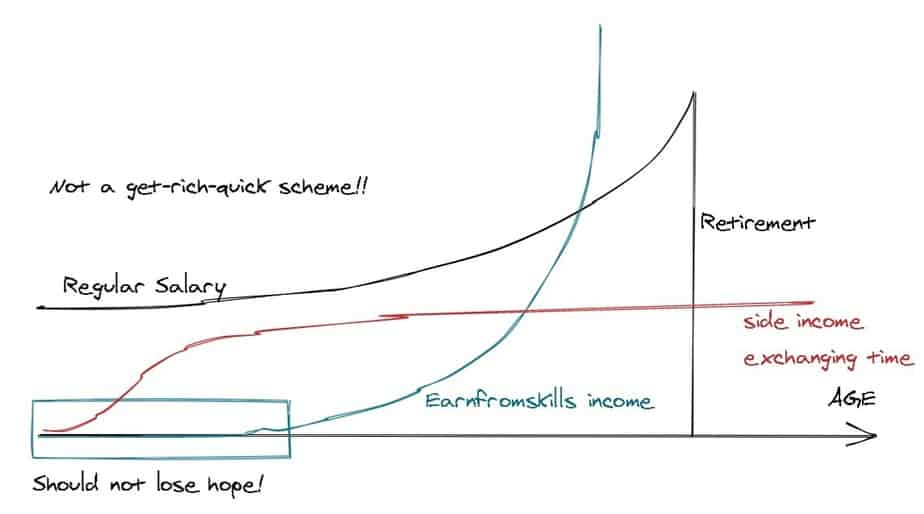 Syllabus
Unit 1: What is this course about, and what to expect from it.
Unit 2: Setting the right priorities
Unit 3: How to choose your topic and what to aim for
Unit 4: Finding content gaps in your topic
Unit 5: Pros and cons of different types of public medium
Unit 6: How to make money online? (finally!)
Unit 7: How to create your own website: Basic set-up
Unit 8: How to create your own website: (intermediate-level set-up)
Unit 9: Using Twitter and Facebook
Unit 10: Writing an SEO-optimised article + site branding with entity interlinking
Unit 11: Passive income Examples + benefits many do not recognise
Unit 12: Generating content ideas: understanding what people look for online
Unit 13: Website Design and User Experience (UX)
Unit 14: Email Marketing
Unit 15: Google My Business
Unit 16: Automating social media sharing to grow a following
Unit 17: Why you need to get on YouTube
Unit 18: Writing Content that gets traffic. Part 1: search traffic
Unit 19: Writing Content that gets traffic. Part 2: Getting "discovered" by Google.
Unit 20: How to be a consistent content producer?
Unit 21: When to monetize; How to launch products; How to get consistent revenue;
Unit 22: Advanced Website set up: Custom schema set up
Unit 23: Overview of tools I use and my learnings
Unit 24: Whom to follow; How to stay updated;
Unit 25: Custom topics suggested by members
Course FAQ
==>Is the fee one-time or recurring? It is one-time.
==> Can I watch the videos any time I want? Yes. Access is forever.
==> I am a professional, entrepreneur or a small business owner. Will this course help? Yes! It will help you quickly set up your website and online profiles right and show you how you can leverage them for building a brand, a community that trusts you and would buy from you or hire you.
==> I am salaried with some interests I want to develop. Will this course help? Yes! The course discusses how you can use online communities to understand problems and issues that you can address to increase visibility.
==> I want to earn some extra income but am unsure about the area. Will this course help? The core idea of online money making is to help others without expectations and the money will come. Tom Cruise said "everyone has a story. Similarly "everyone has something to offer". Some way in which they can help others. It should not take long for you to list that. Even if you are not an expert in that area, you can learn while you create content. This is what I did and am doing with freefincal. Once you think of at least one way to help someone else, the course will help you get ideas and create content around that.
==> Will this help me set up a website? Yes. A start-to-finish guide is included along with "how to write SEO-optimised content"
==> When can I start seeing results? This is not a get-rich-quick scheme. Results will depend on your circumstances and the topic. For example, a financial advisor may see faster results than a salaried person working on this as a side project. Simply because for the financial advisor, online visibility is bread and butter. Similarly, a person writing about politics may get more revenue than a person writing poems because of community size interested in each are different. Increasing visibility in the area we are good at is more productive than chasing after a "hot topic" we know nothing about.
(4) Join the freefincal Investor circle with a massive 50% discount!
This is an exclusive space for investors, advisors, fintech employees and students to access financial planning and insurance tools, mutual fund analysis tools, coding strategies and Excel macros for data extraction.
The resources can be used for investment analysis, financial planning, financial advisory, learning, and creating custom versions. Members can also share calculators and other resources and discuss ideas or issues in a private Facebook group.
Membership benefits: You get lifetime access (including bug fixes) to the following Excel or Google Sheets tools – see the video below for screenshots.
Total tool count (as of 13th Jan 2022): 14!
All tools are open-source. No hidden cells, formulae or macros. You can customise them for personal and professional use (see terms and conditions below).
Mutual fund analysis power tool: Updated and consolidated with the following features.

Mutual fund vs index fingerprinting tool (used to analyse performance)
Mutual fund vs index rolling returns (lump sum and SIP)
Ulcer index tool (a measure of how stressful the fund was to hold)
Mutual fund vs index rolling volatility, upside and downside capture
Multiple risks vs return metrics and  evaluation score
Plus more!
You can freely modify this and create various tools to suit your requirements.

Financial planning tools: Excel versions of the online calculators available in our book, You Can be Rich Too with Goal-based Investing and at the SEBI investor education site. Note: The online editions do not allow you to save your inputs/outputs, whereas you can do that with the Excel files and modify them at will.

Insurance calculator for Young earners
Insurance calculator for  Married earners
The time value for money

Flexible compound interest
Standard compound interest
Increasing contribution calculator

Net worth calculator
Impact of 1% Sip calculator
The true power of compounding
Cost of delay calculator
Goal planner

Visual goal planner
Asset allocation

Monthly investment tracker

Retirement investment tracker
Other goals investment tracker

Financial goal planner

Sheet for Equity LTCG taxation vs non-equity LTCH taxation comparison
Access to a private Facebook group for discussion and resource sharing.
Excel macros for extracting JSON files and dynamic URLs.
Google Sheets to compare five MF portfolios & find overlapping stocks
Coming soon:
Tools for comparing the rolling returns of multiple funds or indices
A simple Google sheets script for implementing Goal Seek without the limitation of add-ons. This is used in our Robo Advisory Google Sheets edition.
Updated comprehensive stock analysis spreadsheet.
Important Terms and conditions:
No refunds are possible under any circumstance.
Membership is only for individuals and should not be shared.
The above tools can be used for personal or professional purposes (e.g. advisory, report preparation etc.). They should not be re-distributed in any form or manner without prior consent.
You are free to modify the tools at will for the above purposes.
Suppose the results from these tools are used in any form of content accessible to the public – articles, videos, social media posts etc.  – the appropriate credit should be given to the source: freefincal.com.
The tools have been created with the latest version of Excel. They are unlikely to work with very old versions of Excel (e.g. 2007). The power query function is necessary for the data extraction modules to work.  No refund will be provided if one or more tools do not work with your Excel version.
The functioning of the data extraction modules (standalone or bundled in) depends on the availability of external websites, which is beyond our control. These modules may no longer work if these websites change their content delivery method. All other modules will continue to work.
While the tools have been extensively tested for errors, we cannot guarantee they are free of them. If members bring any error to our attention, they will be addressed as soon as possible.
The freefincal investor circle discussion forum is a place to discuss analysis methods, construction of calculators etc. It is not a place to discuss individual investments and seek public advice.
The discretion of which tools (created in the past/future) to include in the investor circle is entirely up to the freefincal team.
The tools listed under "coming soon" are under development. For various reasons or circumstances, it may not be possible to provide them in future.
Screenshot of the tools that members can access
Join the investor circle!