Should disciplined long-term goal based investors use mutual fund systematic investment plans (SIPs) or rupee cost averaging?
This question has been bugging me for long and personally, I hate a SIP I think it is a product tailor made for mutual fund distributors and sold to lazy people.
Should intelligent investors buy SIPs? Here is why my vote is a vehement NO.
I PE-based investing
Investing has to be goal-based. If you have no expense in mind, why would you need the money anyway! Even for the idiots who think they have no goal in mind, retirement is a  goal!
Very few of us can afford to plan  for a goal with realistic inflation and  a constant monthly investment. The latter would be too big for comfort. So the only way out is to include a realistic rate at which investment could increase each year hopefully as income increase
Such an assumption if followed through can dramatically reduce the monthly investment needed in the first few years of investment.
For example, if 5 Crores is required after 25 years with 10% returns, you would need to invest 42361 each month if you don't increase investments each year.
If you can manage to increase investments by 10% each year you only need to 16919 in the first year.  An incredible 60% decrease! Only after 10 years will this the monthly investment exceed the constant investment amount of 42361!
The downside is that after 15 years, the monthly investment will be as high as 70675.
This may or may not be a downside with respect to affordability but with respect to a SIP – assuming one is started, and topped up at 10% in the same SIP or with additional ones (think about all the work involved in setting that up!).
Why use a hypothetical example? Let me let you my story. When I started out investing in mutual funds, I had a SIP of Rs. 1500. Today on a good month, my mf investments can be higher than 65% of the 80C deduction limit.
Do you expect me to invest this sum in stocks each month regardless of index valuations?  That is, do you expect me to invest when the index PE is 10 (an excellent idea) or when it is 15 (decent idea)  or when it is  25 (a terrible idea) all in the name of rupee cost averaging?
Each monthly investment in a mutual fund either manually or via a SIP grows in its own pace. If you invest when the market is overvalued (high PE ratio), that instalment is likely to provide a lower return and pull down the net CAGR.
When investing at high index PE values (>22 or more) has historically given poor returns, why should I invest monthly completely disregarding the market?
Why should I not time the market or the index?
Why invest when a monthly instalment is guaranteed to provide low returns? Why not pool the uninvested sum together, wait for a month or two, wait for the index to come down and invest all of it in one go?
Suppose I start a SIP in HDFC Top 200 on April 3rd 2006. I invest on the SIP date (3rd) each month only if the Sensex (or BSE 200) PE is lesser than 20.
If it is higher than 20, I do not invest that month and keep aside the money. If the PE is less than 20 on the 3rd of next month, I invest the money kept aside as well as that months instalment. If there is a gap of 8 months in investing because the PE is greater than 20, in the 9th month, I invest all the uninvested money in one go.
I would like to call this SI-PE!  Obviously this is a crude strategy and one designed for back-testing in Excel. In reality, one can monitor the PE more closely and invest at times that are more opportune.
An SI-PE from 3rd Apr 2006 till date in HDFC Top 200 would have got a higher return by nearly 1% and an extra corpus of about 3K.
This is how the investments would have grown. SIP or SI-PE total investment amounts are identical.  Each point in the graph is an investment.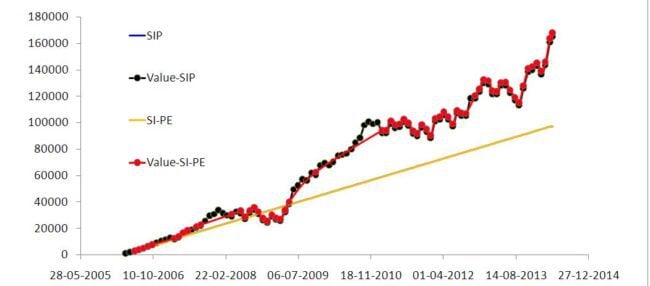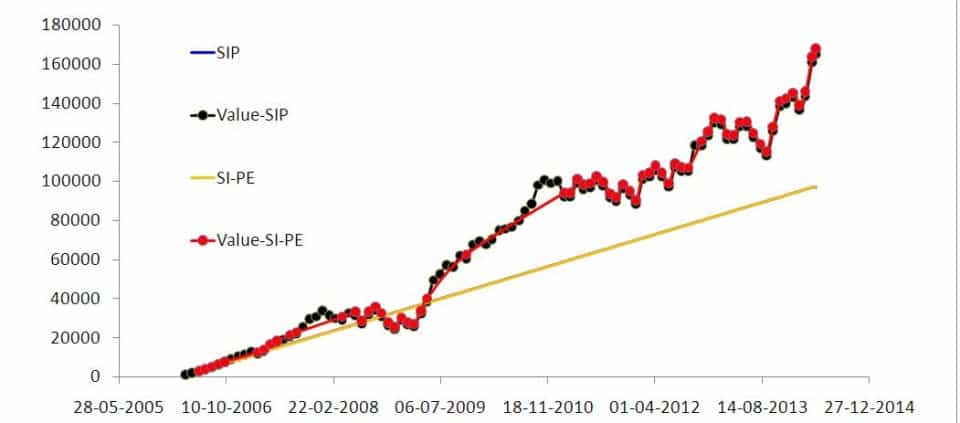 Notice that SI-PE skips investing whenever the SIP value exhibits a peak. There are periods of time when the Index PE is greater than 20. Even by skipping several instalments, and postponing investments, the SIP-PE value is higher. Notice the lower volatility in the investment.
I am not tying to prove the superiority of SI-PE. The cut off value of PE = has been arbitrarily chosen with not much thought. Perhaps you could do better if the cut off was higher ~22.
One could argue that I am using the benefit of hindsight to state all this. Well, all of equity investing is based on hindsight. That is if past long-term returns are not so promising I will not be investing in equity in the first place!
SI-PE is a dumb method used for back-testing. I am trying to point out that one can do so much better than a SIP.
Why invest when the market is overvalued and lower the net CAGR? Why not wait for a more opportune time?
In the present example the difference between SIP and SI-PE is not significant and rupee cost averaging is a pretty decent concept.  My point is, one could do much better by manually tracking the index PE and invest on any  convenient date (instead of only the SIP date as assumed in SI-PE)
What about longer durations?
If I have invested in Franklin India Blue Chip via SI-PE right from inception (1st Sep. 1995), I would gain about 50,000 more than a conventional SIP. Interestingly the SI-PE XIRR (19%) is only 0.4% higher than the SIP XIRR (18.6%).
If I have increased my investment each year by 10%, also known as a growth-SIP, the SI-PE method would have given me ~ Rs. 85,836 more. The XIRR of the growth-SIP is 18.4% while the XIRR of growth SI-PE is 18.9%
Again rupee cost averaging does work in the long run. No question about that.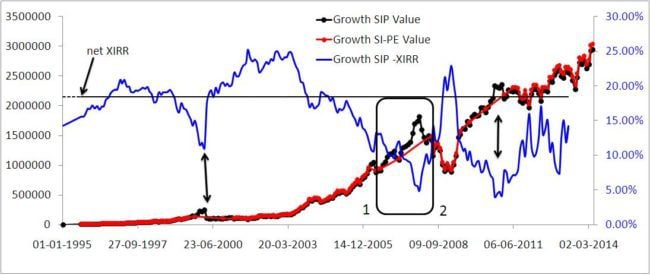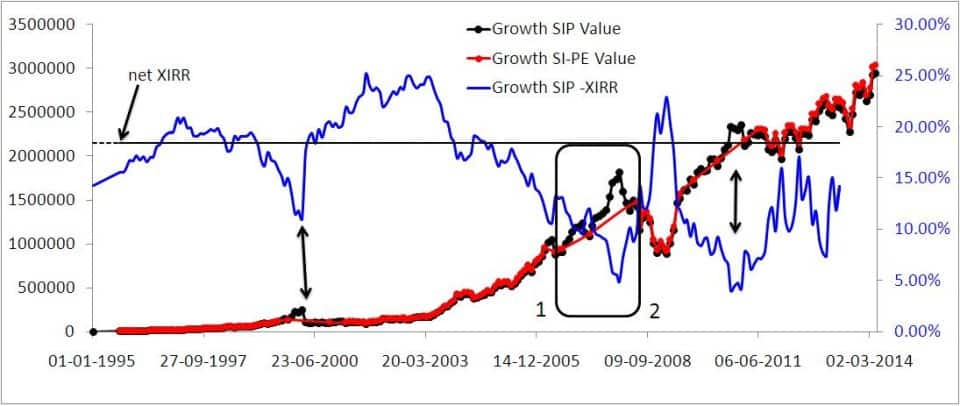 However, notice the evolution of the investments along with XIRR returns of each growth SIP investment. The horizontal line is the net XIRR  = 18.4%.
A SIP investment done whenever the index PE > 20 has an XIRR much lower than  the net returns.
Notice the boxed region. I could go from points 1 to 2 with just three growth SI-PE investments compared to monthly investments which do nothing but bring down the net returns.
Yes rupee cost averaging is a powerful technique and definitely works. No doubt about that. My question is this. Why not help the average by investing according to the PE instead of blindly following a SIP? That way you are avoiding potential bad apples.
I would like to reiterate that I am not claiming superiority of the SI-PE method. I am only pointing out that one can do much better without a SIP.
The SI-PE assumes  that the uninvested instalments are pooled together, kept at zero interest and ploughed back into equity when PE falls below 20.
This is a crude approach and can be improved in so many ways. The pooled instalments can be invested in an ultra-short
term fund or liquid fund to get a little extra in case the wait for the PE to fall is long.
Alternatively, one could invest that amount into the debt component of the portfolio.
My point is, if your SIP amount is huge, why invest it regardless of the market situation when there are proven approaches to limit the portfolio volatility and gain at least a little more bang for the buck?
It is the investor's duty to make their money work harder. The gains could be much more than what I have depicted in this crude approach.
II Rebalancing investments
Any long term folio must be rebalanced to lower volatility. Instead of locking money to SIPs, if the money is free to be invested anywhere, rebalancing can be done by adjusting investments instead of holdings. This frees me from tax and exit load issues.
See results from this wonderful study:
Some analysis using long term equity and debt funds in India (Part 2) The result of this study can be viewed here
Some analysis using long term equity and debt funds in India (Part 3) The result of this study can be viewed here
Obviously if you lock your money in a SIP you cannot do this!
III Unmatched flexibility
Most investors when they start SIPs and add funds later are clueless about a diversified equity folio. Use this tool to find out how diversified your equity portfolio is!
If the money were not locked in SIPs, the investments can easily be adjusted to make it more diversified and balanced. Read this wonderful suggestion given by Ramesh to me.
Same is true about fund performance. Lock your money in a SIP and you will have to go through the trouble of stopping it if the fund underperforms. Without a SIP you are free to invest in a better performing fund. What to know which funds are the laggards in your folio, use this automated mutual fund tracker.
The flexibility offered by manual monthly investing is matchless. Online investing in a mutual fund will take a 2-3 minutes per transaction in a low speed broadband connection. When I got my first online account I did not even know mutual fund distributors existed! So I contacted the AMC directly (pun intended!) for investing!
I have been manually investing for over 4 years now. I invest on days when the market drops by 1% for the first two weeks of the month. If it does not, I invest any way. This is not for higher gains. This is a regimen to train my mind to love market corrections
Unfortunately, the rally in March and April has upset my plans! I have just kept my investments on hold waiting for a correction to move in.
Since my investment amount is getting large, I am uncomfortable about investing it during rallies. How much difference will this make in the long run? Hard to tell! Life does not pan out like an Excel sheet. It entirely depends on how I play it.
Not using SIPs put me in charge.  As a control freak I relish that idea.
I can pick and choose my funds and time. If I had locked all money in SIPs I would been too lazy to stop them and start investing in Quantum Long Term Equity or PPFAS LTVF – the stars of my folio. I could never have aggressively invested in both these funds which have not only stabilised my folio but have provided me with the necessary diversification.
My goal is to ensure that my net folio returns (estimated by the automated tracker), which have recently become healthy double digit numbers, stay that way.
I am not blindly relying on an averaging technique for that. Just cramps my style.
Rupee cost averaging is a proven idea and is likely to beat inflation in the long run. no argument there. However,  it is not good enough for me.
What do you think? Do you agree?  If you agree, please do not stop existing SIPs on account of me without proper planning. Check your portfolio health, check equity overlap and then make an informed choice.