Dynamic bonds are debt mutual funds with a flexible investment strategy. There is a perception that they funds can be used to take advantage of interest rate movements to maximise gains.  Unfortunately, these funds do not reward investors enough for the effort and risk involved in its investment strategy. Which is why I believe that one should not invest in dynamic bond funds.
Investment strategy: Typically, when the interest rates are expected to fall, the fund manager will increase exposure to long-term bonds. When the interest rates are expected to increase, the fund manager will move to short-term bonds.
Such a strategy combines the two ways in which debt funds produce returns: capital gains (due to rate movements) and interest income from bonds.
A couple of days ago, I had mentioned that debt funds which invest in short-term bonds out-perform other categories including dynamic bond funds. Read that post here.
In this post, I would like to highlight the performance of dynamic bond funds with the same data set.
Plotted below is the CAGR calculated from annual returns from Value Research versus the standard deviation of the annual returns for different durations.
CAGR is the average rate at which an investment has compounded annually – a measure of reward.
Standard deviation is the extent of deviation of each annual return from the arithmetic average – a measure of risk.
The data points represent all debt mutual funds. Dynamic bond funds are shown in red.
12-year CAGR vs. 12-year standard deviation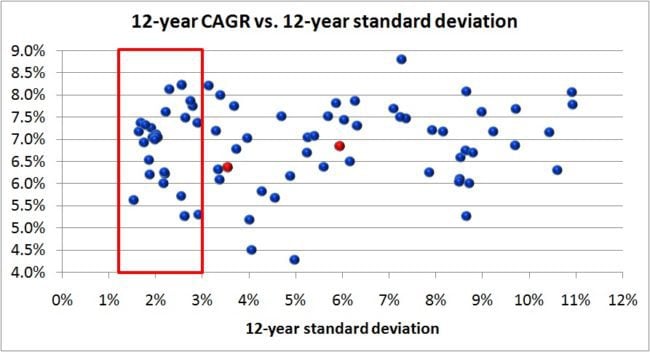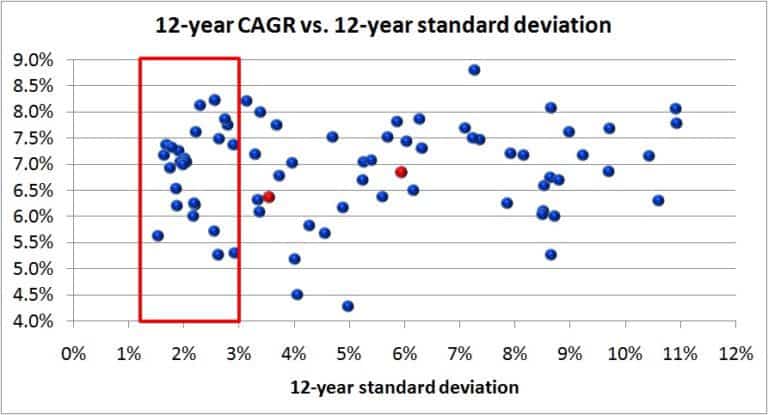 Only two 12 -year old dynamic bond funds. They have done better than long-term funds: typically same reward at much lower risk. However, the short-term fund have done better.
If dynamic funds had indeed played the interest rate cycle well, they should have beat the short-term fund as well.
10-year CAGR vs. 10-year standard deviation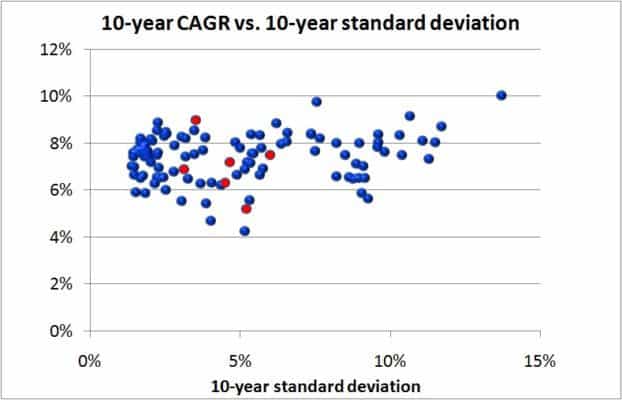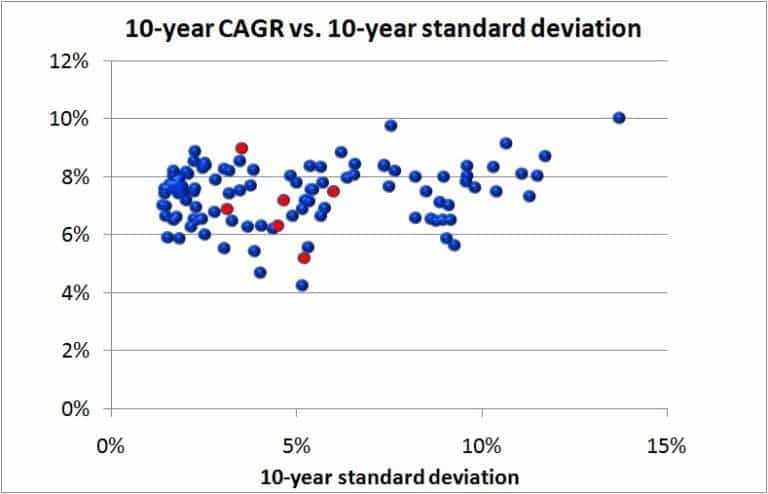 Again the same conclusions as above.
5-year CAGR vs. 5-year standard deviation

Short-term funds have done well in the last five years when rates were high. So should have dynamic bond funds if they had had enough exposure to short-term funds.  No evidence of that.
Conclusion: Stay away from dynamic bond funds. They are better than long-term funds. That is all that can be said. However, that is like saying a rock is better than a hard place!
Long-term funds are not of much use. They lose during rate hikes what they gain during rate cuts.  Dynamic funds fare better because of their 'dynamism' but have not managed to outperform short-term funds.
As mentioned at least thrice earlier(!), investors who stick to short-term funds are more than likely to do much better.