What is the worst that can happen to us from a financial standpoint?
Life insurance will take care of our family upon our death provided, it is adequate and kept in force – check your cover here.
Health insurance will take of a family member's hospitalization provided, it is enhanced often enough to keep pace with inflation.
A large enough emergency fund should handle any sudden expense from a car breakdown to non-medical expenses during hospitalisation.
Accident insurance are available for disability management .. to a certain extent (most covers are too low)
Critical illness insurance is available, in principle, for CI management to a certain extent (complex policy wordings plus typically low cover)
We have a car insurance, two-wheeler insurance, home insurance etc.
We invest each month for our long term financial goals and save for our short term goals.
We stay off bad debt, understand the role of inflation on a home loan EMI and keep it manageable.
Each month, our salary accounts for monthly expenses, EMI, investments, savings and a small contribution to the emergency fund.
So what is the worst that can happen from a financial standpoint. If most of the above points are covered in one way or the other, a person would in charge of his/her finances.
What is the worst that can happen to topple such an individual's life?
When it comes to emergency expenses, a scenario keeps recurring in my mind.
Shops that stock expensive crystalware have a simple policy – "good to touch, yours if dropped!".
So if I accidentally drop crystalware I will feel terrible because it is an unexpected and unnecessary expense. A car breakdown is an unexpected (not really!) but a necessary emergency.
While what is necessary/unnecessary is subjective (how do you classify a trekking accident?), the nature of the expense is usually objective.
If we drop crystalware I pay (a large!) one-time fee.
If we have an accident, get hospitalized and take a few months to recover, most of the hospitalization expenses will be paid by the insurer (either immediately or later).
Recovery at home represents unexpected recurring expenses.  This is the worse that can happen from a financial standpoint.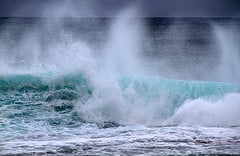 Imagine this scenario.
A couple utilises 30% of their take-home pay for monthly expenses. Another 30% is allocated for investments towards their long term goals, 30% towards home loan EMI and the rest 10% towards miscellaneous expenses or is added to the emergency fund. They have enough life and health insurance cover.
Every paisa earned is accounted for and budgeted. Sounds perfect!
How will this couple handle unexpected recurring expenses?
There is a limit to how much monthly expenses can be reduced.
Reducing the EMI is pretty much impossible.
The only option is to utilize the 'left-over' 10% and if the expenses are huge, reduce their investments.
I can think of no other way to handle this issue.
Unexpected one-time expenses leave a big hole in the pocket. The hole will disappear soon.
Unexpected recurring expenses is like an active mine – the hole remains fresh month after month.
What is the way out?
Nothing can be done after the recurring expense is incurred.
The only way out is to start investing early, aware of the possibility of such expenses latter in life.
This is the only reason I have managed to hold my head above water as I manage unexpected recurring expenses after my mom fell and broke her thigh bone: Cashless Mediclaim: A Second Person Narrative
A few weeks ago as I sat down looking at my mother in a hospital bed recovering from surgery the long term implications of her fracture were becoming clear to me.
She would be confined to a bed (if not bed-ridded) for at least a couple of weeks more. She will need paid-assistance in her day-to-day activities. She will need to be given physiotherapy. She would need diapers, wipes, gloves etc. There would also be a few miscellaneous expenses.
All this implies an outgo of close to Rs. 1000 a day. I have no other option, but to decrease my retirement investments and stop investing for my sons marriage.
Thankfully it is not as bad as it sounds.  I am already investing way ahead of my retirement investment schedule (monthly investments that increase each year at some rate):  The year-end personal financial audit
I am thankful that I will be able to continue investing for my sons education as per schedule.
A decrease in retirement investments means a delay in financial freedom by at least 5 years or so.  I am not too worried about that as I am an academic, and I love my job.
What if the same happens to someone in a corporate job? A job that the person hates?