Last Updated on June 3, 2022 at 11:15 pm
Dear reader, I am pleased to announce that my new book co-authored with P V Subramanyam (subramoney.com) is now available for pre-order. The book is titled: You Can Be Rich With Goal-based Investing.
What is the objective of the book?
The book is Subra's vision and conceived a few years ago. In fact, in his very first phone call, Subra mentioned this idea: A "how-to" book with the text discussing the right questions to be asked, simple answers to these questions and a set of calculators in which the reader can provide personalised inputs to obtain answers.
It is, what I refer to as an action book in the sense that it urges the reader to take action after pointing them in the right direction.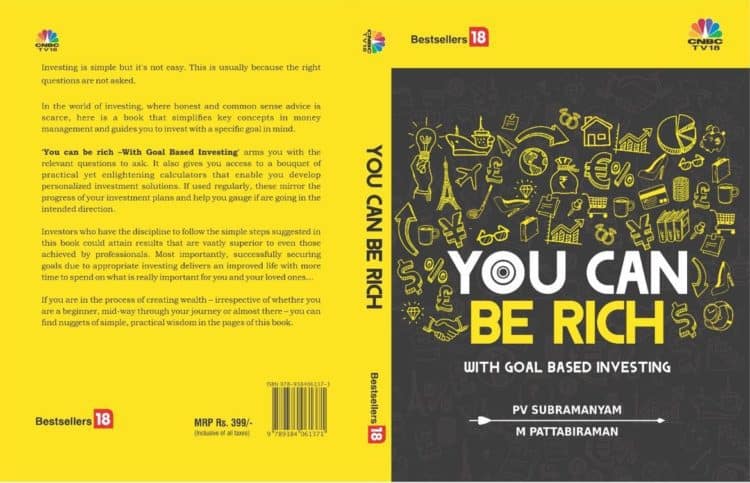 Who is the book suitable for?
Here is the two-minute book trailer that explains what one can expect from the book. I hope you like it.
The book is a crisp non-technical description of money management and does not contain a single equation (well just one, which is trivial to understand!).
I have also created a dedicated landing page for the book explaining its features: You Can Be Rich Too With Goal-based Investing
All chapters will appeal to a beginner.
Those who understand the basics  and those who are experts will find the following particularly useful:
1 quantitative and qualitative selection techniques of equity and debt mutual fund
2 Investment portfolio Construction
3 The online calculators that are part of the book.
What does the book contain?
Unless we ask the right questions, we would be looking in the wrong place for the right answers. The first four chapters of the book focus on such questions:
1 Where are you today?
2 Where do you want to go?
3 What resources do you have?
4 How much risk can and will you bear?
Then the solutions are discussed (non-technical, no math).
5 Allocating your assets to minimise risk
6 A vehicle called mutual funds
7 Portfolio construction requires discipline not IQ.
8 Life and Health Insurance
9 Records to be maintained
10 Mistakes to be avoided
11 How to stay away from new products
Then follows a detailed description of equity and debt mutual funds and how to choose them.
There are about 9 calculators associated with the book. They will be hosted online and those who have purchased the book can access them.
Some of these illustrate the power of compounding, some for goal planning (a new version of the integrated financial planner is included) and tracking investments and goal value. I have done my best to keep the calculators distinctly different from the ones found here.
The book contains a detailed description of the calculators. There is also a glossary that contains important investment terminology.
What does the book cost?
Rs. 399/- for the hard-bound version (170 pages). Bookadda currently offers it for Rs. 371 (no shipping charges). It will soon be available with other sellers like Flipkart too. An e-book version will be released soon.
Publisher: TV18 Broadcast Ltd (CNBC TV18)
Where can I order it from?
Amazon.in Rs. 399. The book is also available on Kindle at Amazon.in (Rs. 244.30) or at Amazon.com ($3.36 or Rs. 244.30).
Flipkart Rs. 359.
Bookadda Rs. 371. A discount of Rs. 28. No shipping charges.
Infibeam Rs. 307. Discount = Rs. 92. Shipping of Rs. 40 will apply if you just buy one copy 🙂 (ie less than Rs. 500) Jeethendra tells me infibeam delivers faster.
Sapnaonline.com Rs. 371. No shipping charges.
Check out Reviews for You Can Be Rich Too
Ten reviews are available for our new book, You Can be Rich with Goal-based investing. Here is a sample:
The only book you need to get your hands on if you are lost in the financial jungle. Do it immediately. Simple, practical, crisp and precise.
The best gift that a young earner can receive.Kudos to the authors. – Karthik.
Check out the other reviews
Request to Write a Review
If you have read the book, please review it at Amazon/Flipkart/Infibeam/Google Play. It will make us better writers.