Here is what you should know before buying sovereign gold bonds either in the primary market (when the next tranche is released) or secondary market (1st tranche issued in Nov 2015).
In my opinion, there is only one thing that someone buying paper gold should know: just how volatile returns can be!!
The fin min says
They will carry sovereign guarantee both on the capital invested and the interest.
This does not mean returns are guaranteed!!
First some features of sovereign gold bonds
There is no physical gold associated with these bonds!
The bonds have a maturity of 8 years, but can be redeemed after holding for 5 years. They can be traded freely at any time.
Tax treatment: Indexation benefits are allowed if the bond is traded (at any time). Gains upon redemption  is tax-free. Thanks to Balaji for pointing this out.
The 2.75% per year interest on the purchase price is insignificant even if tax-free – it is not! Tax as per slab will be applicable.
Gold ETFs vs Sovereign gold bonds: Considering how volatile gold is, I think ETFs still hold the edge in terms of convenience for  investors who would like to manage the risk associated.
Volatility matters mainly for retail investors who would like to buy and hold. Before you think paper gold (these bonds or etfs) is an option to "save for my daughter's marriage" I would recommend that you have a nice hard look at the following charts.
The following are rolling returns chart of daily INR gold price obtained from the world gold council
Rolling returns imply the return duration is rolled over by one business day. For example, suppose I gave data from 1st Jan 1978 to June 1st 2016
If I wished to calculate 1Y returns with this data set, the first possible 1Y is between Jan 1st 1978 to Dec. 31st 1978 (call this return R1)
The next possible 1Y is between  Jan 2nd 1978 and 1st Jan 1979 (call this return R2) and so on.
All the returns (R1, R2, R3) are plotted against the start dates of the 1Y period. Now over to the data.
Rolling Returns – 1 year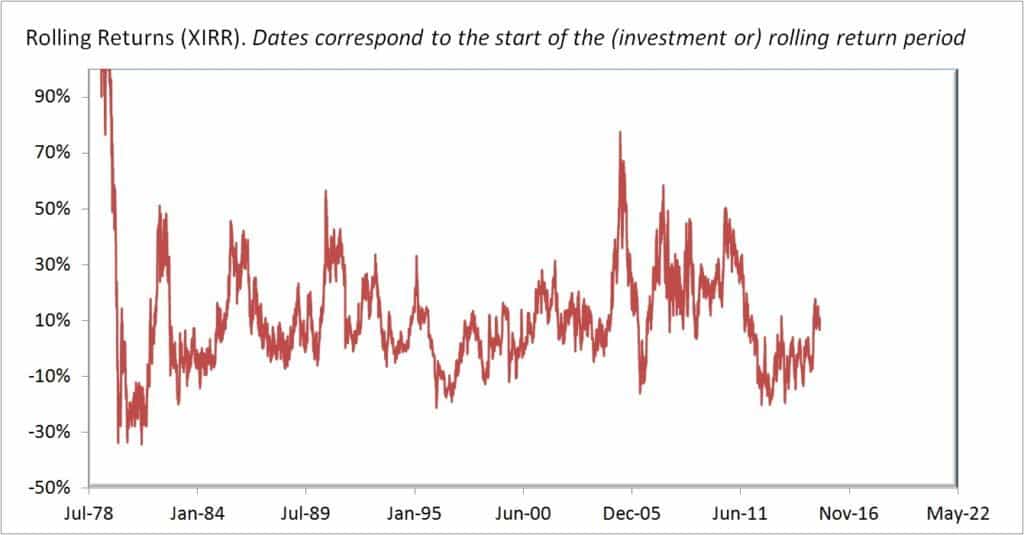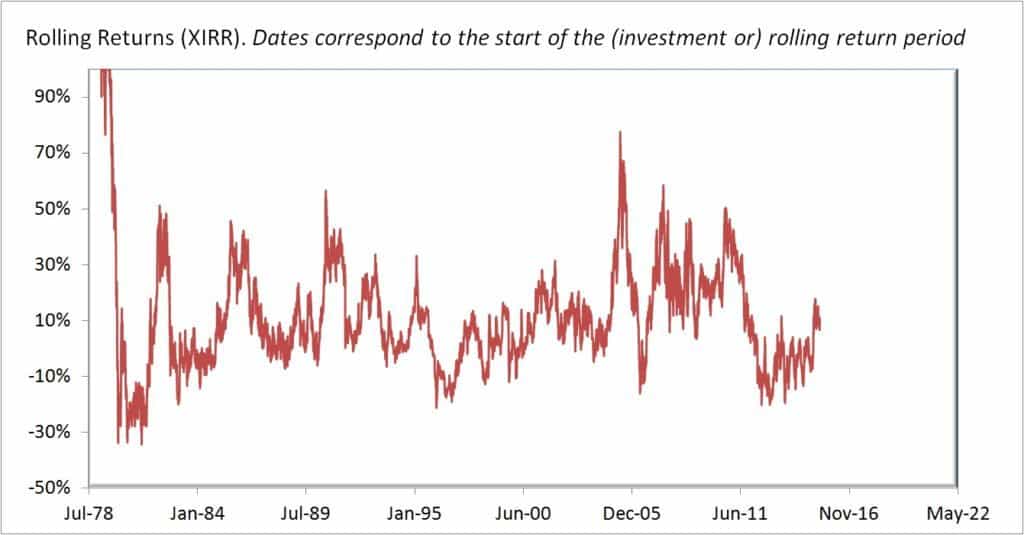 Rolling Returns – 2 years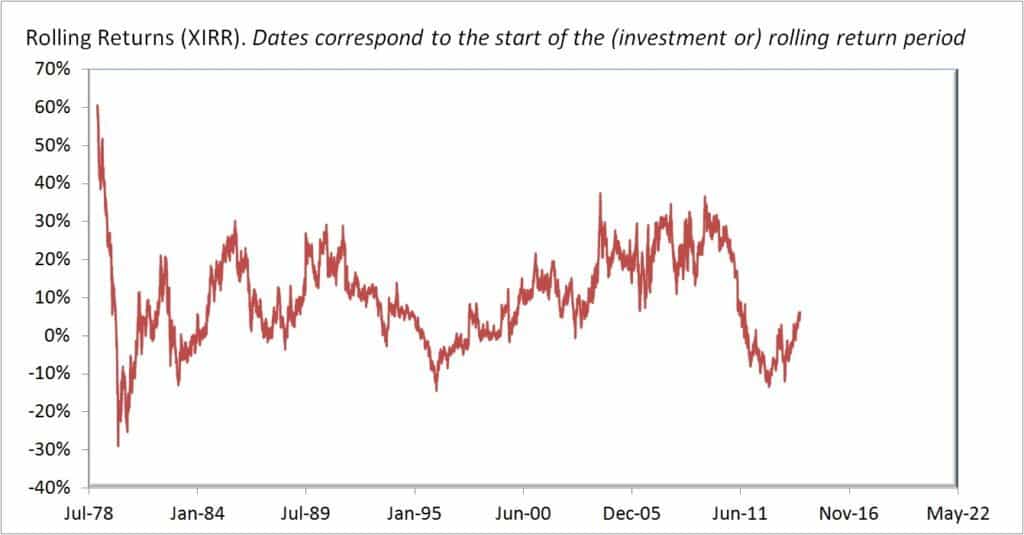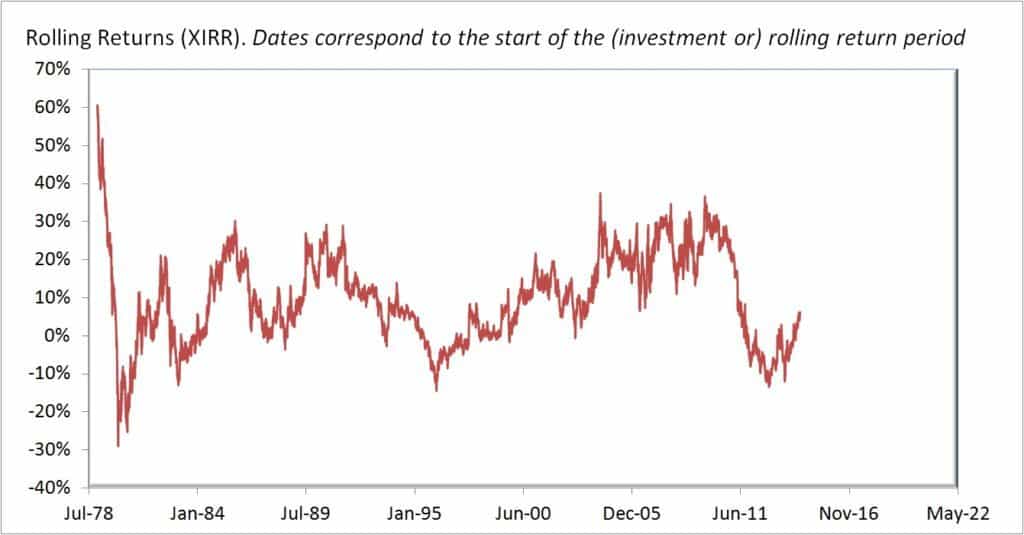 Rolling Returns – 3 years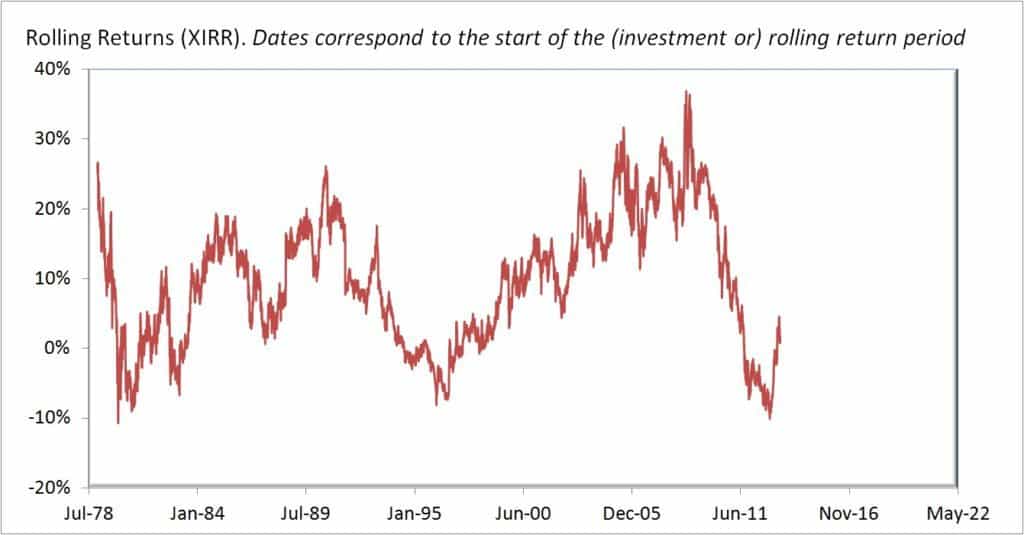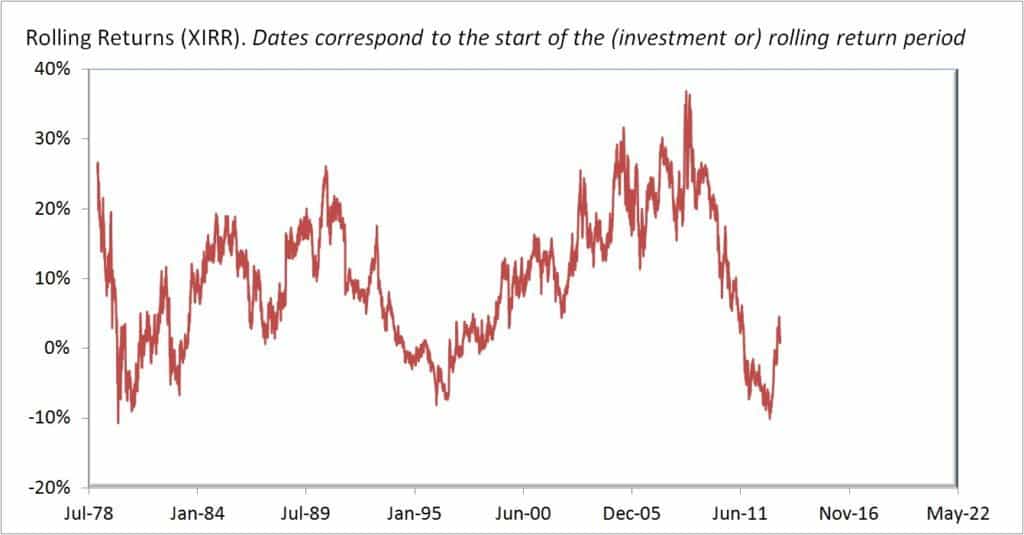 Rolling Returns – 4 years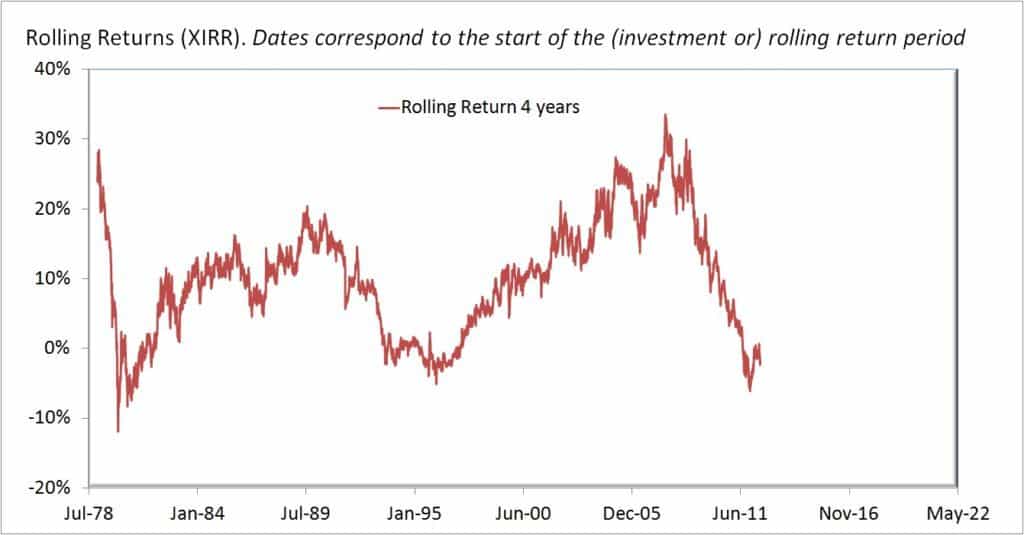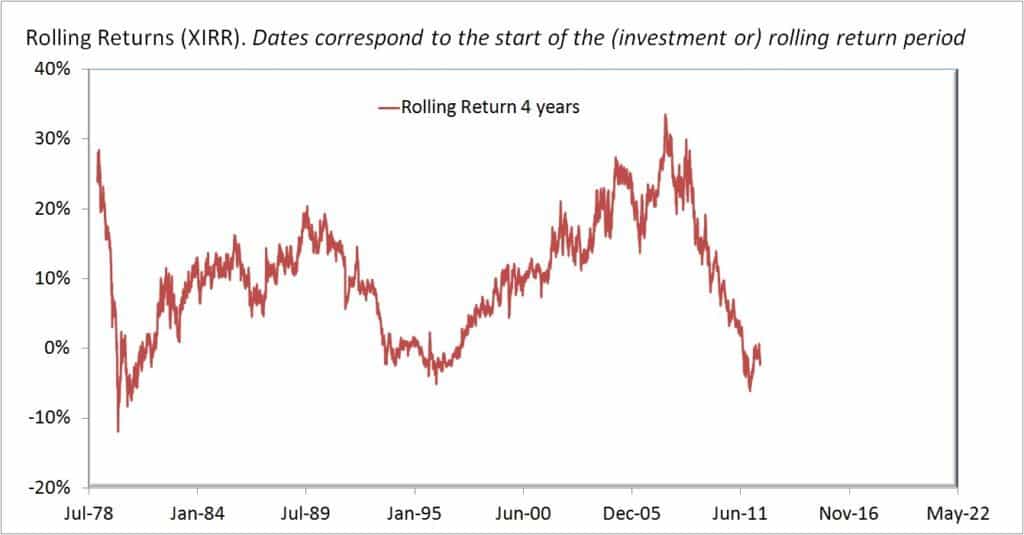 Rolling Returns – 5 years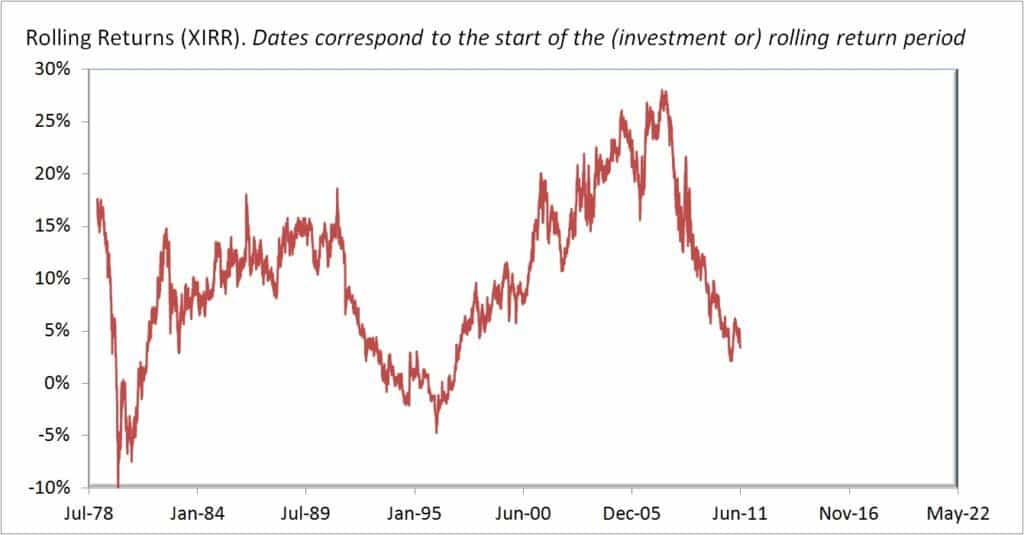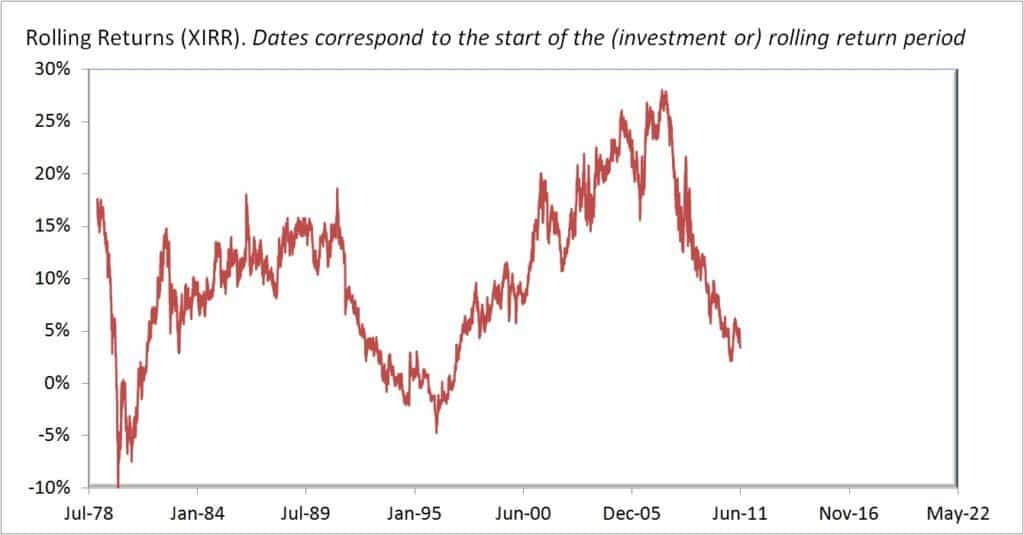 Rolling Returns – 6 years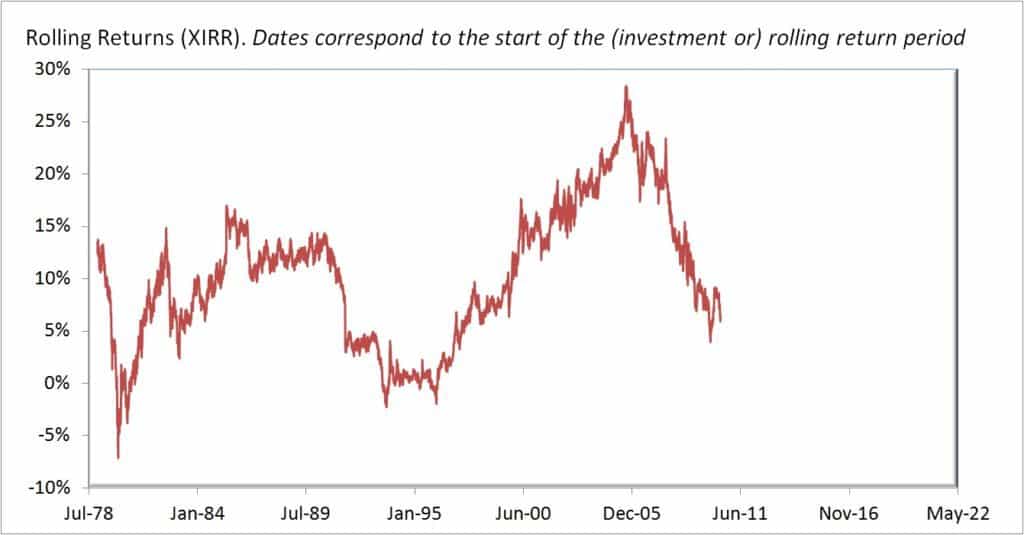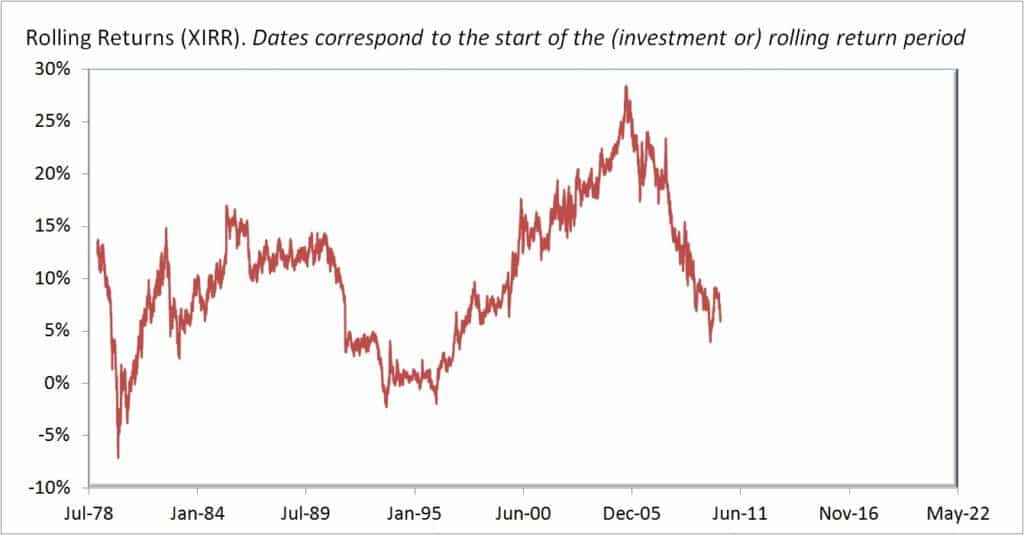 Rolling Returns – 7 years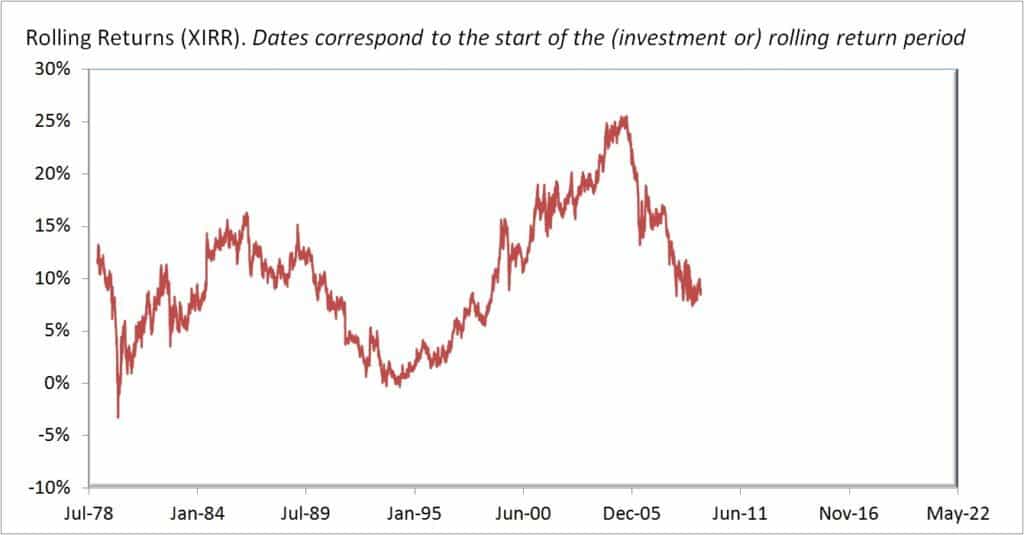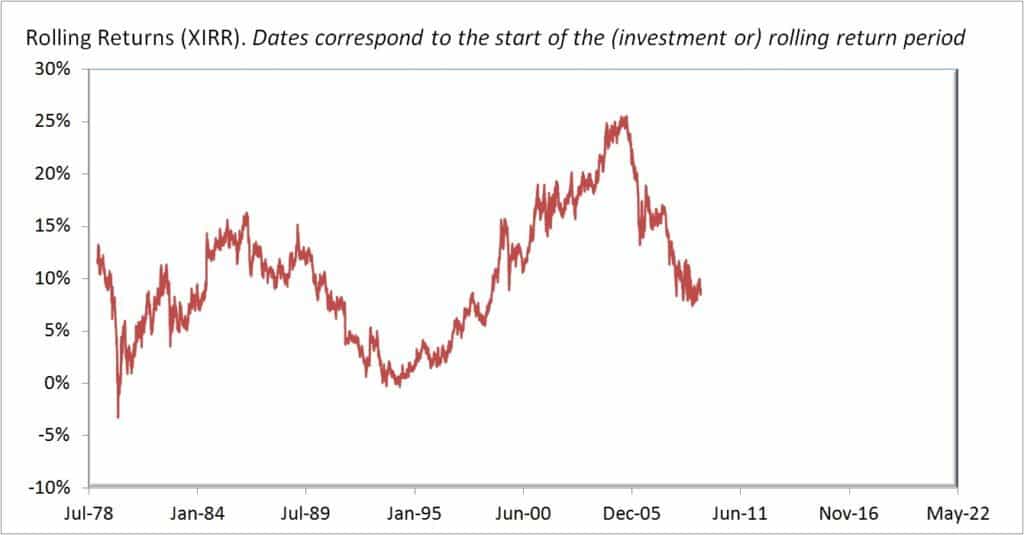 Rolling Returns – 8 years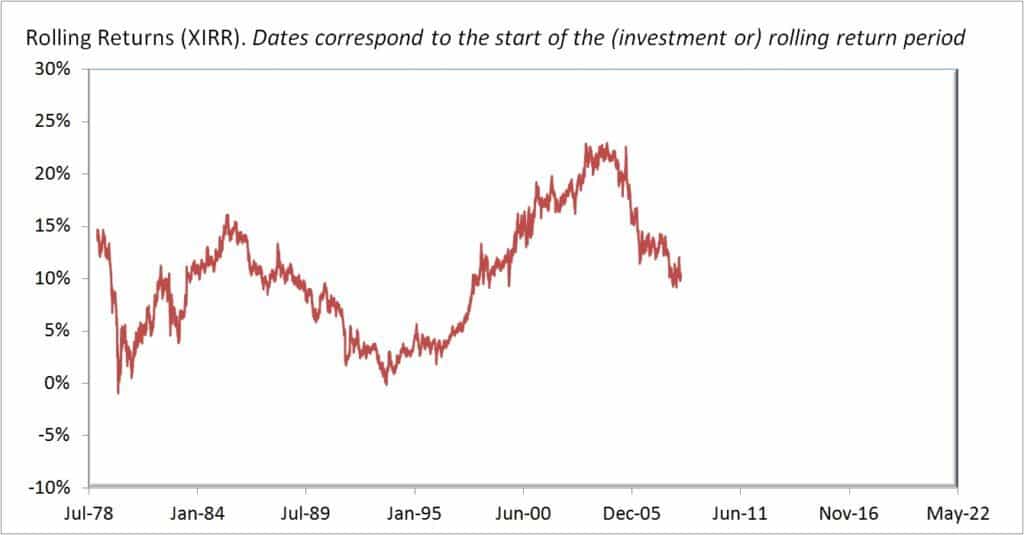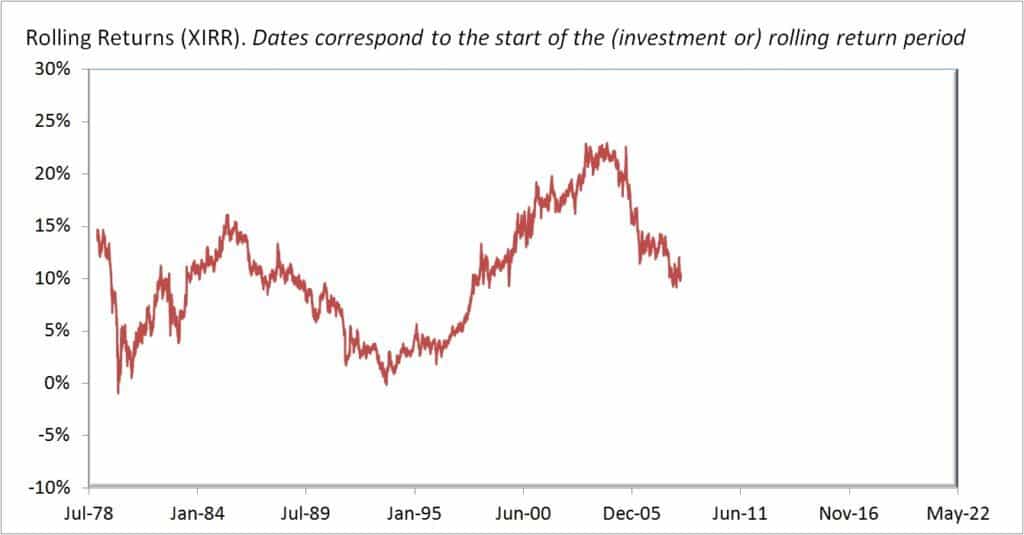 Only up to 8 years is relevant to sovereign gold bonds. It won't hurt to see how gold has fared over longer durations.
Rolling Returns – 10 years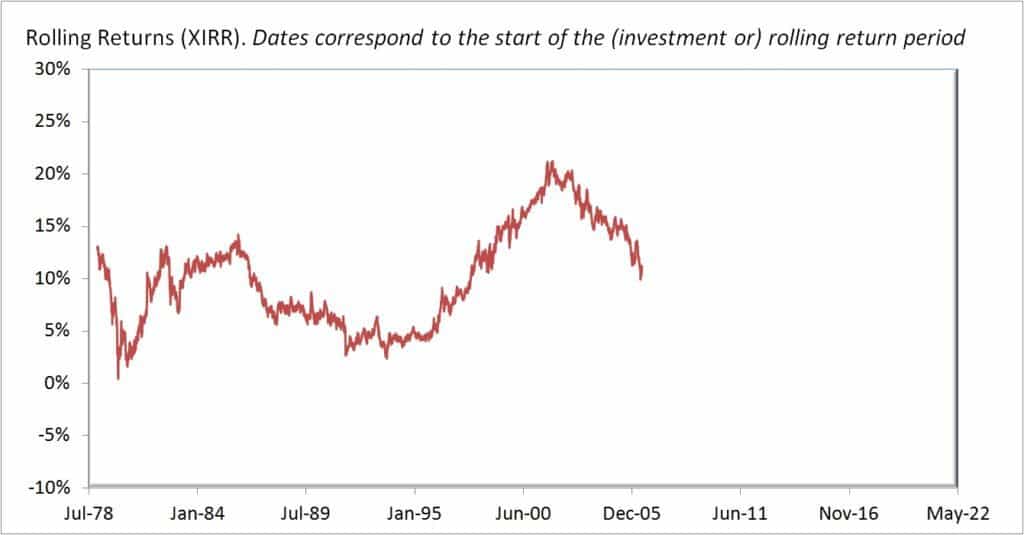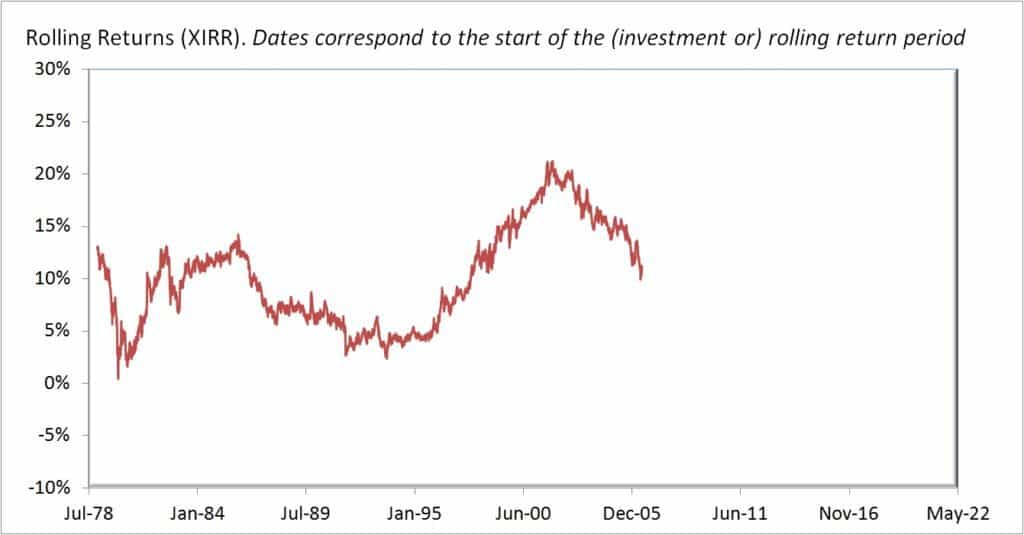 Rolling Returns – 15 years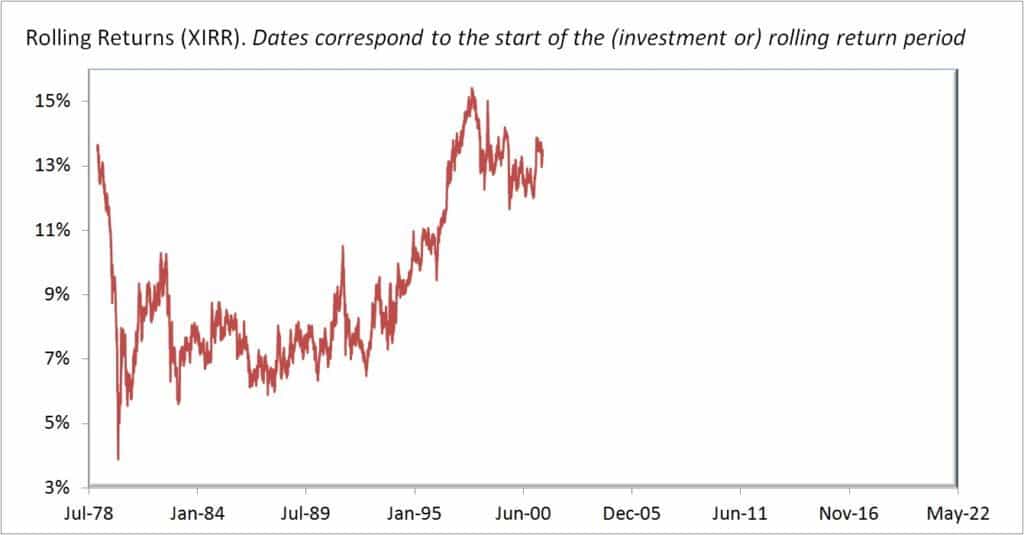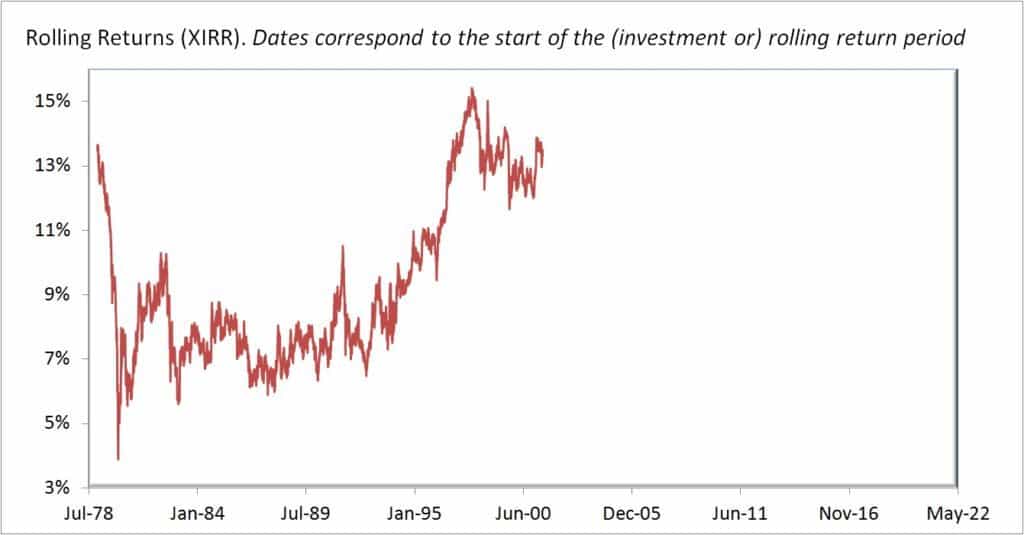 Rolling Returns – 20 years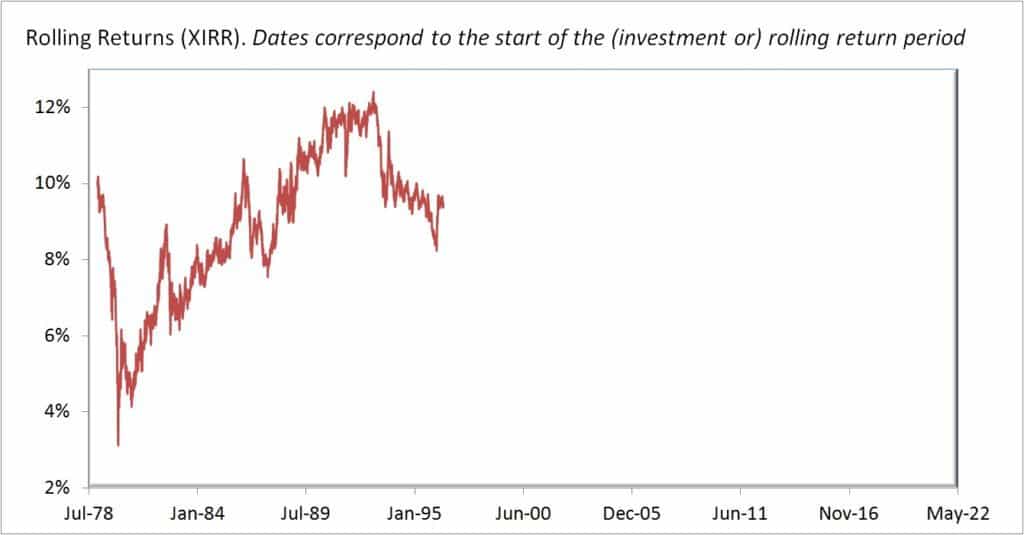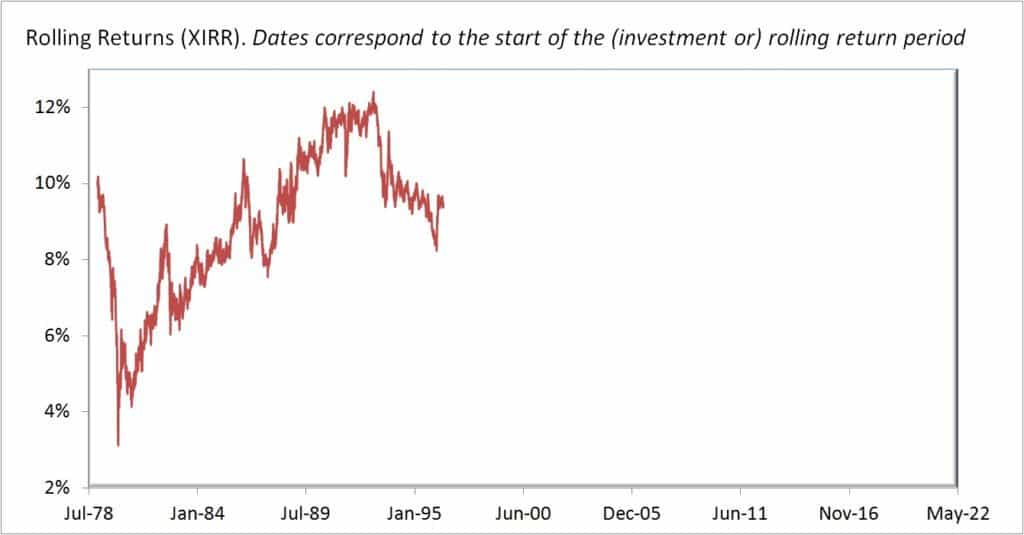 Rolling Returns – 25 years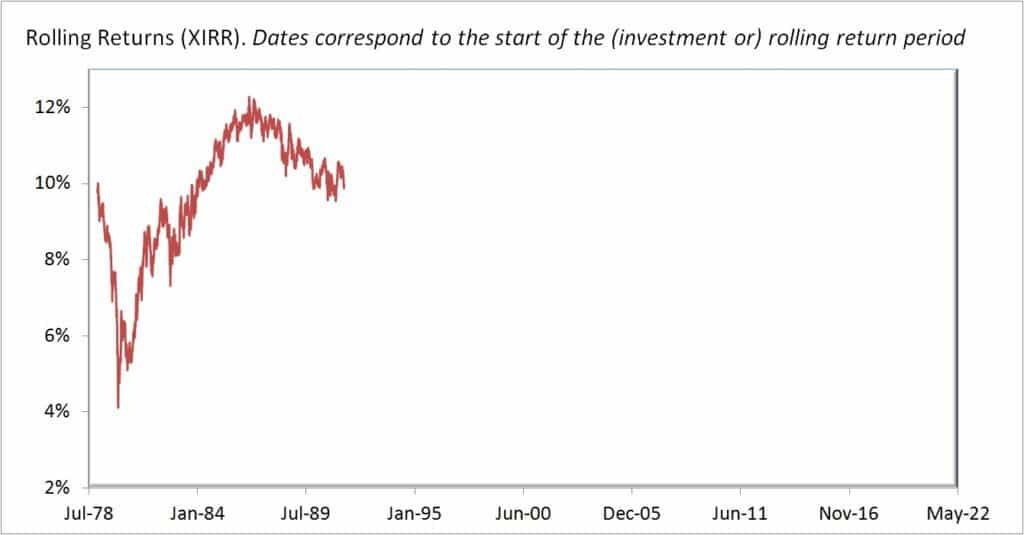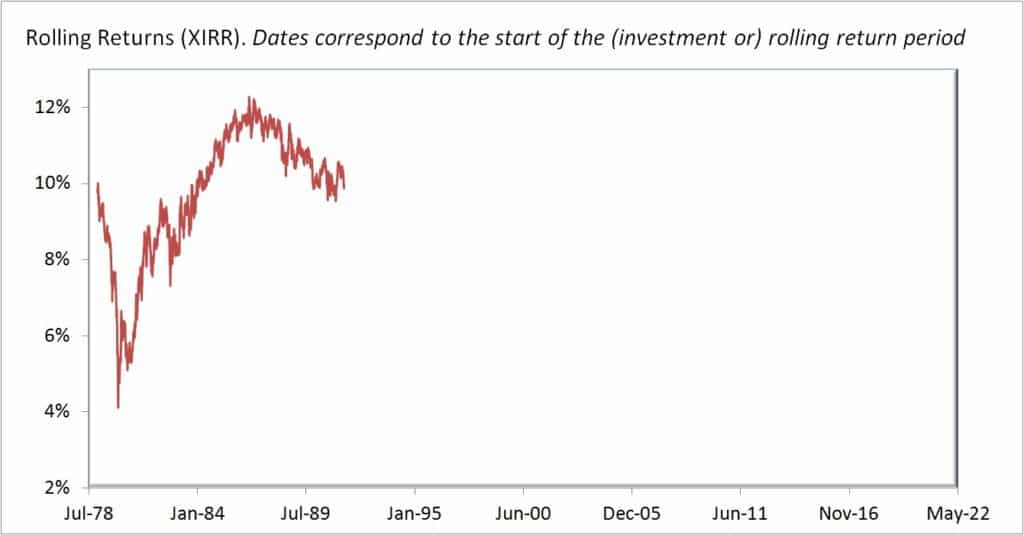 So, what do you think the returns from Sovereign Gold Bonds* would be over the next 1,2,3,4,5,6,7,8 years? Might as well play the roulette!
let us ignore the enormous extra return of 2.75% that the govt wants to reward us with for buying these bonds instead of physical gold.
The future should be at least as risky as the past. If volatility scares you stay away from these bonds.
Personally, I think unless you can time your entry and exit, holding these bonds until maturity may just about give any return! Stay away if you cannot actively manage the huge risk associated with gold.
Over the short-term, the risk is way too high. Over the long-term the reward is often way too little.
There are much better and smart ways to accumulate gold for a marriage.
More posts on gold:
References
NSE circular on trading in sovereign gold bonds
RBI press release on Sovereign Gold Bonds, 2015-16