In March this year I had a thymectomy – surgery to remove my thymus gland. The procedure was paid via cashless mediclaim. I thought sharing my experience with 'cashless' might be useful to other readers.
My hospitalization was planned. That is I had plenty of time (5-6 weeks) to plan my hospital stay from the moment it was decided to go ahead with the surgery. Sometimes one has only a few days depending on the procedure. Even for such cases the patient and his/her attendant have the time to get all insurance particulars in order, approach the hospital and get the stay approved by the insurer for cashless payment via the hospital.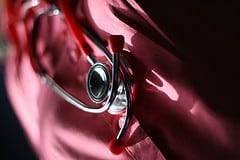 Cashless claim for emergency hospitalization is a different ball game. In this case the patient can do nothing to help with the paperwork and procedures. To avail cashless mediclaim, the insurance particulars have to be located. This may not always be possible (road accidents, hiking accidents and sometimes even in the office or home). Cashless mode cannot be relied upon for emergencies.
Once I made up my mind about the surgery and the family agreed on a date, I approached the insurance department of the hospital and obtained a cashless pre-authorization form. I also found out the room tariffs and the approximate cost of the procedure.
Thymectomies are relatively less common procedures. So I was given a ball park estimate of costs. Next I went to the surgeon and asked him to fill out the form and sign it. My policy has sub-limits on room rent (1% of the sum insured) and ICU rent (2% of SI). Since I had increased the sum insured each year for the last 5 years, I could afford the deluxe room which was more than comfortable for me and my brother-in-law who stayed with me (regular readers will know that this is not the first time he has helped me. He is a fantastic guy).
The insurance department wanted me to report with the pre-authorization form, PAN card copy, insurance policy copy and all relevant medical records two days before the surgery. In case the cashless claim was not approved, I moved around my emergency funds so that I have enough cash ready.
When I went to submit my application, I was interviewed by a doctor who is employed full time in the insurance department. I learnt something very important from her. My current SI is Rs. 5 Lakhs. When I was diagnosed with Myasthenia Gravis (the reason I needed the thymectomy), my cover was Rs. 4.5 Lakhs. This means that for the next two years (according to my policy) any hospitalization arising from Myasthenia will have a limit of Rs. 4.5 Lakhs and not Rs. 5 Lakhs. It is treated as a pre-existing disease and the rules that applied when the policy started also apply here!
 This is a very important reason why we should increase the SI as much as possible for all family members each year. If I had left my initial SI of Rs. 1 Lakhs unchanged, my cashless application would have been rejected. The doctor in the insurance department reviewed my medical records and was satisfied that everything was in order.
I was told that my application would be forward to the TPA (third party administrator) and that it will take 8-12 hours for a response. I called back the next day and found that my application was accepted and that the TPA had approved about 50-60% of the expected total cost initially. Since I was getting admitted on a Sunday, I made sure that the insurance department would be open that day!
When I got admitted, the reception checked with the insurance department and my admission was approved. I had to pay a small fee for registration. I was in hospital for 3 nights. Thanks to an extremely competent doctor and support staff, my stay was quite pleasant!
 Although the medicines and other costs were covered under the cashless scheme, we still had to pay a few thousands for miscellaneous items like gloves certain types of dressing material etc. So it is important to keep cash/card ready all the time.
 Discharge after a cashless hospital stay can be time consuming. The discharge summary and all other records go to the insurance department to be forwarded to the TPA. The TPA takes a few hours to approve the remaining cost of the surgery and clear the discharge. If there is an issue (there wasn't in my case) then we will have to be prepared for a delay and if necessary shell out some cash. This can later be claimed via reimbursement.
 In my case, the actual cost was lower than the estimate the hospital gave. Probably why the discharge went smooth! Probably why the hospital is part of the preferred network hospital of the TPA!
Of course choosing the doctor is more important than choosing the hospital. If a competent doctor works in a non-network hospital we must be ready to pay for hospital expenses and later apply for reimbursement.
My doctor does about 4 heart surgeries a day. He could have cut me open across my ribs, removed my thymus in 45 minutes and moved on to the next operation. Instead,he chose a minimally invasive procedure with 3 holes on the side of my chest. The operation lasted (I am told) more than two hours. The 45 minute operation meant 2-3 weeks recovery. The two hour operation meant a recovery of 2-3 days!  Thanks to him, I practically had no pain!
Policy: United India Platinum Cover (individual covers for each member)
TPA:  TTK HealthCare.
Although I am quite happy with the policy, I must admit that when I purchased it I knew nothing about such policies and personal finance.
What are your views on cashless mediclaim?