How would you answer if someone asks you: "I know that a systematic investment plan (SIP) in a mutual fund is an effective way to accomplish financial goals, but how often should I invest? Each month? Each quarter? Or should I invest daily? Which option provides better returns?"
There are two ways of answering this: Without a calculator and with a calculator. Let us consider both.
 1. The PERSONAL finance way: I don't care which option is better. I receive a monthly salary. I take out money for expenses after I invest for my goals. So for me it is convenient if the frequency of investment matches the frequency of cash inflow. If I didn't have regular monthly income I will probably choose a quarterly SIP.
Since I do have regular monthly income I could choose a daily SIP. However I choose not to. I am investing for long term goals in mutual funds with a good track record. Each year there are about 250 trading days. If I do a daily SIP for 5 years, how many entries will my account statement have? This makes monitoring the investment and redemptions pretty cumbersome.
By the same argument investing in a quarterly SIP will give me a much shorter account statement making it easy to monitor and process. However I do not like the idea of my investable income sitting idle for two months. I will have to worry about my bank balance and make sure I don't spend this money. Getting 'rid' of this money as soon as possible is best way to ensure financial peace.
The notion of monthly and quarterly SIP options is understandable. Salaried individuals usually opt for monthly SIP and business men or those who get paid now and then could opt for a quarterly SIP.
Why on Earth is there a bizarre option like a daily SIP open for the retail investor? Beats me. There are circumstances when for the same amount of total investment, investing daily could get me more units and therefore (usually!) more returns than investing each month or each quarter. If a fund is highly volatile (that is its NAV fluctuates up and down wildly), investing daily exposes me to more low NAV days then other options. In such cases a daily SIP could result in higher units and therefore higher returns than a monthly or quarterly SIP. By the same argument a monthly SIP could do better than a quarterly SIP.
The crucial question is will the difference in returns make a significant difference to the corpus I will accumulate. Unless I calculate I won't know. I don't care though. I don't intend to loose sleep over this. I invest in a way best suited for me, period.
To me this question (which is the best? Daily/monthly/quarterly?) is mere hairsplitting.
2. The personal FINANCE way: If the 'I do what is best suited for me' argument is not convincing, the only way out is math – the best way to win most arguments (especially hairsplitting ones). Here is a calculator that can compare returns from daily, monthly and quarterly SIPs using NAV history of any mutual fund. You can compare results for any investment period for which NAV data is available.
Three versions of the calculator are available:
One with NAV history of Franklin India Blue Chip fund from Jan. (7th) 1994 to Jun. (4th) 2013. A fund with a consistent terrific record.
One with NAV history of Quantum Long Term Equity from Mar. (20th) 2006 to Jun. (6th) 2013. A fund which has performed remarkably well in a choppy market.
One with no NAV entries. You can enter NAV history of any mutual fund to
1. compare daily, monthly and quarterly SIP returns
2. calculate returns of your ongoing SIPs
NAV history from fund inception will have to be obtained from the AMC's website. NAV history from Jan. 2000 for all mutual funds in excel format can be obtained here: Personalfn Nav History
The blank sheet can be modified by someone interested in different ways:
you could generate a SIP account by using some clever Excel features
you could integrate this with the Excel MF tracker to integrate past and future SIP records
NAV history allows you to do a whole lot of analysis on MF risk and return (coming soon!)
Results: Here are few snapshots from the calculator. Please draw your own conclusions. Use the calculator for further analysis. As far as I am concerned: I receive my salary each month and therefore invest each month, period.
Download Monthly vs. Daily vs. Quarterly SIP Calculators (Franklin India Blue Chip)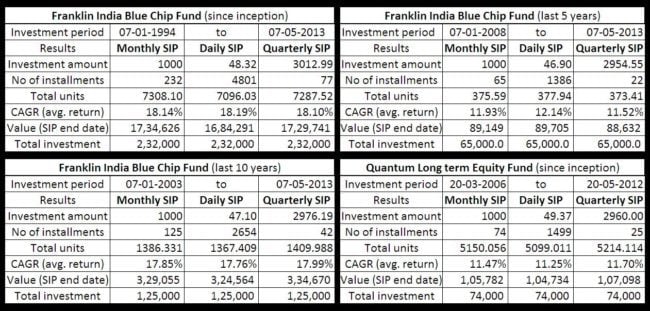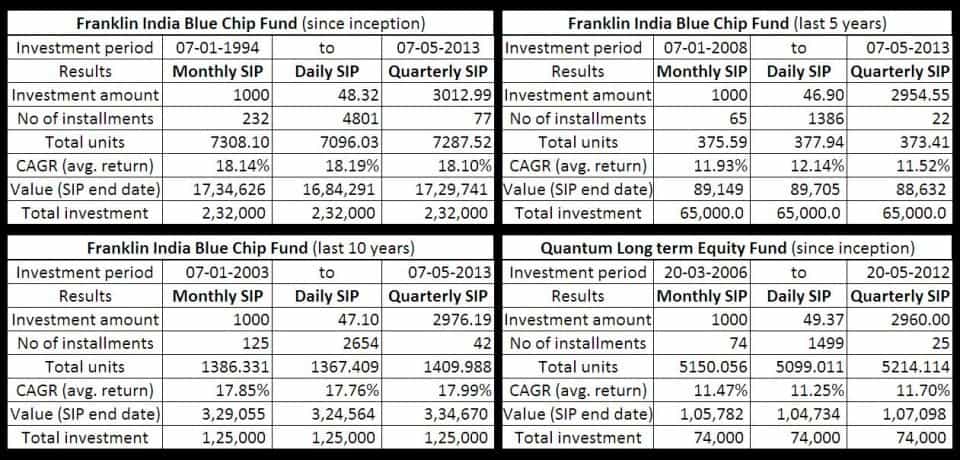 Download Monthly vs. Daily vs. Quarterly SIP Calculators (Quantum Long Term Equity)
Download Monthly vs. Daily vs. Quarterly SIP Calculators (enter NAV history of any mutual fund)
Credits: Prasnath wanted to know if I had compared daily vs. monthly SIP returns. Though I am not interested in the answer the only reason I made this calculator is because of the challenge involved in ensuring the transaction dates for monthly and quarterly SIPs are taken into account correctly. Thanks to Prasanth's question I had a good time figuring out how to do this in Excel.
Source:
Franklin India Blue Chip NAV history
Quantum Long Term Equity NAV History
Related articles