In this post, my GameChanger co-author, Pranav Surya offers a sneak peak into the book.  The hard copy is now available for pre-order for just Rs. 180 (offer closes Sunday 21st midnight)  before it retails at Amazon Rs. 249 from Monday. We also have two exciting add-ons at a small additional cost. This will be announced tomorrow. Get your copy now!
A few years ago, I was dumping one Pani puri after another into my already crumpled little mouth. This was the first time my father had taken the family on a trip that wasn't organised by a tour operator. And this was the first time we were in Darjeeling. Stomach filled, I ran around like a bumble bee filled with joy.
The next morning, we woke up at 3 in the morning to go watch the sunrise by climbing the hill barefoot. Come 5am, some of the most beautiful women were carrying baskets of flowers & fruits, passed us on the way down – they were getting their supplies for the day's business. The scene was everything you'd associate with travel: ghastly winds, snow white air, clean breeze, green fields capped by brown and white peaks, chai shops brewing ginger and masala varieties, every sensory, olfactory parts perked up by the surroundings. As the sun blew its horns on its way up, I flashed through the memories of the trip. The entire week had been fantastic and I wanted to do this over and over.
As we came home, I asked my father, "When will we travel again?"
"Ohh, I'm glad you liked the trip but we won't be able to afford one like that for the next 3 years."
After berating myself for the way the world worked, I asked several people on how to do cheaper vacations. No one seemed to know much and travel blogs that existed then were posting about travel stories and never about the finance part of it. As luck would have it, I met several interesting people through work and I had the first inkling of cheap travel when I asked them plenty questions. Their experiences coupled with their expertise in the travel industry enlightened me with great knowledge.
What does this have to do with you?
I'm sharing this story because unlike berating and frustrated Pranav, you could from now, take foreign vacations like a BOSS and manage money effortlessly.
And, today is the day you turn a page in your life
As you know Pattu has announced that the book Gamechanger is coming out soon. But here's a sneak peek into the travel portion that exists in the book.
Mistake fares: They occur rarely and the fares are 70-80% discounted because someone made a fat-finger mistake, the XML connectivity malfunctioned or the airline released a 2-hour promo to fill-up base revenue.
Exhibit #1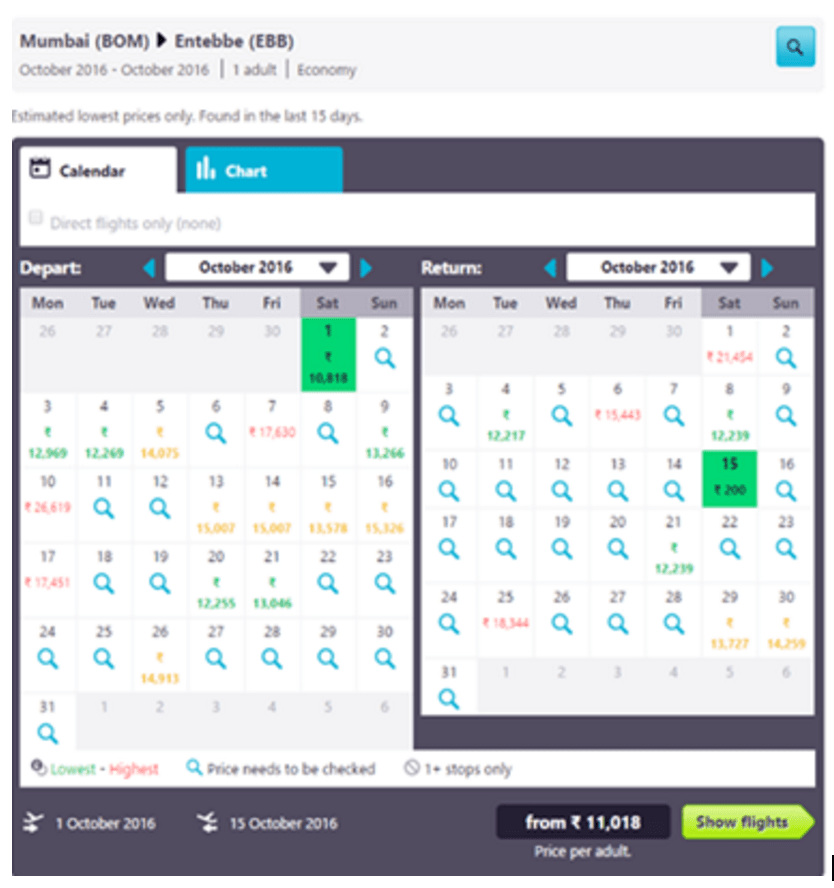 Traditional round trips usually cost just over 21k for the route between Mumbai to Entebbe. When you see that the return leg has a mistake fare as 200, make travel plans immediately. These fares usually occur 6-9 months in the future and that leaves ample time to cover visa processes, work handovers etc.
Exhibit #2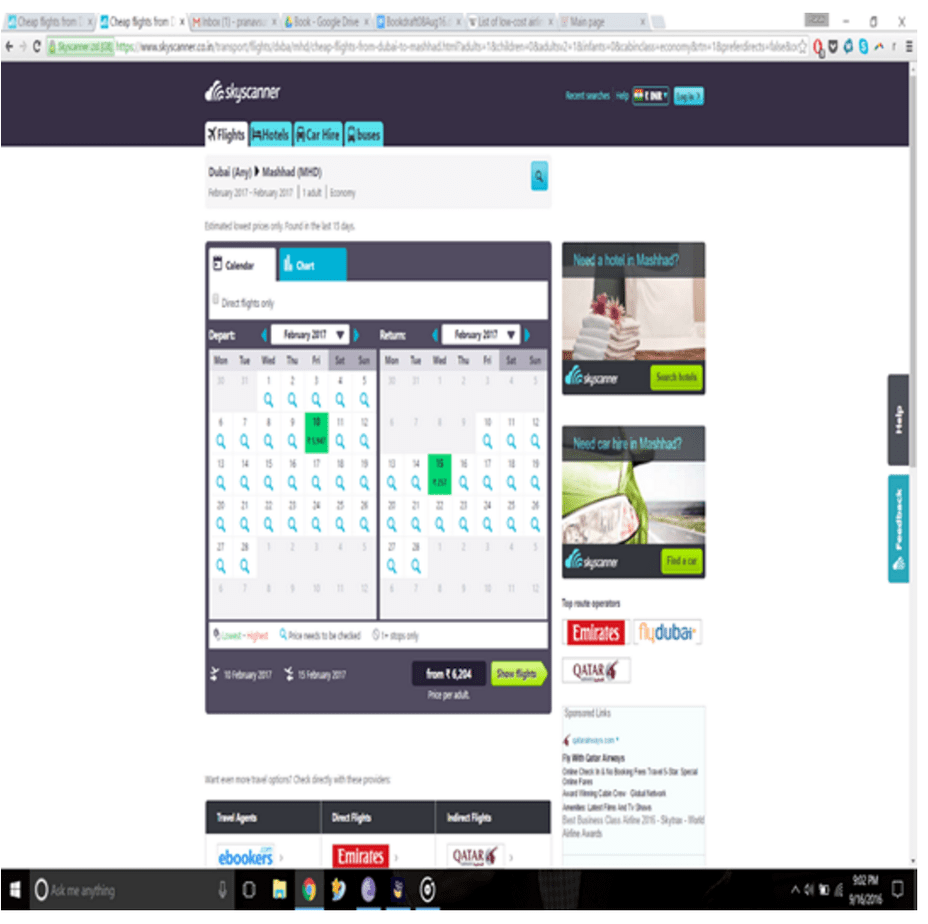 To show you a live example, I have taken the unedited version of the screenshot here. I was based in Dubai then, hence Dubai was my home airport. With the below exhibit, this mistake fare occurred 5 months in advance to the travel date.
Exhibit #3: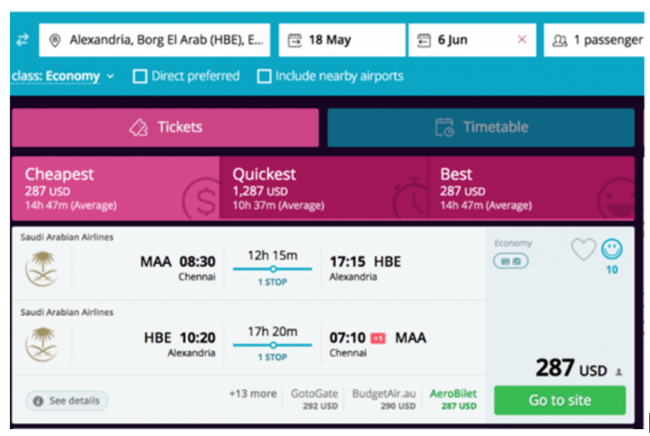 This is a recent example from my hometown. Traditional prices are 650 USD north. I notice mistake fares from Chennai more frequently as I travel from there.
Pro tip: There's usually a 24-hour free cancellation in case you decide not to make the trip. They occur maybe once in a month or even lesser. Airlines correct the prices once an employee finds the mistake and change it immediately. Hence, they don't last more than a day or in most cases a few hours. Being swift in booking the tickets will help you secure these prices.
For exhibit 1 and 2, I used Skyscanner as my search tool. But for exhibit 3, I used Momondo. The book walks you through, how to find such fares, how often they occur and most important: how you can fund these annual foreign vacations with less than 15 minutes of work/ year.
I have noticed people taking a week-long family vacation in Europe for several lakhs. This is a convoluted way of travelling because we expend abnormal amounts by believing a travel agent is the best option. My personal best for a euro-trip has been a two-week vacation through Spain for under 60k and the breakdown was thus:
Flights 17.9k

Food 15 euros per day (had most of my meals @ the euro shop – any sandwich, beer, coke is for a euro)

Transport & beer (15 euros on average per day)

Accommodation (couchsurfed for free)

Visa & insurances (5k + 6k)
Now, if you have families and other restrictions, you cannot backpack (couchsurf) freely and must spend something on accommodations. But, cheaper options exist in the form of hostels (hostelworld, hostelbookers, YHA etc.) home stays (Airbnb, homestay, Tripadvisor rentals) wherein you live in an extra bedroom of a family.
When I began exploring, I took inspiration from the example of how constrained the budget of the movie Dallas Buyers Club was, when they had just $250 for make-up but still won the Oscar for best makeup effects. Similarly, when you set down your budget and then work your way backward, you'll always find the means. The best part about the trip I had was that the flight was a promotional fare – which means they occur more often as compared to a mistake fare.
Why is travel expensive? Mistakes we do
Approach travel with the dates first:

Our decision to travel is often catalogued by the number of national holidays attached to the weekend or the exam holidays of our siblings or children. When a large number of people think the same way, prices reflect the seasonal demand.
What to do instead: The dates to travel will be the last thing you decide after spotting a sale or discount prices. They often occur 6-9 months in the future and you needn't worry about a quick turnaround (more on how to find these prices later).
Choose a destination and then look for flights:

While we dream of a summer vacation in Mauritius, more often the origins of wanderlust occur via Instagram, magazines or in-person recommendations. When making travel plans at a whim, the flight expenses reflect average prices and not discounted prices.
What to do instead: Have a list of destinations in your dream list. As you search for prices, choose the destination that offers discounted flights during a period of your convenience (don't worry discounts occur more often – once in 2 weeks at-least). Instead of approaching travel with one destination in mind, having options will give you leverage to reduce the biggest expense: flights.
Make plans when we are almost near burnout:

Much like the advice to not go to the supermarket when we're hungry, making travel plans when we're near exhaustion, makes high expenditure acceptable to us. This means most of our savings are wiped out and the next trip will take at-least another 2 years where we may get into the same cycle again.
What to do instead: If you have 40k in savings, finish this trip for 30-33k and start accumulating for next trip (more on how to set this up, shortly).
I'll be telling you more tomorrow but if you like the sneak preview and want the book already,
Get the first hard copy here (since you're special you get it at a discounted price of 180 before offer closes Sunday midnight; book retails at 249 on Amazon come Monday)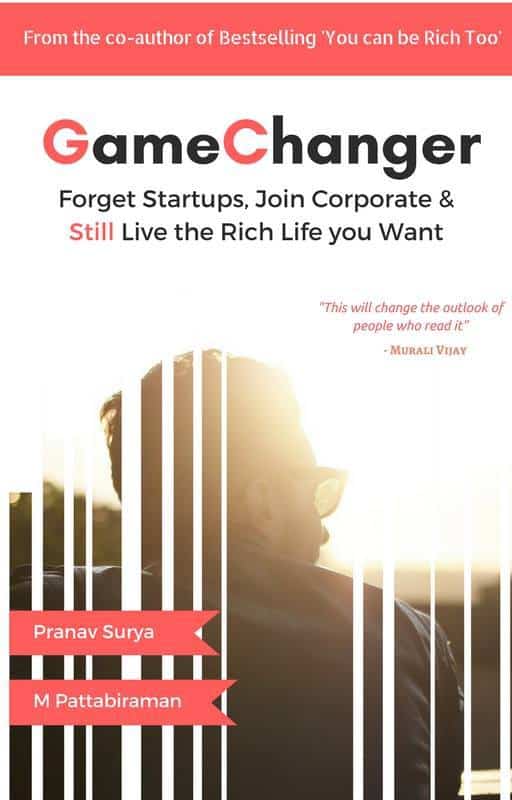 Testimonials
This book will change the outlook of those who read it. – Murali Vijay, Indian Cricketer 
This book changed the way I looked at vacation planning and has provided me with a new perspective when planning for a vacation. Previously, I used to decide a location and then plan a trip, this book gave a new perspective to bucket-list different places and then select the optimum place at a given point of time. The book has provided various accommodation options that I was not aware of. From personal finance planning, I only wish that I had access to this book at the start of my career. Beta Reader, Muthukrishan
GameChanger Buying Options
GameChange Buying Links
Click here to buy GameChanger hardcopy for Rs. 180Opens in a new window
Click here to buy GameChanger Plus Travel Training Kit together for Rs. 265Opens in a new window
Those who have purchased the book for Rs. 180 will be sent a link to buy the travel training kit for Rs. 85 (offer valid up to Mat 21st midnight).
Note: The Travel Training Kit (without video call) will be available for Rs. 150 from May 22nd.