He never said it!  Said what?
"Compound interest is the eighth wonder of the world. He who understands it, earns it … he who doesn't … pays it."
"The most powerful force in the universe is compound interest"
"Compounding is mankind's greatest invention because it allows for the reliable, systematic accumulation of wealth."
Einstein's discoveries influence every  (believe me, every) conceivable aspect of human existence. He however never said anything about compounding. There is no record of it. These are yarns spun by financial gurus to catch peoples attention. To lend credibility to their claims. Over time these claims have compounded to different forms! Do you need a genius to sell commonsense? Unfortunately yes!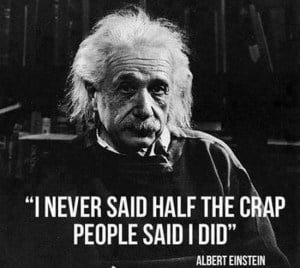 Compound interest is not even high school math. It is lower-middle school math. Easy enough to remember and misunderstand. In its simplest avatar it reads:
Future value of a sum = (Present value of a sum) X(1+return)(No of years invested)

The (no of years invested) has been 'raised to the power'. (The power of compounding!)
Consider this:
(1)2 = 1X1 =1
(1)5 = 1X1X1X1X1 =1
(1)100 = 1X1X …. =1
(1.01)100 = 1.01X1.01 … =2.7!
Or Rs. 1 invested for 100 years earning a return of 1% each year grows to Rs. 2.7. Of course you need to increase the sum invested and rate of return so that the number of years invested can come down but the idea remains the same. To maximize the 'power' of compounding, the number of years has to be as large as possible so one has to start early.
Getting back to Einstein,his behaviour in the latter part of his career resembles that of many retail investors. Having made extraordinary strides in understanding the nature of our universe (relativity, quantum mechanics  to name just two), Einstein focused his attention on developing a 'grand' theory. A single framework which will explain all physical phenomena. He never succeeded. A grand or optimal theory is possible only if we have discovered everything that can be discovered which is of course never!
Many retail investors share Einstein's obsession of finding the optimized solution and spend an inordinate amount of time doing so. This could be the 'best' life insurance or health insurance or mutual fund. They are never sure of their choices. Always asking for opinions from everyone ending up more confused than ever before.  If someone spends six months searching for a term insurance plan, in the eyes of most insurers he/she has aged by one year! This of course means more premium. Every day lost in searching for the best mutual fund chips a little away from the advantage of beginning early (assuming one does so in the first place). At least this is the wrong strategy with the right product. Those who search for the 'best' child plan or pension plan get both wrong!
Optimal solutions are rarely possible. All one can do is look at ones personal situation, consider the points to remember while choosing a product and just go for it. A reasonable choice is all that one can come up with most of the time. The crucial thing to remember is education doesn't stop with making the choice. You continue learning, make course corrections as and when necessary. This is how science progresses. This is how a retail investor can and should achieve financial goals.
Note:
Einstein's approach may have been wrong but he could afford to be wrong and waste time. He was tenured for life. Meaning he earned (a pretty decent amt) all his life without having to worry about the underlying assumptions of a retirement calculator 🙂
While we are it, might as well add that an apple never fell on Newtons head!