Here is a simple illustration that will help you understand how growth and dividend-reinvestment  mutual funds work. You can use it to decide which is better for you, taking into account the investment duration and your tax-slab.
This is a re-publish taking into account changes made after budget 2014.
When a mutual fund offers regular (typically)  dividends  on daily/weekly/monthly/quarterly basis, the NAV falls to a  base value (Rs. 10/11/12 per unit) or close to it after each dividend.
Only debt or arbitrage mutual funds can afford to do this regularly. Therefore, what follows does not apply to diversified equity funds. Please tag such funds to a financial goal and always use the growth-option.
When a debt fund pays a dividend, the fund house will deduct a tax known as dividend distribution tax (DDT)
The current DDT rate = 28.325% (25% + 10% surcharge +3% education cess).
UPDATE: DDT after Budget 2015 = 28.840%
Post-DDT, the investor need not pay any more tax.
If a mutual offers periodic dividends and IF the NAV (post-dividend) falls to a constant base value, there is no capital gain associated with the original investment and  dividends that are reinvested (by the fund house on the same day dividend is declared).
That is, the capital gain in a dividend reinvestment option of a mutual fund offering periodic dividends is small if not zero.
Therefore, in such a scheme, the only tax involved is the DDT.
UPDATE: After budget 2014, the duration for short-term capital gains is 36 months for non-equity funds.  
Non-equity funds
Short-term Capital Gains (STCG): Had the investment been in a growth scheme and if the amount was redeemed within 3 years, the capital gain would be added to income and taxed as per slab.
For someone in the highest tax bracket, 30.9% tax is more than  28.840% DDT … technically speaking.
So if someone wants to hold a sum for less than 3 years, dividend reinvestment is a better option. Of course, one will have to check if there is any capital gain is incurred upon redemption.
Similarly, if such a person wants to do an STP to an equity over a few months (unnecessary), the dividend reinvestment option is simpler as it minimises (if not avoid) capital gains.
For more than 36 months holding period, capital gains now are are classified are 'long-term' and are taxed at a flat rate of 20.6% taking (cost inflation) indexation into account. This  is lower tax outgo than the 28.840% DDT. Hence for holding periods  more than 3 years, growth option is better irrespective of the tax-slab.
How indexation works:
Indexation means, I ask,
In the financial year of purchase the cost inflation index (CII) was 200 (say). Today, that is in the financial year of redemption the CII is 300 (say).  What is my purchase worth today?
This is given by (purchase price x 300)/200 = Indexed Purchase price
(same logic as elementary math: If five people eat 7 samosas, how many samosas will 13 people eat?!)
Here are some illustrations for different tax slabs:
The NAV is assumed to grow at a smooth rate.  The dividends are regular (monthly) and the NAV falls to Rs. 10 per unit after each dividend. The cost inflation index is assumed to grow at 8% each year.
The post-tax value for a lump sum investment of Rs. 10,000 is plotted wrt duration in months.
10% tax slab: Growth option is always better (fixed deposits even better!!)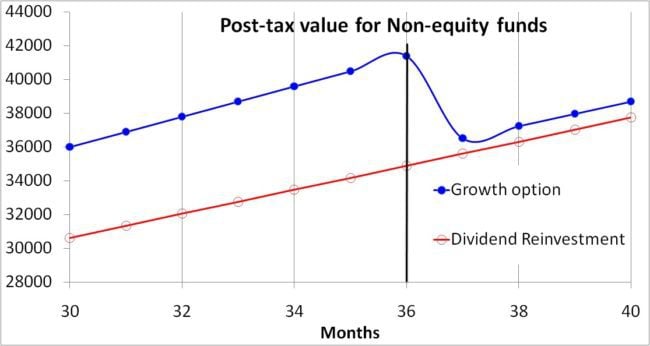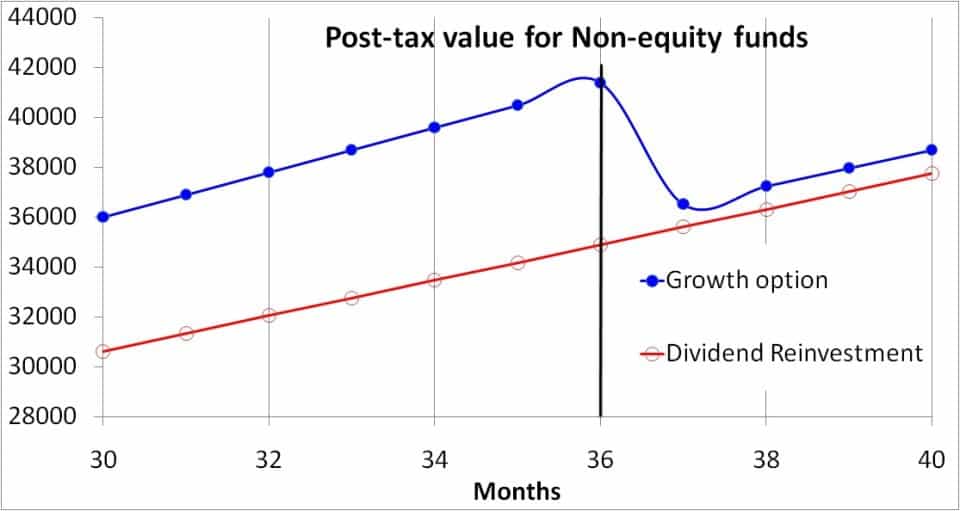 20% tax slab: Growth is always better (fixed deposits perhaps better for short durations!)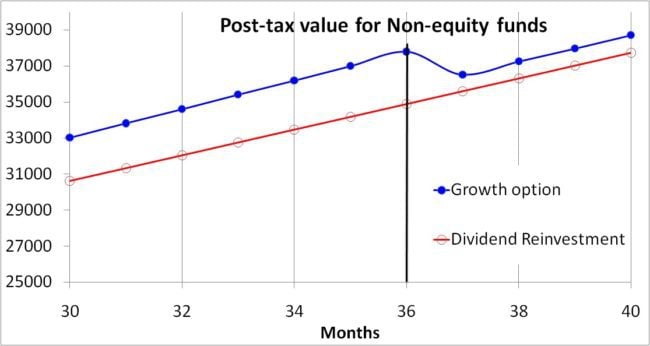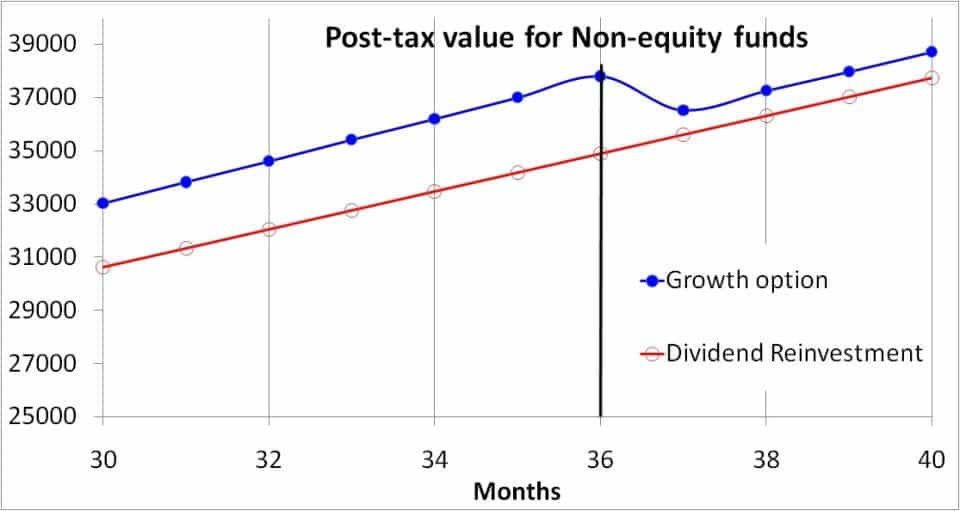 30% tax slab: Dividend reinvestment is marginally better if held for 36 months or less.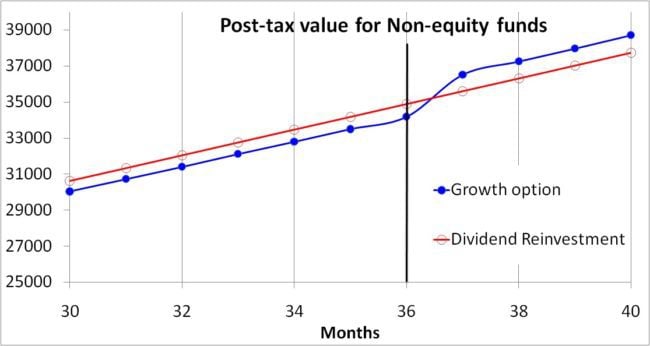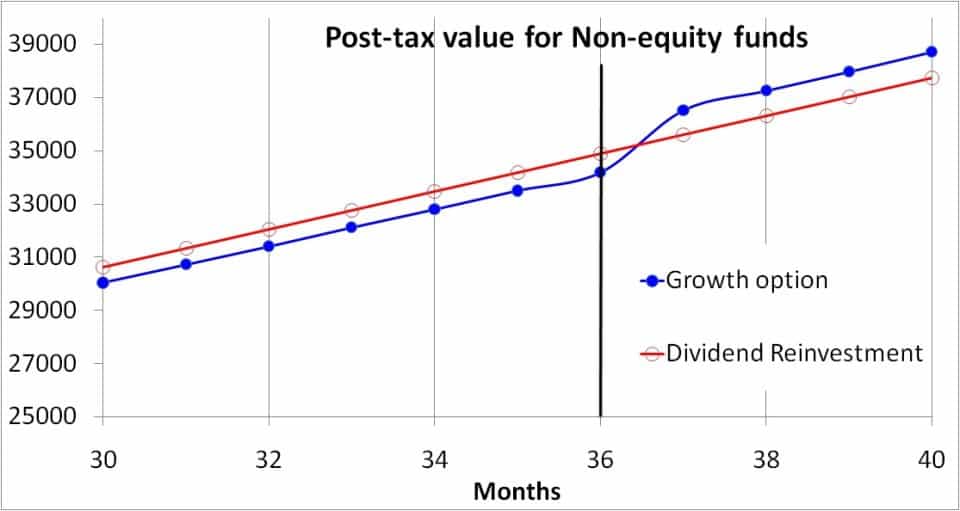 Equity-oriented funds (arbitrage funds)
In this case, the STCG Holding period  is less than 1 year (12 months  or less)
Only arbitrage funds in this category can offer reasonably regular dividends. However, the NAV need not fall to a constant base level. There could be, and usually is some growth. So there will be some capital gain.
Have a look at the NAV movement of HDFC Arbitrage fund. Source: Personalfn NAV history
http://www.personalfn.com/tools-and-resources/mutual-funds/nav-history.aspx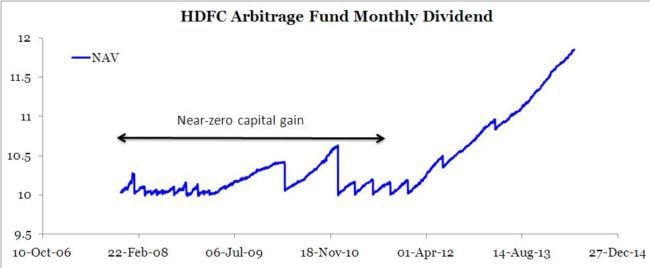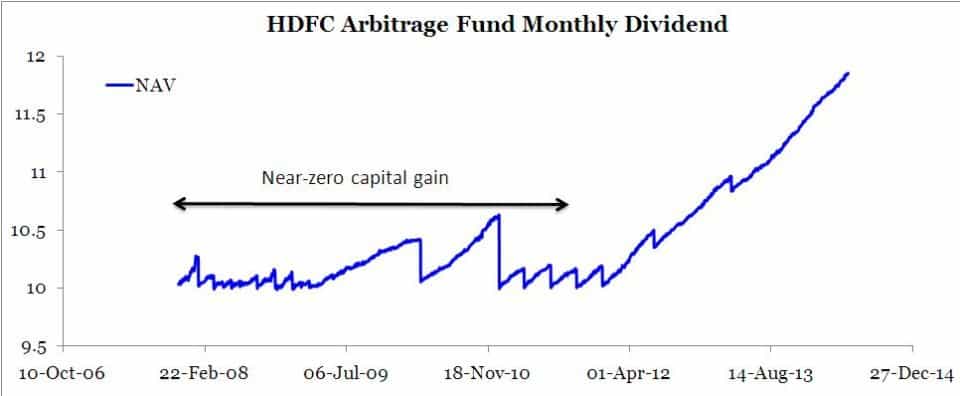 For a few years, the NAV fell to Rs. 10 per unit after each dividend (the sharp fall). However, the dividends were never periodic. Recently the NAV has grown with only a couple of small dividends corresponding to a significant capital gain.
For holding periods less than a year, the short-term capital gains tax is 15.450% (15% + 3% cess).
However, there is no DDT!
This means that dividend reinvestment is better, irrespective of tax slab. Some short-term capital gains tax needs to paid, but it should not be as much as the growth option … if there are a few dividends during the holding periods.
For holding periods more than a year, long term capital gains are tax free.  Since there is no DDT as well, there is no difference between growth and dividend reinvestment options (apart from rounding off errors), but Growth is better because it is simpler.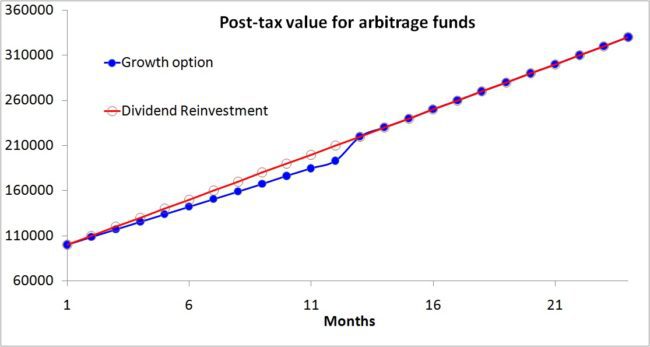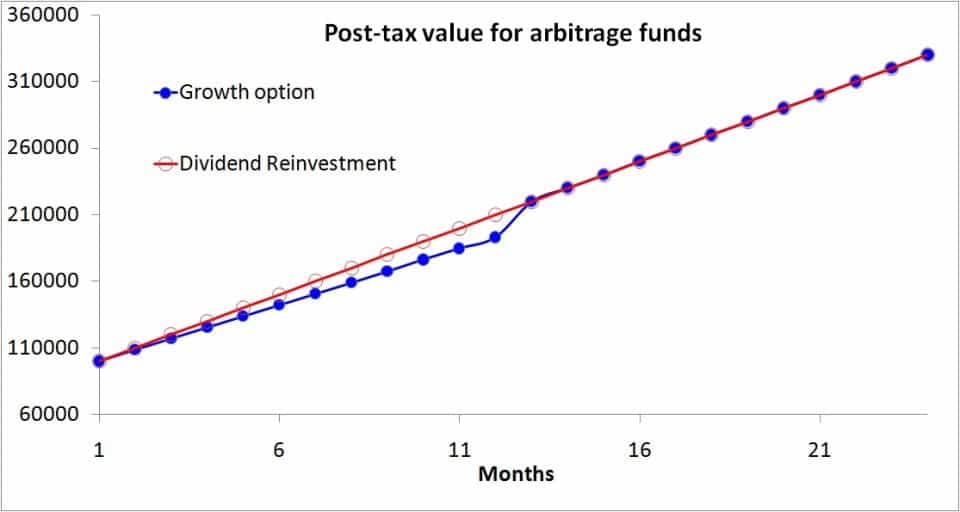 For holding periods less than a year, dividend reinvestment is typically better than growth option. However, the difference is more than the case of non-equity funds. Assuming dividends are declared with reasonable regularity, dividend reinvestment funds are better in this case.
Important:
If you are unsure of when you will redeem, choose the growth and be done with it.
If the sum you are going to invest is not too huge, choose the growth and be done with it.
If you are planning a SIP, choose the growth and be done with it.
If you still do not understand the difference, choose growth