Last Updated on March 11, 2019 at 12:32 pm
A new mutual fund investor has to verify ID and address proof. This is known as KYC or Know Your Customer. Here is how you can do online KYC using Paytm money. The facility of online KYC is crucial for direct mutual fund investors who are too busy to visit an AMC office or CAMs or Karvy for "in-person verification". Online KYC facility introduced by Paytm Money is a game changer in the direct mutual fund investing space. Here is step-by-step instructions. Please share this post with those who wish to start mutual fund investments.
Note: KYC process is onetime and valid across all mutual fund investment platforms and fund houses. So even if you do not wish to invest via Paytm money, you can get the online KYC done, park money in a liquid fund for emergency purposes and invest elsewhere. If you need help to get started, consult my handpicked list of mutual funds for beginners.
Motivation: I have no connection with Paytm Money. The only purpose of this post is to serve as a guide to those who wish to complete their mutual fund KYC process online easily. This post is inspired by two college kids belonging to low-income households. They heard me addresses World Bank staff at a hotel where they worked part-time and wanted to become financially free. When I tried to find easy solutions for them to get started on direct mutual funds, Paytm Money seemed the simplest solution.
How to do Online KYC in Paytm Money to start investing in mutual funds
Paytm Money is a SEBI registered Investment Adviser and a Digital Platform that allows you to do paperless investments in Direct Mutual Funds (at Zero Commission/Fees).
1. To begin with, download the Paytm Money app from the Google Play Store.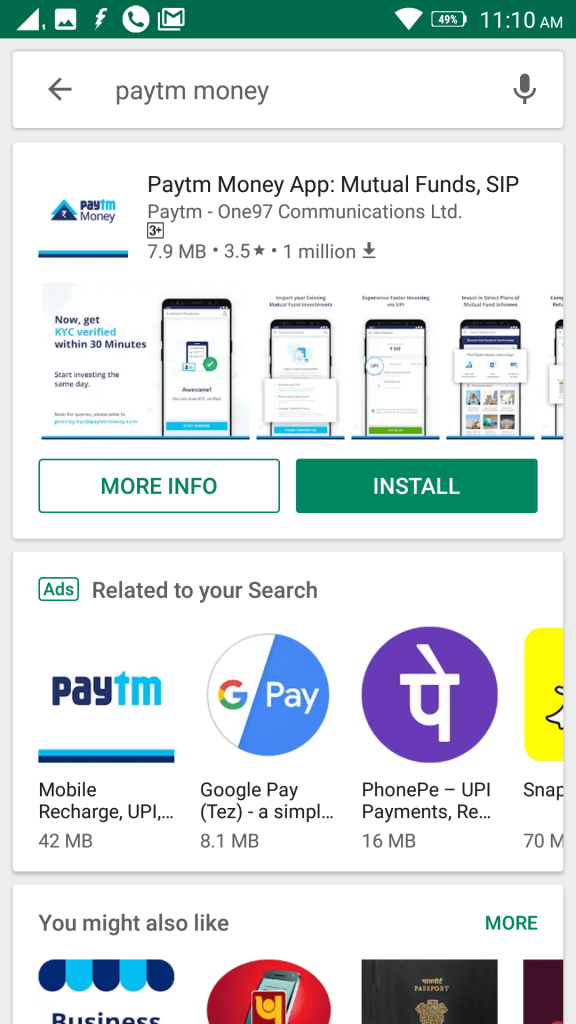 2. Login to the Paytm Money app with your registered mobile number or email address. In case, you do not have a Paytm account, you can sign up using the link on the first screen. Once you login, the first screen would ask you to input your PAN number to check the investment readiness stage.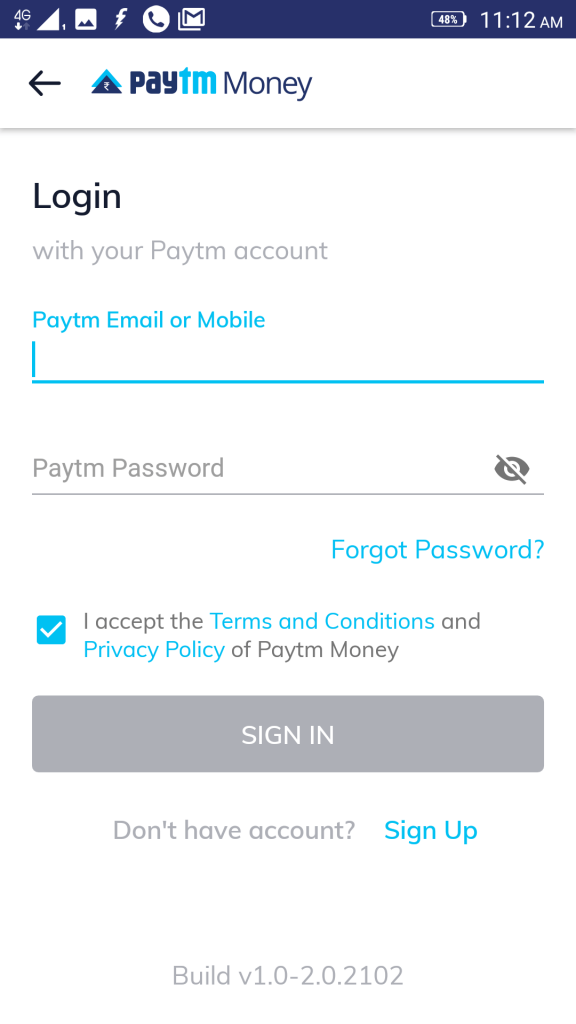 Paytm Money checks your investment readiness in 6 stages
PAN Card
Personal Details
Address Proof
Nominee & Declarations
Communication Details
Bank Account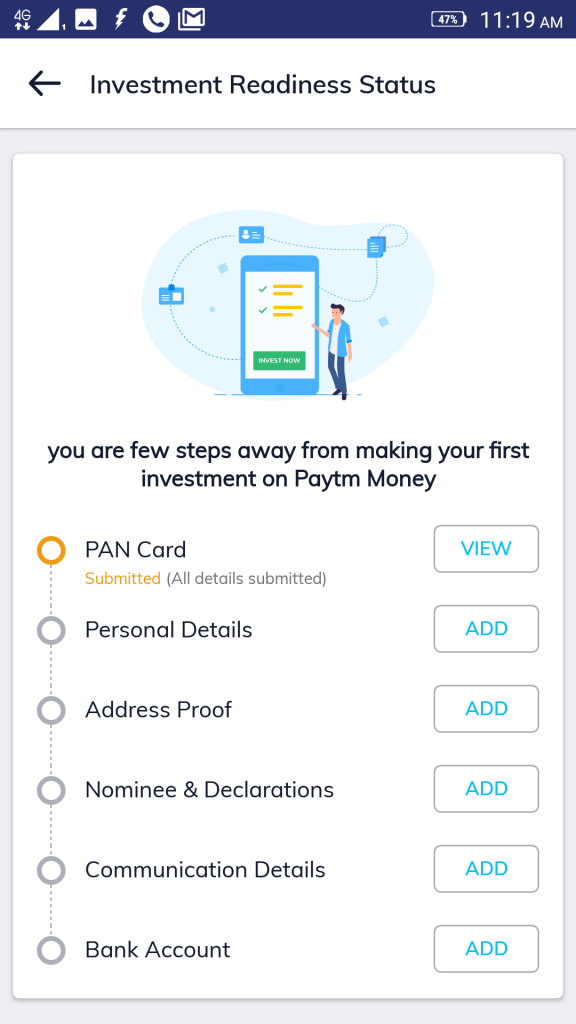 We take each of the above 6 stages in detail as under:
PAN Card:
Enter your Permanent Account Number.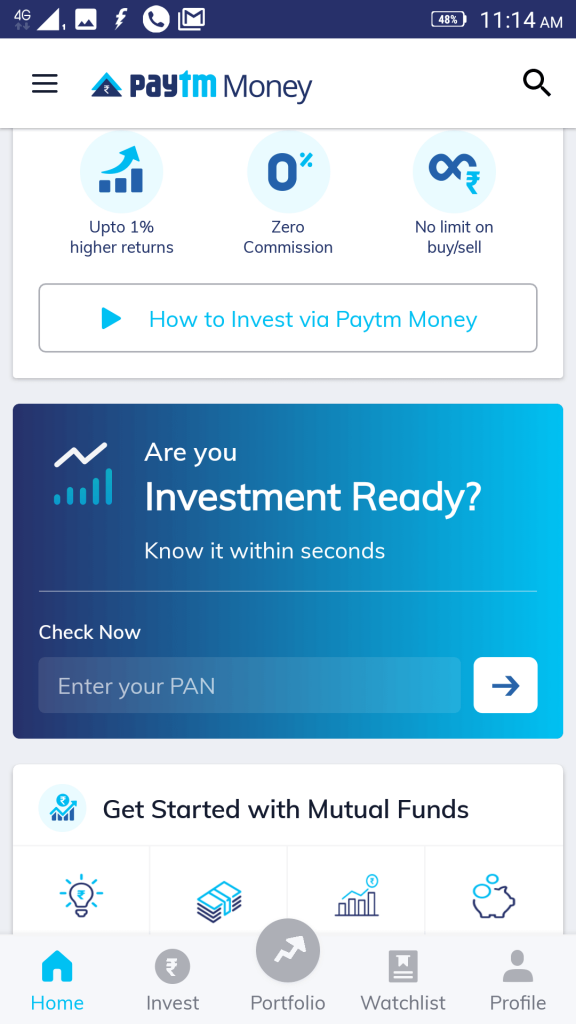 Your PAN will be checked for correctness once you click on submit. If you are not KYC verified with Paytm, you would be asked to upload a picture of your PAN Card and agree to the Terms of Paytm Money for conducting your KYC.
Pan image upload screenshots
Note: The PAN Card photo must be sharp/clear and the name on it must be easy to read. PAN Card should also have a signature to be a valid document.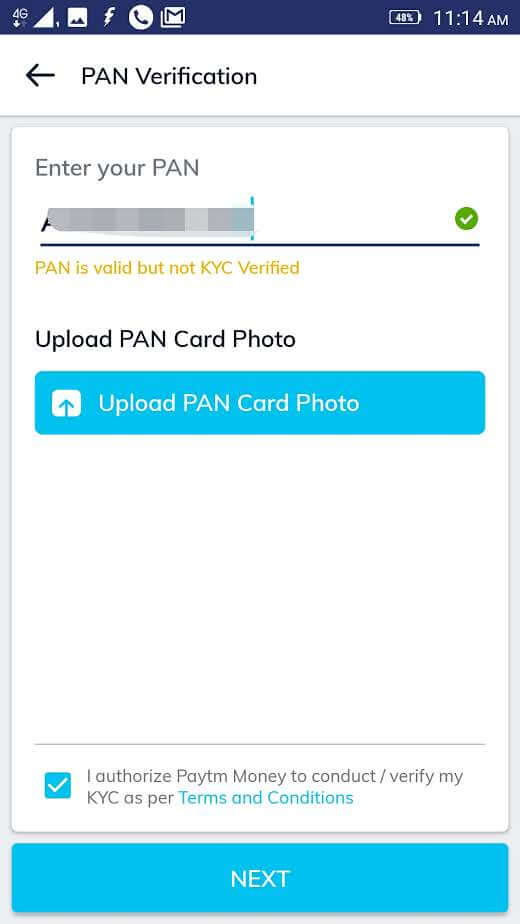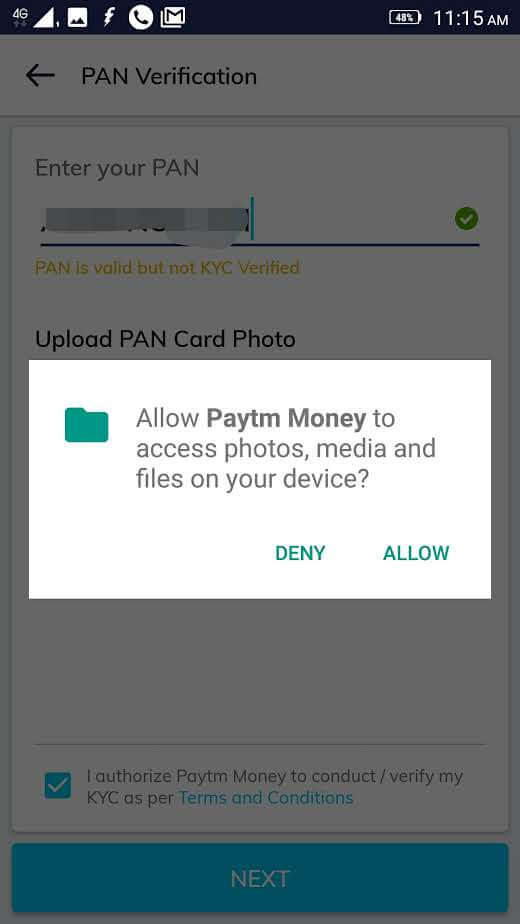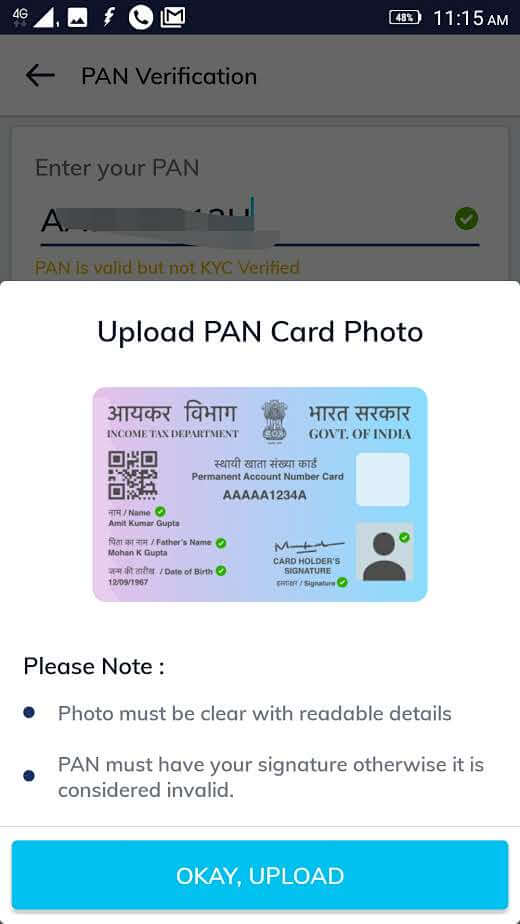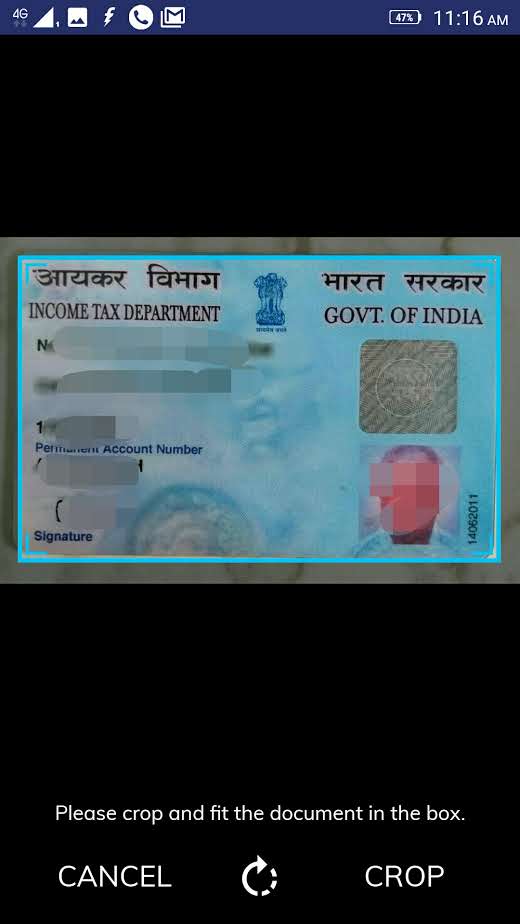 Personal Details:
This stage is covered in 4 sub-stages:-
1. Personal: Enter your Name, Date of Birth, Fathers Name exactly as written on the PAN Card. (If the details as mentioned in the images uploaded do not match with what you have filled in the form, the app would reject your application)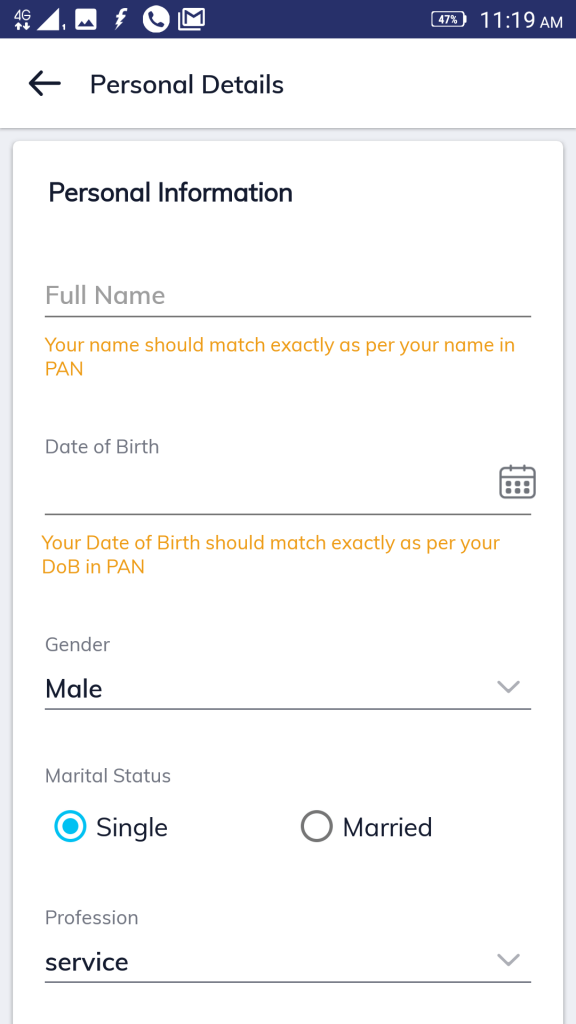 2. Signature: You can either sign on the screen or upload a photo of your signature. It is recommended to upload a photo of your signature as signing on the screen is a bit difficult. Sign on a blank white page & upload a clearly visible picture.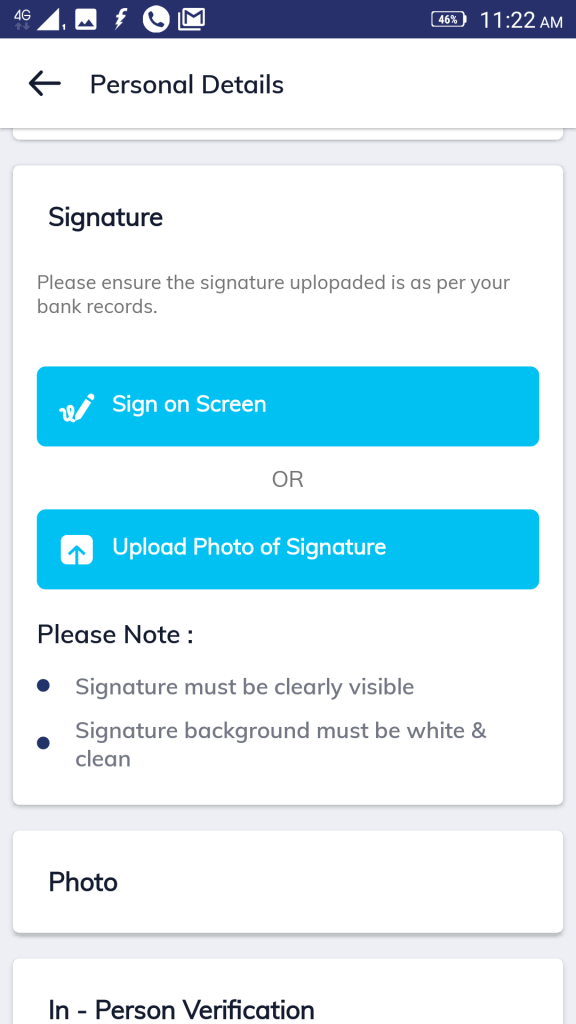 3. Photo: Upload a photo which is clear and taken in sufficient light. In order to avoid rejection, it is recommended to upload a photo which you might have taken for your Passport. If you are taking a photo using the phone camera, ensure that your face and torso are visible with a light background.
4. In Person Verification: As per KYC regulations, you need to record a 5 second video to prove that you are the one who is creating the account. It prevents others from creating the account on your behalf using your details. Please ensure that your face is clearly visible while recording the video. A sample video is available on the app. You need to speak & record the following: "My name is (as mentioned in your PAN Card) and this is my in person verification video for Paytm Money."
entering personal details for online KYC in Paytm Moneyonline signature or upload screenshot in Paytm Money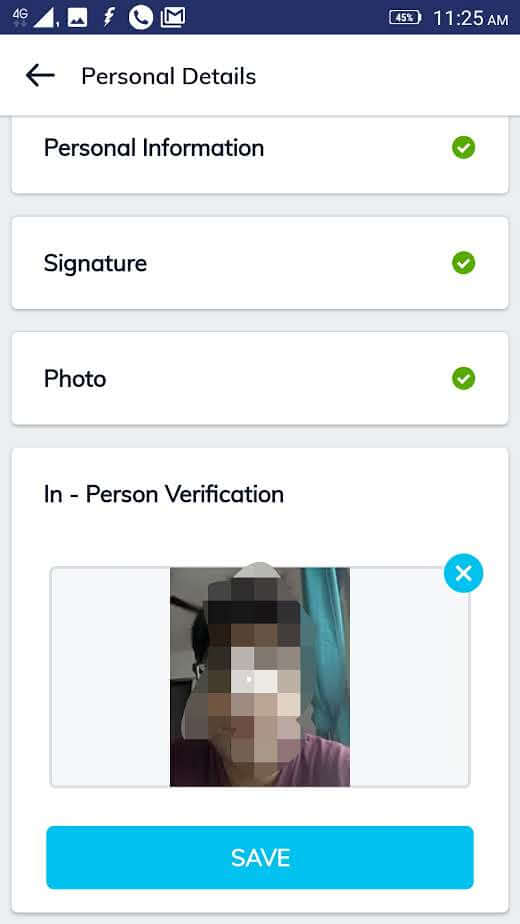 5. Address Proof: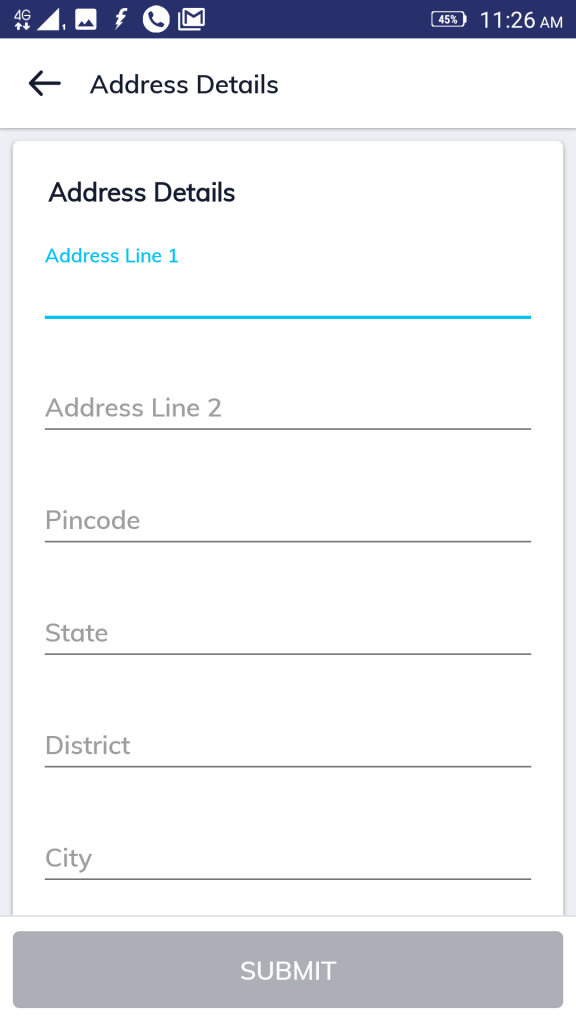 Enter your address exactly as mentioned in your address proof. If the details entered do not match exactly as on your address proof, the application would be rejected. Government approved documents such as Aadhar, Passport or Driving License are accepted as address proof. Upload a picture of the front and back side of your address proof.
6. Nominee & Declarations:
Entering details of Nominee is optional. However, it strongly recommended you to enter the name, date of birth and relationship of the nominee for smooth claim settlements in the future.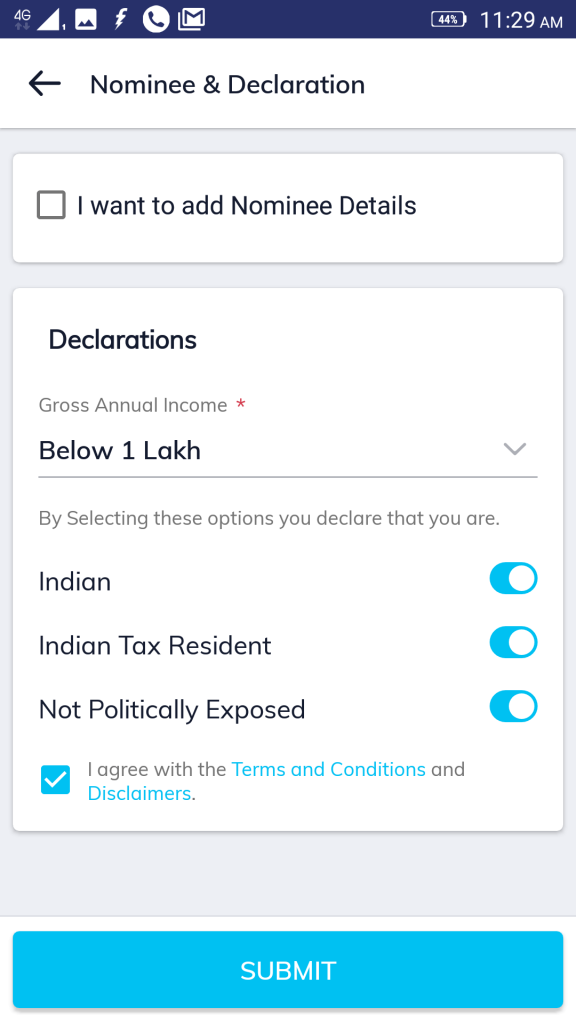 As a part of KYC process, you need to declare your: Income, Nationality, Tax Residency and Politically Exposed Person (PEP) status. Below are brief details to help you understand PEP and tax residency status:
PEP: Members of Parliament, State Assemblies, Judges, Governors and senior government officers would come within the Politically Exposed Persons (PEP) category along with their close relatives. If you are a PEP, you will be watched more closely to check for corruption or money laundering. The KYC may take longer & additional documents may be asked from you for the process.
Tax residency: According to the tax laws, an individual is considered to be a tax resident if he or she is present in India for:
182 days or more in a fiscal year, or
60 days or more in a fiscal year and 365 days or more during the preceding 4 fiscal years.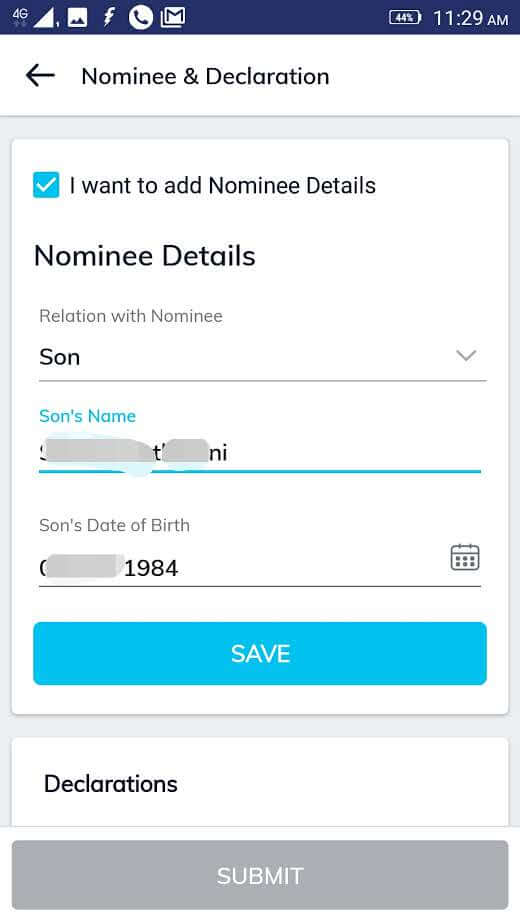 Communication Details:
Now you would be required to enter your email address to receive communications from Paytm Money. An OTP would be sent to your email address and it needs to be entered to verify the email address.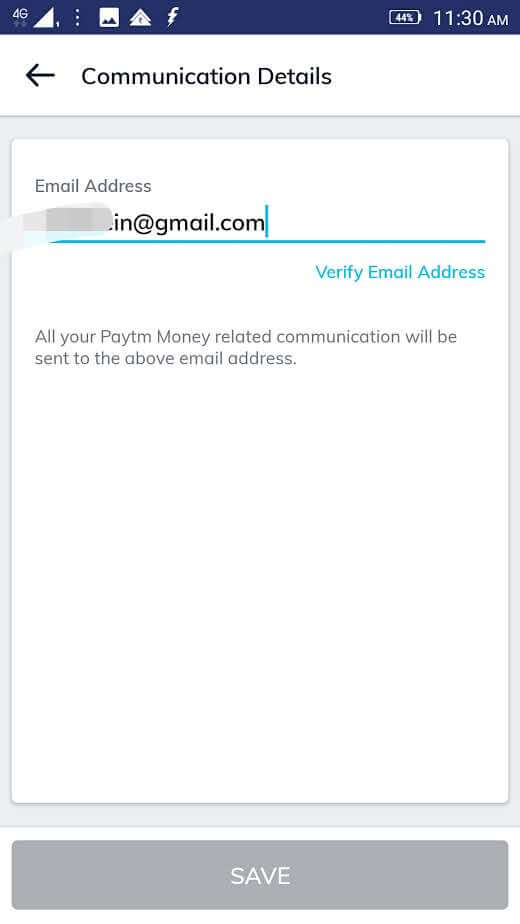 Bank Details: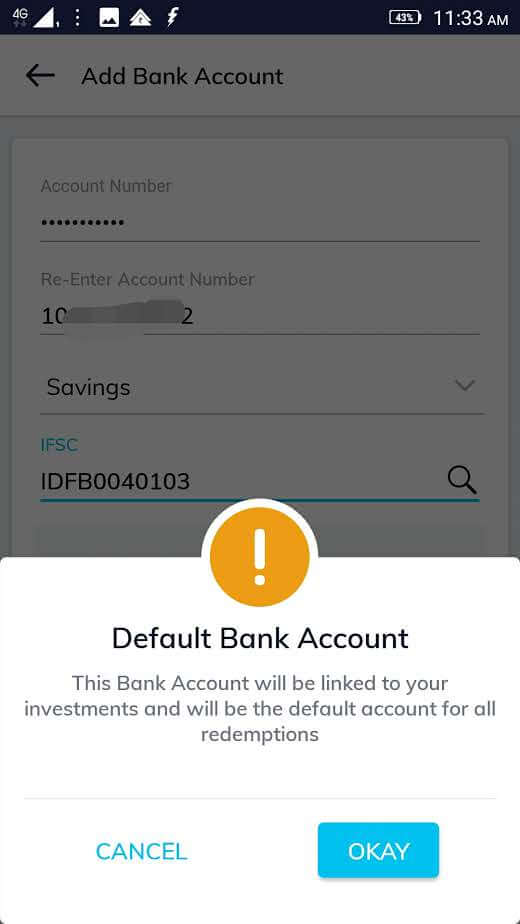 Enter your account number, IFS Code from which you would be making payments for your investments. The redemptions would also be credited to this account. Hence, choose the account wisely. The account that you use here, should have facility like Internet Banking/Debit card if you wish to make online payments. Typically, it should be your primary savings/salary account.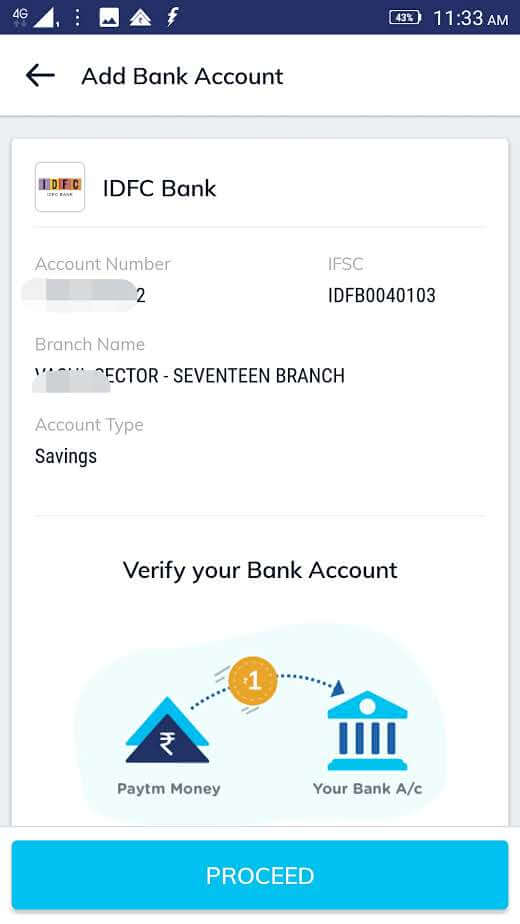 Paytm will instantly verify your bank account by crediting 1 rupee. The narration for this transaction in your account will show text such as IMPS Fund Trf/PAYTMMONEYLIMIT. If you have activated SMS alerts for the account, you would also receive the transaction alert.
After this, you would be asked to upload a cancelled cheque or the bank account statement. Ensure that your name and account number is clearly visible in the document you upload.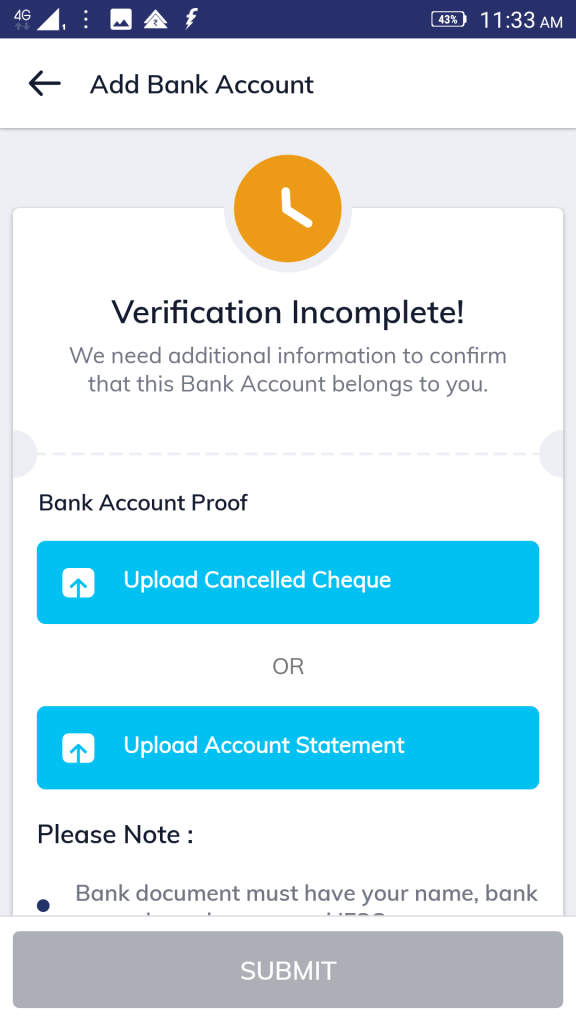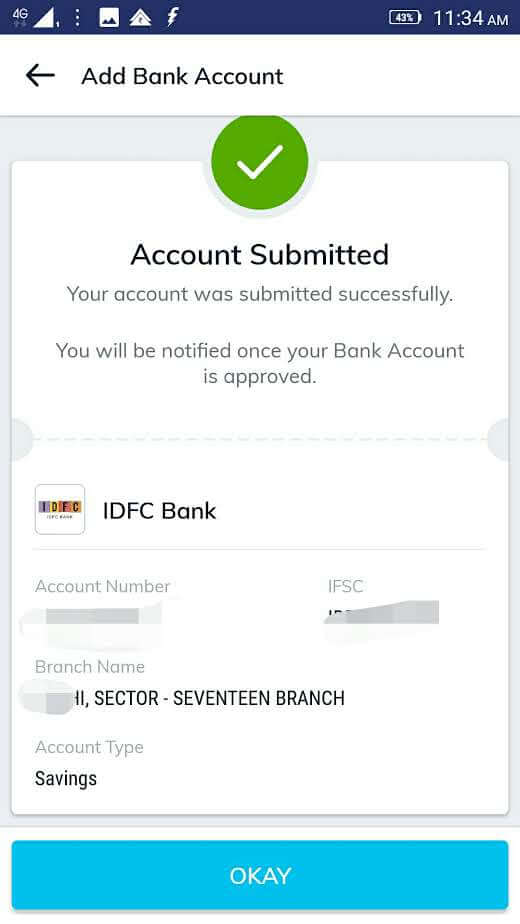 Hurray! You have completed all the steps for Paytm KYC.
Checking the status of KYC
You can view the stage wise status of your KYC from the Home Screen. If you find that
a certain stage is rejected, click on View to know the reasons. Here are some examples.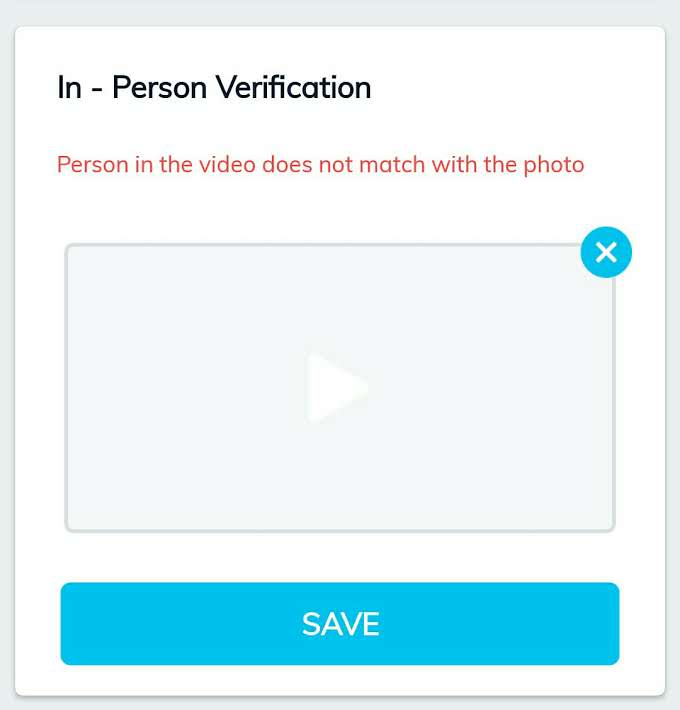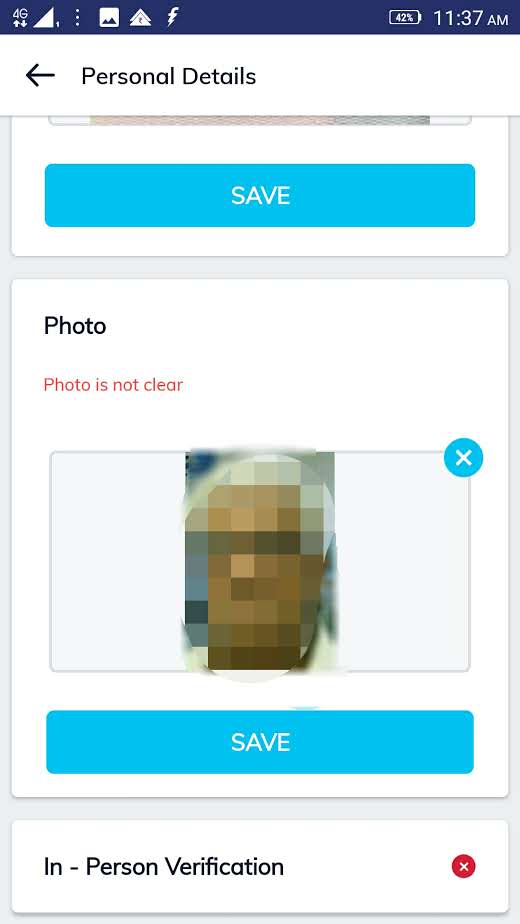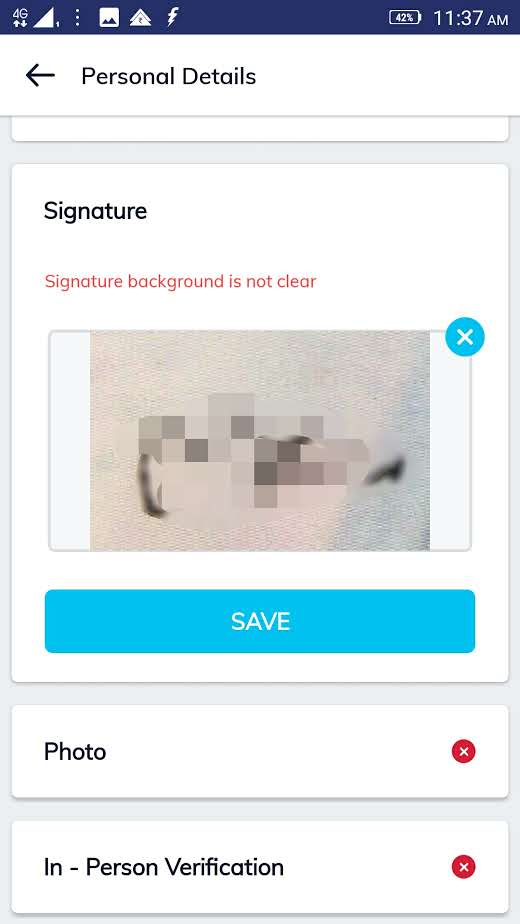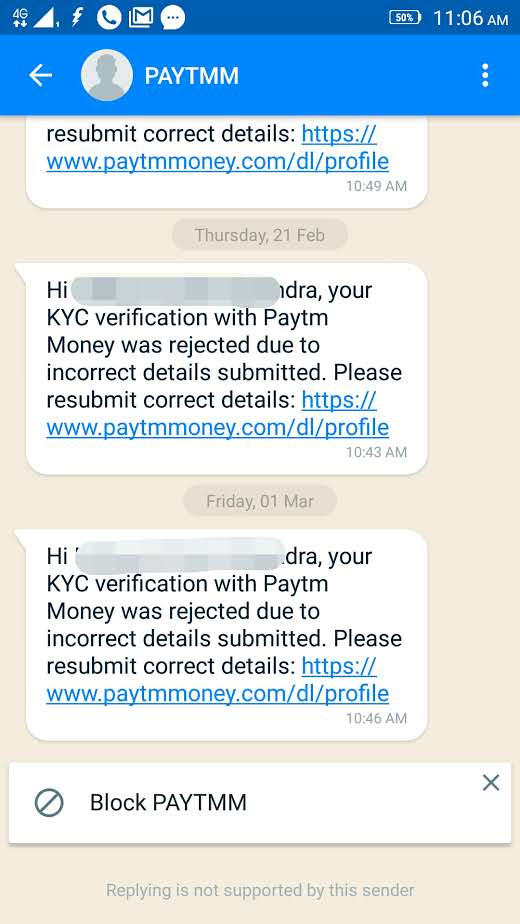 Click on the "Cross" mark to delete your existing details & re-enter/upload the revised details. Once all the details/stages are verified, check the status of your KYC by clicking on the Profile tab on the bottom right of the screen. On successful completion, "Investment Ready" would be shown against your name with a green color tick mark.
Congratulations! Your KYC is now complete and you can start investing on Paytm Money. #PaytmPaytmy for investing in mutual funds"
Video version: Online mutual fund KYC steps