The sooner you retire, lower the retirement corpus necessary for financial freedom!*
* terms and conditions apply!
Let us consider this counterintuitive aspect of retirement calculators in this post,  which stems from Sudhindra Aithal's comment on this topic in response to the low-stress retirement calculator.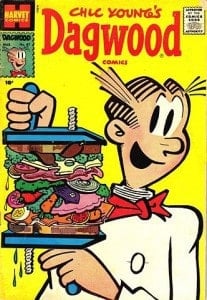 Let us consider a 30-year-old, Dagwood Bumstead who wishes to plan for retirement. For those who may not know, Dagwood is the husband of Blondie – a long running comic strip!
He wants to decide the age at which he could retire.  Since there are (too) many parameters in a retirement calculator, Dagwood wishes to keep the following inputs fixed:
Inflation before and after retirement: 8.5%
Life Expectancy: 90
Return expected on retirement corpus: 9% A real return of 0.46% (not 0.5%!!)
 If Dagwood wishes to retire at 65 (25 years in retirement), he would need a corpus of 14.8 Crores.
If he prepones his retirement to 60(30 years in retirement), he would only need 11.8 Crores.
If he wishes to retire even earlier at 50 (40 years in retirement), he would only 6.7 Crores. More than 50% reduction for 15 additional years in retirement!!!
At first sight this is astounding! The longer Dagwood needs to live in retirement, lower is the corpus he needs!
The reason for this is the interplay between negative and positive compounding.
Negative compounding refers to the effect of inflation and positive compounding refers to the grow rate of the retirement corpus.
The sooner Dagwood retires, lower would be the expenses at the start of retirement. If he retires at 50, his expenses would be about 30% lower than at 65 (the projected value).
Meaning, he would withdraw less from his corpus. Therefore, more of the corpus can grow.
Thus, he needs a lower corpus at 50 than he would at 65!
This bizarre but easy to understand idea, is illustrated below.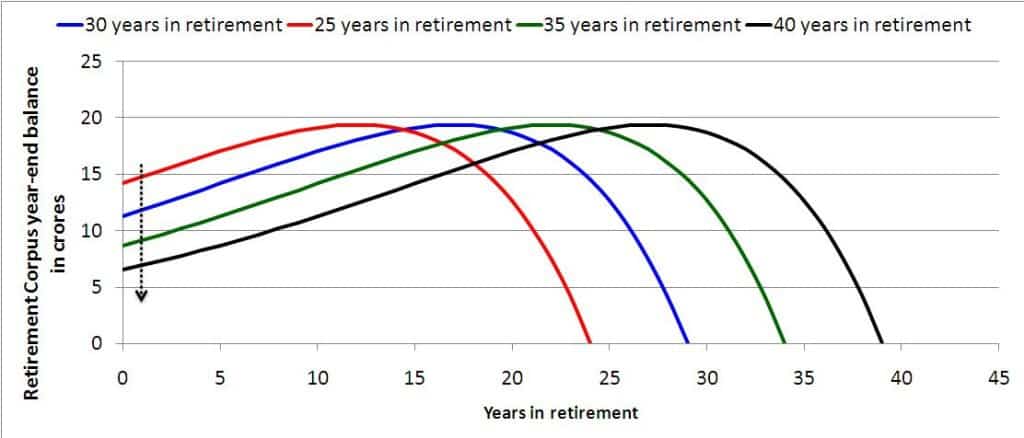 The retirement corpus initially increases because the growth is higher than withdrawals. Soon due to inflation, the withdrawals exceed the growth. Therefore, the corpus peaks and then rapidly falls with each additional year in retirement to zero (at age 90 in each case).
Earlier the retirement or more the years in retirement, the longer it takes for the corpus to peak and then fall. That is the annual growth of the corpus is higher than the annual withdrawals for more number of years. This is why one can do with a relatively lower corpus (vertical dotted arrow).
This aspect can also be illustrated by compared the retirement corpus required for different retirement age and the expenses in the first year of retirement.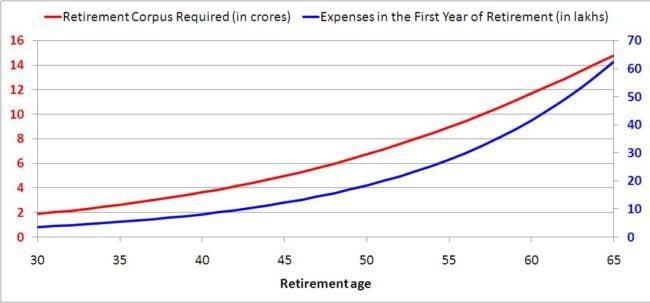 Higher the retirement age, higher the corpus because of higher the initial expenses.
Where is the catch?
This does not mean that one can retire early!! Although a lower corpus is required, the time needed to accumulate it is also lower.
That is, there is not enough time for Dagwoods monthly investment to grow! To offset this, Dagwood will need to increase his monthly investments.
Lower the corpus required, higher the monthly investment! In fact, the investment rapidly increases with decrease in retirement age and soon become impractical. This is calculated assuming Dagwood has not made any investment so far.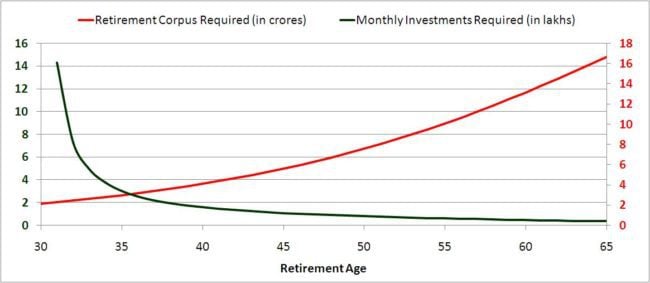 Thus, if Dagwood wishes to retire at 50 rather than 65, his monthly investments should more than double (while his corpus is less than half!).
Moral of the story:  No free lunch!
Chennai DIY Investor Workshop Jan 29th, 2017
The fifth Chennai DIY investor workshop will be held on Jan 29th, 2017. Ashal Jauhari and I shall be the speakers. Read more and register for the event.
Book News
Our new book, You Can Be Rich Too With Goal-Based Investing is now available with a (total)discount of ~ 30% (Rs. 280) at Infibeam if you use the discount code BS10.
What Readers Say about You Can be Rich Too
You Can be Rich Too With Goal-Based Investing is my new book with Subra(money.com) published by CNBC TV 18.
Highly recommended

For anyone who wishes to take control of his/her finance this book is a must read. Very simply put, even an amateur in finance will be able to understand and implement. The author genuinely attempts to inculcate the habit of investing among the people who have the ability to invest but refrain from doing it, either due to lack of time , interest or understanding!. The message from the book is " Investment done without setting a goal/ objective is like leaving for a trip without knowing the destination, not everytime the end result will be promising. Hence, it's important to invest in a planned & disciplined manner." A read is highly recommended
Check out the other reviews and buy now via
via Amazon.in (₹ 267) + free shipping if you have prime membership.
or Bookadda for Rs. 371/-. Or via Infibeam for just Rs. 280.
The book is also available on Kindle at Amazon.in (Rs. 244.30) or at Amazon.com ($3.36 or Rs. 244.30).
Also at,  Google Play Store (Rs. 244.30)
If you have read the book, please consider writing a review this weekend.