The automated stock analyzer now includes discounted cash flow valuation. The analyzer now has four methods:
1) Price Multiple Model
2) Sustainable Growth Rate
4) Discounted Cash Flow
First, I would like address a few issues faced by users while downloading stock price from MoneyControl.
Let me assure you that it works! It would take about a minute to finish as it retrieves data page by page.  If you get an error, it is probably because of the network settings of your workplace as pointed out by Abhijit Buchake. I get the same issue at my workplace but works fine at home.
For certain stocks, data will not be downloaded and the stockprice sheet will become blank. This is an issue with moneycontrol but can easily be fixed by inserting the correct stock code. If you get this error, let me know. I will fix it for you.
According to investopedia,
The Discounted cash flow (DCF) is a valuation method used to estimate the attractiveness of an investment opportunity. DCF analysis uses future free cash flow projections and discounts them (most often using the weighted average cost of capital or WACC) to arrive at a present value, which is then used to evaluate the potential for investment. If the value arrived at through DCF analysis is higher than the current cost of the investment, the opportunity may be a good one.
Unfortunately, the WACC is difficult to estimate using inputs from MorningStar. So this is left as a user-input.
Please read this tutorial on DCF by investopedia before using the sheet, if you are not familiar with the process.
I have calculated the so-called debt level from MorningStar data. Please check this calculation before using results.
I find that sometimes the results of the DCF is funny. If you feel the same, I would be obliged if you could check the calculation.
Unfortunately, I do not have a feel for valuation techniques. So cannot comment too much on this.
Screenshot: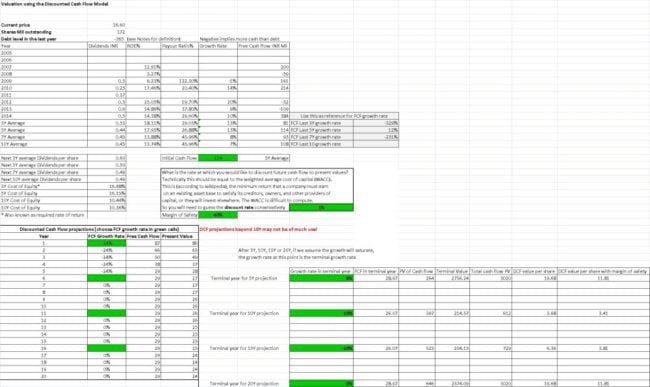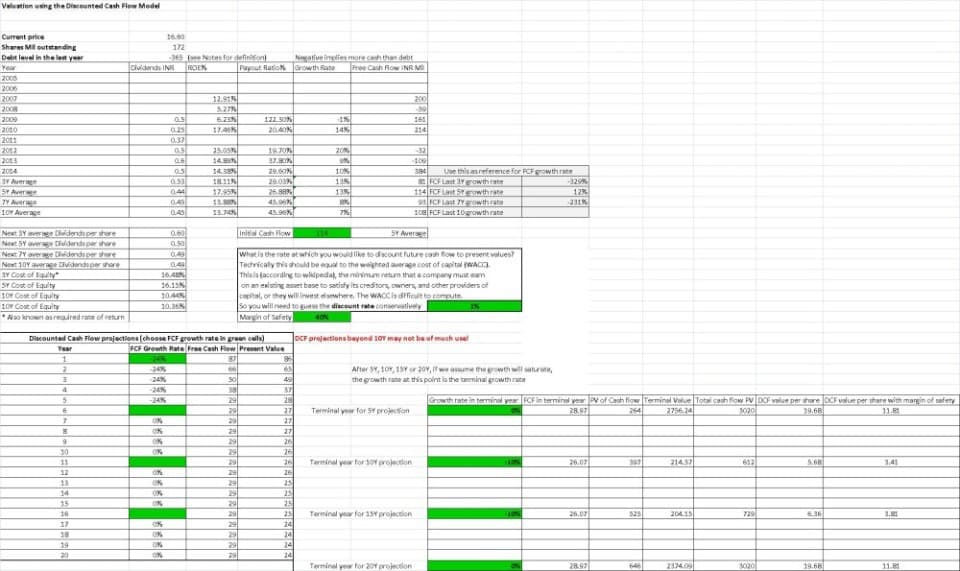 New version: Download the automated Excel stock analyzer version 5.0
Download the Automated Stock Analyzer with DCF analysis
Comments and suggestions are, as always, welcome.