An ultra short term mutual fund is a type of fixed income or debt mutual fund that invests in short-term bonds issued by banks, PSUs, corporate, cash and govt bonds. In this post, I discuss how and when to select ultra short term (UST) funds.
First, wish you all a happy new. Second, Amazon has dropped the hardcover price on You Can Be Rich Too With Goal-Based Investing from Rs. 375 to Rs. 266 (prime) and Rs. 306 (normal). This is most likely a weekend discount, so if you have put off getting a copy, now would be a good time to do so 🙂
Infibeam also is at an attractive Rs. 278 The Kindle edition is also available at a discount of 30% at Rs. 244.30 The Google Play Book edition also has the same price. Do consider picking one for yourself or gift it someone who may need it. If you have read it/used the online calculator modules, we would be delighted if you can spare a few minutes to write a short review at Amazon or Infibeam
The book contains detailed selection guides on both equity and debt funds with nine online calculator modules to assesses and track your financial goals.
What are short-term debt funds?
The definition of how short is short is arbitrary. A fund with most bonds maturing after 4 years is a short term fund for a person with a goal 25 years away. And is a risky, long-term fund for a goal, 4 years away. Read more: Poor Debt Fund Advice: Match Investment Horizon With Fund Maturity Profile
When to choose Ultra Short term funds?
For any requirement that is more than 1Y away. For less than that, you can use liquid funds. Of course, you can get a bit more adventurous for needs that are several years away, but I suggest that you get comfortable with UST first.
How to choose Ultra Short Term Funds?
Value Research defines a UST fund as
Funds whose average maturity over the last 12 months is less than 1 year, but which are not liquid funds
A liquid fund will have a maximum average maturity of 91 days or 0.25 years.
Note the definition is with respect to last 12 months. So if you head over to
https://www.valueresearchonline.com/funds/fundSelector/
and make these settings: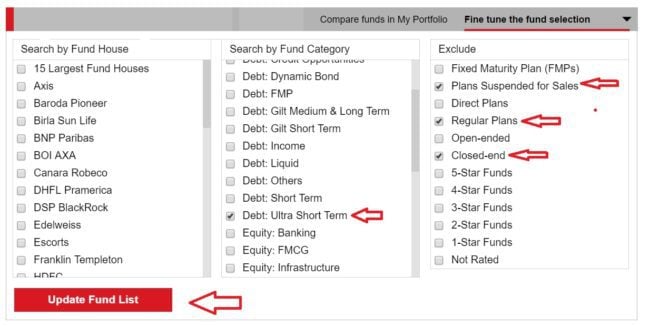 Then click on the portfolio  tab: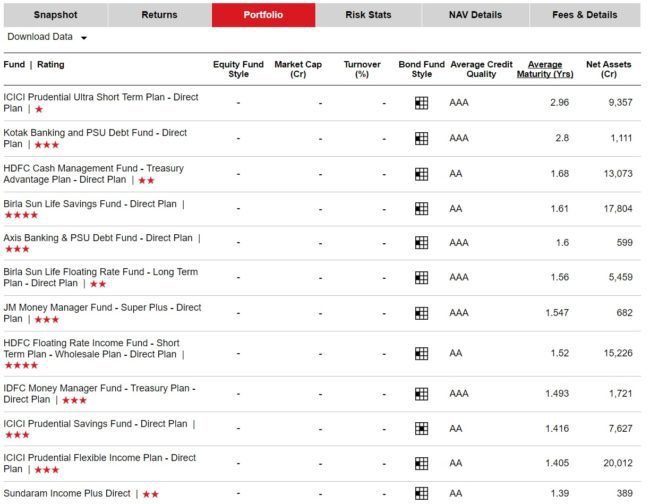 And observe the average maturity, you will see many funds over 1Y. This of course, is the current value not the annual average.
If you wish to choose your first UST fund, you goal should be to stick to funds that satisfy the following criterion:
1: Its average maturity should be much less than 1 year. About 0.3 to 0.6 years for most part of the year, if not always (preferable). That is, choose funds that have a specific investment mandate and not stray. Just because a 3Y gilt fund is an attractive proposition now (well, many months ago), the fund should not hold those!
In other words, its interest rate sensitivity should be less.
2: Its average credit quality should be AAA. You do not need a fund that holds cash. Then it will be a liquid fund. Although one need not worry too much about selecting a liquid fund, here is a guide for beginners: How to Choose a Liquid Mutual Fund
If you choose a fund with average credit quality AA, A or BB then there is a risk of losing money if the bond is devalued or if the bond issuer defaults. Read more: Understanding Credit Rating Risk in Debt Mutual Funds
3: The investment style box should be this: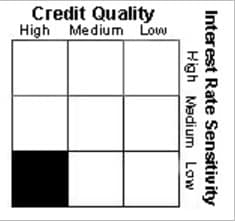 There are funds in the Value Research UST list with medium interest rate sensitivity. Avoid them. If you stuck to funds with average portfolio maturity well below 1Y, you ensure the rate sensitivity is also lower. Read more: Understanding Interest Rate Risk in Debt Mutual Funds
4: Never get enticed by returns and star ratings. True for all funds, but especially for debt funds. A fund providing higher returns (and not holding gov bonds) is holding bonds of lower credit quality.
5: Sort the above list by decreasing credit rating as shown in the three figures below and shortlist funds with average maturity less than 1Y. I have made an arbitrary choice. You can choose as you like.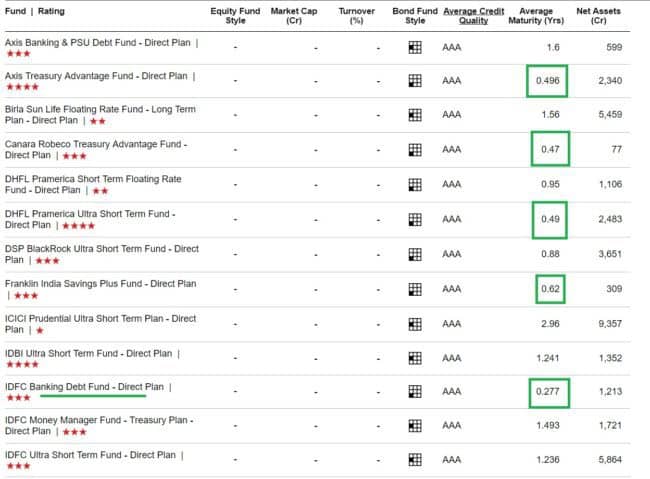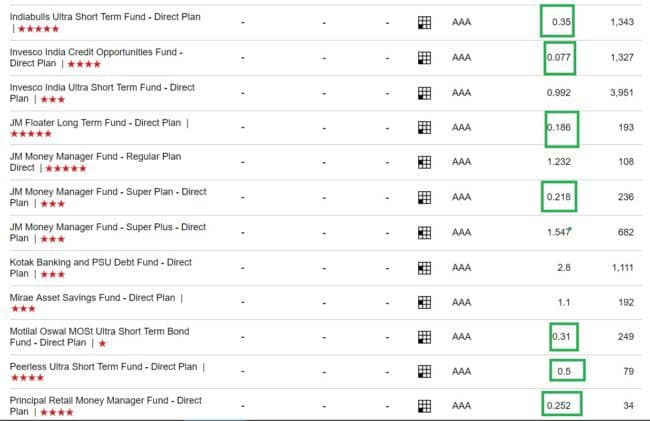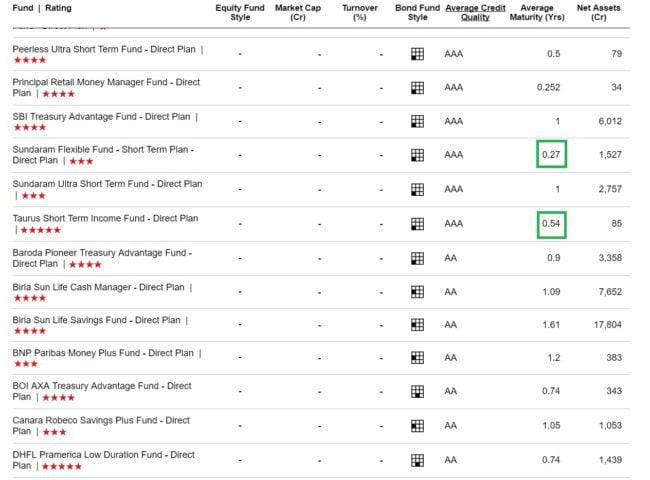 You now have about 13-14 funds marked in green squares above.
Among these, remove all amcs that you are not familiar with or do not hold an account with. I would wager that the list is now down to 5-6.
Now in this list, observe the fund names. Do they say just UST fund or is there anything more technical there? For example, I see
IDFC Banking Debt fund. Now that sounds like a narrow investment mandate. Interesting. Now I would head over to IDFC website and read the scheme strategy and scheme investment document (SID).
Axis treasury fund, Canara Robeco treasury fund: These are funds that can dabble in money market instruments. That is, for a good part  they can act like liquid funds too.
The goal is to choose a UST fund that (for most the time) sticks to short term bonds.  You can look up the fund fact sheet history to see how it has invested in the past.     dssds
Caution
Except liquid funds, the investment mandates of other debt funds are quite broad and they can change character. Therefore,  DO NOT INVEST IN ANY DEBT FUND WITHOUT UNDERSTANDING RISKS AND WITHOUT READING THE SCHEME DOCUMENT.  It will take about 30 minutes.
That is time better spent than asking for random opinions from strangers at Asan Ideas For Wealth.
You Can Be Rich Too

My new book with PV Subramanyam, published by CNBC TV 18
The book comes with 9 online calculator modules to create your own financial plan.
It also has detailed selection guides for equity and debt mutual funds.
Amazon
Kindle
Read a Sample Chapter and Buy Now!
What Readers Say
Simple and powerful This book empowers the reader with the concepts in easy to understand & simple form. Those who have been reading blogs of both authors would know that they are not only good with finance domain but also have a knack of simplifying the methods of investing for their readers. This book by them is a gem of financial knowledge for people who are starting to invest or want to get better at it. The presentation and the thought process with calculators is extremely powerful.The book should be read & calculators used simultaneously to understand the concepts well. The calculators when used with real inputs will show you where you are & where you need to reach for each of your goals. Don't ignore these numbers.Learnings from Chapters 7 to 11 will help you avoid going off path & saving your money from financially hazardous products. With discipline & right approach suggested here you wouldn't need a financial advisor to build wealth.

This is perfect book on personal finance. Very nicely explained about taxation about debt mutual fund. Topics like early investing and asset allocation are very well explained. – Mahesh Deshmukh

Highly Recommended For anyone who wishes to take control of his/her finance this book is a must read. Very simply put, even an amateur in finance will be able to understand and implement. The author genuinely attempts to inculcate the habit of investing among the people who have the ability to invest but refrain from doing it, either due to lack of time , interest or understanding!. The message from the book is " Investment done without setting a goal/ objective is like leaving for a trip without knowing the destination, not everytime the end result will be promising. Hence, it's important to invest in a planned & disciplined manner." A read is highly recommended ????

A must book for everyone who wants to take control of personal finance. Nice explanation of how a debt mutual fund works. Bonds trading and indexation benefits in high inflation years were something new I learnt. After reading this book you will be able to easily choose any funds, because you will know what that fund does or how that fund works