Many debt mutual funds invest in corporate bonds which carry credit risk. It is important for investors to understand how this can affect debt mutual fund returns.
Yesterday, rating agencies, CRISIL, ICRA and CARE downgraded short-term and long-term ratings on Jindal Power and Steel bonds.
As a result, the NAV of debt funds which held Jindal bonds fell. Have a look at this summary by Manoj Nagpal.
Bad NAVs of debt funds are back!
Impact of downgrade of JSPL on debt fund NAVs today pic.twitter.com/6y6PMZCSOh

— Manoj Nagpal (@NagpalManoj) February 16, 2016
This fall is not of the same magnitude as the fall in JP Morgan funds (see below). This rating downgrade is also different in nature. I think investors can continue to hold Franklin Templeton funds. Unlike Amtek Auto, I think Jindal Steel should be able to pay back the principal to FT when the bond matures. The NAV fall was only a  market-linked fall. FMP returns will be lower.
This is the second time in six months we see such a fall in debt funds. In Aug 2015, JP Morgan AMC was in the news for the wrong reasons.  The NAV of two of its debt mutual funds, JP Morgan Short Term Income Fund and JP Morgan India Treasury Fund fell by -3.38% and – 1.73% on Aug. 27.  The reason: both funds held debentures (bond) of Amtek Auto which was downgraded from AA- to C.
Impact of credit crisis in Mutual Funds on Franklin Templeton Debt AUM
AUM down 15k+ cr (30% of Aug15 AUM) pic.twitter.com/tcz5xSnRZN

— Manoj Nagpal (@NagpalManoj) February 17, 2016
A look at how credit rating changes affect debt mutual funds.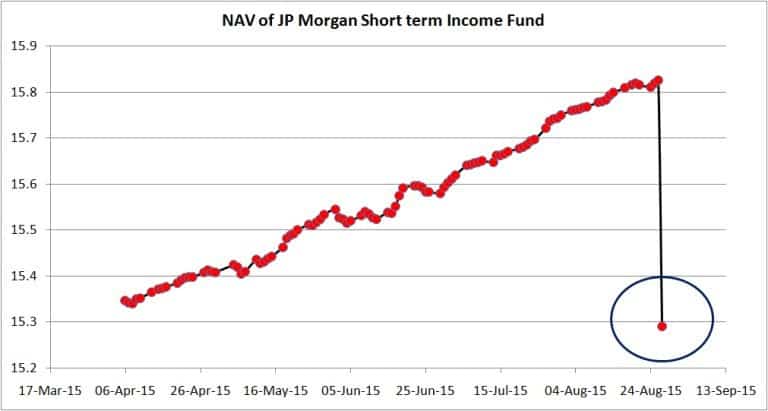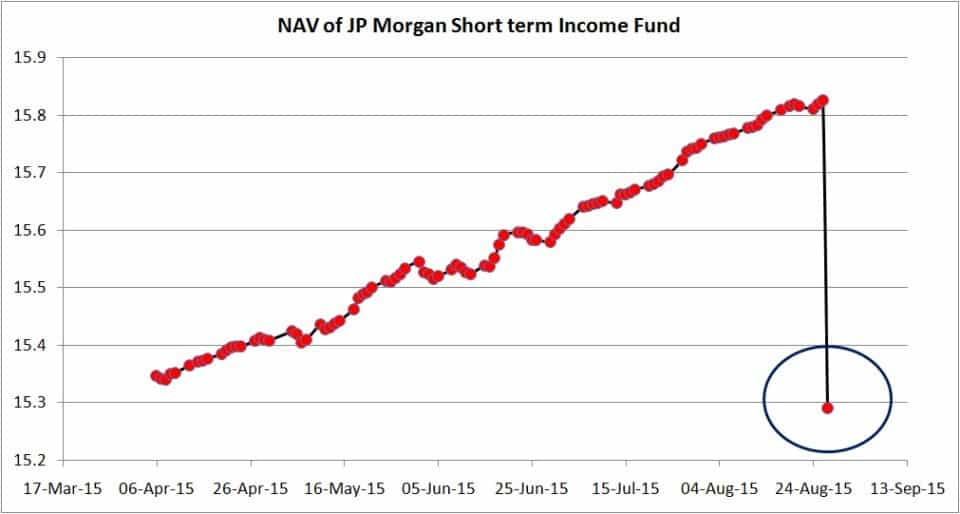 Categories of debt mutual funds can appear difficult to understand than that of equity mutual funds. There is a simple way for investors to understand the risks associated with different debt mutual fund categories – the modified duration.
As pointed out in previous posts, the modified duration is measured in years and gives us two pieces of information:
For 1% change in interest rates, what would be the expected increase or decrease in fund NAV. A modified duration of 2 years implies, a possible NAV change of 2% for 1% change in interest rate. So longer the modified duration, higher the interest rate sensitivity.
For a given yield to maturity, how long would the fund take to recover, if there is a loss due to increase in interest rates.
The key to understanding credit rating risk is to recognise that credit risk does not refer to risk of default alone (bond issuer does not pay interest). Since debt mutual funds are  marked to market, any change in credit rating will affect the price of the bond and therefore, the NAV of the fund.
There are two types of interest rate changes that affect the NAV:
1) RBI action on short-term interest rates which will impact long-term rate of GOI bonds and corporate bonds as well.
2) Change in credit rating of a corporate bond.
Many investors are under the misconception that corporate bond opportunity funds  are immune to RBI action. This is incorrect. Corporate bonds carry a risk premium (higher interest rate) with respect to GOI bonds which will change when the GOI bond rates change.
Due to this risk premium, Corporate bonds must be graded as per their perceived ability to repay the principal. This is referred to as a credit rating.
Higher the credit rating, higher the faith in the company and lower the risk of default.
Now if the credit ratings go up for a bond, the interest rate of the bond in the market will decrease. Therefore, the value of the bonds the fund currently held by the fund will be worth more than those in the market.  Thus, the NAV of the fund will sharply increase.
Conversely, if the credit ratings go down for a bond (like it did for Amtek Auto), the interest rate of the bond in the market will increase. Therefore the value of the bonds held by the fund will be worth less, and the NAV will drop sharply.
In either case, as long the firm repays the principal to the fund, the NAV over time will gradually get back to the normal linear movement.
If you wish to calculate how long it would take for the recovery (in case of a credit rating downgrade), you can consult this post: Understanding Interest Rate Risk in Debt Mutual Funds
However, if the firm defaults then the loss is permanent (thanks to Mahesh Mirpuri for clarifying this).
Therefore, due to fear of default a debt fund, in this case the above-mentioned funds, may face redemption pressure.
If you wish to choose debt funds that invest in corporate bonds, I suggest you choose funds with low modified duration (much less than one year). So even if there is a downgrade in credit rating, the loss (assuming no default) can be recouped in a couple of months.
You can minimise such risks by using the so-called Banking and PSU debt mutual funds. They invest in bond issued by PSUs and banks only.
To lower credit risk and interest risk, I would shun every other debt fund category except ultra short-term funds and liquid funds.  See why here: Investing in debt mutual funds: slow and steady wins the race!
Another read on the subject: How to Select Debt Mutual Funds Suitable For Your Financial Goals?