Financial freedom seeker and early retiree, Balaji Swaminathan shares his experience in an extraordinarily forthright interview.
Ever since I wrote  a post on 'Is it possible to retire in India?' I have received a wide range of responses from readers. Some agreed with me. Some were not sure, and some said I was completely wrong.
There is a limit to how much one can play around with an Excel sheet. I think it is time for everyone to learn from the real-life financial freedom seekers/ early-retirees.
Pleasantly surprised to learn that there are any such Indians who have retired from a full-time job, earning a part-time income doing what they love, and spending more time with their family.
I am trying to coax them to share their experience for the younger generation to learn.
Balaji Swaminathan was the first to readily accept and  sent his responses asap. This was first published in July 2014. Since then we have become good friends. Balaji is well known in FB group Asan Ideas for Wealth for his erudition. He is an expert web searcher (among other things) and seek out even the most obscure information.
Feel free to share your views in the comments section and share this interview.  It will be of interest to everyone, even to those who have not yet thought about retirement!
~~~~~~~~~~~~~~~~~~~~~~~~~~
1 Please tell us something about yourself.
 I was born into a normal middle class family where my father was a professor, mother was a housewife and I have an elder brother.  My father is self-less man who never aspired to amass wealth and always focused on his job which was teaching with utmost sincerity even though the pay scales that he had in his working life was a very meager. I think teachers only started getting some decent salary after UGC pay scales came and I remember very well that it didn't happen till the time I was in college doing my Engineering.
So the finance part of running the house on a meager salary, accounting for every penny, long queues for rations kept me firmly grounded when I started my financial journey.  Essential rules like live within ones means and saving as much as possible were ingrained into my mindset and even though there have been changes to the lifestyle I lead, the good old 'middle class values' still govern the way I spend and save.  Luckily for me my wife also comes from a similar background and so we are totally compatible when it comes to financial discipline.
2 When did you start taking personal finance seriously and begin investing?
I am right now 43 years old and I started my working life immediately after I finished my Engineering studies at the age of 20. I was youngest in my batch as I had a 1 year jump in my school which was common in those days. Even while drawing the first salary I was fully convinced that I had to save at least 50% of my take home. That used to be somehow my target.  I was raw with regard to personal finance. I didn't understand stock markets. All I knew about savings is bank FD and like many fathers at that time I was asked to take an endowment policy with LIC. Real estate was something that caught my attention fairly early in my career. Though I regret having picked that asset class as the first to accumulate, I was lucky that in 91-98 when prices were not all expensive, I did put lot of my savings into buying plots in various cities I was from and that became the core of my real estate portfolio. As a software professional I used to travel across world on projects and we were paid overseas allowance as well as our salary in India. The Indian salary was never touched during my stay abroad and I could save 50% of overseas allowance too during my stays. Every trip back home after a successful  abroad trip used to culminate in me putting all the savings into buying a plot.
My first experience with stocks was in 1991-92 when I was living with some room-mates and some of those guys were always talking about stocks. This was the time when Harshad Mehta scam was unfolding and IPOs were a rage. Four of us use to pool Rs.250 each to pool in Rs.1,000 to try and subscribe to IPOs  which at that time normally were sold at Rs.10.  Everything went up on listing. The information flow was not that transparent, but the herd mentality was fully on.  I did invest close to 5,000 in a matter of few months into various IPOs and as soon as the scam hit markets our investments were wiped off. I didn't understand what this scam is about nor understood how the capital markets function.  Like most of them from that era who burnt their fingers in the scam I too lost hope on this asset class and that could have been the trigger to start building my real-estate portfolio.
As a software professional, my experience at that time was getting built mostly in BFSI based applications.  I was part of teams that built new applications for Stock Exchanges, Clearing Corporations around the world. The functional experience that I was gathering became a foundation stone for me to understand how capital markets worked and understand basic concepts of how to build financial assets, asset allocation and basic things like compounding which is a simple high-school math, was getting reinforced in my mind. Few experiments with Mutual funds began in 1997 and I did buy shares of companies like Reliance Industries,  Infosys in small parts at that time. I sometimes regret for not having wisdom to invest more in financial assets at that time.
I was always against credit from a very young age. This may be due to the grounding I had since childhood and so I never borrowed to spend or invest. Credit cards were only seen as a convenience where I could pay back immediately on amount being due. Mortgage was never in my radar as most of my real-estate investments happened with my own money. In 1998 I did quit my job to take a job abroad and my PF, gratuity etc were all paid back to me and I added some more savings to it and bought an apartment.  Though I did buy another apartment much later in 2005-06 it was not with my new savings but from the money I got after selling a couple of plots that I had in my portfolio. I never invested in real estate after this and the focus soon turned to becoming financially independent with financial assets.
3 When did you start thinking about financial freedom and why?
When I quit my job in India around 1998 and moved abroad I had vague plans that 4-5 years I will earn good money and be back in India and at the time I had 1 Crore in my  mind as what is needed to be financially free. I never saw financial freedom as a pre-cursor for retirement. I rather saw that as an opportunity to get out of a job situation and try to do something on my own. I was earning very well abroad and had lots for social security benefits that were getting accumulated. Few years into my new life abroad and with my first daughter already born my focus was totally on how to build financial assets.
4. How did you plan for it? How long did it take to achieve it?
I could still follow my approach of trying to save more than 50% of take home salary and that gave a good base for building my financial assets. I started reading a lot about equities and the dawn of the internet era helped me to a great extent.  Though not really an automatic SIP mode, but I did start myself in a manual SIP mode to start investing into mutual funds and more seriously since 2000. At the time I kept myself a limit of 30-40% in equity and rest in debt. Debt instruments  in those days use to give good returns and as an NRI it was tax free and that was quite attractive too.  NFOs were quite prevalent in those days and I did pick up lots of these NFOs without applying mind on any basic strategy. Most of these gave phenomenal returns, but I understood my mistake quite fast that my portfolio was getting out of control.
By 2004 my focus remained on identifying some core funds and build a portfolio around those.  Soon my 1 crore target for financial freedom got revised and I started to think about having at least ½ million USD networth before I can say I have achieved financial freedom. Those days USD-INR exchange rate was around mid 40s and so my financial freedom target was set to around 2 Crores.  To my surprise my real estate investments form 90s were doing good and I realized that if I build a 1 crore financial asset and my real estate portfolio touching 1 crore based on prevailing market values then I can reach the financial freedom.
I think 2006 was the year when I realized I did build a sizeable portion of my portfolio that exceeded my target. By then I had my second daughter also born and the education, marriage goals were also thought about.  It took me 15 years to reach my first goal of being financially independent and then I quit my job abroad and moved back with my family to India and since then I have started to offer my services as a freelance consultant and started to develop products in collaboration with partners abroad.  By this time my asset allocation for equity :debt was around 75:25. Equities were defying gravity and running quite high and were multiplying faster in spite of corrections. I kind of ignored real-estate from my portfolio while visualizing and tracking my net worth. I did manage to sell a few and invest that money into another apartment to generate a rental yield as I was venturing into unknown territory of being self-employed.
My direct equity portfolio gave me some handsome dividends and I was sure I had enough money getting generated for my living without touching the core portfolio that I built as retirement corpus. The social security benefits while working abroad were paid off when I left the job and I invested in USD and took exposure to global markets through  overseas mutual fund route. These funds I earmarked for kids education needs if any of them aspired in future to go abroad and study.
The chance I took with my life turned out to be positive as I got good contracts in my last 8 years of being trying to be on my own. I work from my home office, travel abroad on need basis and spend quality time with my family. I couldn't have wished for a better option.  Even if I were to become unemployable tomorrow, I feel confident that my savings in relation to my lifestyle would take care of all my goals and other needs.
5. How do you track your financial freedom?
My simple focus is to check my networth any year, in terms of my financial assets marked for retirement goal, should be at least 30 times  my current annual expenditure. So if my annual expenses say are around 12 lakhs/annum in today value then I have to ensure that my retirement corpus at the end of that year is at least 3.6 crore. This gives me a comfort that I can continue to take some risks with my career. Luckily for me I don't have any mortgage or EMIs to pay and so there are no liabilities and no erosion of networth other than market reasons. Real estate investments, though significant, are just in my books as something that is in addition to all my goals and will help me with any shortfalls in future. Currently my financial asset allocation is more in the region of equity:debt at 50:50 and income streams from dividends, taxfree bonds, rent etc. gets deployed back into this corpus as long as I generate regular income stream from my business.
 6. What is your investment strategy? Has it changed after you quit your job?
My investment strategy did change after I quit the job. At the same time I had a decent corpus in equity funds and direct equity when I quit the job  & that stayed in the market for more than a decade.  Time invested in markets becomes a key to wealth generation and I strictly follow this within the parameters of asset allocation that I have defined for myself.  4 years back I realized that my asset allocation need not be aggressively towards equity as I had surpassed what I had planned for my goals.  To absorb any untoward shocks in my professional life, I reset my asset allocation to 50:50 in the hope to ensure that my equity component of my portfolio stays in the market forever (as much time as possible) and I should be able to lead a comfortable retired life(if situation forces) just by drawing income out of my debt portfolio and other passive income streams for at least 20 years.
7. When you quit your job, may we know the size of the corpus in terms of how long it would have lasted you and the kind of inflation rate you assumed?
I quit the job during low inflation times and our minds were reset with lower inflation/lower interest regime due to recency effect. I thought my corpus would last for life time but soon realized that my assumptions were wrong. 2008 global financial crisis grounded me to new reality, though I did use the opportunity to deploy more funds into equity around this time and gained tremendously from maintaining my asset allocation even in falling markets. Since then my equity portfolio gave phenomenal returns. I used the opportunity also to make more direct equity investments in the hope to generate dividend stream from blue chip stocks.
My current inflation estimate for safe calculations is around 10%. I assume my debt to give me at least 8% returns and equity at least 12% CAGR in the long-term. Most of my debt portfolio is built on asset class where I can take indexable capital gains or tax-free bonds and so the taxation is not of immediate concern. My focus is to ensure every year that my current retirement corpus support at least 30 years of my current inflation-adjusted annual expenses .  I know for sure that my expenses will drop significantly once my children are out of school as the college education and marriage goals have been separately planned.
8 Quitting a full time job implies that one has to meaningful spend time afterwards. When and how did you plan for this?
As said earlier, my reason for achieving financial freedom is not to retire but to explore new opportunities. I would have remained in a full time job had I not achieved this freedom.  Currently, I don't have any plans as to what I will do with my time if I really retire. There are plans to liquidate some of my real-estate portfolio and buy a home in a retirement community  and also do some organic farming but for now these are just future plans.
 9 Do you earn an income now? If so how dependent are you on this income?
Yes. I do earn income now. In fact advantage of being on our own and doing reasonably fine with your contracts is that your income levels go up significantly at the cost of stability. Even today I haven't tried to upgrade my lifestyle too much and still focus on saving more than 50% of my post-tax business income and these savings gets further deployed into my equity and debt buckets of my retirement portfolio.  I still don't run automatic SIPs but continue to track and push some lumpsum when there are corrections. By end of year I always target my asset allocation not to be in too much variance to my plans.
10. Who are your personal finance influencers? (Book, blog authors etc)
Frankly, I am not that well read with regard to personal finance gurus.  I do follow various writings from international and Indian authors, financial success stories etc.  but my focus mostly is on common financial wisdom shared by today's bloggers, commentators, savers & investors. I like to look for simple financial rules & wisdom and try to make my own rules and stick to my plan.
11. Advice to people who seek financial freedom and early retirement?
Follow basic financial discipline and try to live much below your financial means so you can save significant earnings and channel it into financial asset class to build long-term wealth.
Make your own rules and stick to those rules. Financial freedom doesn't necessarily mean early retirement. Try achieving financial freedom as early as possible as it gives reason to explore new options that can significantly alter the wealth creation and job satisfaction
Keep a healthy balance of professional to personal life. After all, we earn for our family and it makes sense to spend as much quality time as possible with family.
~~~~~~~~~~~~~~~~~~~~~~
Do join me in thanking Balaji Swaminathan for sharing his experiences in a delightfully candid manner.  I am sure that it will prove to be of enormous value to everyone, regardless of when they wish to retire.
Subscribe and join the freefincal Youtube community!
 Don't like ads but want to support the site? Subscribe to the ad-free newsletter! 
Want to conduct a sales-free "basics of money management" session in your office?
I conduct free seminars to employees or societies. Only the very basics and getting-started steps are discussed (no scary math):For example: How to define financial goals, how to save tax with a clear goal in mind; How to use a credit card for maximum benefit; When to buy a house; How to start investing; where to invest; how to invest for and after retirement etc. depending on the audience. If you are interested, you can contact me: freefincal [at] Gmail [dot] com. I can do the talk via conferencing software, so there is no cost for your company. If you want me to travel, you need to cover my airfare (I live in Chennai)
---
Connect with us on social media
---
Do check out my books
---
You Can Be Rich Too with Goal-Based Investing
My first book is meant to help you ask the right questions, seek the right answers and since it comes with nine online calculators, you can also create customg solutions for your lifestye!
Get it now
.  It is also available in
Kindle format
.
---
Gamechanger: Forget Startups, Join Corporate &

Still

Live the Rich Life You Want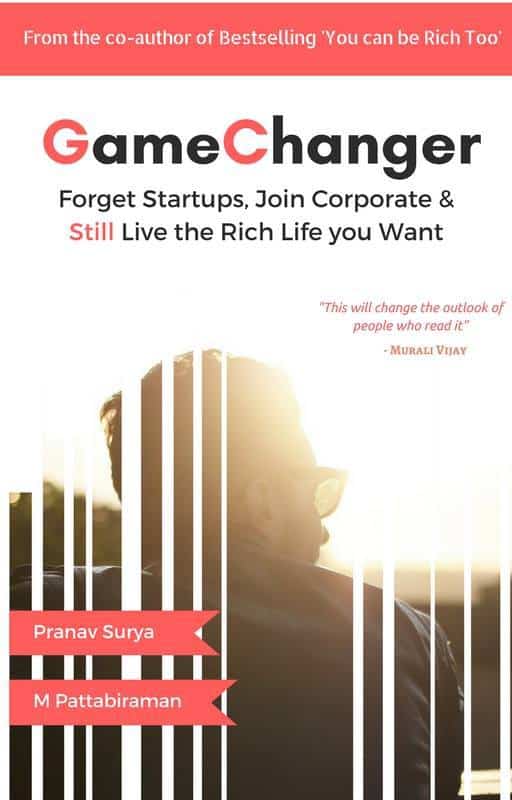 My second book is meant for young earners to get their basics right from day one! It will also help you travel to exotic places at low cost!
Get it or gift it to a youngearner
---
The ultimate guide to travel by Pranav Surya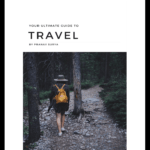 This is a deep dive analysis into vacation planning, finding cheap flights, budget accommodation, what to do when travelling, how travelling slowly is better financially and psychologically with links to the web pages and hand-holding at every step.  
Get the pdf for ₹199 (instant download)
---
---
Free Apps for your Android Phone
All calculators from our book, "You can be Rich Too" are now available on Google Play!
---
Install Financial Freedom App! (Google Play Store)
---
Install Freefincal Retirement Planner App! (Google Play Store)
---
Find out if you have enough to say "FU" to your employer (Google Play Store)
---
About Freefincal
Freefincal has open-source, comprehensive Excel spreadsheets, tools, analysis and unbiased, conflict of interest-free commentary on different aspects of personal finance and investing. If you find the content useful, please consider supporting us by (1) sharing our articles and (2) disabling ad-blockers for our site if you are using one. We do not accept sponsored posts, links or guest posts request from content writers and agencies.
Blog Comment Policy
Your thoughts are vital to the health of this blog and are the driving force behind the analysis and calculators that you see here. We welcome criticism and differing opinions. I will do my very best to respond to all comments asap. Please do not include hyperlinks or email ids in the comment body. Such comments will be moderated and I reserve the right to delete the entire comment or remove the links before approving them.